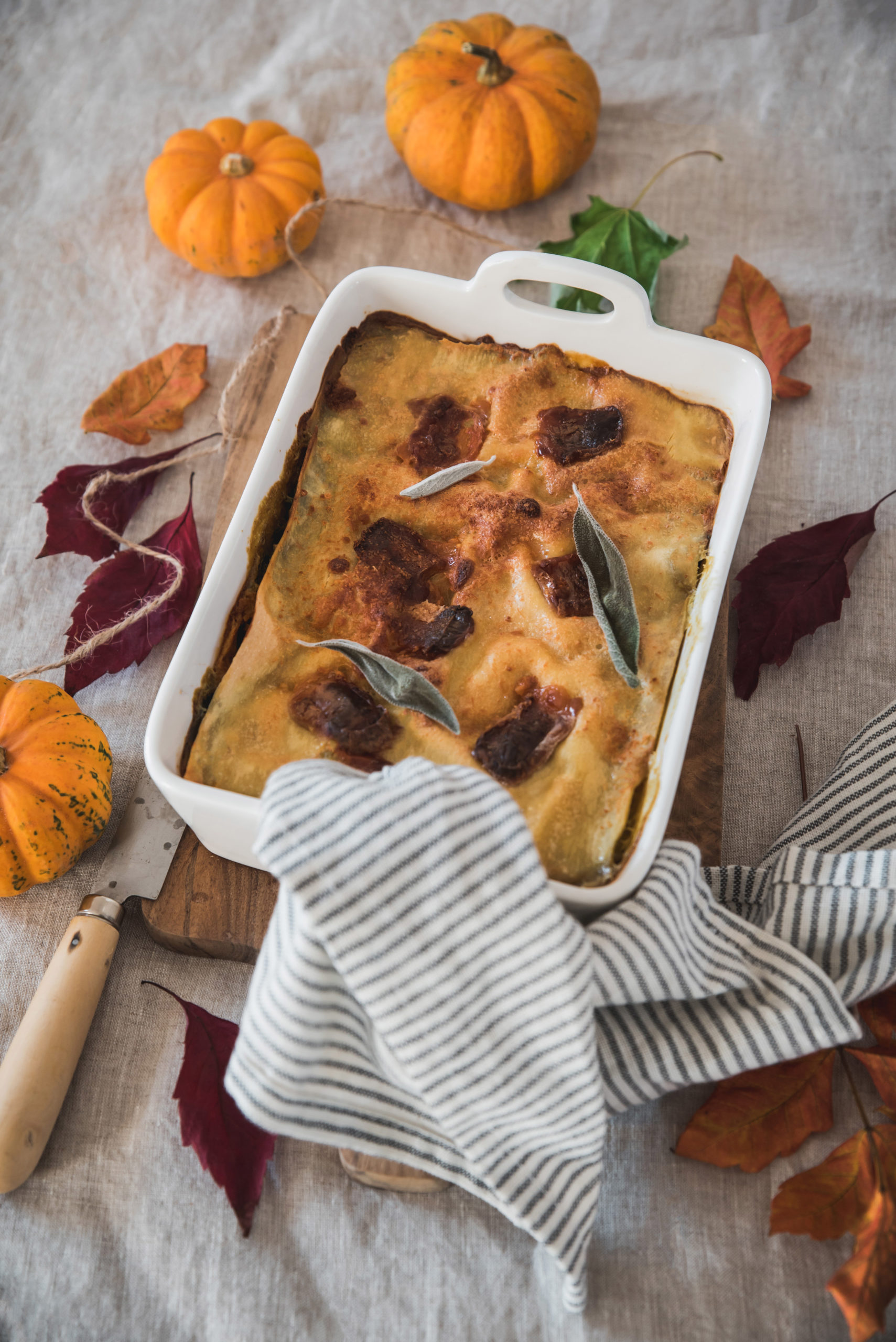 Lasagne is a great classic in our kitchens, and I like to vary my preparations, whether vegetarian or classic. So today, I've made a version of Vegetarian lasagna with Butternut, Goat Cheese and Spinach recipe, to be cooked in autumn or winter.
I've already given you my tip for successful pasta gratins, but I'll do it again, in case you missed it ;-).
For my pasta gratins (lasagne or cannelloni, for example) to be really soft, I like to make them the old-fashioned way, as the moisture in the preparation soaks into the pasta, making it melt-in-your-mouth without the need for pre-cooking.
What I also like is that you save time on the day you eat it, and the flavors develop more and more. In short, it's a winner 😉
Vegetarian lasagna with Butternut, Goat Cheese and Spinach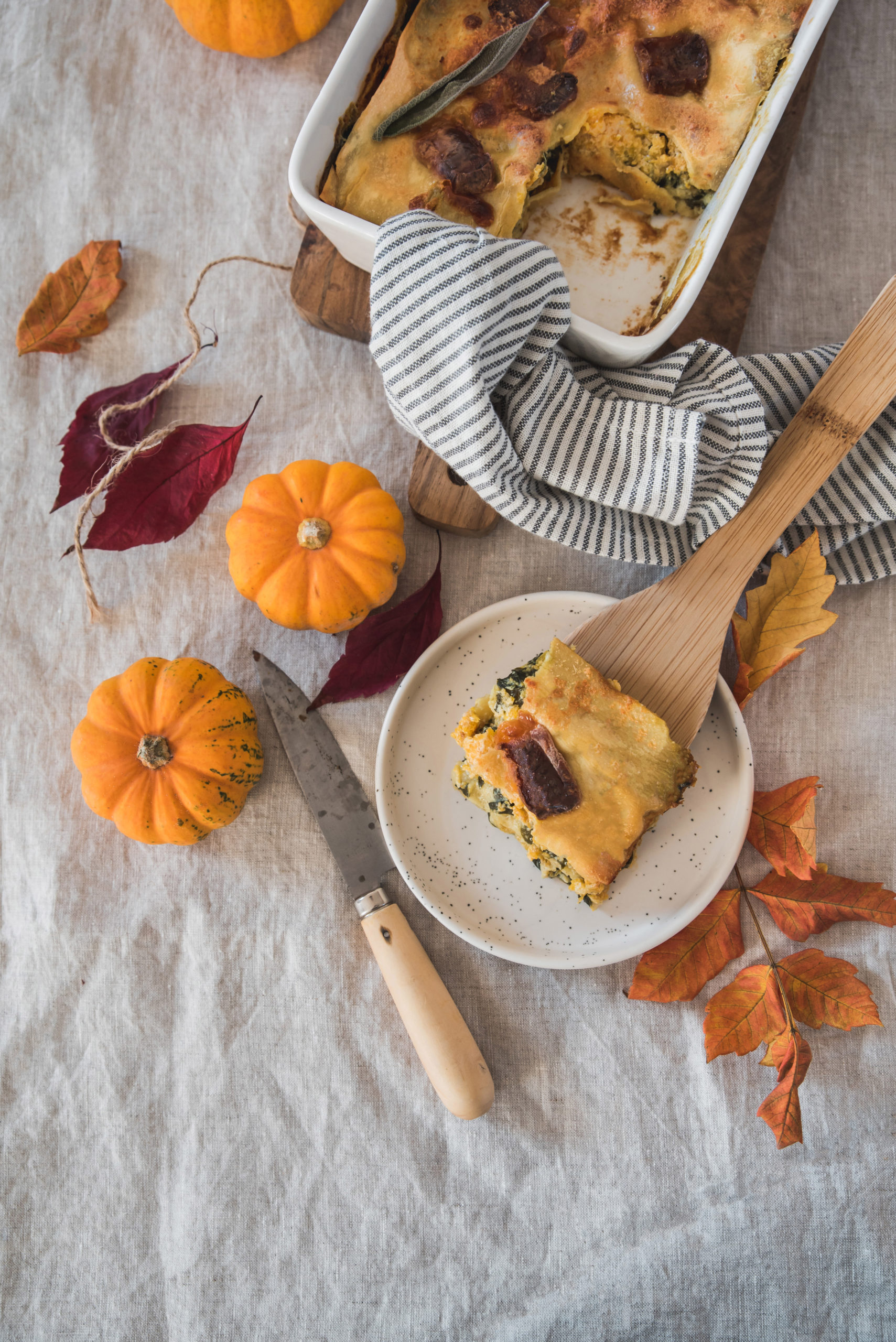 I made this recipe for a French Tourist Office. They wanted me to cook with local products from the Drôme. I used Picodon goat's cheese, but if you can't find it, you can also use bûche, which is delicious.
For this lasagne, I used butternut squash, but you can make the same recipe with pumpkin or pumpkin, for example. This vegetarian butternut squash lasagne is a mild, tasty dish that generally appeals to the whole family.
And if you want to add a little meat, you can always try it with a little stuffing – it's a real treat!
This recipe is easy to make, but takes a little time to prepare. That's why I usually prepare them the day before.
To go faster, I take out all my ingredients and organize them by preparation, which saves time. They also freeze very well.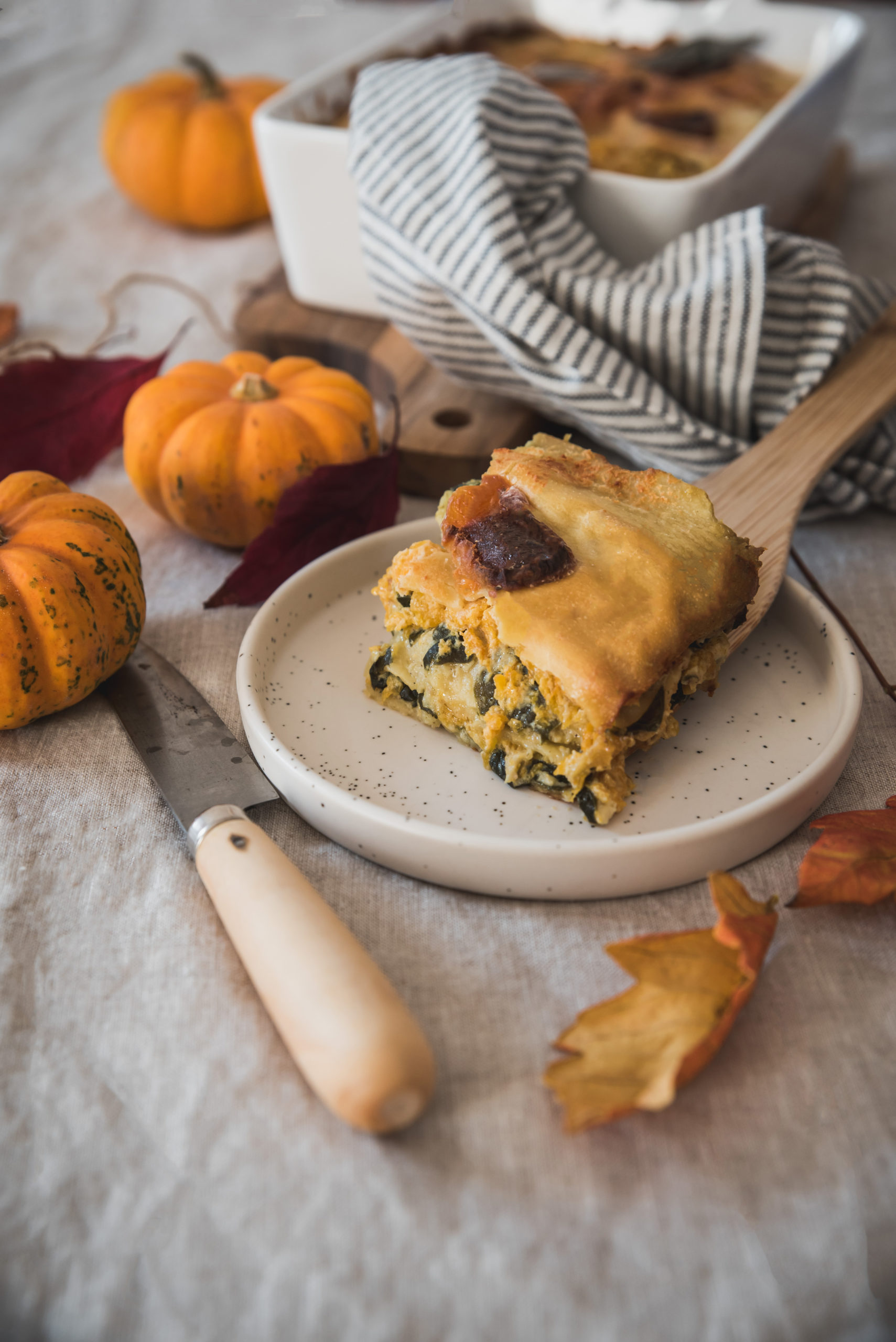 How are these vegetarian lasagnas made?
squash puree with goat cheese
béchamel sauce flavored with garlic, herbs and spinach
dry or fresh lasagna sheets
My tips for making this recipe a success:
Carefully read the recipe instructions below before you begin.
Have all the ingredients ready (correct amounts and weighed) before you begin.
This will allow you to check that you have everything at home and add more if necessary, to understand the recipe well and generally to go faster in making the recipe, and to have more fun cooking! 😉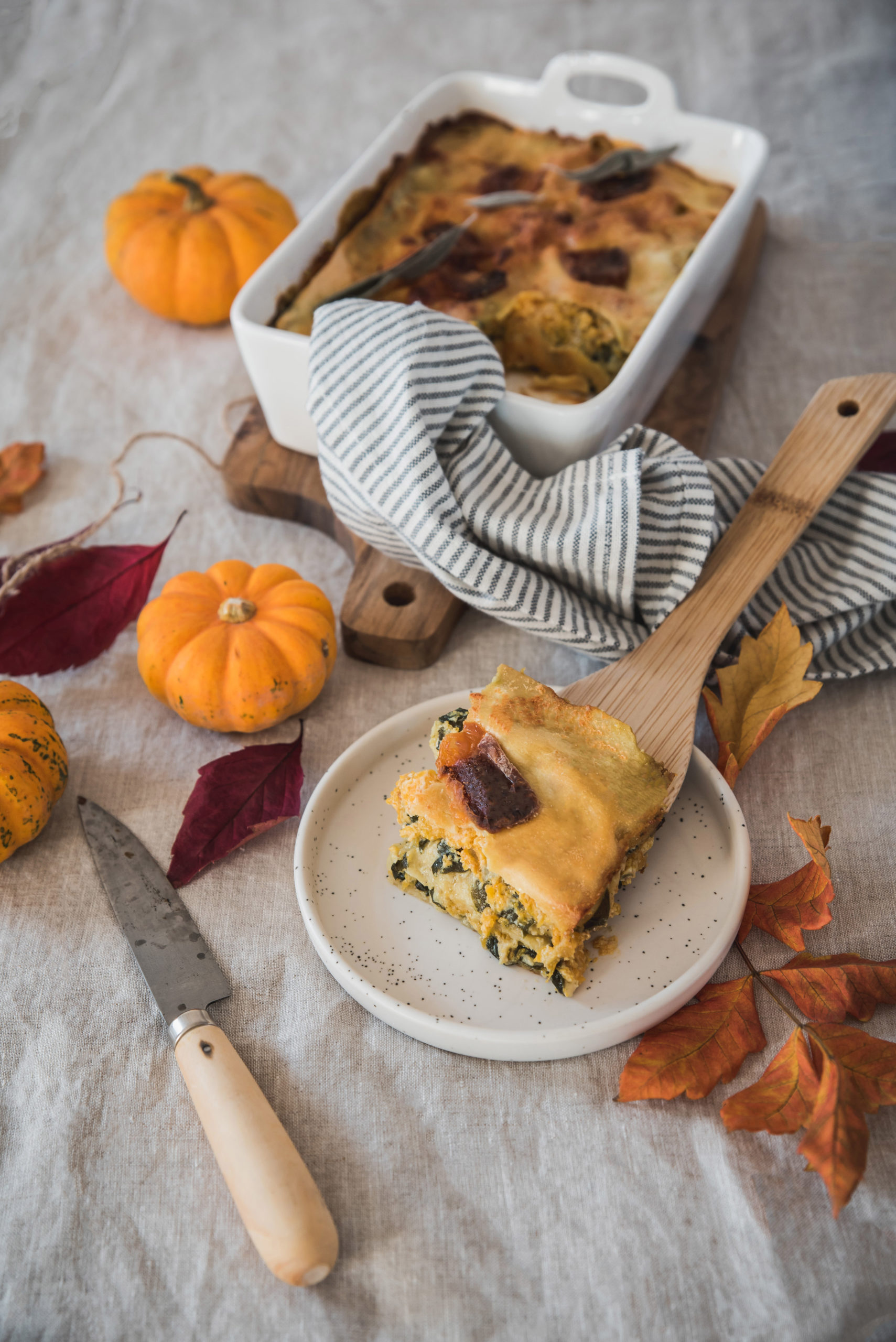 If you like pasta gratins, here are some other recipe ideas that should please you as much as I do: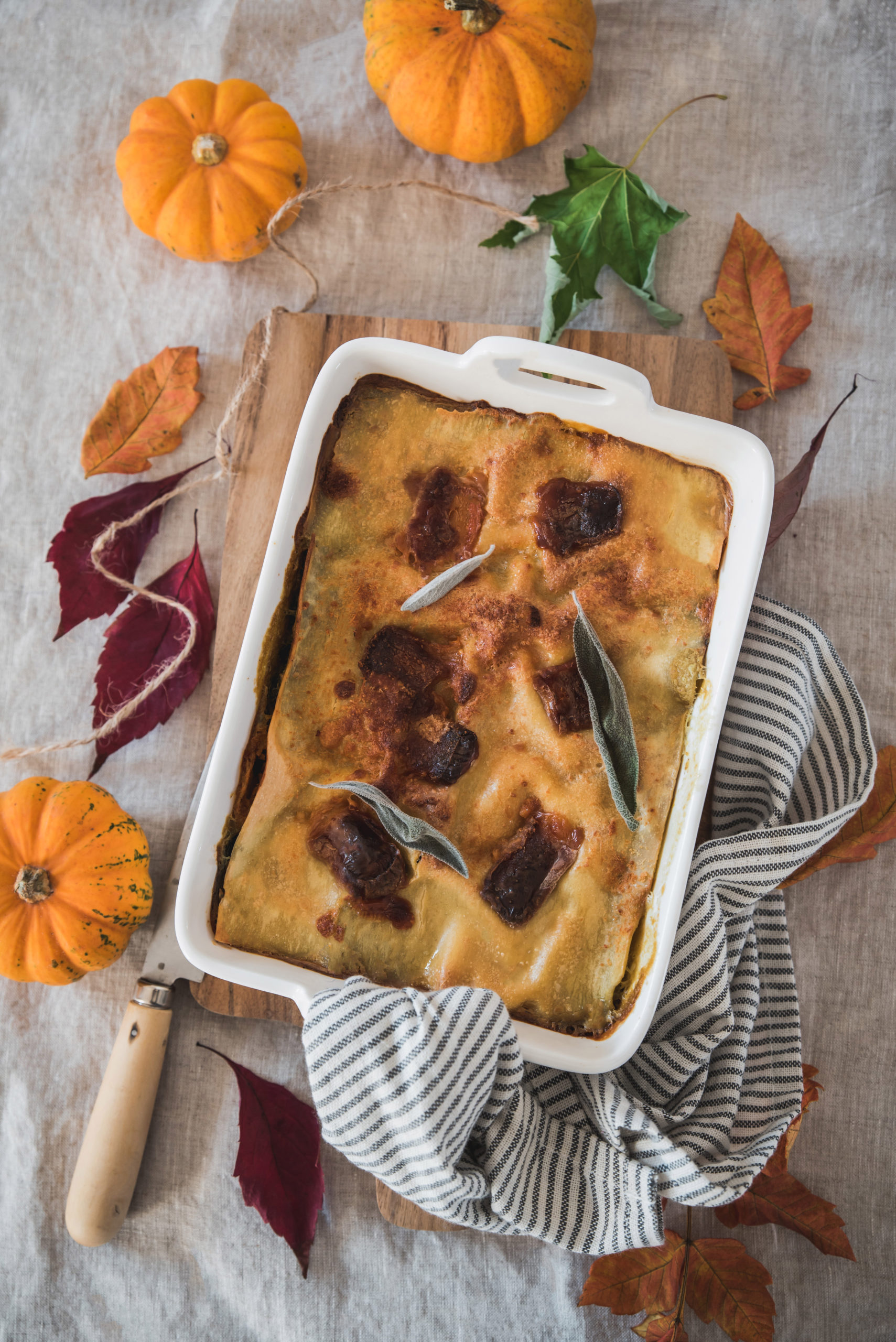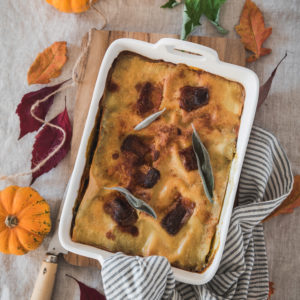 Butternut squash, Goat Cheese and Spinach Lasagna
Ingredients
About 10

Lasagna sheets

Salt and black pepper

100

g

grated goated cheese
FOR THE BUTTERNUT PURÉE
1

butternut squash

(about 800g)

150

g

fresh goat cheese

1

dry goat's cheese

or a goat's cheese log

1

small onion

1/4

liter

vegetable stock

Olive oil
FOR THE SPINACH BECHAMEL
60

g

unsalted butter

2

pressed garlic cloves

5

dried sage leaves

1

sprig of rosemary

30

g

flour

1/2

liter

milk

1/4

liter

vegetable stock

1/4

teaspoon

grated nutmeg

120

g

baby spinach
Instructions
In a large salad bowl, mix the diced butternut squash with the olive oil, salt and pepper. Place in a glass dish and bake for 25 to 30 minutes, stirring occasionally. The squash should be very tender. Then mash into a puree. Add the cream cheese and 1/2 of goat cheese cut into small pieces, both at room temperature. Add salt and pepper.

Prepare the béchamel: melt the butter in a large saucepan over medium heat. Add the pressed garlic, sage leaves, rosemary and continue cooking until the butter begins to brown, about 2 to 3 minutes. Remove the herbs then gradually incorporate the sifted flour. Stir then gradually pour in the milk and warm broth, whisking constantly. Add the nutmeg, salt and pepper.

Add the 2nd goat cheese and stir until melted, over low heat. Add the spinach and toss quickly (the still tangy sauce should cook it almost instantly). Remove from heat and set aside.

Preheat the oven to 190°C.

Butter a gratin dish of about 20 centimeters. Spread a layer of spinach béchamel on the bottom, cover with a layer of pumpkin and goat cheese purée and a layer of lasagna sheets. Repeat the operation 3 more times and finish with a layer of béchamel. Sprinkle with grated cheese and bake for 40 minutes or until the lasagna is golden brown on the surface.

Remove from the oven and let stand 5 minutes before serving, accompanied by a green salad.

Bon appetit and bon appetit!
If you make my homemade recipe and you like it, don't hesitate to tag me on Instagram or on Facebook so that I can see the result and share it myself…
Just to let you know I am French and I translate my recipes, be indulgent if you see syntax errors and do not hesitate to leave me a comment so I can correct it. I hope you will like my recipes and enjoy your visit to my food blog!
Recipe inspired by Del's Cooking.