Have you ever made Black Olive Tapenade recipe?
I've been wanting to try a tapenade recipe for ages, always putting it off because I found it a bit complicated. It's not like that!
In fact, it's the simplest recipe in the world, you just need to have the ingredients at home, but nothing insurmountable at all!
For this first test, I therefore suggest a homemade black olive tapenade, for the green one, I will test it later and try another version to vary the pleasure a little… In any case, if you prefer, you can always do this. same recipe with green olives.
I received this recipe from a friend with whom we spent a weekend in May and it was a real revelation to see her make her own homemade tapenade! I really thank her for showing me this simple and excellent recipe!
In any case, this is what you want to try this weekend as an aperitif, treat yourself, you have 5 minutes! You will tell me about this homemade recipe… It will take you more time to toast the small slices of bread for your toast than to make the tapenade, you will see…
Black Olive Tapenade Recipe
WHAT INGREDIENTS do YOU NEED TO MAKE THIS EASY HOMEMADE BLACK OLIVE TAPENADE RECIPE?
And if you have some of this spread left, you can also cook it into small tartlets, it's absolutely delicious!
Here are other recipe ideas that you might like for a homemade aperitif platter: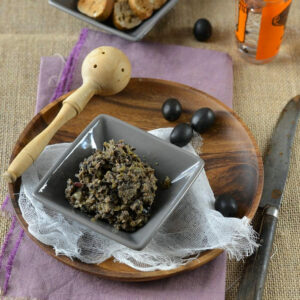 Black Olive Tapenade
Ingredients
200

g

pitted black olives

4

anchovy fillets

2

tablespoons

capers

1

garlic cloves

4

tablespoons

olive oil
Instructions
Place all ingredients in a blender, except the olive oil, and blend well until you achieve the desired texture.

This can be more or less fine depending on your tastes.

Pour into a bowl, add the olive oil and mix.

And There you go ! That's it, nothing could be simpler!
Notes
Above all, do not add salt otherwise your tapenade will be unavoidable because there is enough salt in the olives and anchovies.
If you ever make my homemade Black Olive Tapenade recipe and you like it, don't hesitate to tag me on Instagram @tangerinezest so I can see the result and share it myself…
Finally, just to let you know I am French and I translate my recipes, be indulgent if you see syntax errors and do not hesitate to leave me a comment so I can correct it. I hope you will like my recipes and enjoy your visit to my food blog!