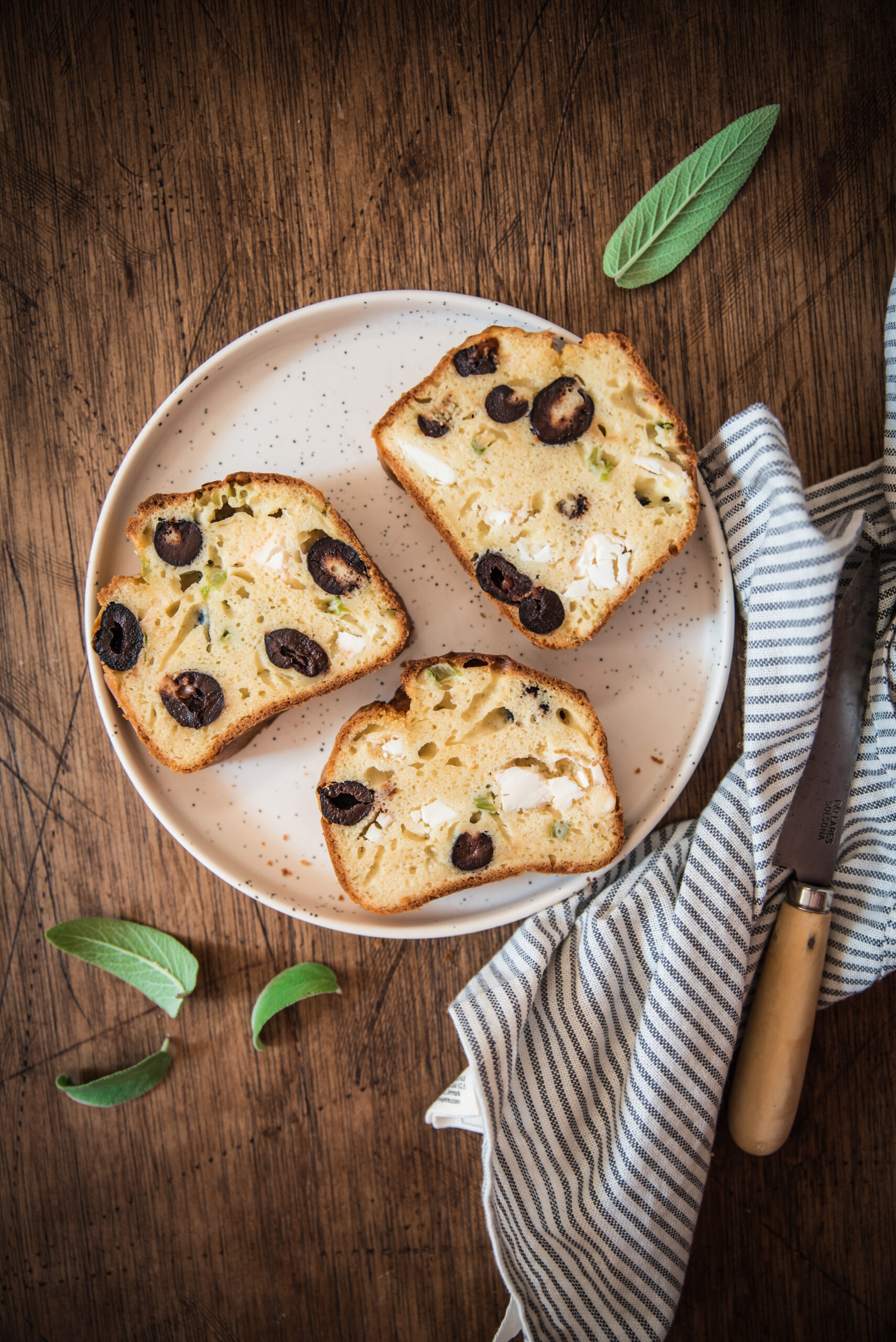 I made this savory Feta and Olive Vegetarian Cake recipe for the school party and it was a big hit… I wanted a vegetarian cake recipe that would appeal to as many people as possible, and that's exactly what happened. I wanted a vegetarian cake recipe that would appeal to as many people as possible, and that's what happened.
At the same time, the result was really well done, with a cake that held together very well and an ultra-soft texture. In fact, I hadn't even planned to share the recipe on the blog, but when I cut the slices and saw the result, I thought it might tempt more than one… 😉
To make this cake recipe, I used black olives, but if you prefer, it would also be perfect with green olives, or even a mix of the 2!
This recipe can be enjoyed in a variety of ways. You can cut the cake into small cubes for an aperitif, slice it for a picnic, or serve it as a main course or starter accompanied by a salad (green, tomato, watermelon…).
Feta and Olive Vegetarian Cake recipe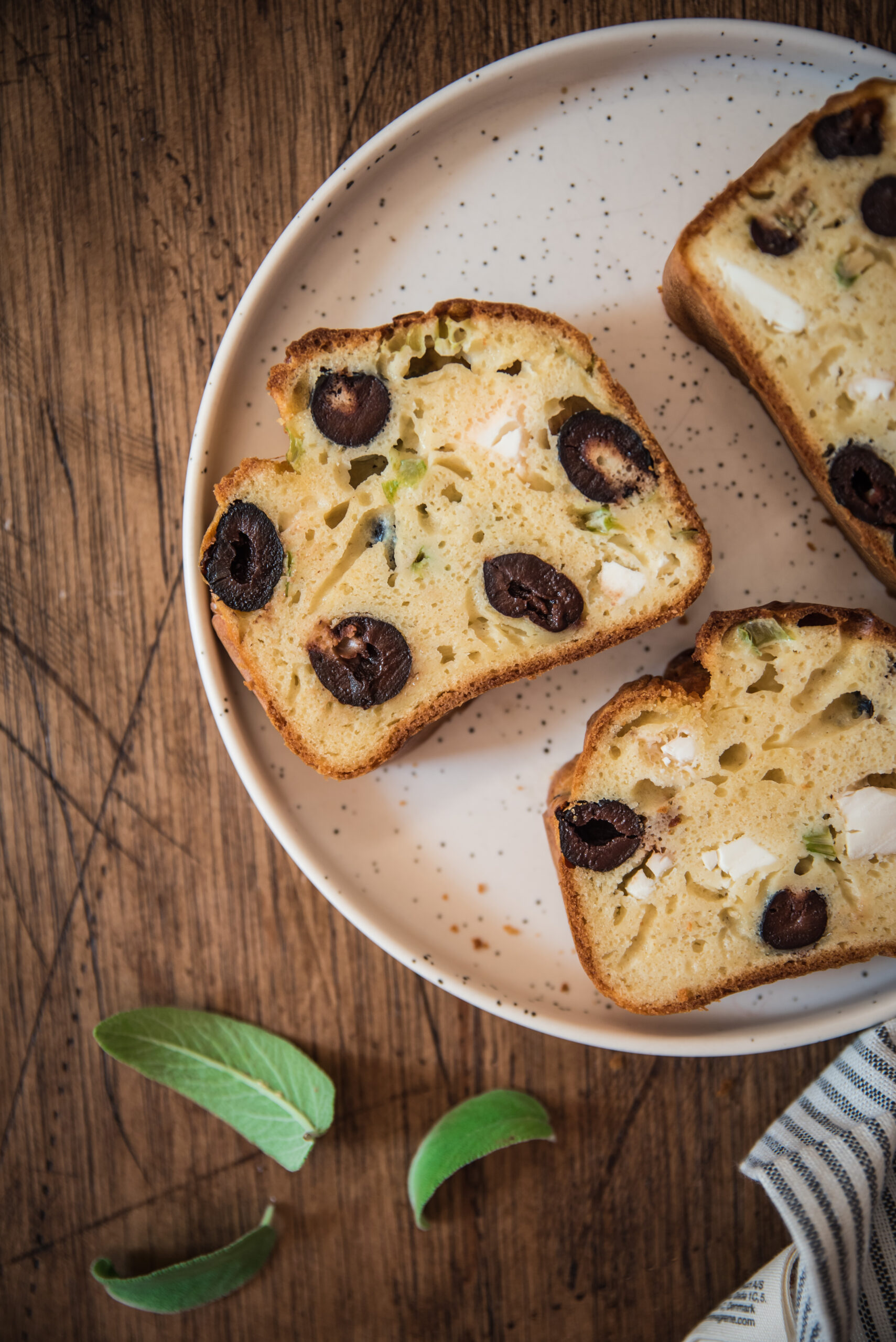 What ingredients do you need to make this vegetarian olive and feta cake recipe?
flour
baking powder
salt
eggs
milk
oil
feta cheese
diced Comté cheese
pitted black or green olives
canned tuna
spring onion / fresh (optional)
What variations can you make for this recipe?
Olives: you can adapt them to your taste or to what you have at home. Personally, I prefer them pitted, as it adds a lot of preparation time when you have to do it yourself.
Feta: I like the balance of flavors between olives and feta, but you can also use other types of cheese, such as goat's cheese in logs or crottin, or Beaufort or Comté…
Fresh onion: this is optional, but I like the little taste it adds. I find it spices things up a bit. You can also use onion or shallot, garlic, but also chopped flat-leaf parsley or chives.
Flour: personally, I generally use T65 or T110 flour, but do as you like. You can even mix flours, or replace some of the wheat flour with chickpea flour, for example.
Other ingredients: this savoury cake recipe also works well with crumbled tuna (canned) or small cubes of ham, or even chorizo or sun-dried tomatoes. Note, however, that if you use sun-dried tomatoes in oil, you'll need to reduce the amount of oil in the original recipe…
What other recipes could accompany this savoury cake as an aperitif?
For snacking
Drinks & Cocktails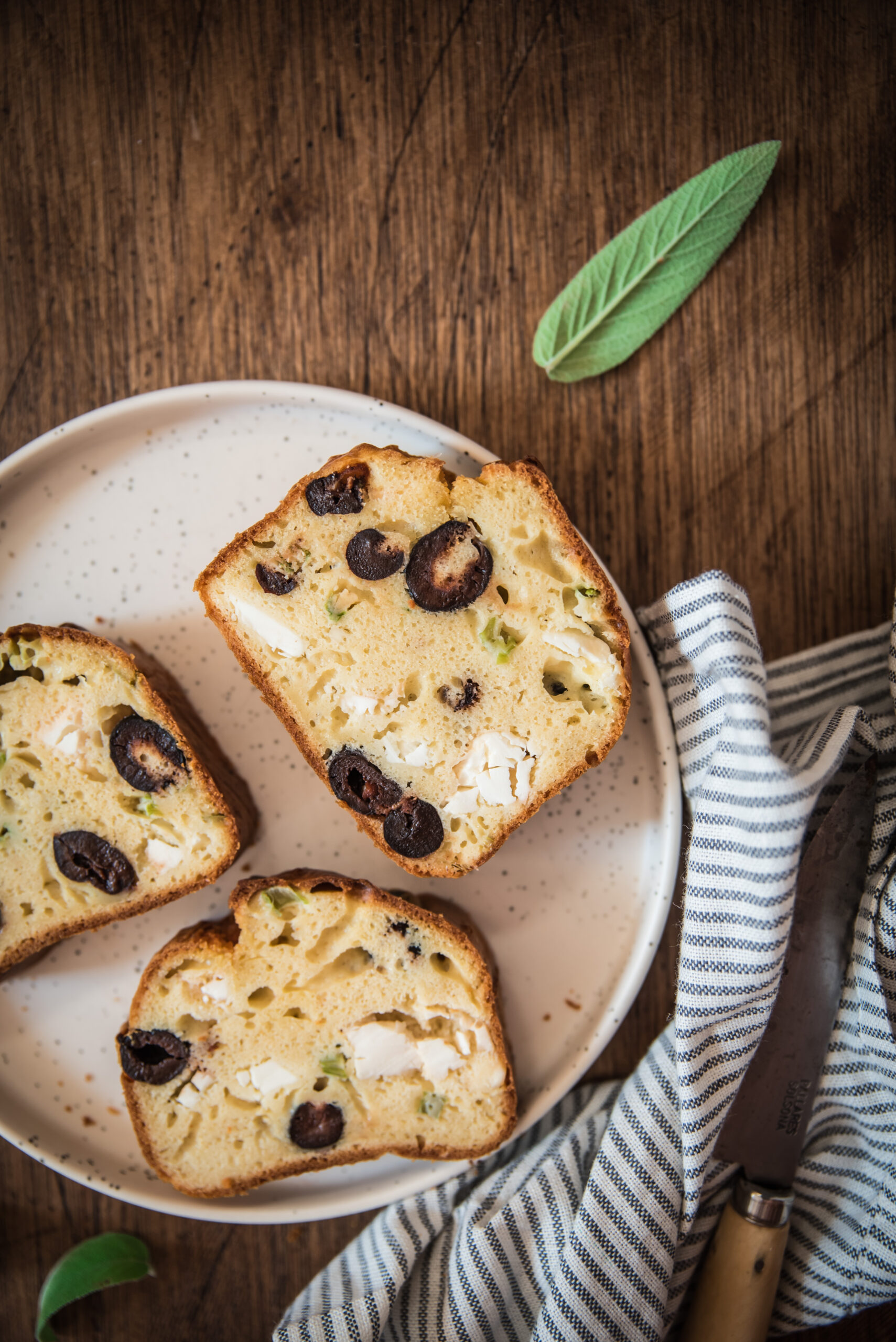 What equipment will you need to make this cake recipe?
wooden spoon
baking paper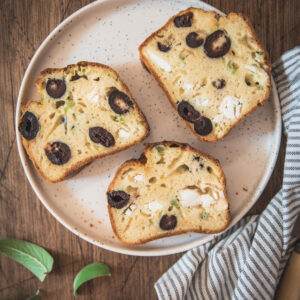 Feta and Olive Vegetarian Cake Recipe
Ingredients
200

g

flour

1

teaspoon

baking powder

1

pinch salt

4

eggs

15

cl

milk

10

cl

oil

150

g

feta cheese

50

g

Comté cheese

100

g

pitted black or green olives

110

g

tuna

(optional)

1

spring onion

(optional)
Instructions
Place flour, baking powder and salt in a large bowl. Mix well.

Add eggs one at a time.

Pour in the milk and oil gradually, mixing at the same time.

Add the drained olives, diced feta and comté cheeses, and drained and crumbled tuna.

Cut the fresh onion into thin strips and add.

Mix well, aerating the dough (by lifting it with a wooden spoon).

Line your cake pan and pour the batter inside.

Bake for 40-45 minutes, checking for doneness.

To do this, stick a clean knife into the cake; it should come out clean.

Leave to cool on a wire rack before slicing and serving.
If you ever make myFeta and Olive Vegetarian Cake recipe and like it, feel free to tag me on Instagram or Facebook so I can see the result and share it back…
Just to let you know I am French and I translate my recipes, be indulgent if you see syntax errors and do not hesitate to leave me a comment so I can correct it. I hope you will like my recipes and enjoy your visit to my food blog!