Do you know ceviche fish?
Today, I'd like to introduce you to this fish-based recipe. I made this dish with extra-fresh cod and saithe. I chose these 2 varieties in particular for their firm flesh, ideal for cutting into small cubes.
But what is ceviche?
So, Ceviche! This is a raw fish dish eaten cold. The fish is marinated in lemon juice, which "cooks" it.
It's usually accompanied by sliced red onions and coriander.
You can also personalize the recipe by using shallots, limes or combava, as in my recipe.
Accompanied by diced mango or fresh tomatoes, it's a real fresh treat! Enjoy it as a starter in small quantities, or as a main course, as you wish.
I also sometimes like to add a touch of coconut milk, which takes my taste buds even further afield without spoiling the fish or the other flavors.
So here's my easy, fresh recipe!
Ceviche Fish Recipe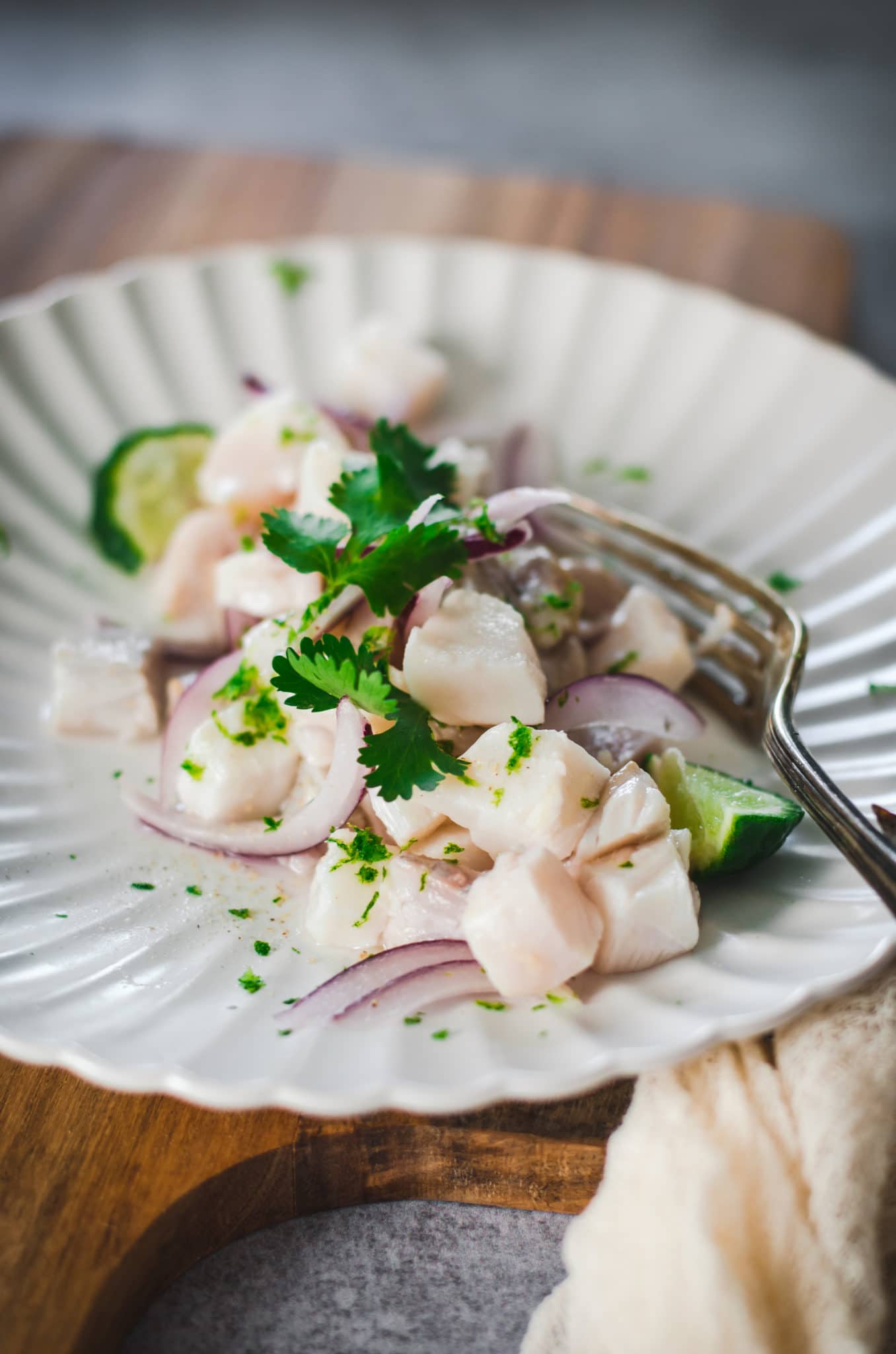 WHAT INGREDIENTS WILL YOU NEED TO MAKE THIS DELICIOUS FISH CEVICHE RECIPE?
extra fresh fish
red onion
organic lemon
kaffir lime or organic lime
chilli powder
fresh cilantro
fresh garlic
flower of salt
mango or tomatoes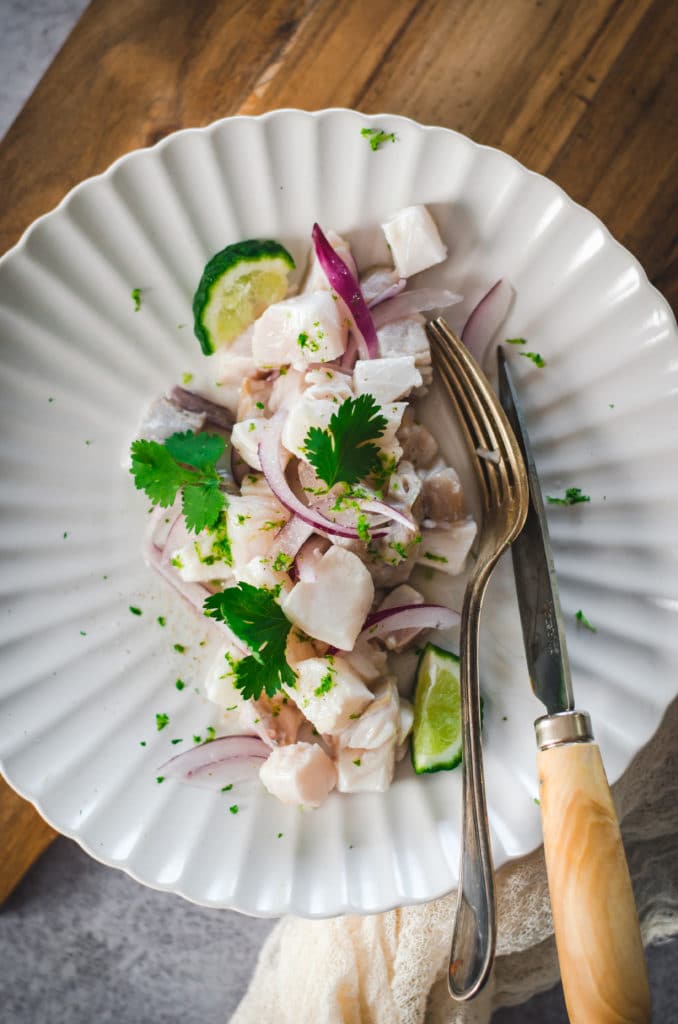 If you like this kind of recipe, I invite you to discover other fish and sea food based ideas: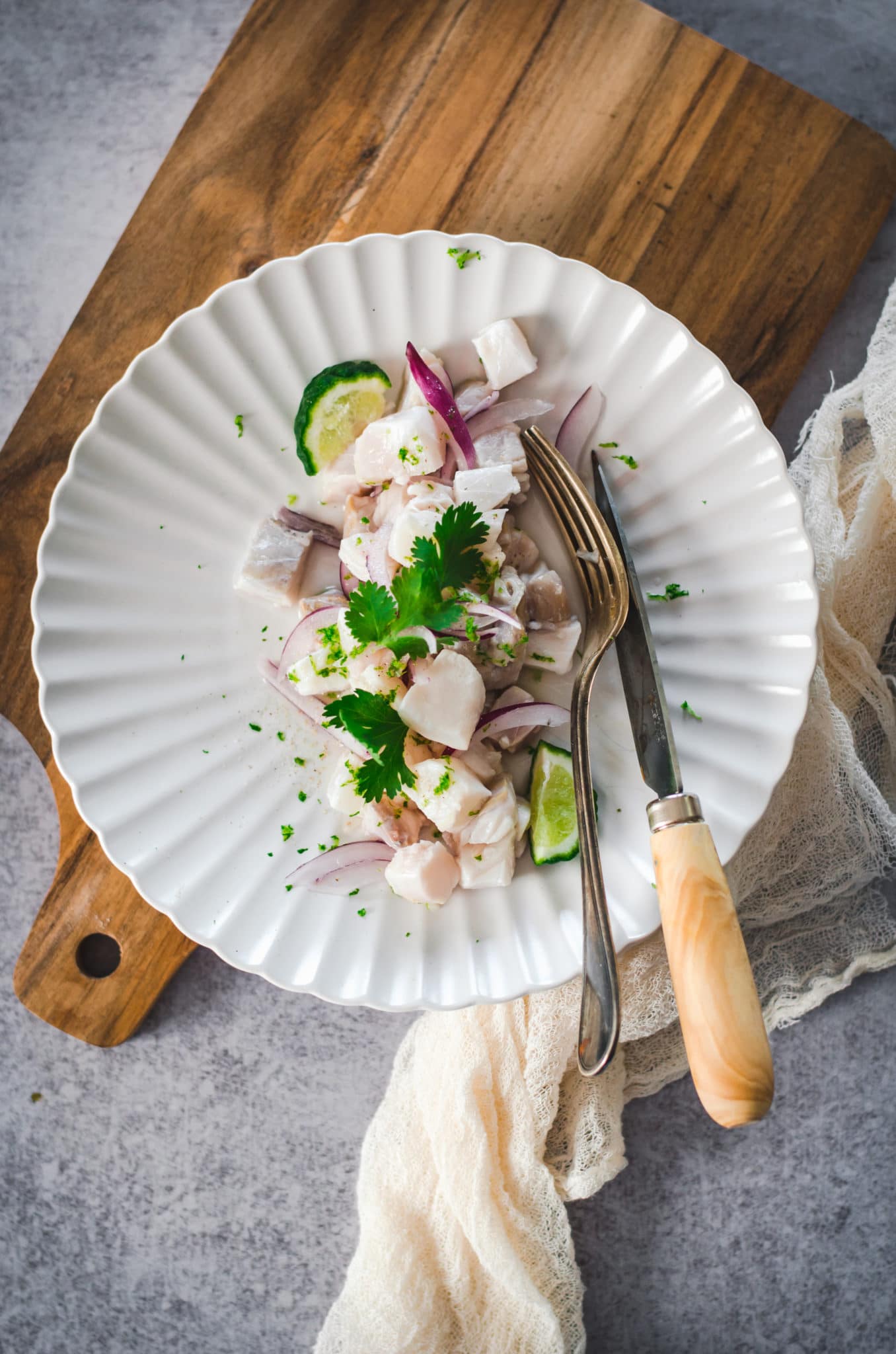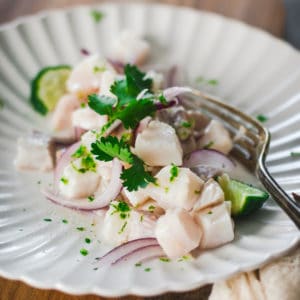 Ceviche Fish Recipe
Ingredients
500

g

extra-fresh fish

1

small red onion, finely chopped

1

large organic lemon

1

organic combava or lime

1

pinch

chili powder

Fresh coriander leaves

1/2

clove garlic

1

pinch

salt

Mango or tomato (optional)
Instructions
Cut the fish into 1 cm cubes. Place in a salad bowl. Add lemon juice, mix, cover and refrigerate for one hour. This will allow the fish to "cook" in its marinade.

In another bowl, prepare the other ingredients. Peel and dice the mango, then pour into the bowl.

Peel the garlic and onion. Finely chop the onion and dice the garlic. Mix with mango.

Just before serving, mix the fish with the other ingredients. Add salt, a pinch of chili powder, combava zest and chopped coriander, then mix and serve.
If you ever make my homemade Ceviche Fish recipe and you like it, don't hesitate to tag me on Instagram @tangerinezest so I can see the result and share it myself…
Finally, just to let you know I am French and I translate my recipes, be indulgent if you see syntax errors and do not hesitate to leave me a comment so I can correct it. I hope you will like my recipes and enjoy your visit to my food blog!