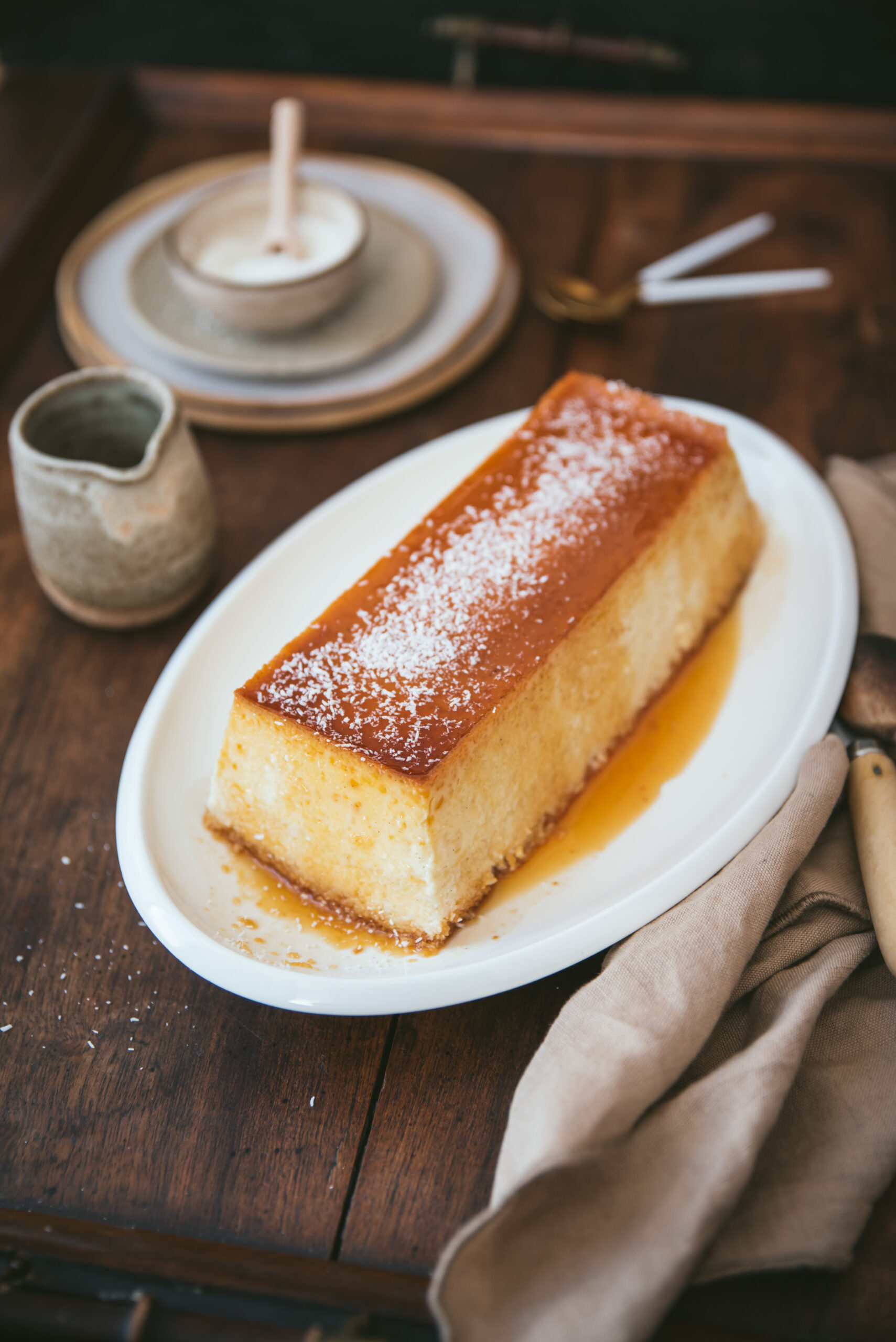 This Creamy Caribbean Coconut Flan with Caramel recipe is a pure wonder that you must try right away!
This dessert is so quick and easy and it's a recipe that can be made the day before, which can be very convenient.
This flan is really nice because the 2 layers you see in the pictures form automatically during baking.
Indeed, you just have to mix all the ingredients (following the recipe detailed below) and during the cooking, the coconut, lighter than the preparation, will rise to the surface and brown well.
When you turn the flan over in a cake pan to serve it, this coconut will rise to the bottom and you will get a nice dessert with a double texture: a soft and toasted cookie on the bottom and a creamy flan on top, all soaked in a delicious caramel.
Just writing this makes my mouth water… 😉
This coconut flan can be stored in the refrigerator for up to 3 days, but I'm sure it won't last that long.
Creamy Caribbean Coconut Flan with Caramel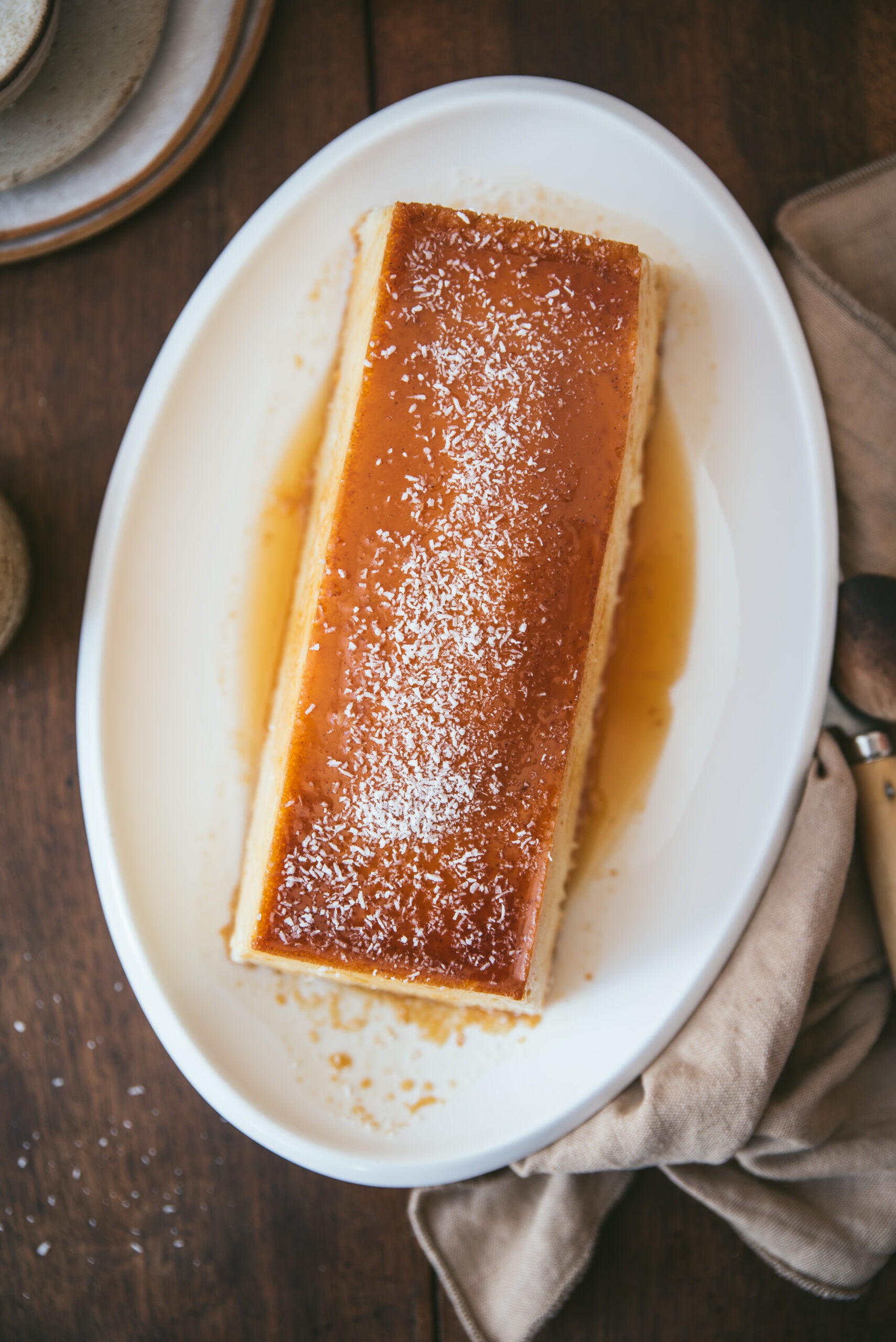 What ingredients will you need to make this delicious West Indian Caramel Coconut Flan recipe?
FOR THE COCONUT FLAN
coconut milk
milk
sweetened condensed milk
eggs
vanilla or natural vanilla extract
shredded coconut
dark rum (optional)
If you like, you can substitute coconut milk for the milk and the coconut flavor will be even more pronounced. I personally love it!
FOR THE CARAMEL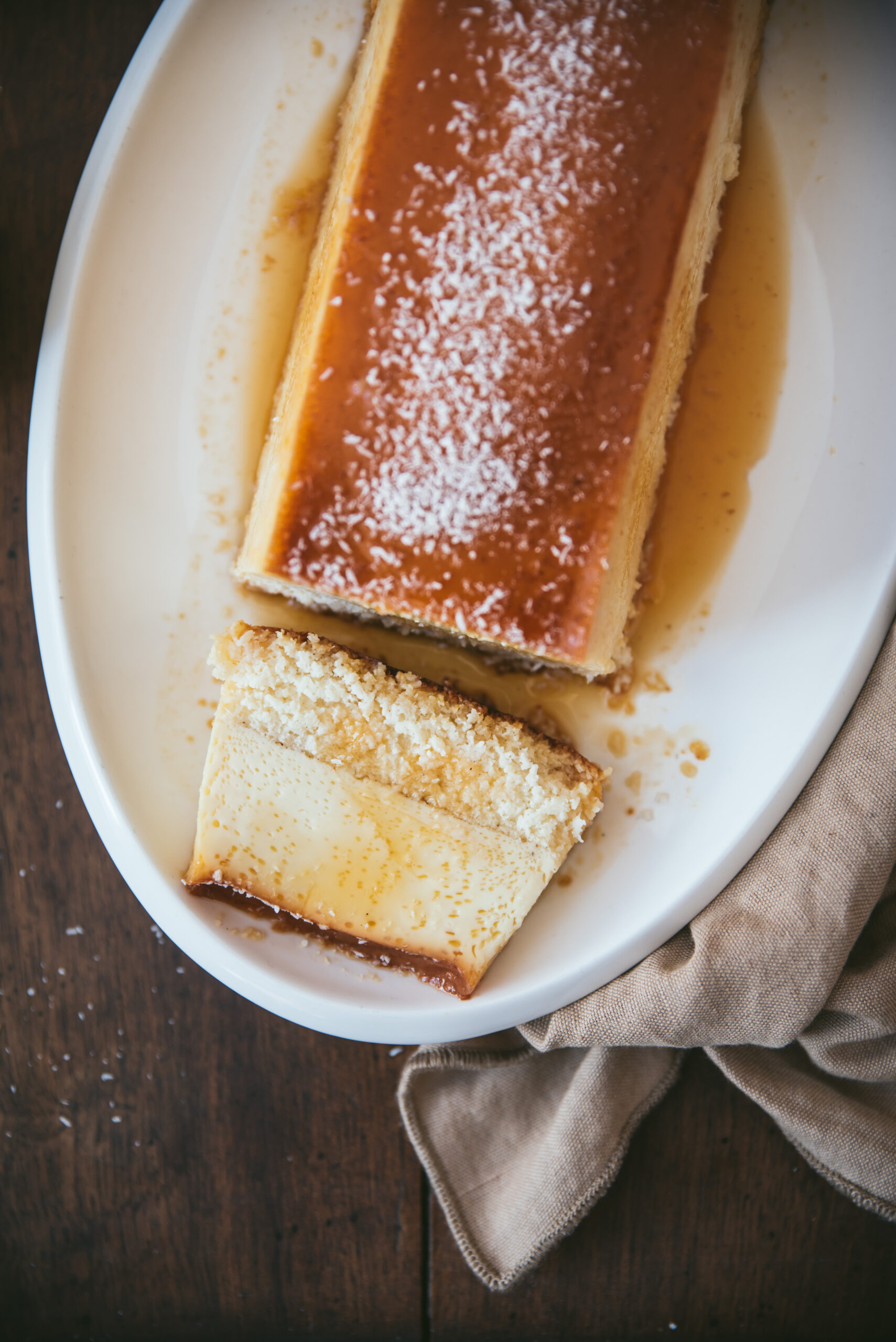 Why do you like this West Caribbean recipe?
this recipe is very simple and very quick to prepare, it is absolutely foolproof
you can prepare it the day before, which will save you time if you have people over
it is full of good flavors that will make your taste buds travel.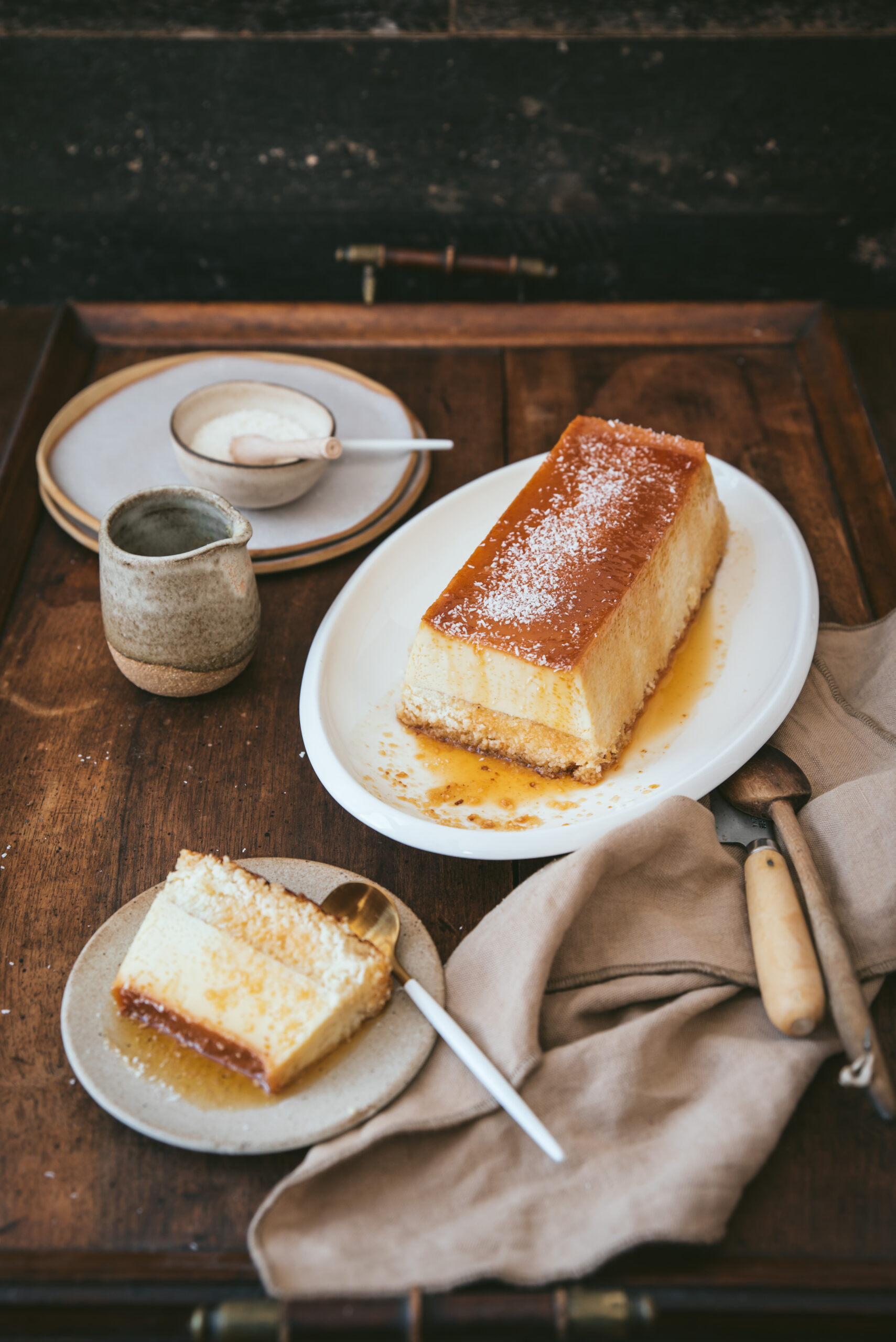 What equipment will you need to prepare this recipe?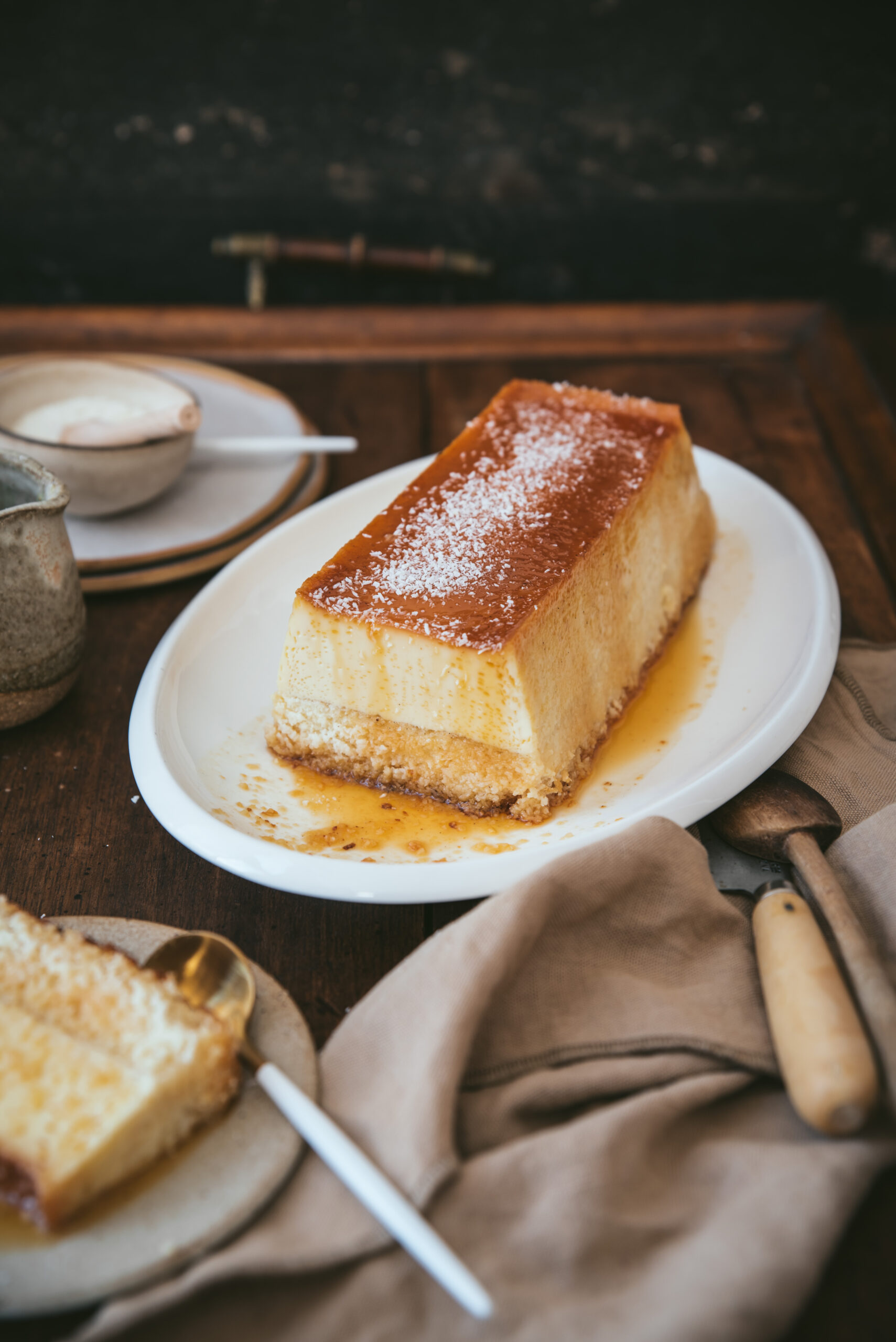 Some additional tips
during baking, if you notice that the surface is browning too quickly, place your flan in the bottom of the oven and place a baking sheet on top.
it is important to respect the cooking time of 45 to 50 minutes so that your flan will hold up well when removed from the mold. To check this, you can use the technique of a knife blade stuck in the flan, it must come out dry.
it is essential to cool your dessert so that it sets well.
to make it easier to remove from the mold, dip your mold in a hot water bath so that the caramel liquefies.
run the blade of a knife around the flan to loosen it from the edges of the mold.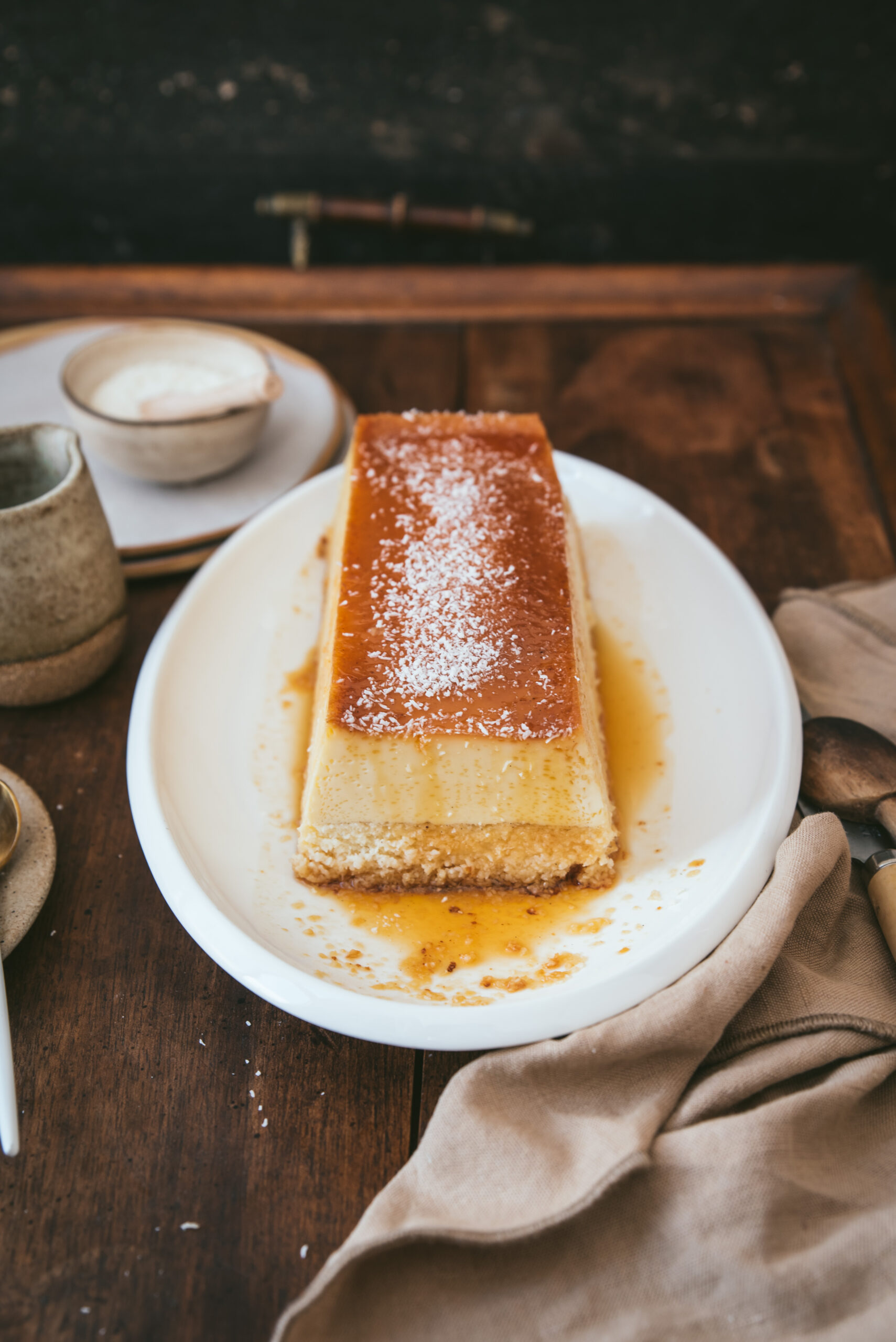 Other dessert recipes to try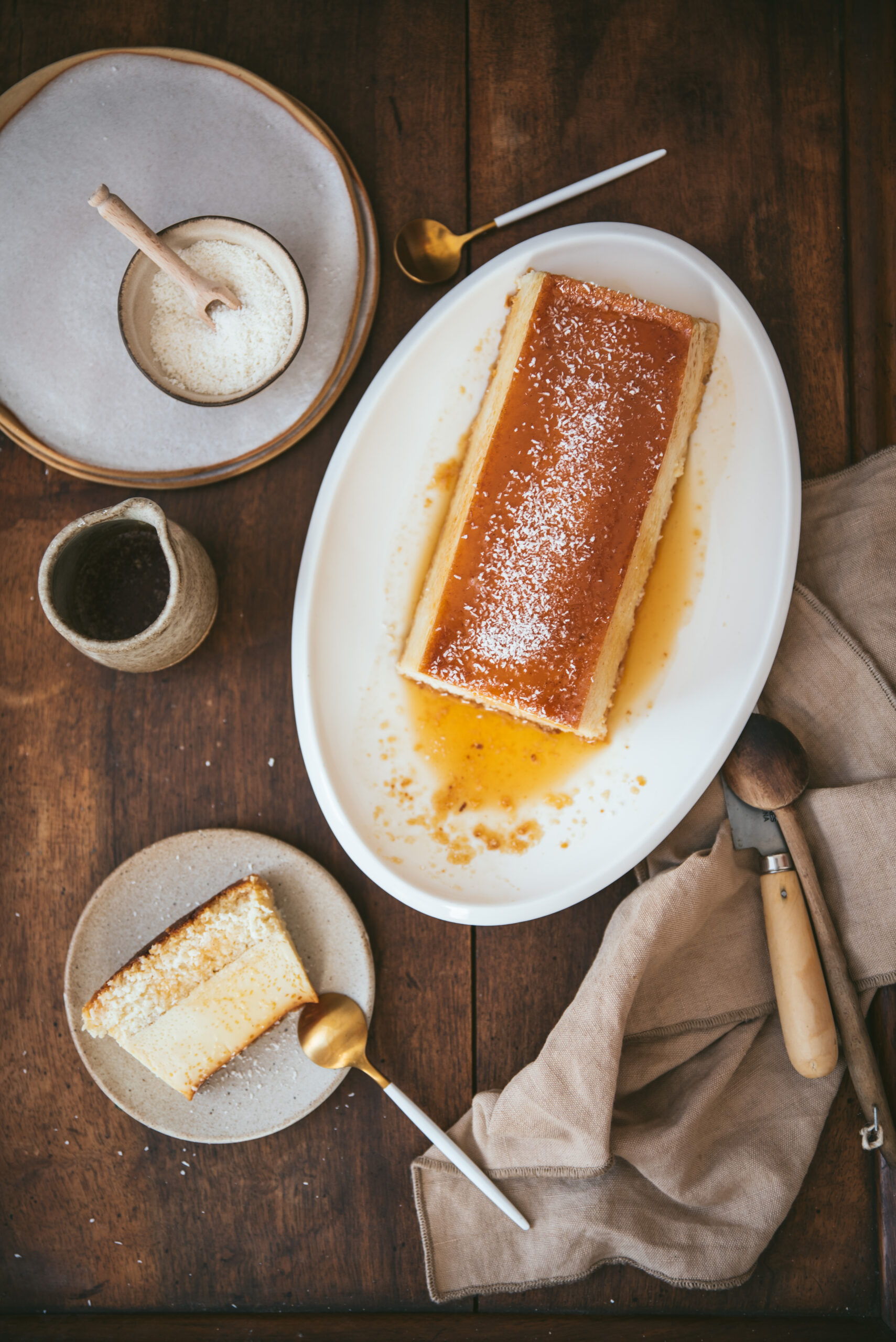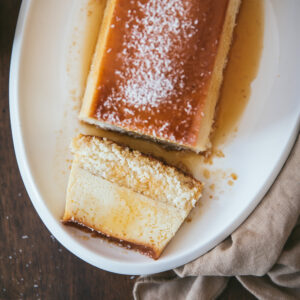 Creamy Caribbean Coconut Flan with Caramel
Equipment
1 saucepan

1 whisk

1 cake pan

1 large oven dish
Ingredients
FOR THE CARAMEL
100

g

powdered sugar

4

tablespoons

water
FOR THE COCONUT FLAN
25

cl

milk

25

cl

coconut milk

400

g

sweetened condensed milk

4

eggs

1

vanilla pod or natural vanilla extract

125

g

grated coconut

one spoonful for decoration

1/2

teaspoon

dark rum

(optional)
Instructions
FOR THE CARAMEL
Start by preparing the caramel.

In a saucepan, heat the sugar over medium heat.

Be careful not to stir the sugar with a utensil.

When the sugar begins to color, shake your pan in a circular motion to even out the caramelization.

When the caramel has completely set without being too dark, add the 3 tablespoons of water all at once and shake the pan again.

When everything is even, pour the caramel over the entire bottom of your cake pan.
FOR THE COCONUT FLAN
Preheat your oven to 180°C.

In a bowl, break eggs and mix with a whisk.

Add sweetened condensed milk, milk and coconut milk and mix until smooth.

Add the vanilla and you can also add 1/2 teaspoon of dark rum.

Scoop a tablespoon of shredded coconut for decoration.

Add the remaining coconut to the eggs and milk in the bowl and mix again.

Pour your mixture into your cake pan, right on top of the caramel.

Place the cake pan in a large baking dish and pour water halfway up the pan. The flan will cook in a bain-marie.

Bake in your preheated oven at 180°C for 50 minutes, until the top of the custard is golden.

Cool out of water bath and place in refrigerator for at least 6 hours to set.

Avant de démouler, retirez le gâteau de la glacière et faites glisser la lame d'un couteau le long des côtés pour détacher la crème pâtissière des bords du gâteau.

Vous pouvez placer votre moule à gâteau dans un récipient rempli d'eau chaude pendant 5 à 10 minutes pour liquéfier le caramel.

Place a dish on your cake pan, then turn it over.

Your flan will unmould onto your dish.

Sprinkle with the remaining shredded coconut and serve in slices.

Enjoy!
If you ever make my recipe and you like it, don't hesitate to tag me on Instagram @tangerinezest so I can see the result and share it myself…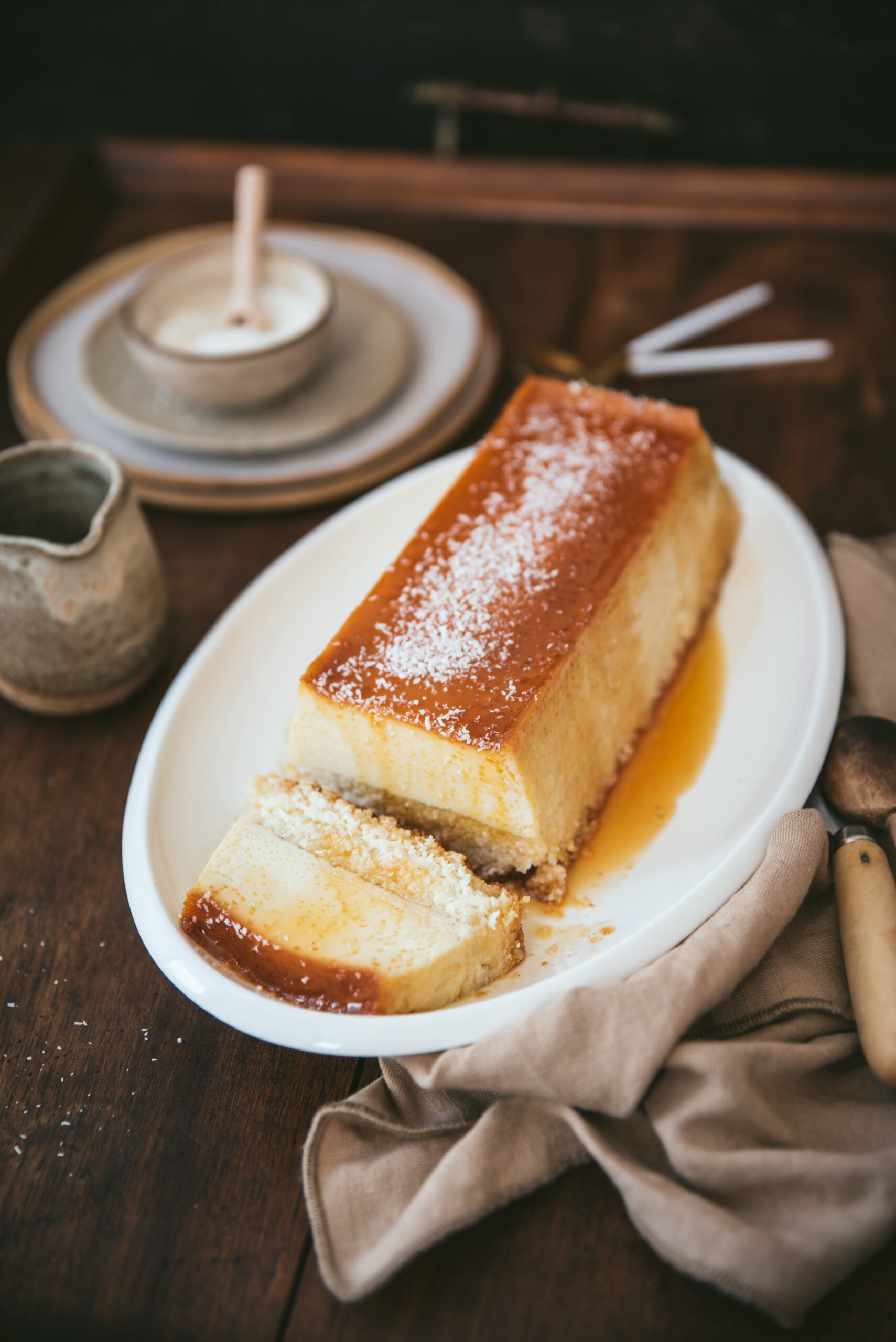 Finally, just to let you know I am French and I translate my recipes, be indulgent if you see syntax errors and do not hesitate to leave me a comment so I can correct it. I hope you will like my recipes and enjoy your visit to my food blog!