This is a recipe that can be made in any season. I've always loved Coconut Chocolate Rock Cookies and I have to admit I've never tried a homemade recipe before. But I must say that it's super simple and for a first test, it's an absolute success!
I used fairly finely grated coconut but you can use all kinds or mix them for an interesting textural effect.
I had done a good fortnight but they didn't last more than 2 days, even with only 2 at home. We'll say 2.5, since I count as 1.5… 😉
So if you are a family or a larger group, do not hesitate to double the doses or at worst, reduce them…
I made this little Congolese coconut-chocolate recipe for the 32nd food battle organized by Chapeau & Melon and whose theme is 'The sweetness of your childhood'.
If you don't know about combat food, the principle is simple. In turn, a food blogger chooses a theme and those who wish to participate all publish a recipe on the proposed theme on the same day. The goal is just to have fun…
Coconut Chocolate Rock Cookies Recipe
What ingredients do you need to make this Coconut Chocolate Rocks recipe at home?
What other indulgent recipes from the blog should you love as much as these coconut rocks?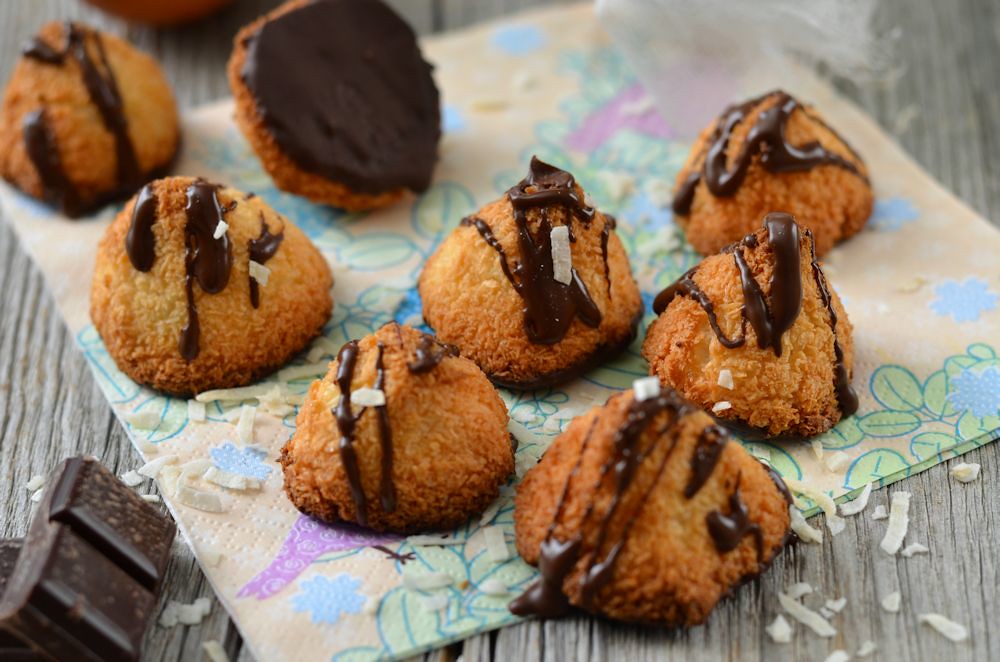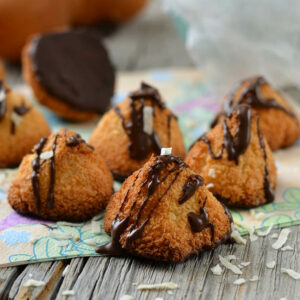 Coconut Chocolate Rock Cookies
Ingredients
3

egg whites

100

g

sugar

125

g

grated coconut

1

pinch

salt

60

g

dark chocolate
Instructions
Beat the egg whites until stiff and add a pinch of salt until stiff.

Carefully add the sugar and coconut mixture using a spatula.

Preheat your oven to 180°C/356°F.

Form small cones and place them on a sheet of baking paper, taking care to space them sufficiently apart.

Bake for 20 minutes, checking regularly. They just need to be nicely browned.

Don't wait for the rocks to cool before peeling them off.

Heat the chocolate in a bain-marie. Once melted, dip the bottom of the rocks and leave to dry on their side.
Notes
If you wish, for a little decorative touch, you can place small drizzles of chocolate on the rocks using a fork.
If you ever make my homemade Coconut Chocolate Rock Cookies recipe and you like it, don't hesitate to tag me on Instagram @tangerinezest so I can see the result and share it myself…
Finally, just to let you know I am French and I translate my recipes, be indulgent if you see syntax errors and do not hesitate to leave me a comment so I can correct it. I hope you will like my recipes and enjoy your visit to my food blog!