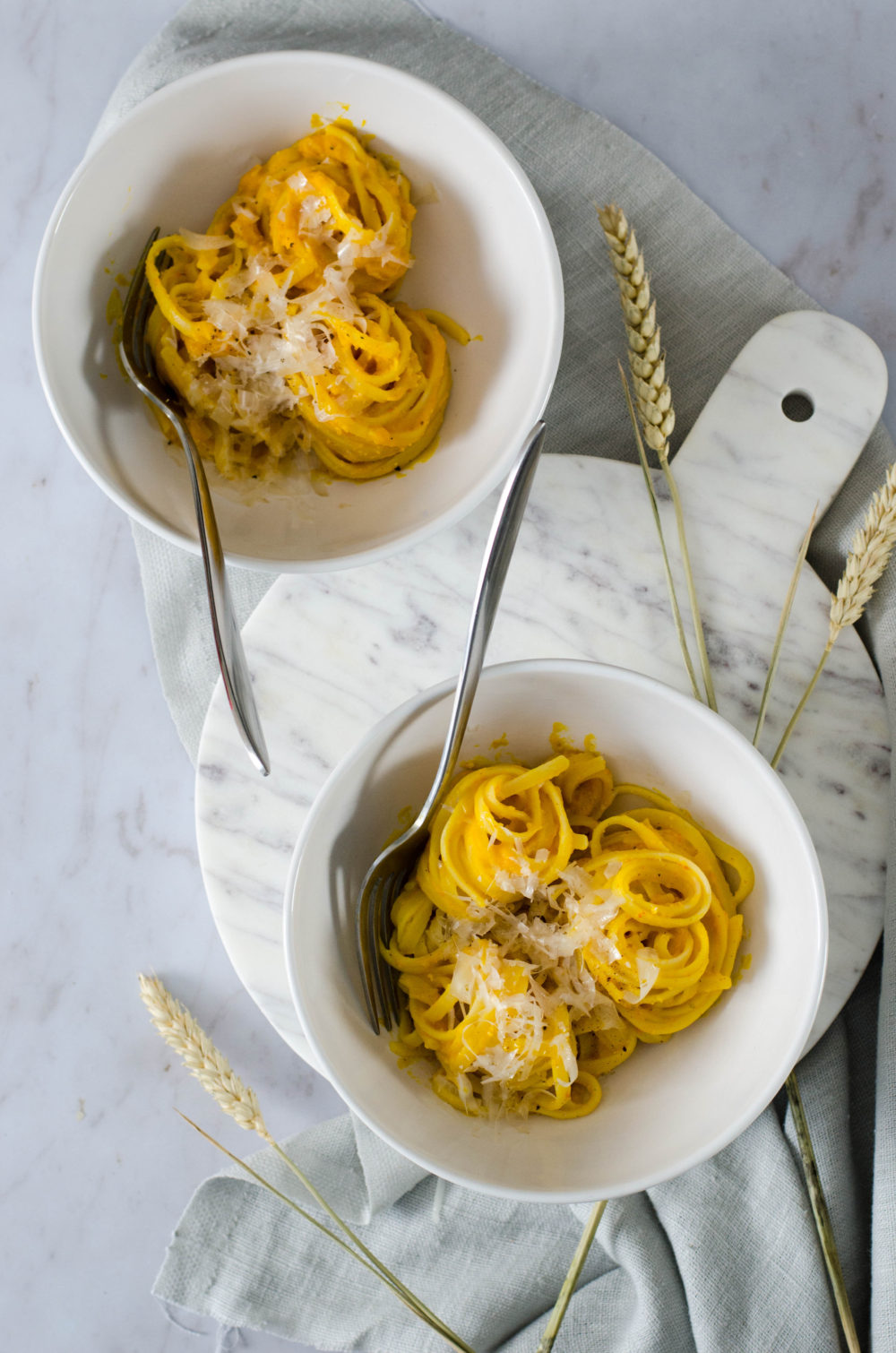 Last autumn, this Creamy Pumpkin Pasta recipe was in the top 10 of my list of recipes to try, but the squash season had flown by without me being able to cook this dish (my excuse: a very busy little baby! 😉
I might as well tell you that this was the first recipe I made when I found a lovely pumpkin at the market, and I was delighted to try it with my new Microplane.
A few months ago, I already told you about my love for my new Microplane grater, so I can assure you that when I was offered to test two Microplane graters in an autumn recipe, I couldn't resist either the grater or the recipe.
The quality of these graters is excellent, and they're really super-efficient.
Thanks to the zester, the nutmeg falls into a light dust that delicately perfumes the squash purée, and the double-edged grater I used for the pecorino cheese creates light flakes that melt into the pasta and blend in perfectly. Since then, I can't get enough of it…
As for the history of the brand, it began in the 90s in a carpentry workshop. Frustrated by the results obtained with her grater, a cook rummaged through her husband's woodworking shop and found a Microplane.
The orange peel that fell from it was as light and airy as snowflakes. Microplane culinary graters
Creamy Pumpkin Pasta Recipe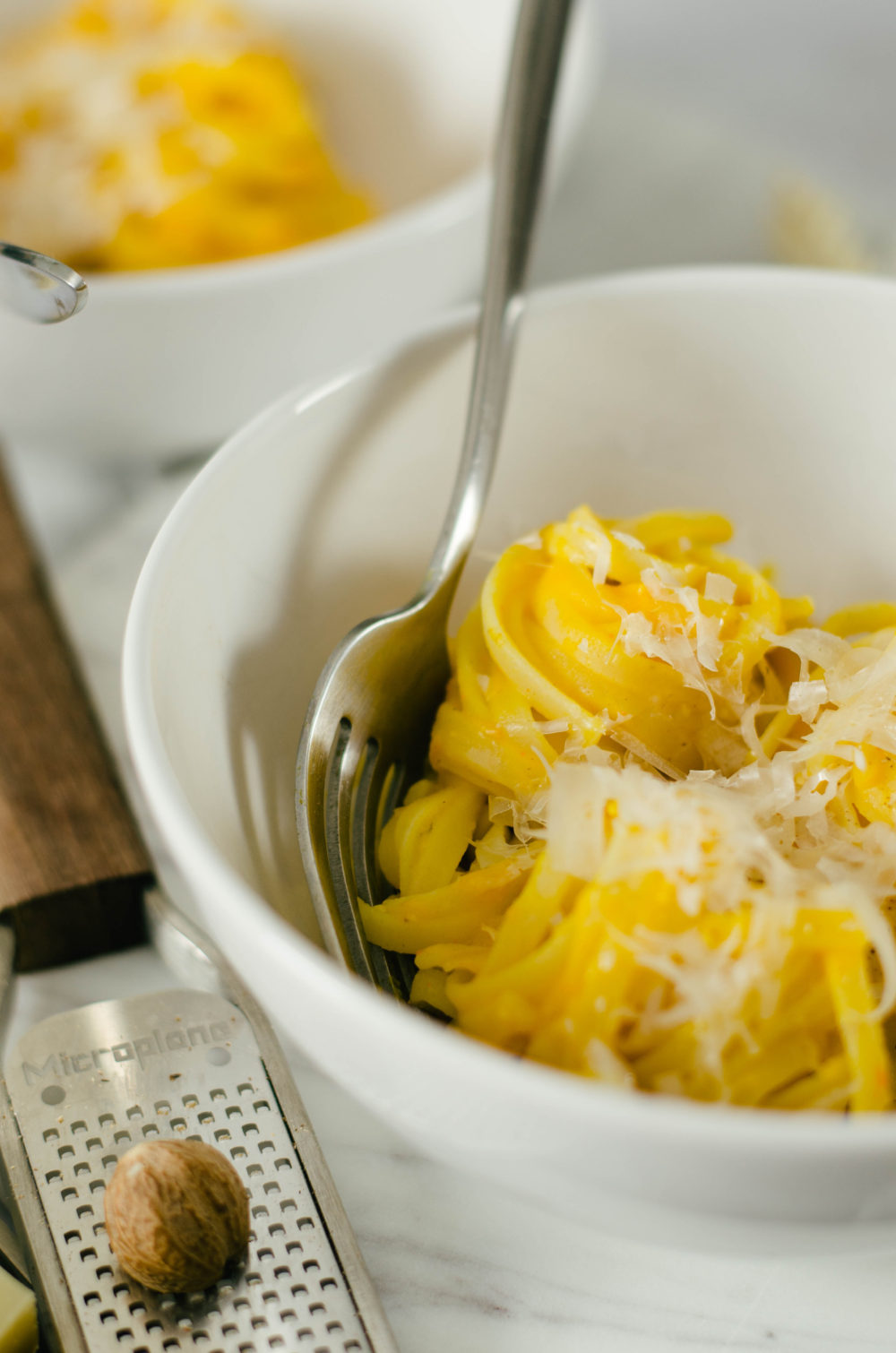 In any case, this recipe for linguine with pumpkin cream was a hit with the whole family, including my 3-year-old.
You can also prepare this squash purée in larger quantities and store it in the freezer.
All that's left to do is cook the pasta and enjoy 😉
I cook pumpkin very often because I like its light taste, and what I like most is that it doesn't need to be peeled, unlike other squash.
The skin becomes completely supple when cooked and you don't feel it at all in the texture.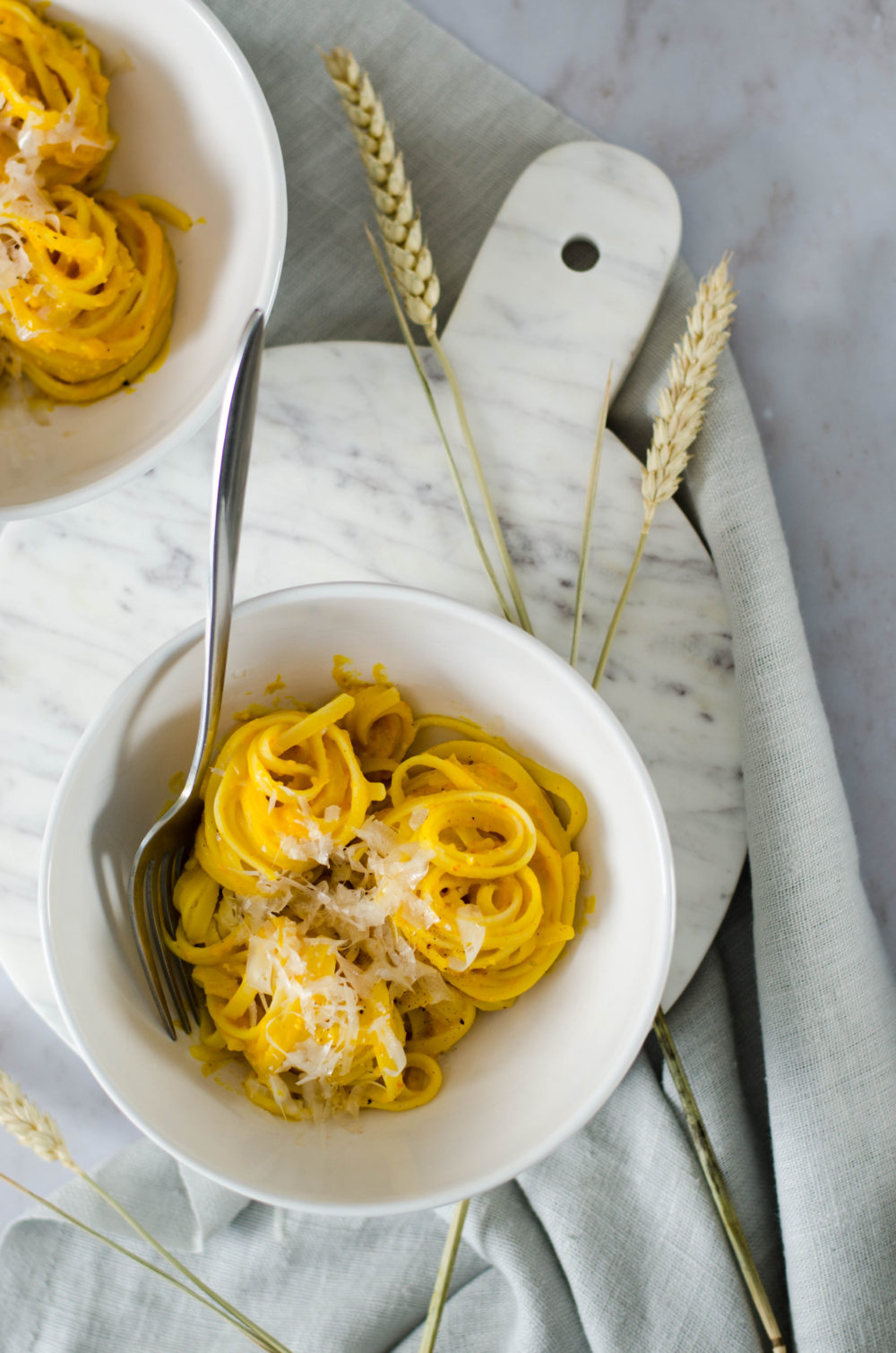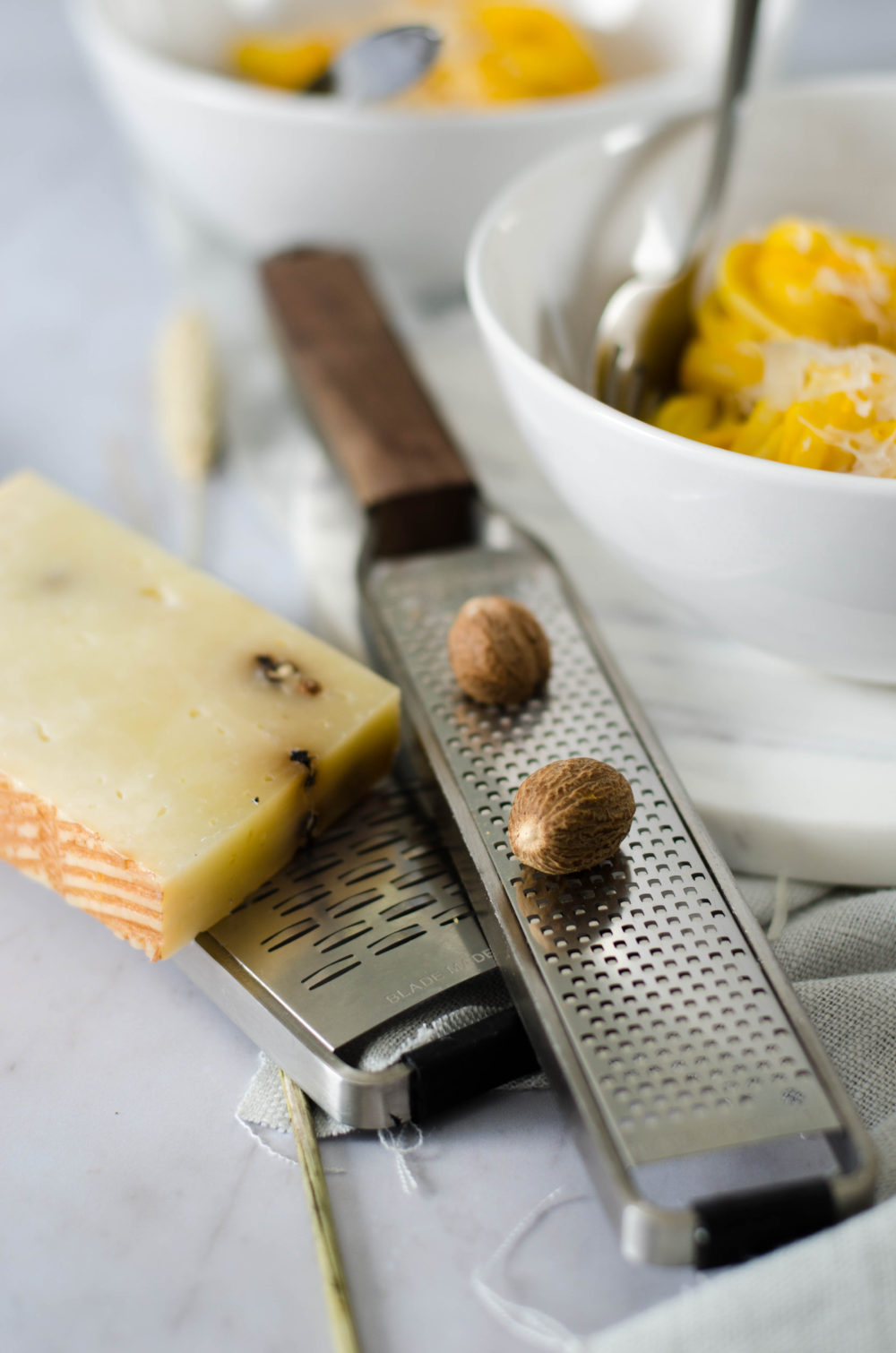 What ingredients do you need to make this pumpkin cream pasta recipe?
linguine (you can make it yourself with my recipe)
mashed pumpkin squash see notes for preparation
full cream
nutmeg
a minced shallot
butter
dry white wine
salt and ground pepper
pecorino (here with pepper)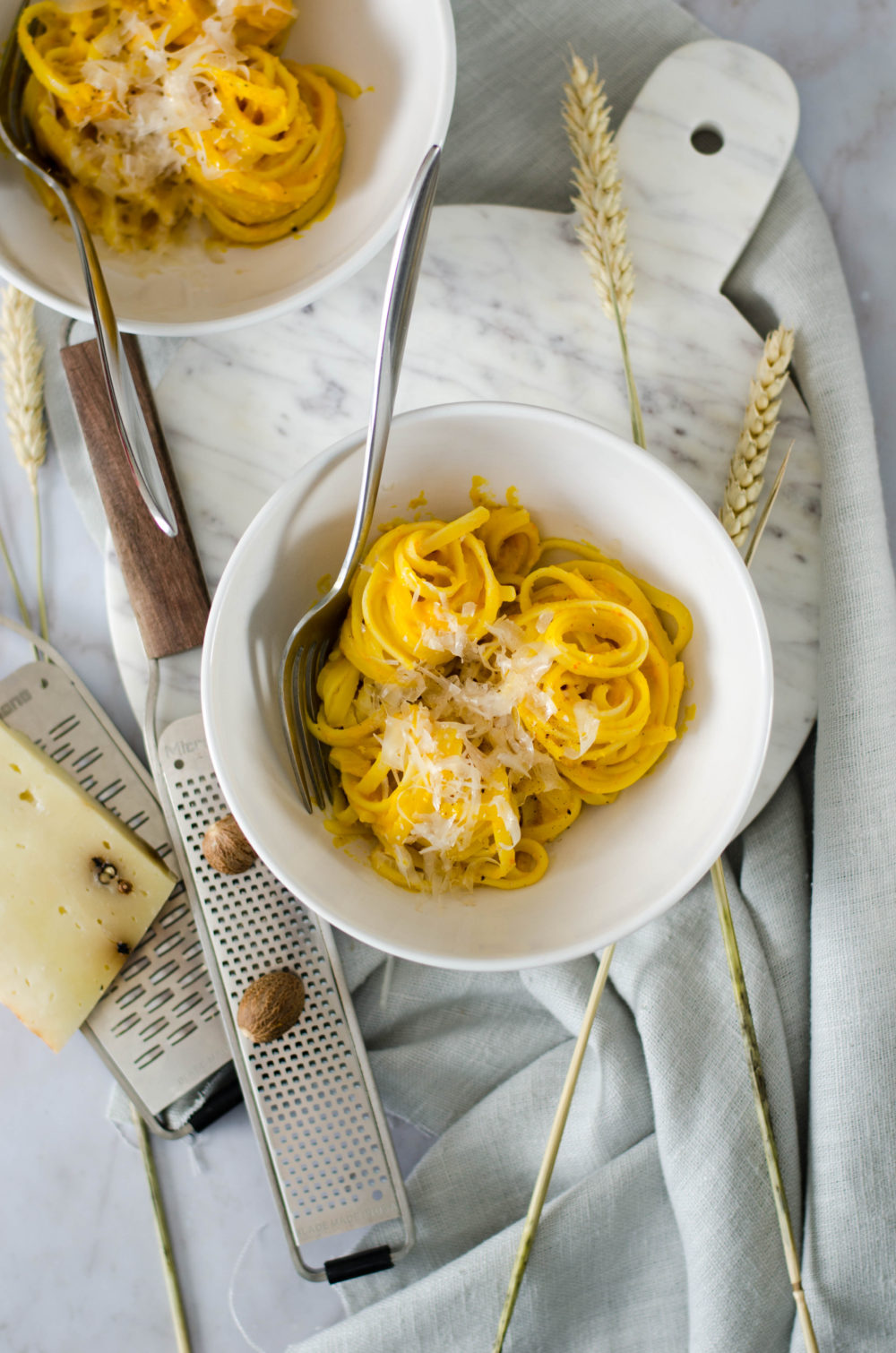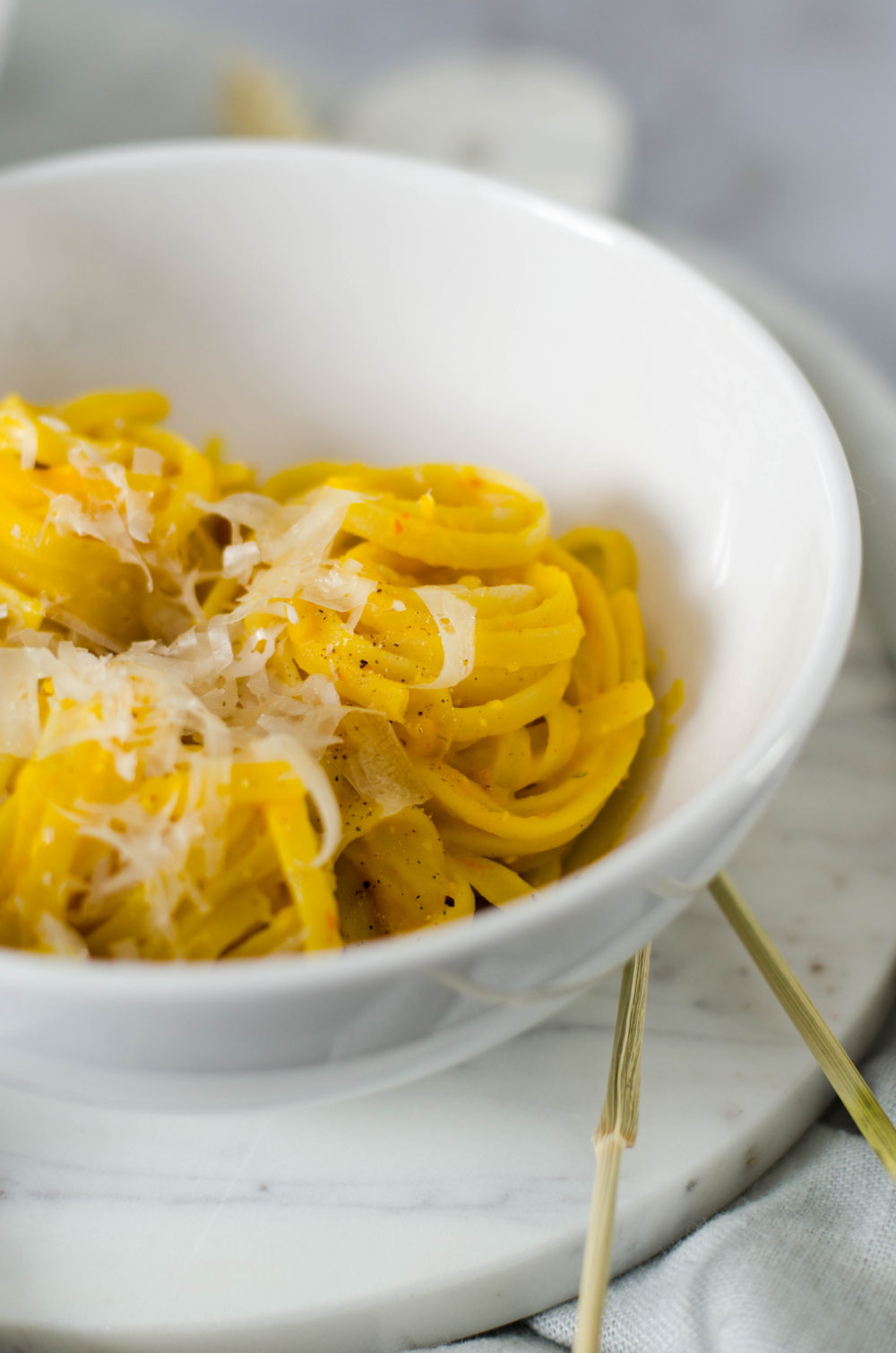 If you also like pumpkin, here are some other recipe ideas that I really like: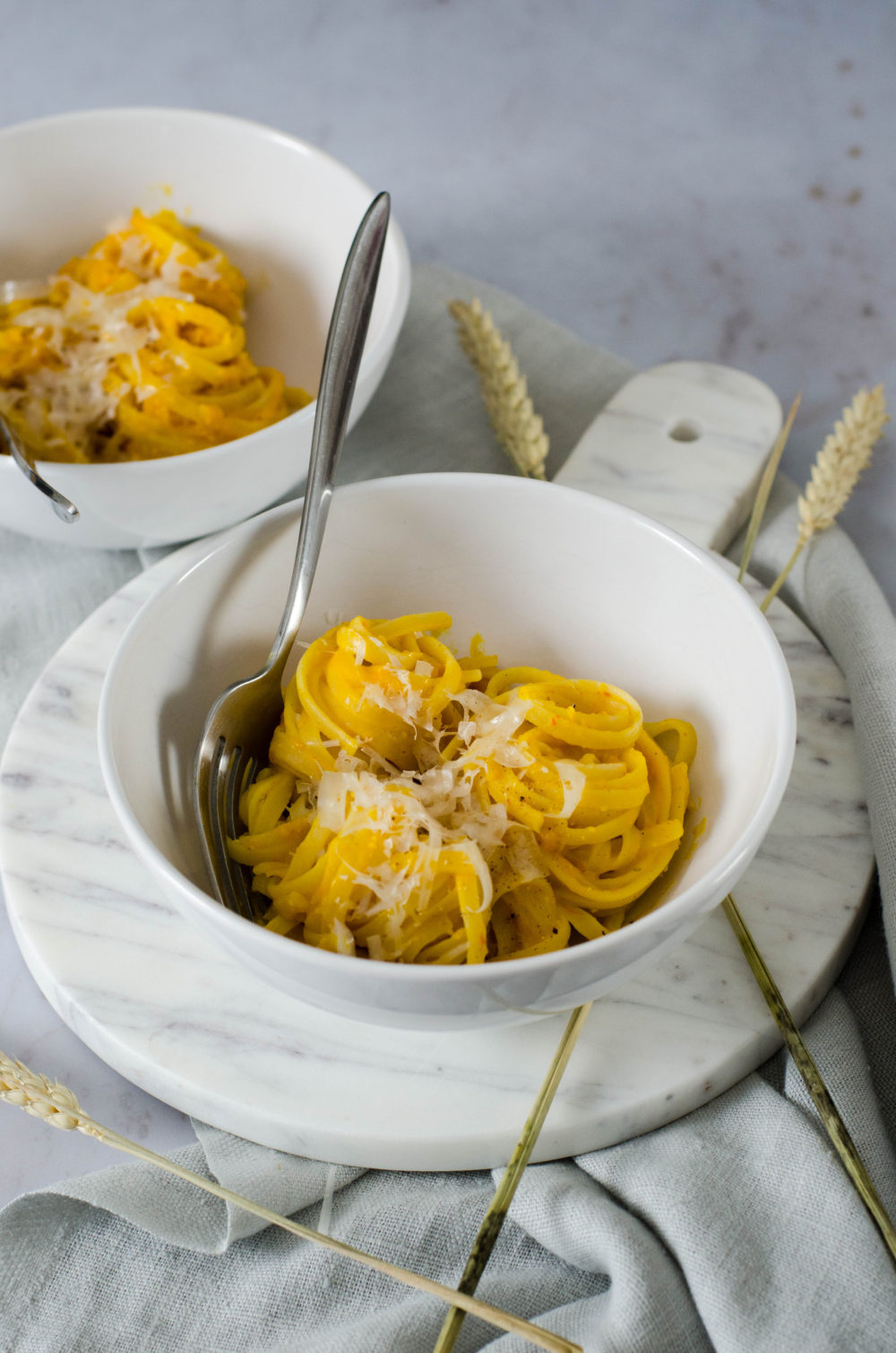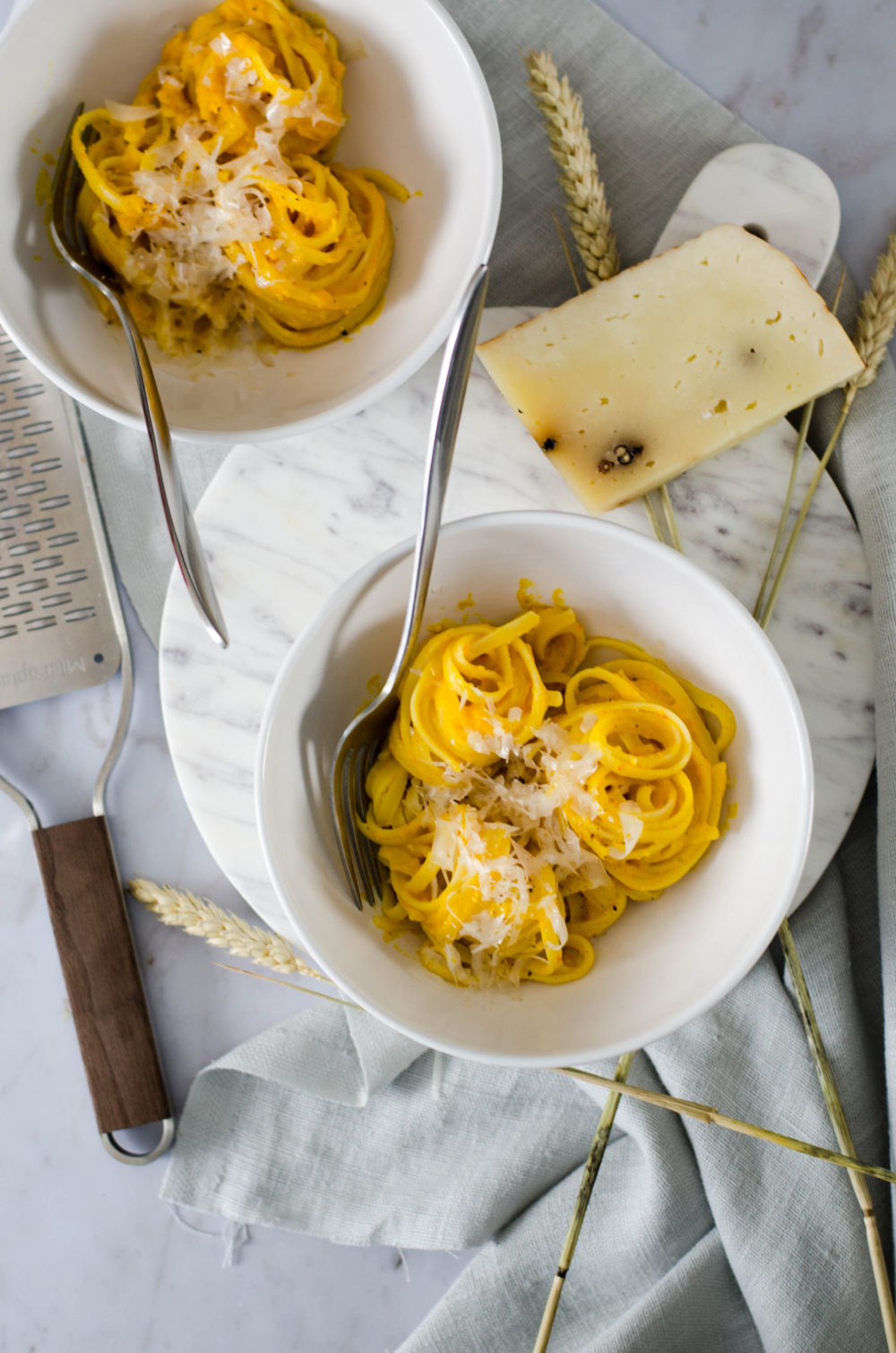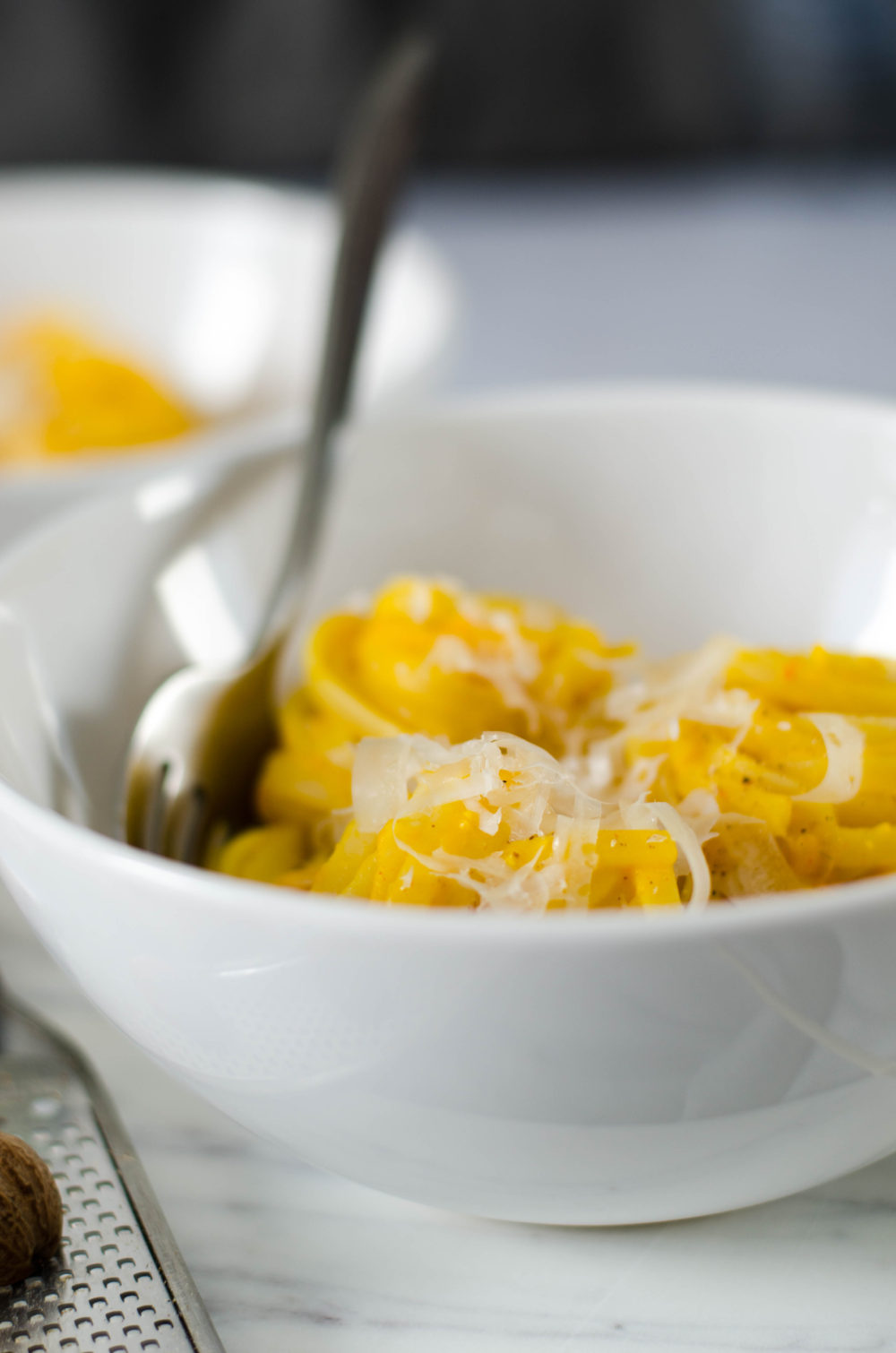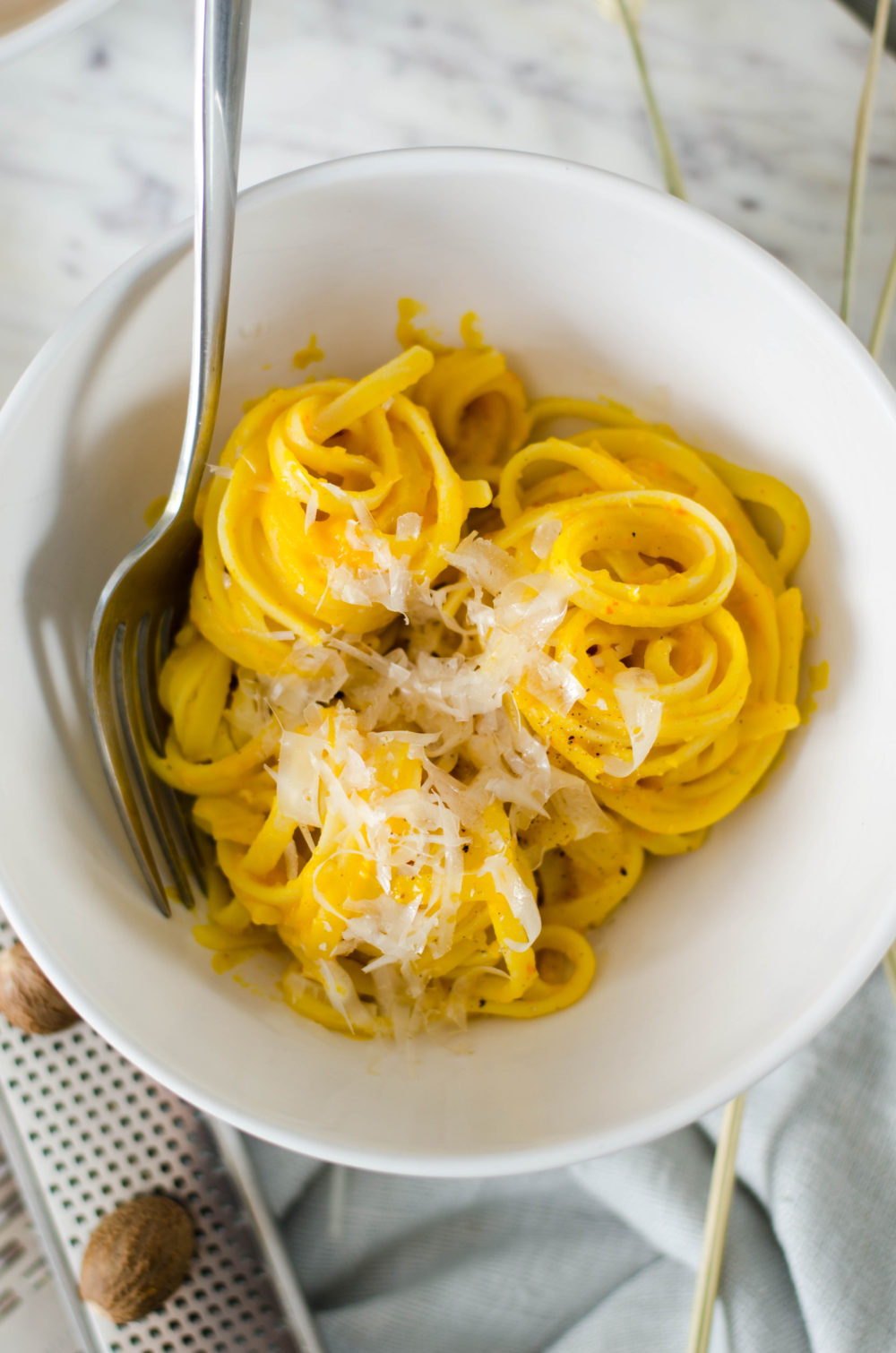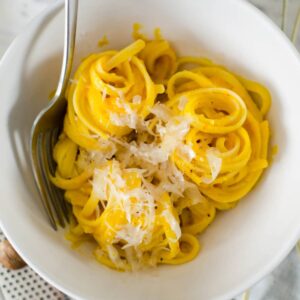 Creamy Pumpkin Pasta Recipe
Ingredients
400

g

linguine

300

g

pumpkin puree

(see in the notes to prepare it)

250

ml

whole liquid cream

1

pinch

nutmeg

1

minced shallot

1

teaspoon

butter

2

tablespoons

dry white wine

Salt and pepper

Pecorino

here with black pepper
Instructions
Cook the pasta as directed on the packet, in a large pot of boiling salted water. Draining.

In a saucepan, brown the chopped shallot then deglaze with the white wine.

Add the pumpkin puree with the liquid cream. Bring to the boil, add the finely grated nutmeg with the zester.

Then mix the preparation off the heat to obtain a very smooth and homogeneous cream. Reserve.

Mix the pasta and butternut cream. Serve hot with a few shavings of pecorino made here with the double-edged blade.
Notes
To obtain this pumpkin puree, steam the squash, emptied of its seeds but not peeled, then mash the flesh with a fork or potato masher.
If you ever make my Creamy Pumpkin Pasta recipe and you like it, don't hesitate to tag me on Instagram @tangerinezest so I can see the result and share it myself…
Finally, just to let you know I am French and I translate my recipes, be indulgent if you see syntax errors and do not hesitate to leave me a comment so I can correct it. I hope you will like my recipes and enjoy your visit to my food blog!