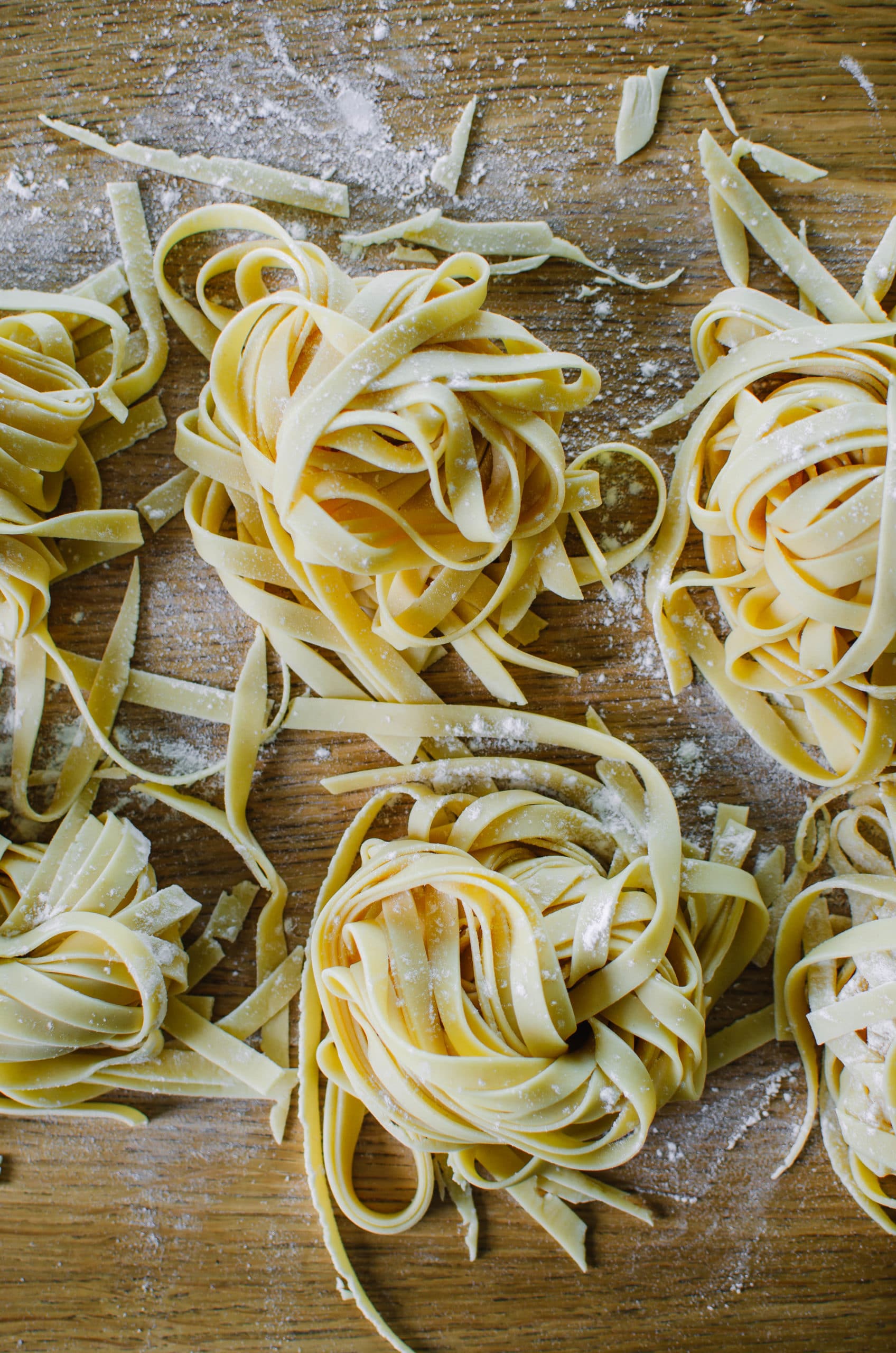 Ok, to be honest, this was my first time making fresh homemade pasta recipe but my little guy really wanted to try.
If you ask him what he wants to eat, he will always say pasta and bacon, so I really wanted to please him.
During confinement, cooking was really one of our main activities at home and one of our greatest pleasures, so we really tested lots of things and experimented, like here with fresh pasta, also homemade bread, casserole bread , babka, etc.
How to make fresh homemade pasta recipe?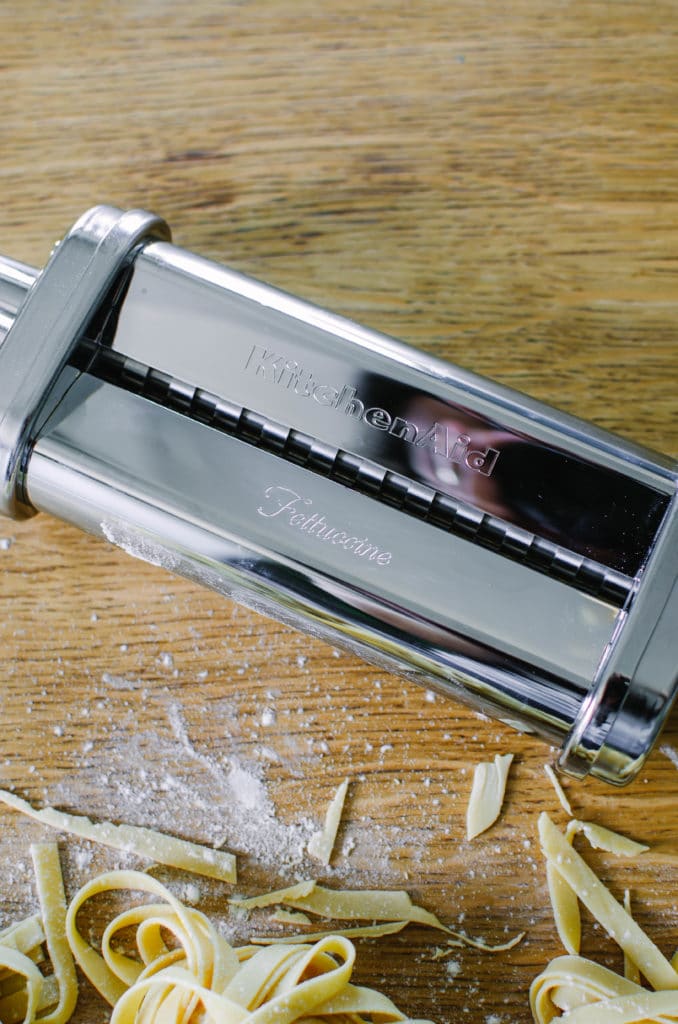 I recently got an attachment for my stand mixer to make my own pasta and I really wanted to try making it at home. As soon as I had eggs and flour, I went for it and honestly, we weren't disappointed, it's delicious!
Don't be afraid if you don't have a robot, you can always use a traditional pasta machine.
I compared several recipes and ways to make fresh pasta. Some use oil, others use water, but I chose the simplest version: egg + flour and that's it!
At first I was a little perplexed because on the first pass through the rolling mill, the dough flattened well but shredded a bit like lace and I said to myself that perhaps I should have added a liquid ingredient but in fact no way.
Simply fold it flat on itself, a bit like puff pastry, and pass it through the rolling mill several times, repeating the folding of the puff pastry if necessary.
In short, I will explain all this to you again in the detail of the recipe and in photos…
In any case, it's really an opportunity to spend some fun time in the kitchen and get back to basics. I really hope you dare to try this recipe because it is very easy and delicious!
Try this recipe and I can tell you that you will never buy store-bought pasta again. It's so enriching and soothing to make, like bread or brioche…
Well, and with all that, you can imagine what one of the next recipes on the blog will be…, a pasta recipe, obviously (with bacon)! 😉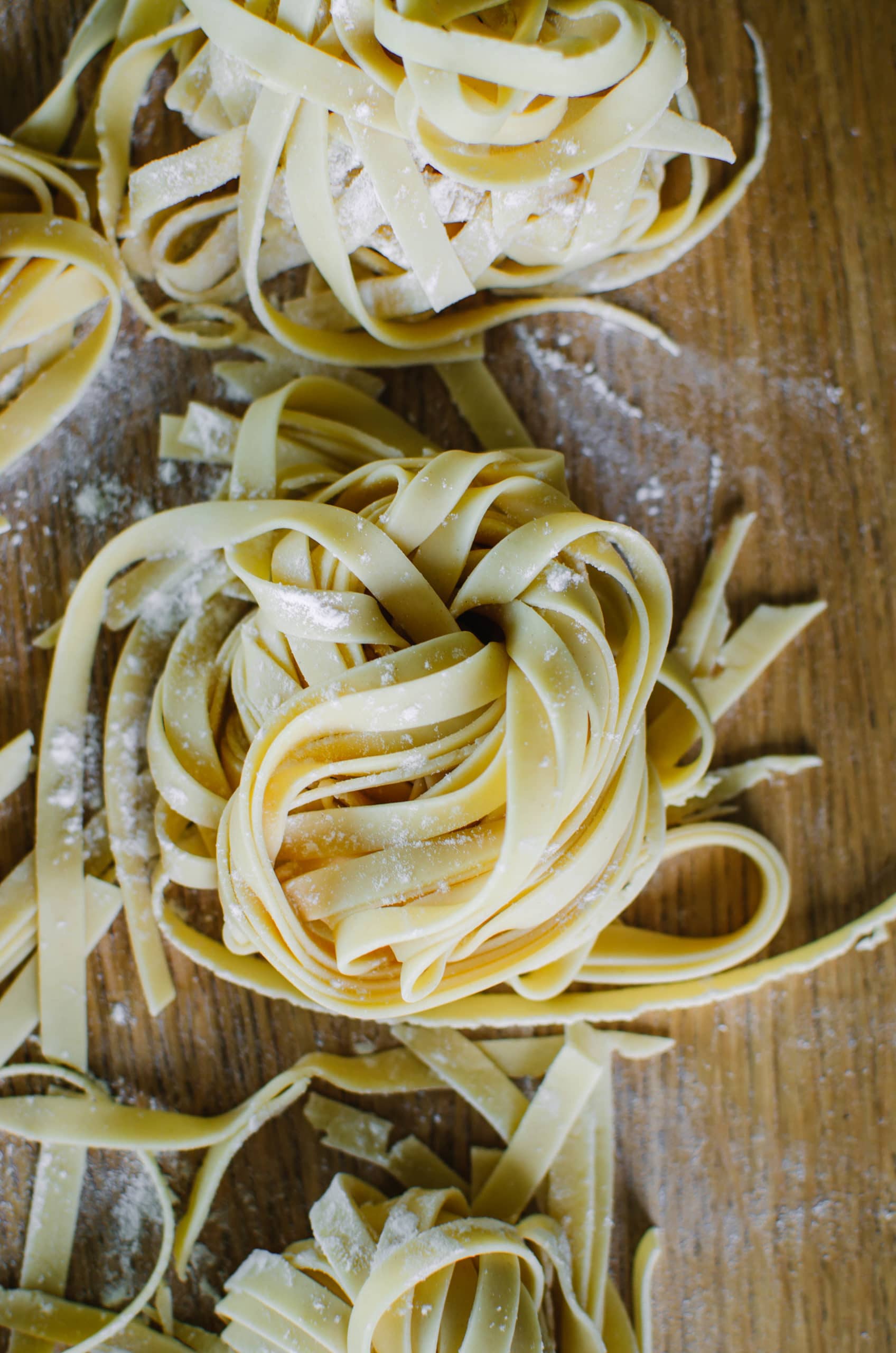 HOW TO COOK PASTA?
The question may seem stupid, but in reality, I believe that in general in France we do not cook our pasta according to the rules, so I also take this opportunity to tell you how to cook pasta according to Italian advice.
You need 1 liter of water for 100 g of pasta and salt the water only when it is boiling (7 to 8 g of coarse sea salt for 1 liter of water) then wait another 1 minute before immersing the pasta in it. pasta.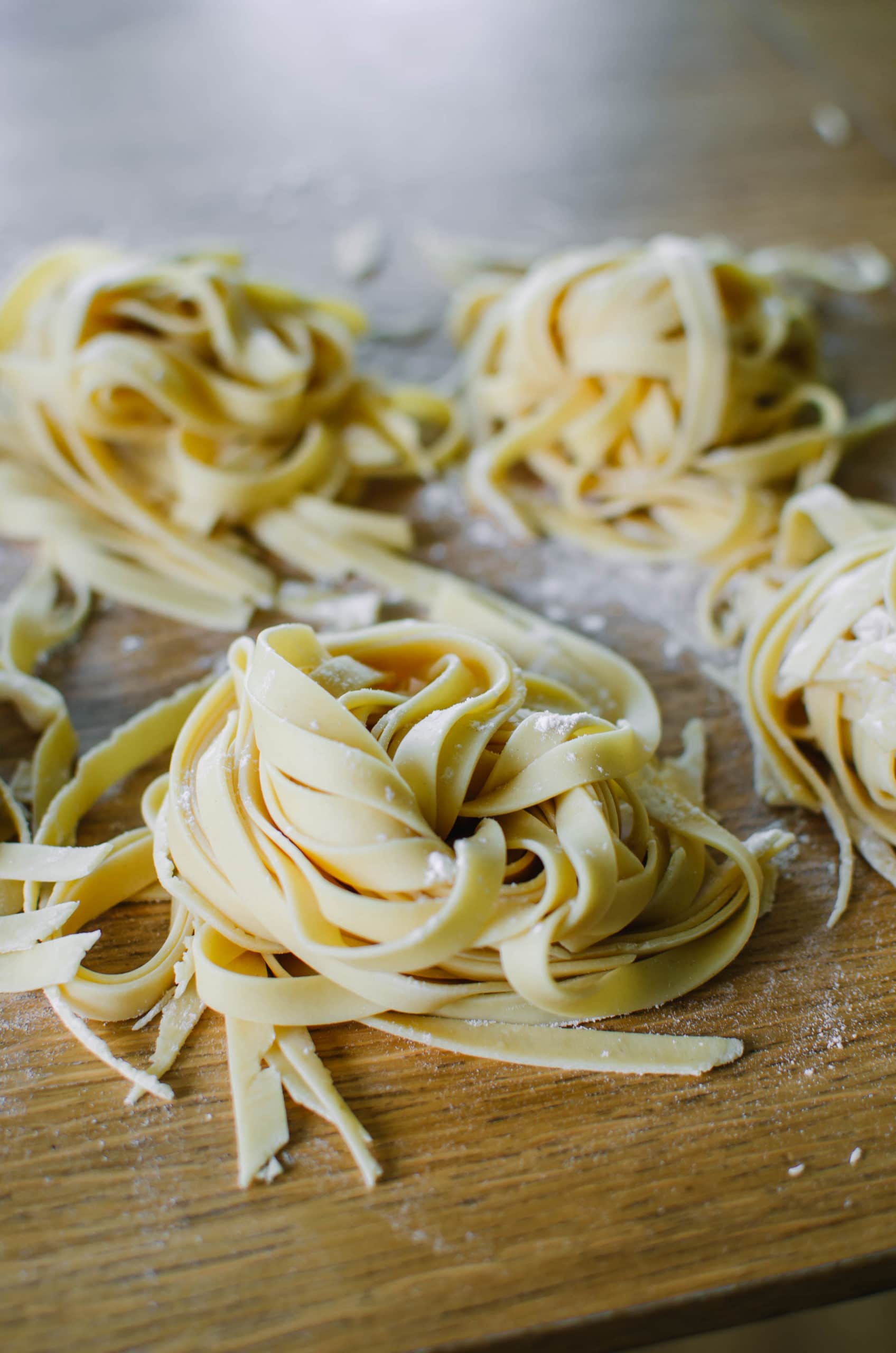 Regarding the dough machine, either you can use a manual machine dedicated to this, or if you have a pastry robot, you can use an accessory.
Personally, I used the KitchenAid fresh pasta set since I have a stand mixer from the same brand and it is very practical and easy to use.
The robot turns the sheeter which flattens the dough as well as the slicer either for spaghetti or for fetuccine/tagliatelle. We therefore avoid the manual crank and it's not bad at all.
It's super practical and the accessory is compatible with all of the brand's pastry robots! In terms of quality, like all the KitchenAid robots that I have tested, it remains of excellent quality, we feel that it is solid and durable.
Now that you know how to make fresh homemade pasta, you're ready to get started!
You will love their soft texture and delicious flavor. In fact, this fresh pasta is so good that you can serve it simply with butter or a drizzle of olive oil with a little grated Parmesan. But I will give you some of my favorite recipes for cooking them: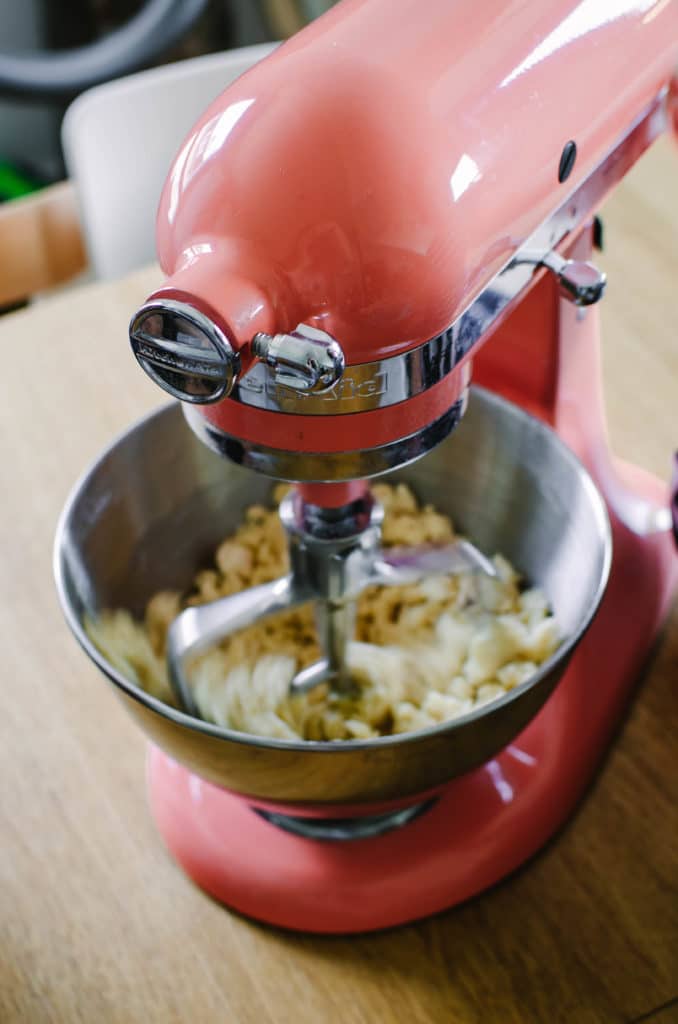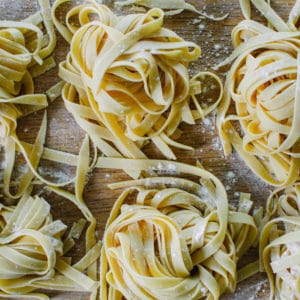 Homemade Pasta Recipe
Test it and you will never buy store-bought pasta again…
Ingredients
4

eggs

at room temperature

400

g

flour
Instructions
Pour the flour into the bowl of your food processor, then make a well in the middle.

Pour the eggs into the well and mix gently.

Then continue to knead by hand.

Form a ball and wrap it in cling film. Leave to cool for at least 1 hour.

Remove from the refrigerator, separate your dough into several (approximately 6 for 400 g of flour) small pieces of dough. Store those you don't use right away under cling film so they don't dry out.

Form a ball with each piece of dough which you flatten by hand then pass it through the rolling mill starting with notch number 1.

Repeat the operation at least four or five times at notch 1, folding it several times on itself in order to obtain a very smooth dough of good width.

It may tear a little on the first pass but that's not serious.

Then pass it through each notch about two or three times until you obtain the desired thickness of dough (for me, at notch no. 6 for fettuccine).

Now let them dry while you repeat the operation with the other pieces of dough.

Then cut your pasta with the cutting roller, roll up the formed pasta and place it on a lightly floured work surface.

Heat a large volume of water in a saucepan (4 to 5 liters).

When the water boils, salt it, wait a few moments then immerse the fresh pasta in it.

Cook until they rise to the surface (at least 5 minutes). Check the cooking so that they are to your liking.

All you have to do is season them as you wish!
Notes
The proportions per person are very simple: 1 egg and 100 g of flour per person.
For cooking pasta: 100 g of pasta = 1 liter
If the dough does not come together, do not hesitate to add a little water in small quantities until the dough forms a ball, but it should not stick.
If you ever make my homemade pasta recipe and you like it, don't hesitate to tag me on Instagram @tangerinezest so I can see the result and share it myself…
Finally, just to let you know I am French and I translate my recipes, be indulgent if you see syntax errors and do not hesitate to leave me a comment so I can correct it. I hope you will like my recipes and enjoy your visit to my food blog!