We continue the ball of fall recipes by putting at the honor its colors! Isn't this pumpkin and tomato soup pretty? In any case, I enjoyed making it, taking pictures of it and of course eating it with some good homemade croutons…
During a mushroom picking trip (with a recipe to come 😉 ) I had fun picking up some leaves, pine cones and chestnuts to decorate the pictures of my seasonal recipes. I hope you like it!
In any case, the warm light that comes out of it gives me a very nice cocooning feeling. I hope you do too!
I have a few particularly autumnal recipes coming up… something to enjoy with seasonal produce, both sweet and savory! Mmmmh!!! On the agenda: mushrooms, chestnuts, pears, and lots of other good stuff… I can't wait to see what you think…
Pumpkin and tomato soup
WHAT INGREDIENTS WILL YOU NEED TO MAKE THIS DELICIOUS Pumpkin and Tomato Soup RECIPE ?
All the quantities of the ingredients are indicated in the detailed recipe below.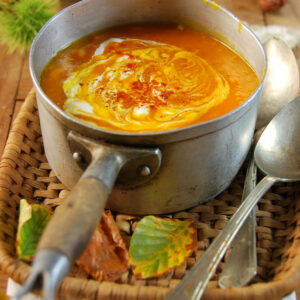 Pumpkin and tomato soup
Ingredients
1

pumpkin

2

tomatoes

1

garlic clove

1

onion

1

tablespoon

cream

1

vegetable broth

1/4

teaspoon

chilli powder

Salt and pepper
Instructions
Peel and cut the onion into small pieces. Fry it with a little olive oil in a pot.

After washing and removing the seeds, cut the pumpkin into pieces.

Put the pieces of pumpkin with the onion in the pot. Add tomatoes and garlic. Add the broth and cover with water.

Let simmer on medium heat for about 20 minutes.

Salt, pepper and spice before mixing everything. You can readjust the amount of water to obtain the desired texture (more or less liquid).

Serve hot with a little fresh cream.
Notes
It is not necessary to peel the pumpkin because the skin softens very well and goes perfectly in the blender.
If you make my soup recipe and if you like it, don't hesitate to tag me on Instagram or on Facebook so that I can see the result and share it in turn…
Well, the cream is not an absolute necessity, I very rarely put it in my soups, but I find that it goes very well with the pumpkin and accentuates the unctuous side of this little soup.
I don't know if you noticed, but the cream has formed a cobweb-like pattern, it must be the approach of Halloween… 😉
Just to let you know I am French and I translate my recipes, be indulgent if you see syntax errors and do not hesitate to leave me a comment so I can correct it. I hope you will like my recipes and enjoy your visit to my food blog!