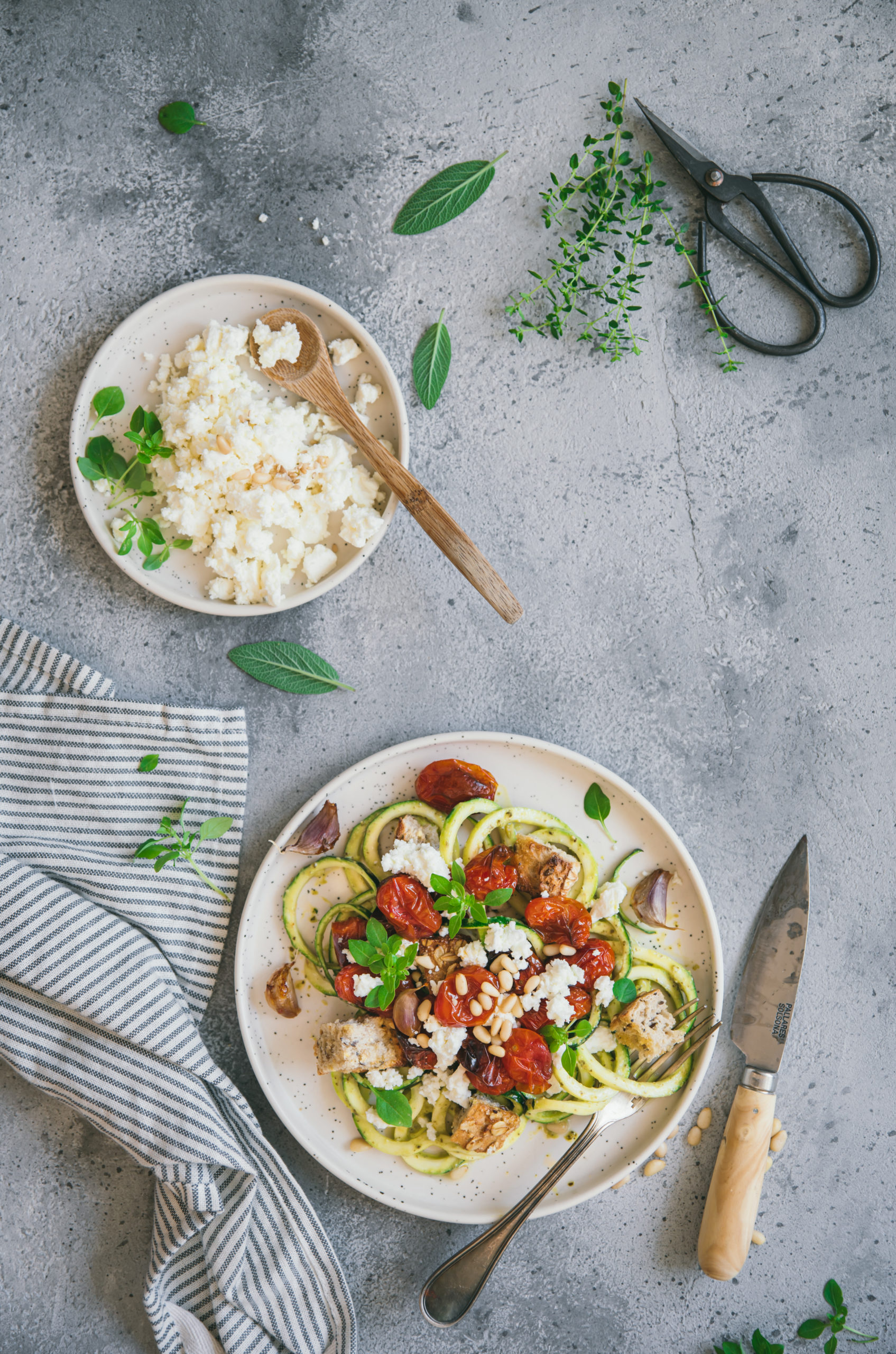 Do you know what zoodles are? The word zoodle is the compression of zucchini (zucchini) and noodle (pasta noodles). The idea is to replace pasta with zucchini cut into spaghetti. It is very easy to make and really delicious! I'm taking advantage of a partnership with Delta and the testing of their Feta cheese to share this great recipe again. I had posted this idea for zucchini spaghetti with pesto, roasted tomatoes, feta and croutons a few years ago and I've been making it often since so I wanted to rephotograph it and share it with you again.
I love this recipe because it's quick and easy to make, it requires few ingredients and it's just too good!
Zucchini spaghetti with pesto, roasted tomatoes and feta cheese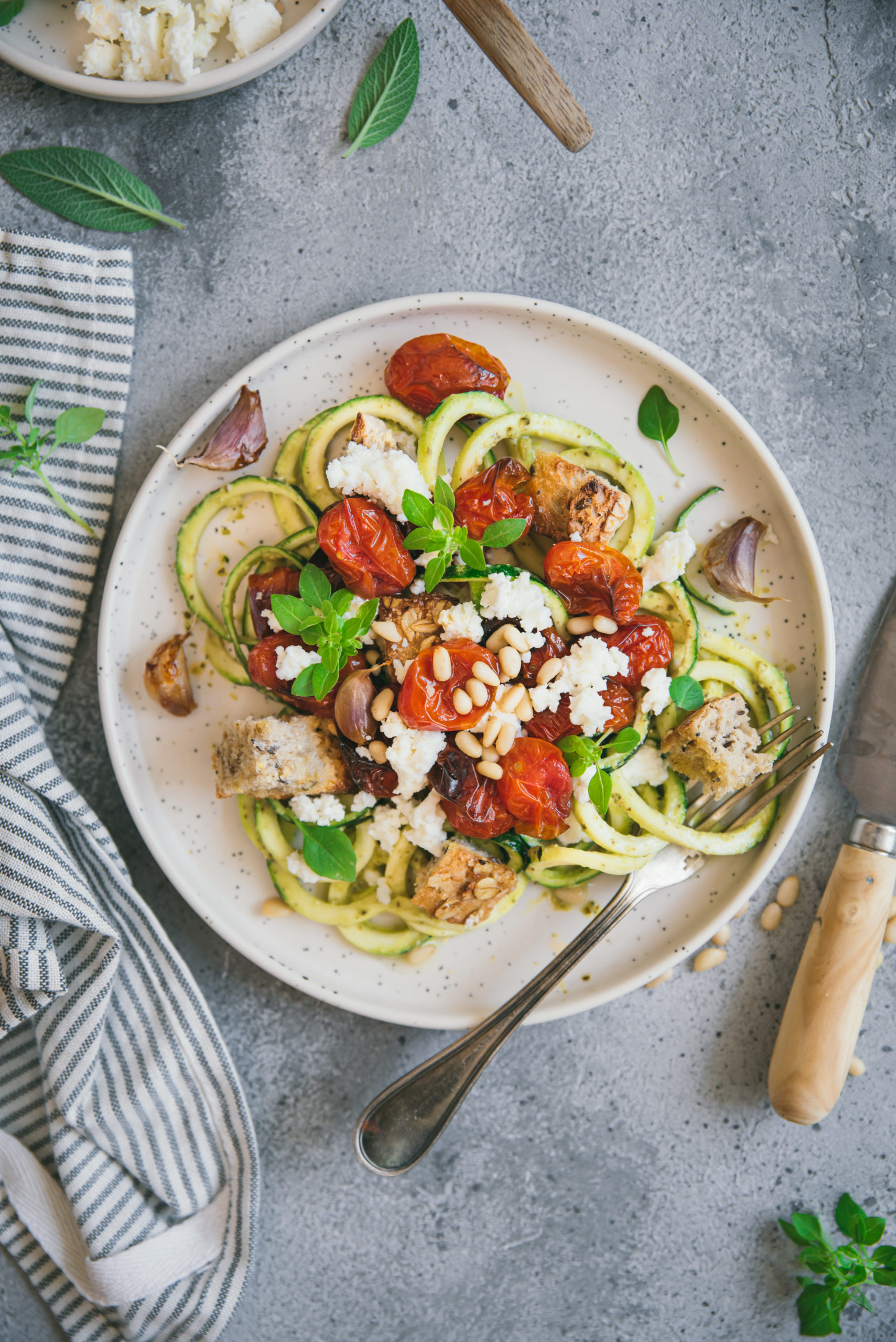 At home, zucchini is definitely one of the vegetables we all cook in the summer. I love eating them raw or cooked and in this recipe, you can choose to cook them or leave them raw.
I must admit that I have a soft spot for the raw version because they keep a good texture, but the kids prefer to spend a few minutes in the frying pan, which is not a problem because it's very quick and that way everyone is happy.
You'll see that it's really amazing because you can't really tell the difference between real pasta and this zucchini spaghetti. If you've ever tried it, you probably know what I'm talking about.
If you wish, you can prepare your roasted tomatoes in advance, they will be even more fragrant and better. I always use the same recipe where I cook them for a long time in the oven at low temperature. They are candied and very melting, just writing it makes my mouth water.
As for the croutons, I like to make them myself with country bread from the day before. I have several ways to make them, either in the pan or in the toaster, but the one I like best is in the oven! I'll explain it all below in my recipe… 😉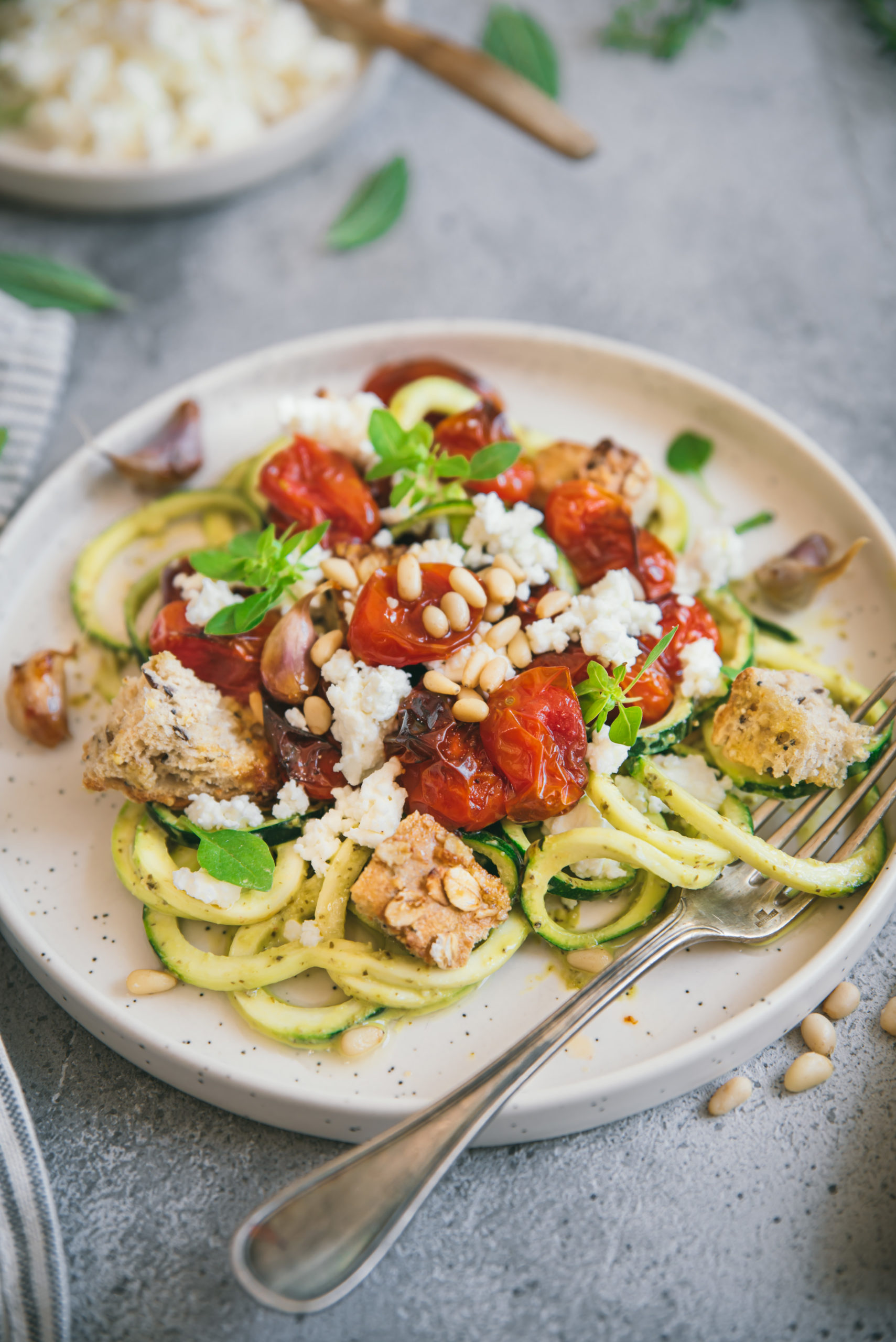 WHAT INGREDIENTS DO YOU NEED TO MAKE THIS delicious FETA SPAGHETTI RECIPE?
cherry tomatoes
country bread
olive oil
basil pesto
cloves of garlic
pine nuts
salt and freshly ground pepper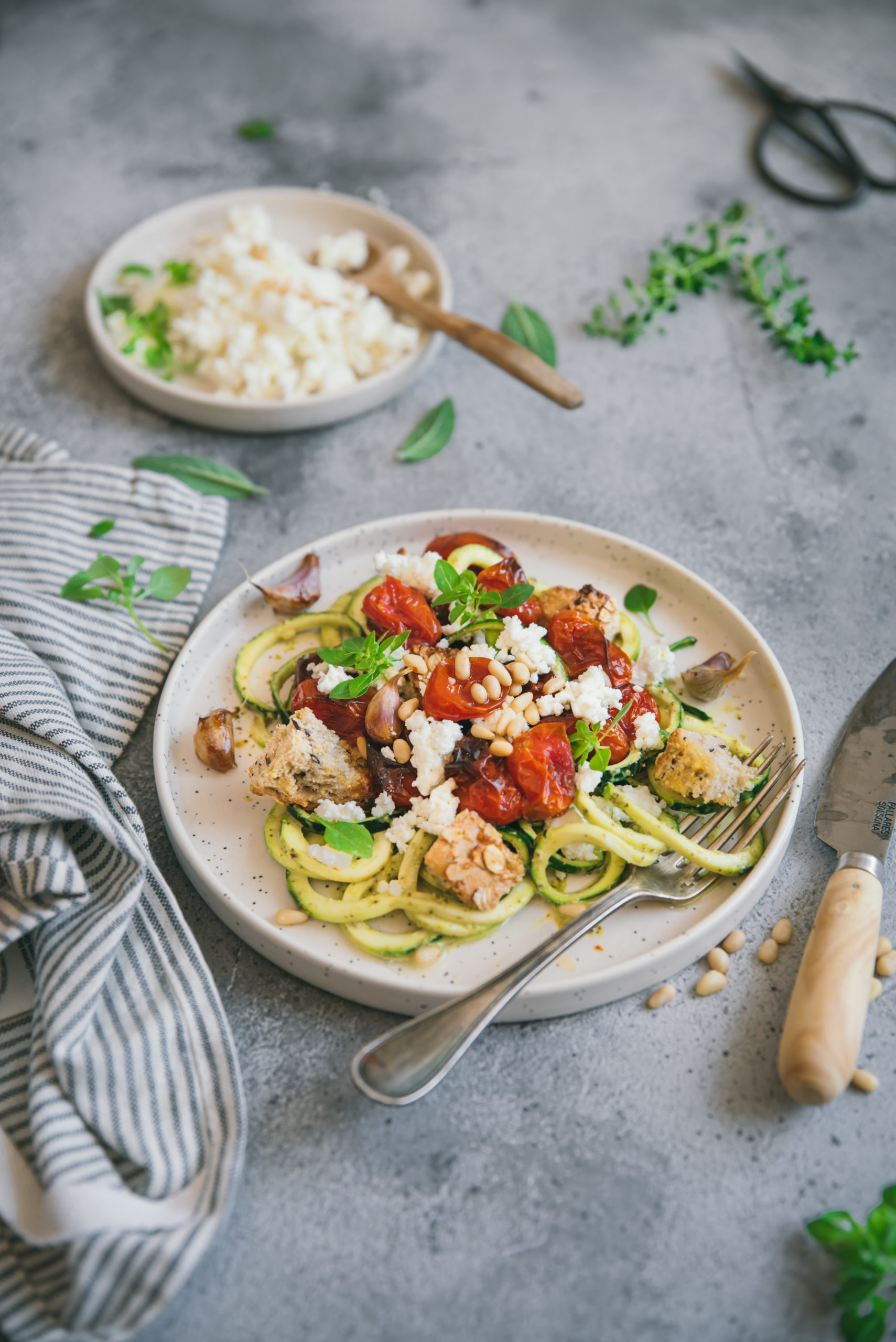 If you like this recipe, here is another zucchini idea, I think you'll like them as much as I do :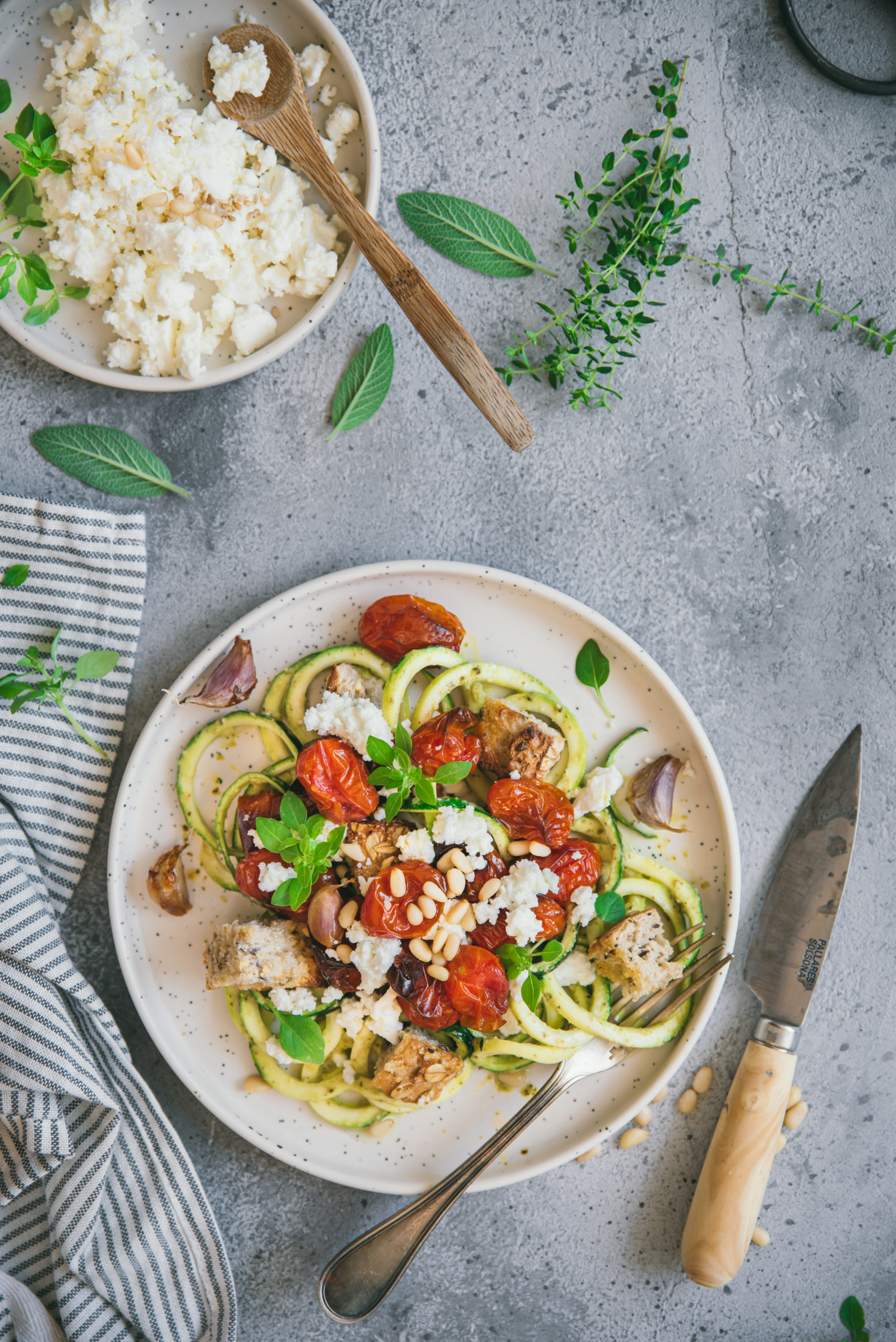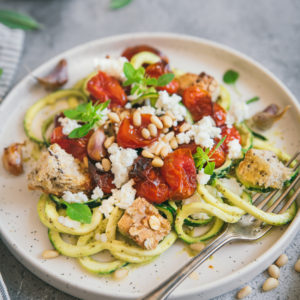 Zucchini spaghetti with pesto, roasted tomatoes and feta cheese
Ingredients
2

zucchini

80

g

Feta cheese

350

g

cherry tomatoes

2

big slices of country bread

cut into 1.5 cm wide cubes

3

garlic cloves

olive oil

1

tablespoon

pesto

pine nuts

salt and black pepper
Instructions
On a baking sheet lined with parchment paper, arrange the cherry tomatoes and garlic cloves. Drizzle with olive oil. Add salt and pepper and mix gently.

Place in the oven and roast for 40 minutes at 180°C (it is not necessary to preheat your oven).

On a second baking sheet lined with parchment paper, arrange the bread cubes. Drizzle with olive oil and bake for 10 minutes, turning the croutons halfway through.

Using a julienne peeler, make spaghetti with the zucchini by laying it flat on a cutting board. Cut the spaghetti on one side until you reach the core (without cutting the seeded part), turn the zucchini over and repeat the process on the other side, then on the other two short sides. You can also simply use a spiralizer.

In a bowl, combine the zucchini spaghetti and pesto and mix gently.

Arrange spaghetti on 2 plates, top with roasted tomatoes, croutons and pieces of feta cheese. The cheese will melt slightly and be deliciously creamy. Add the toasted pine nuts.

Add salt and pepper to taste and enjoy.
If you ever make my recipe, and you like it, feel free to tag me on Instagram or Facebook so I can see the result and share it back…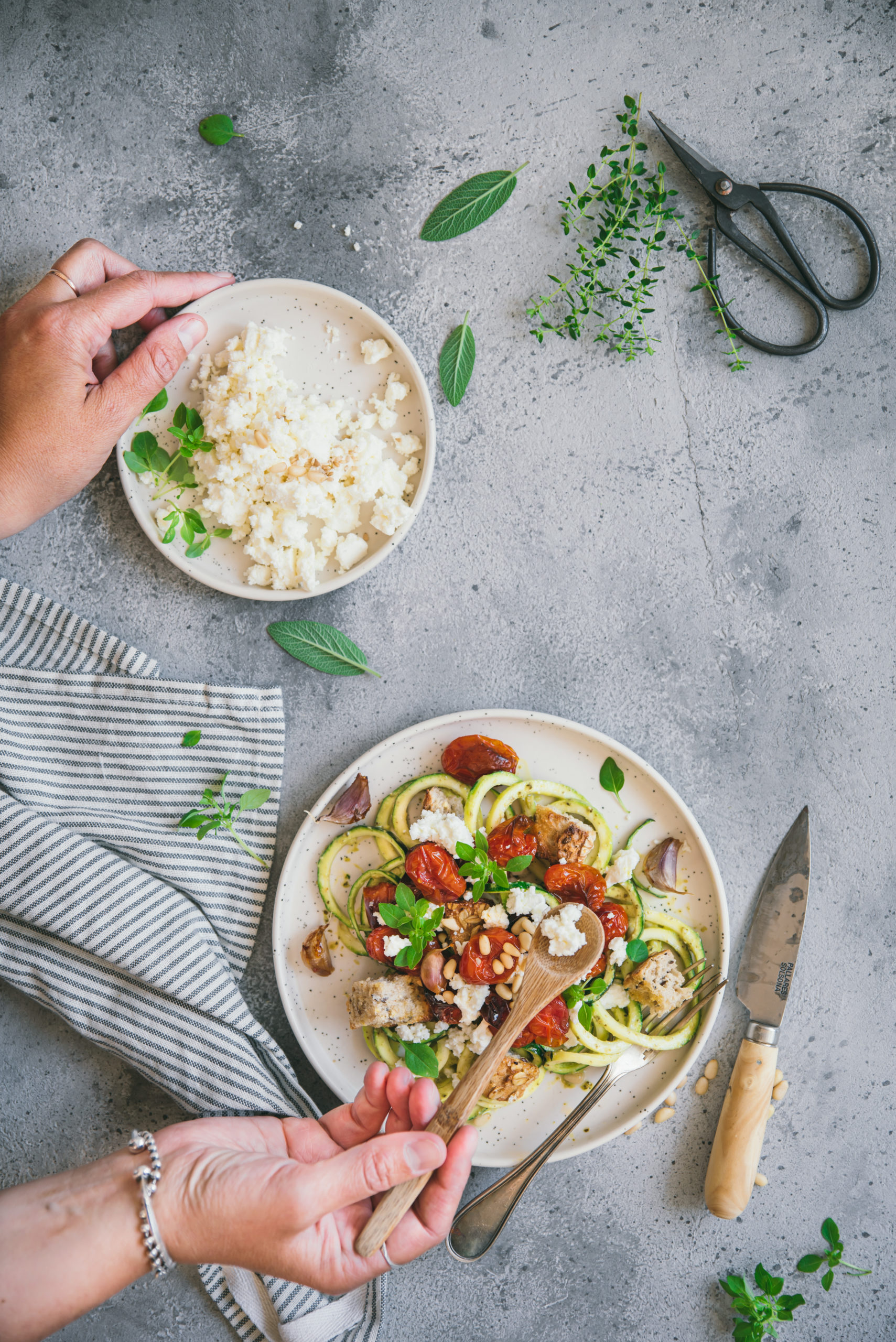 Just to let you know I am French and I translate my recipes, be indulgent if you see syntax errors and do not hesitate to leave me a comment so I can correct it. I hope you will like my recipes and enjoy your visit to my food blog!