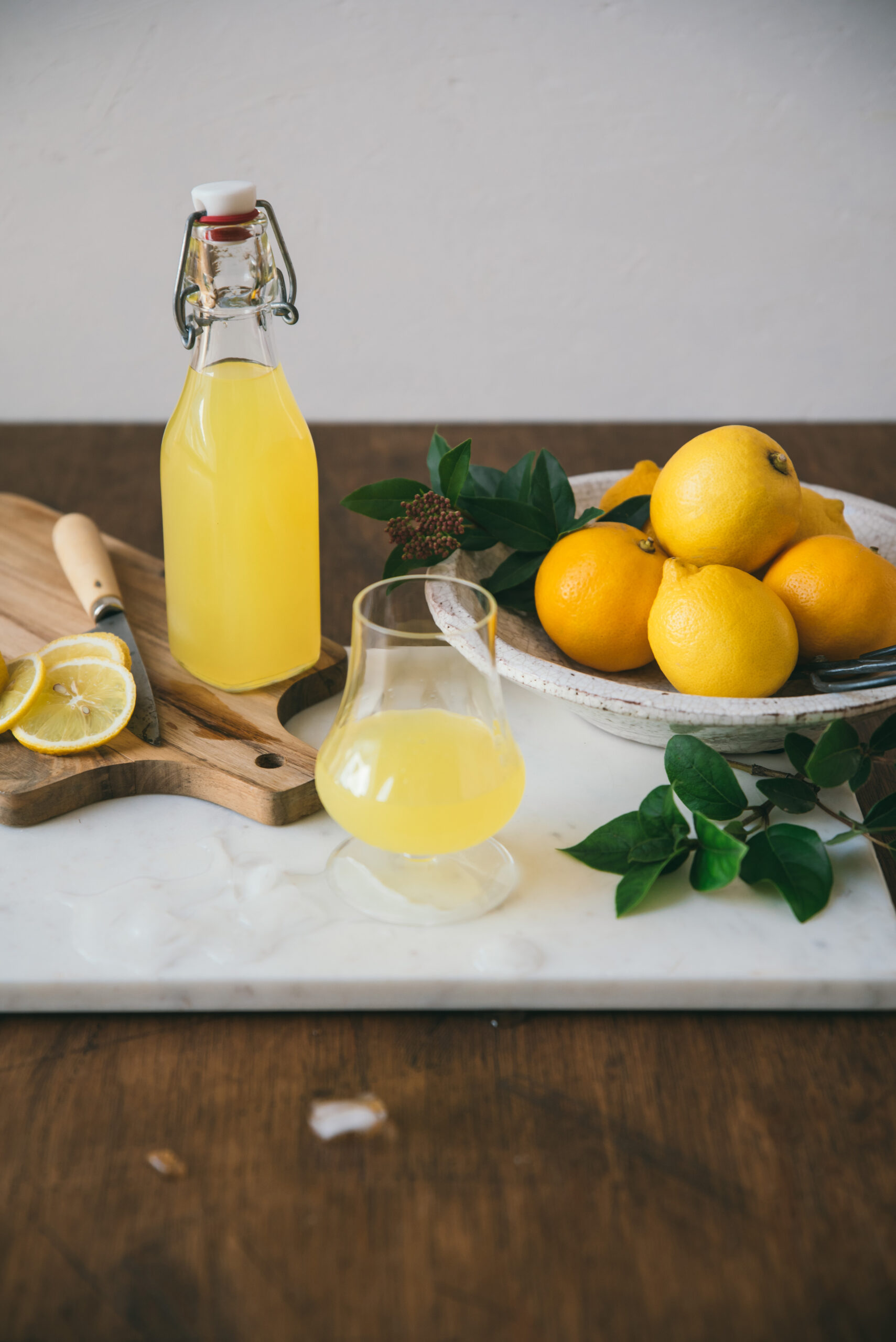 I've always wanted to make homemade limoncello… well, always is a bit of an exaggeration, but for the last ten years or so would be more accurate. In fact, I have a friend who used to make it because she had a huge lemon tree in her garden and gave us a bottle. A real delight!
And I've been thinking about it ever since. Lemon season is in full swing and I was able to find some beautiful organic lemons at the market. So I thought it was time to start….
So here's my first test of homemade limoncello and it's a total success, which is why I'm sharing the recipe with you today!
What I like about making it at home is that you can really choose the alcohol level (or its dilution) when it's homemade but also the sugar.
Personally, I don't like hyper sugar, so you may have noticed that my desserts often contain little of it.
So here is my first homemade lemon liqueur with a perfect color and an exquisite taste! It will be perfect as an aperitif or as a digestif on a terrace in fine weather.
Homemade Limoncello Recipe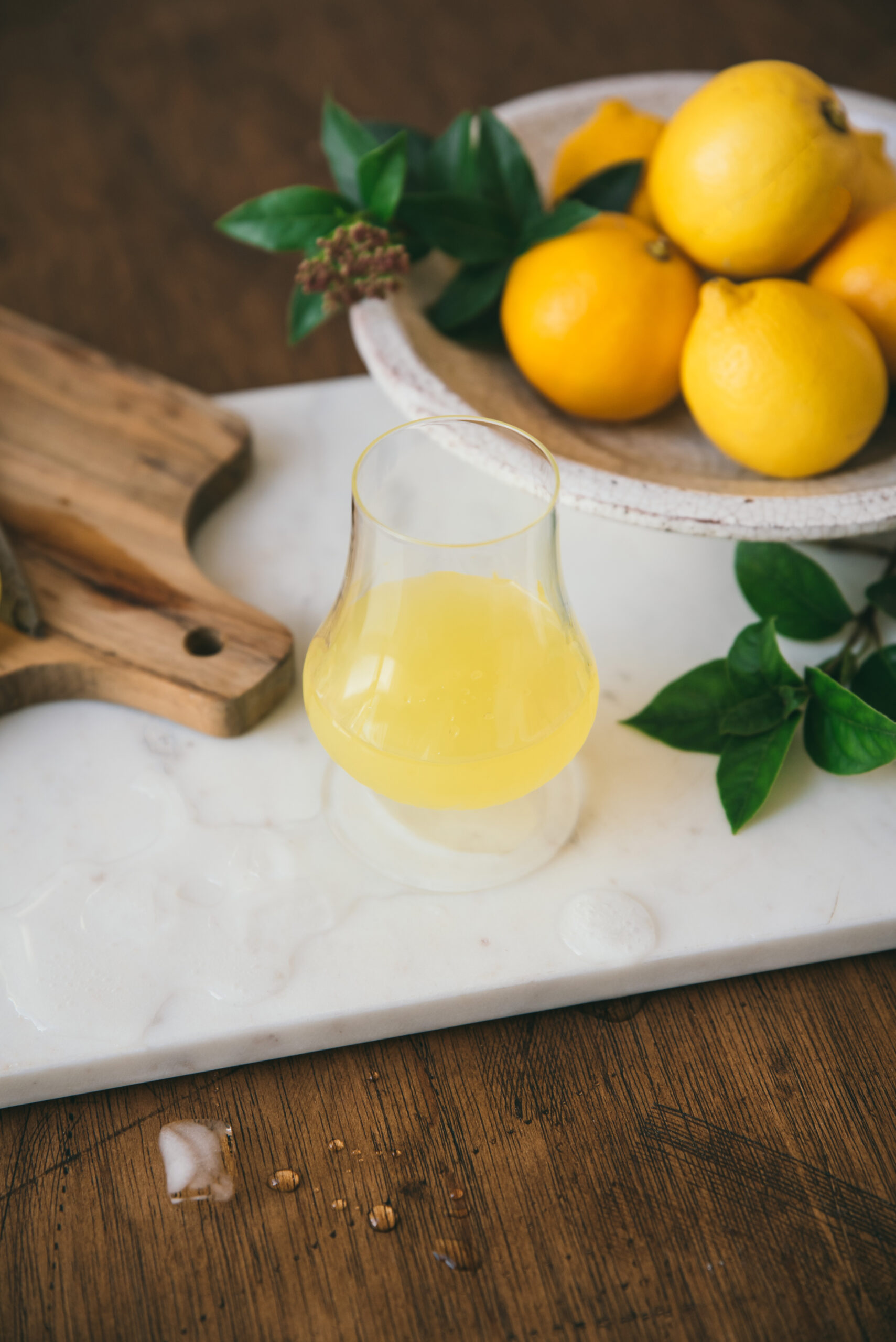 What ingredients do you need to make this delicious limoncello recipe at home?
lemons (obviously)
95° alcohol or 40° brandy (be careful, not the modified 90° alcohol that you can find at the pharmacy, this one is not drinkable!)
sugar
water
The detailed quantities are indicated in the detailed recipe below.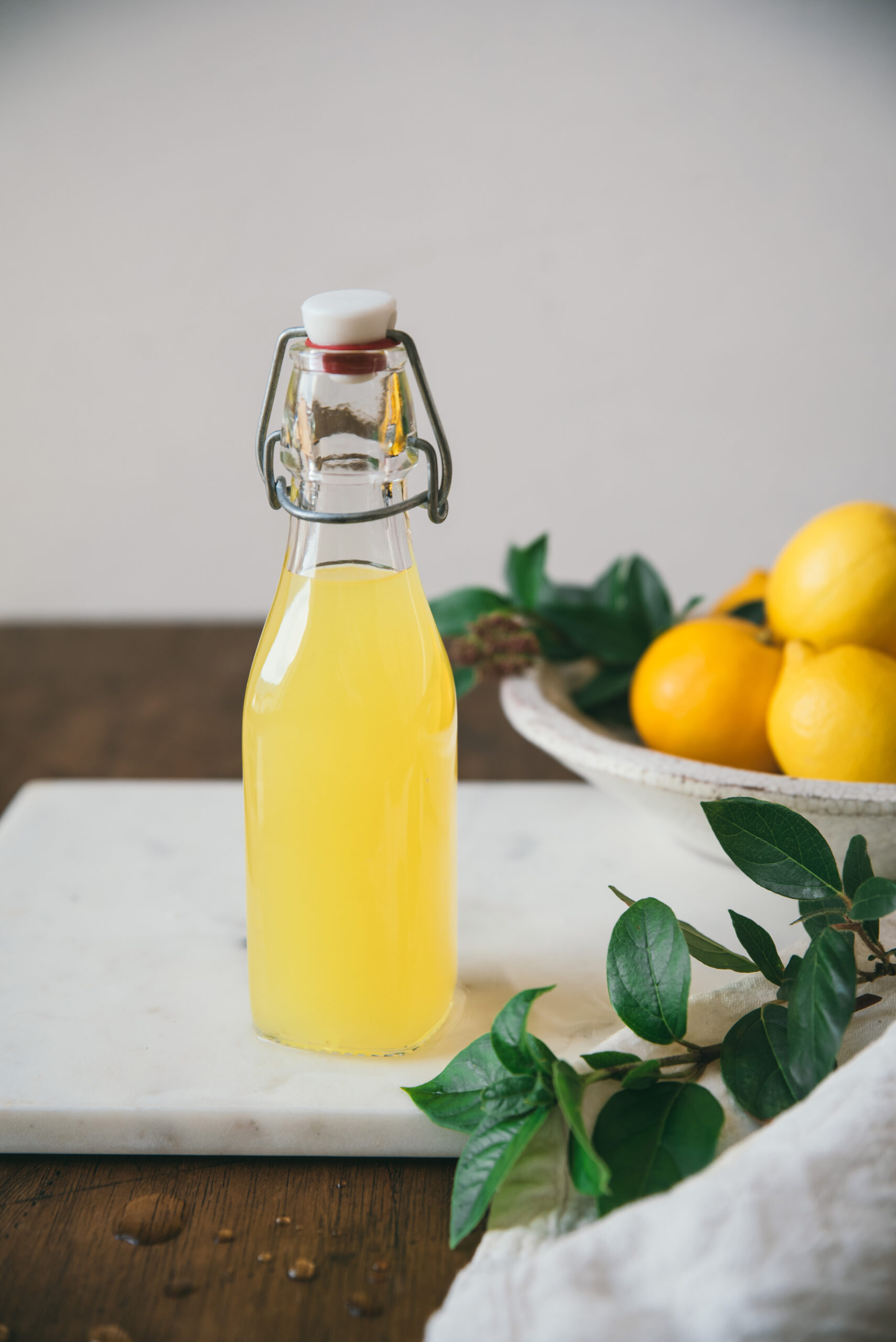 How to make homemade limoncello?
The principle is to macerate for several days the zests of organic lemon (to obtain them I love my Microplane zester which allows to obtain easily very fine zests, concentrated in perfumes) in alcohol, then to dilute with a syrup of water and sugar.
When the alcohol is mixed with the syrup, the liquid becomes cloudy and gives the limoncello its beautiful creamy appearance.
How to dilute the alcohol?
For 1 liter of pure alcohol (at 95°), one generally counts 2 liters of water according to your tastes.
Know that 1 liter of water for 1 liter of alcohol at 95° will give you a liqueur at 47°.
I like it rather around 32°, that is why I use 2 volumes of water for one volume of alcohol at 96°.
If you use a fruit alcohol, so a 40° or 45° alcohol, you don't need to dilute it as much in water because you don't need to make it much less strong.
You will need a smaller amount of water to dissolve the sugar, which doesn't dissolve by itself in the alcohol. I recommend 40 cl of water or less for 1 liter of 45° alcohol.
I have put a dilution table to guide you according to the final alcohol level you wish to obtain.
| | | | |
| --- | --- | --- | --- |
| Type of Alcohol | Amount of alcohol | Amount of water | Final degree |
| 96° | 0,5 l | 1 l | 32° |
| 96° | 0,5 l | 0,75 l | 38° |
| 96° | 0,5 l | 0,5 l | 47° |
| 45° | 1 l | 1 l | 23° |
| 45° | 1 l | 0,4 l | 32° |
| 45° | 1 l | 0,2 l | 38° |
How much sugar to use?
As for the water, the quantity of sugar will depend on the alcohol you are going to use.
According to my tastes, I recommend 400 to 450 g of sugar for 1 liter of 95° alcohol and only 250 g for 1 liter of 45° alcohol. But for my part, I always tend not to sweeten too much.
How to store your homemade liqueur?
Once you've made your liquor, store the bottle in a cool place or even in the freezer. Limoncello is best enjoyed cold and does not freeze due to its high alcohol content.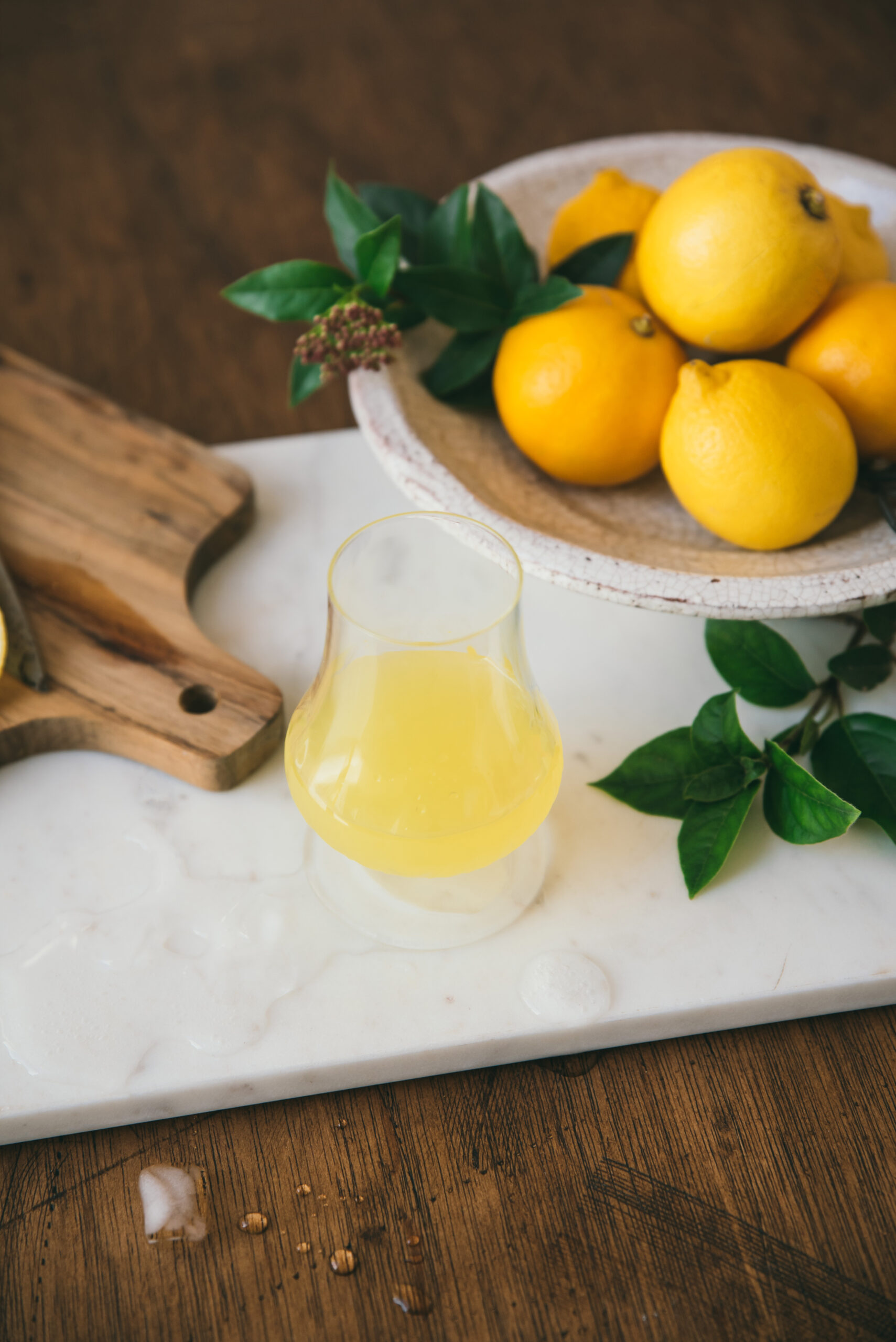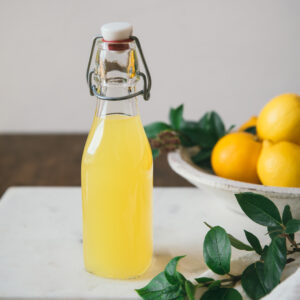 Homemade Limoncello
Ingredients
0,5

liter

alcohol at 96°

or 1 liter of brandy at 45°

5

organic lemon

200

g

sugar

1

liter

water

or 0,4 liter with alcohol at 45°
Instructions
Wash your lemons and remove the zest, being careful not to remove the white part which would make your drink bitter. I use the Microplane zester that I have had for several years and love.

Add the zest to your alcohol and stir.

Close the bottle and store in a dry, dark place for 20 to 30 days.

Stir every 5 days or so.

Then strain your mixture to remove the lemon zest.

In a saucepan, pour the water and sugar and boil the mixture. Let cool and then pour over your filtered alcohol.

Store your limoncello in a cool, dry, dark place for about 10 days.

And that's it! You can enjoy it!

I keep it in the refrigerator or even the freezer.
If you ever make my Limoncello recipe and enjoy it, feel free to tag me on Instagram @tangerinezest so I can see the result and share it back…..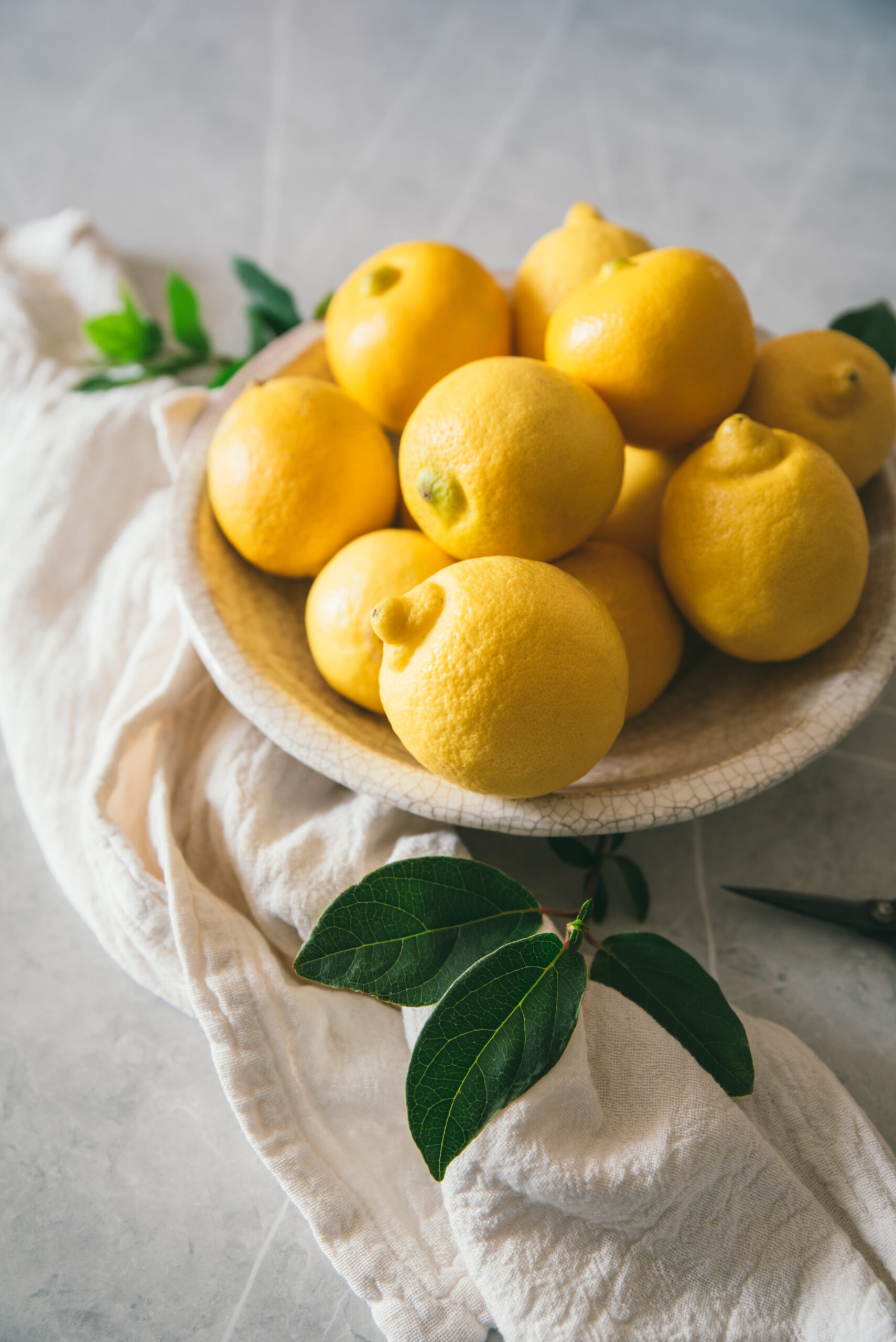 I already know what I want to do with my limoncello: a limoncello Spritz, a colonel cup but… with limoncello of course, or a limoncello cream, or a granita!
I don't know if I'll have time to do all that before I finish the bottle… 😉
Which one would tempt you the most if I had to prioritize?
But in the meantime, if you're a big lemon fan, here are a few recipes that should please you as much as it does me: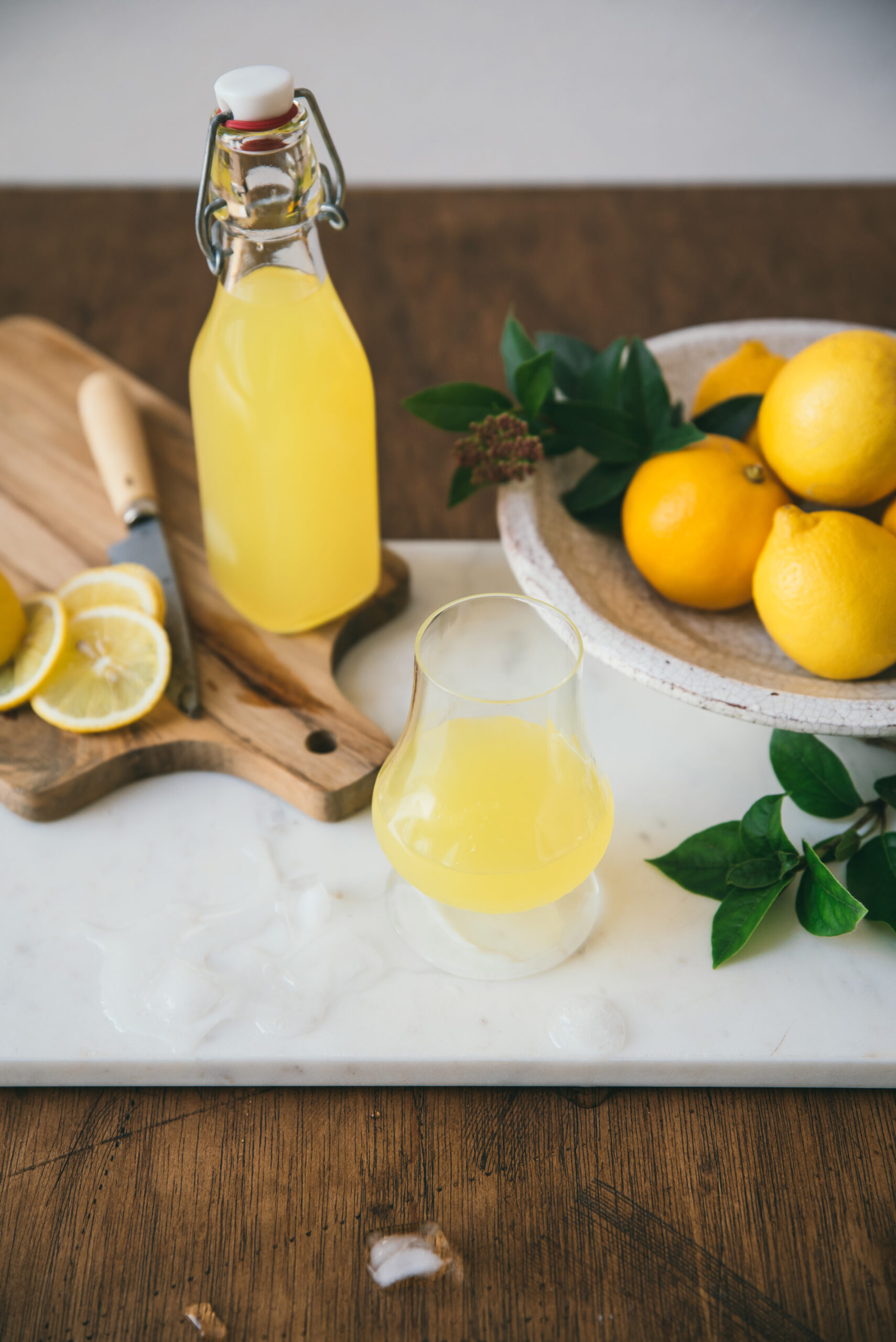 Alcohol abuse is dangerous for your health, consume in moderation!
Just to let you know I am French and I translate my recipes, be indulgent if you see syntax errors and do not hesitate to leave me a comment so I can correct it. I hope you will like my recipes and enjoy your visit to my food blog!