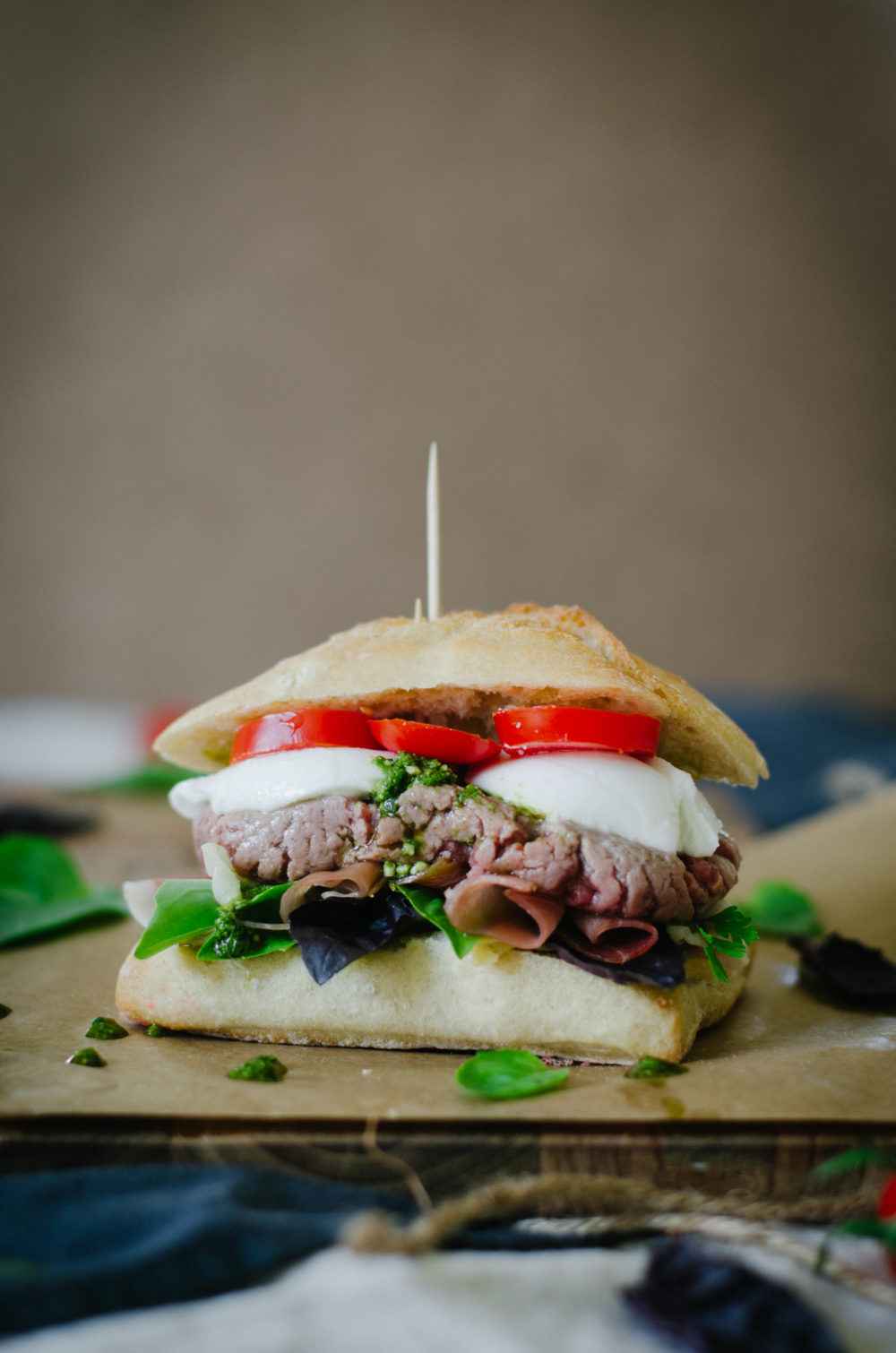 Have you ever tried an Italian pesto burger recipe?
Prosciutto, tomato, basil and mozzarella are flavors I love to eat but I've never combined them in a burger before.
So the other day, while I was shopping, my butcher's aisle caught my attention. I also saw some pretty red tomatoes in the vegetable section and immediately thought of this Italian burger that I absolutely wanted to try. All that remained was to wait for the sunny days to arrive!
So I asked the butcher for two minced steaks that she prepared for me on site and a few thin slices of raw ham. I found the rest of the ingredients I needed on other shelves and once I got home, all I had to do was make my recipe. I have to tell you that it's very, very good and you absolutely have to try it!
You will enjoy!
The secret lies in lightly melting the mozzarella on the meat while cooking. 😉 The meat that I found was really tasty and tasty, and I must say that cooked on the plancha, it will really add a little extra with a good grilled taste.
For the bread, I used small bread balls, but you can use classic burger buns (homemade) or even ciabatta bread.
Italian Pesto Burger with Parma Ham and Mozzarella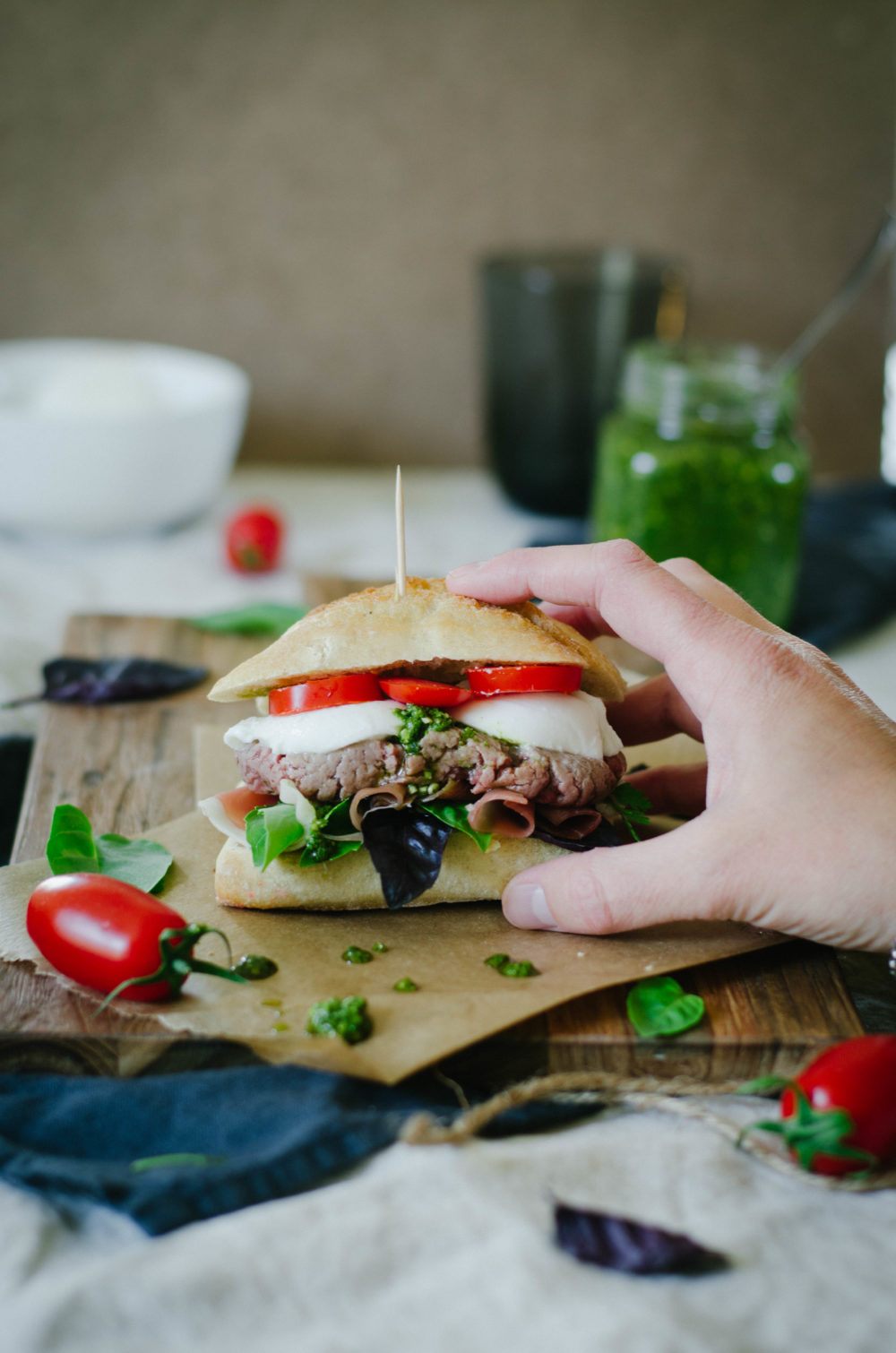 What ingredients do you need to make this recipe?
homemade buns or burger buns or ciabatta buns
chopped steaks
thinly sliced ​​raw ham
pesto
fresh basil leaves
cherry tomatoes
of my buffala mozzarella
mesclun
salt and freshly ground pepper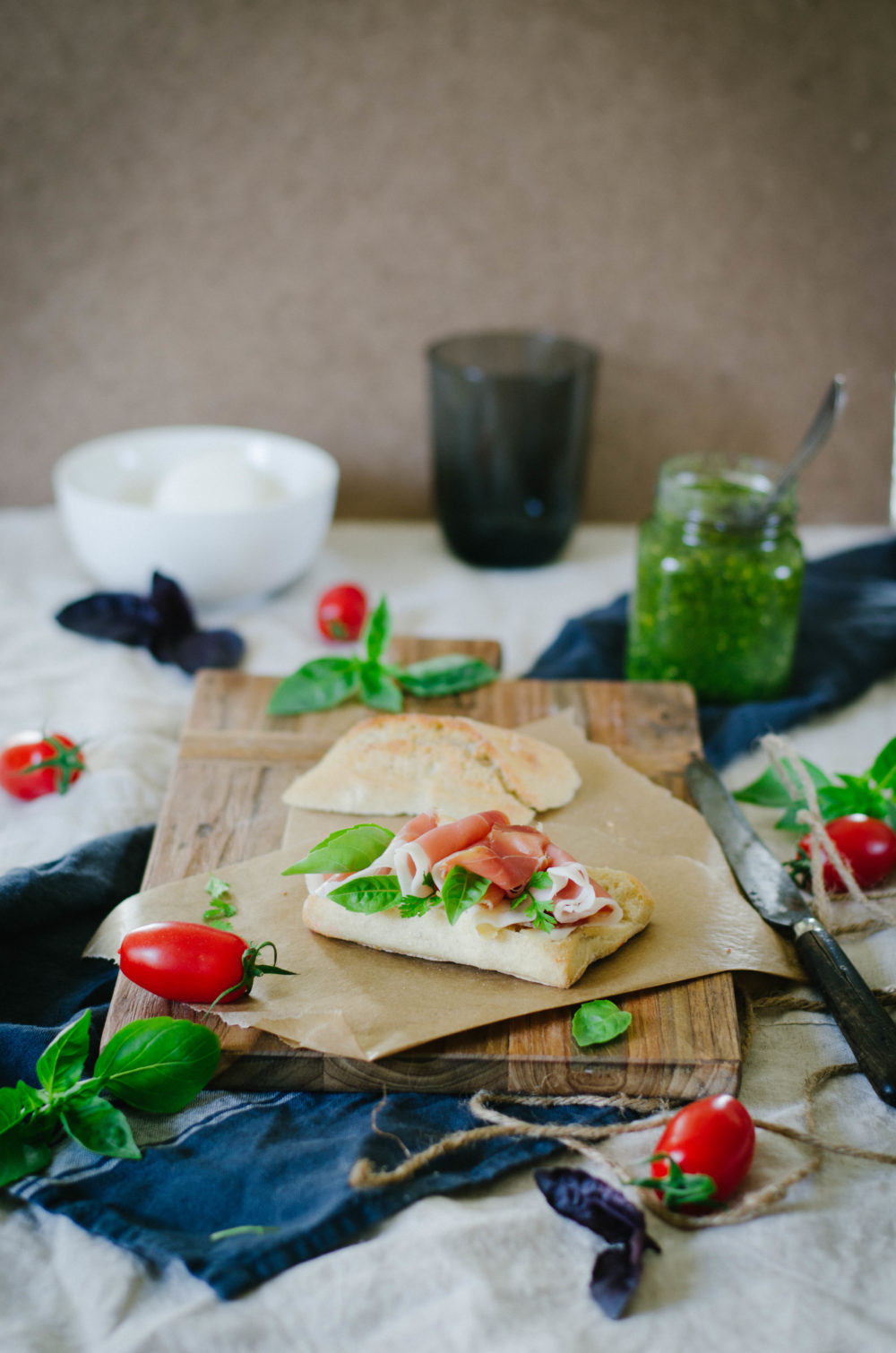 If you're a fan ogthis kind of recipe, then here are some ideas you might also like: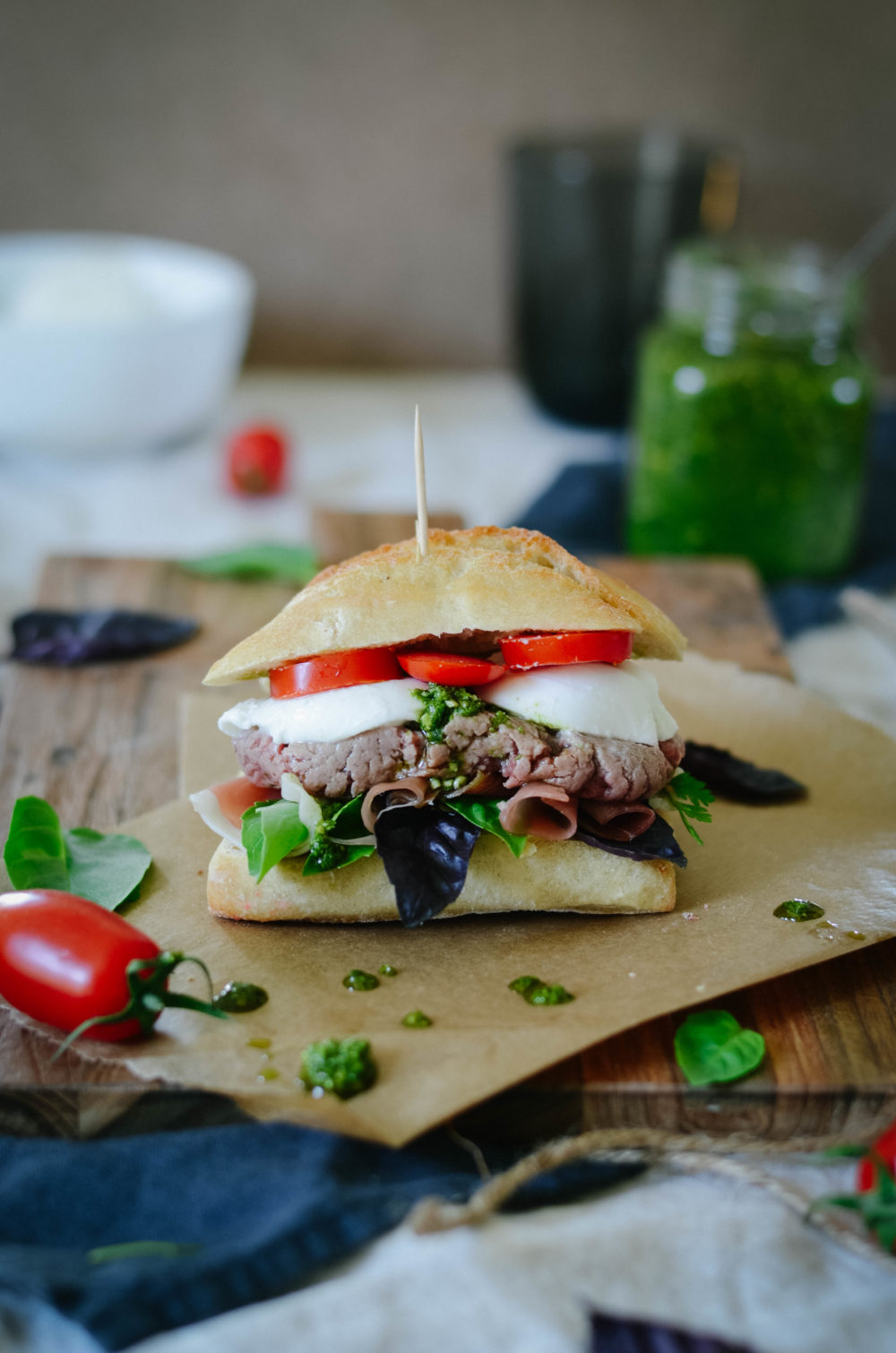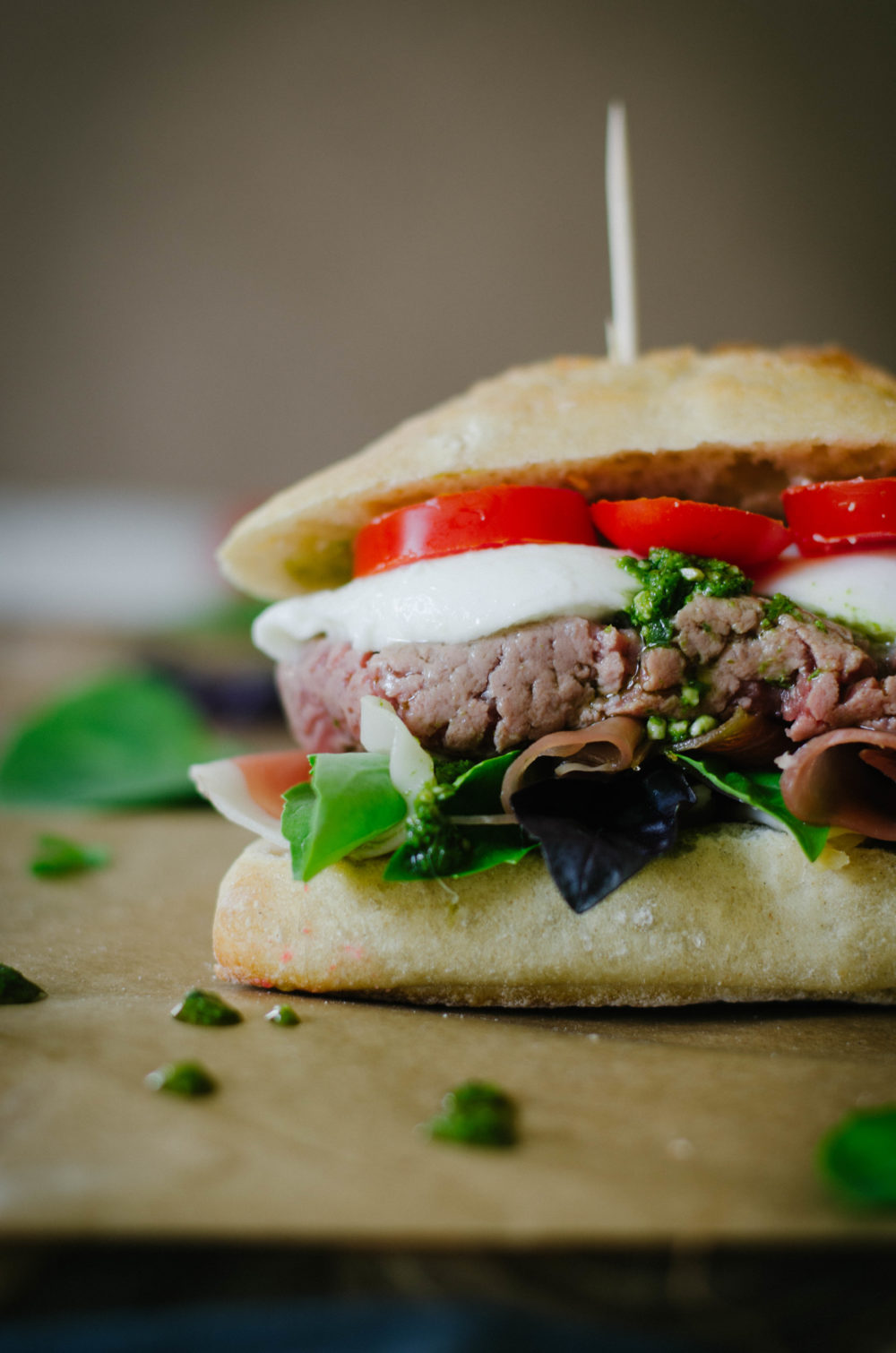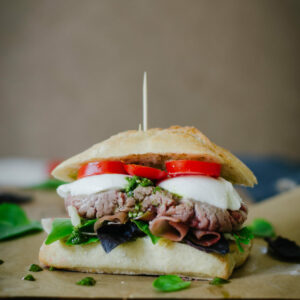 Italian Pesto Burger with Parma Ham and Mozzarella recipe
Ingredients
2

buns or homemade burger bun or ciabatta bun

2

minced steaks

Sliced ​​raw ham

Pesto

Fresh basil leaves

Cherry tomatoes

Buffalo Mozzarella

Mesclun

Salt and pepper from the mill
Instructions
Prepare all the ingredients in advance so everything is ready to eat hot.

Cut the raw ham into thin strips to make it easier to eat. Book.

Brown a little in the toaster or oven and place on plates.

Cook the steaks on the barbecue or on the plancha so that they have a nice grilled taste. Piff paf on each side or more depending on the cooking you like. Add salt and pepper once cooked. Place slices of buffalo mozzarella immediately on top of the hot beef so that it melts slightly.

Assemble your burger by placing the mixed greens and a few basil leaves on the bread, the raw ham, the beef steaks with the mozzarella, the tomato slices and the pesto. Cover with the top of the bread.

Taste immediately and enjoy!
If you ever make my homemade Italian Pesto Burger recipe and you like it, don't hesitate to tag me on Instagram @tangerinezest so I can see the result and share it myself…
Finally, just to let you know I am French and I translate my recipes, be indulgent if you see syntax errors and do not hesitate to leave me a comment so I can correct it. I hope you will like my recipes and enjoy your visit to my food blog!