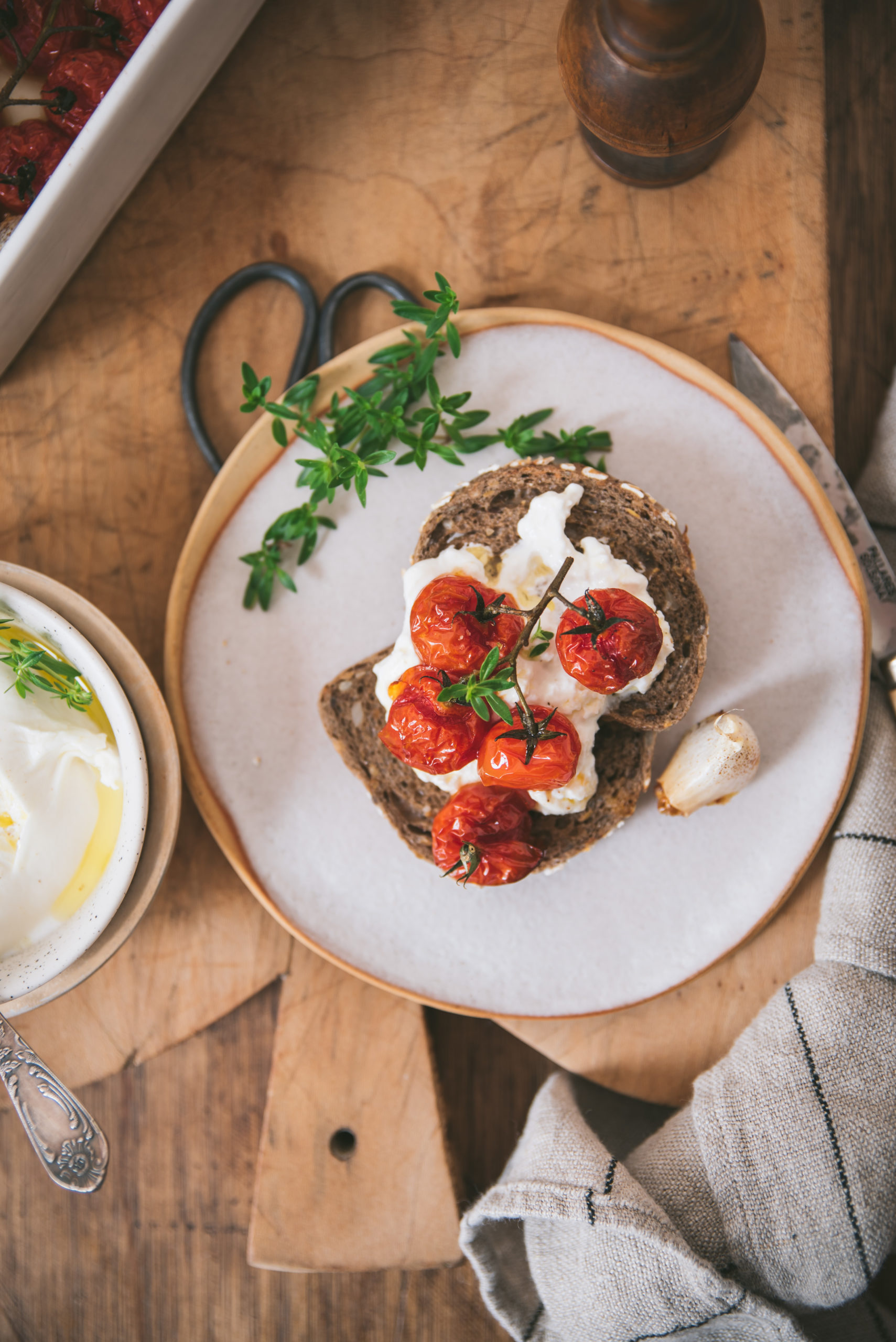 You've probably already tried oven-roasted tomatoes… but have you ever tried Roasted Tomato and Burrata Toast recipe?
If there's one recommendation I can make, it's to make this recipe as soon as possible 😉 It is, no kidding, one of the best things I've ever eaten (although I don't think it's the first or last time I've said that)!
As I've already explained in my recipe for oven-roasted tomatoes, the principle is to gently cook the tomatoes so that they're almost candied. I like to heat them up in an oven dish with a few cloves of garlic, olive oil (in abundance) and garden herbs like thyme and rosemary, which I pick at the minute to flavor them.
Once cooked, these tomatoes keep for several days in a cool place. This means that they can be reused in other recipes, such as salads, but also that you can make these toasts à la minute, almost straight from the oven, or having prepared the tomatoes in advance.
I have to admit that I like to eat them up to the minute because the tomatoes, still warm, will melt the burrata slightly and bring out its ultra-creamy side, which I love.
The tomato-burrata combo is really something I love, and it works every time, just like in an even simpler recipe like my tomato and burrata salad. And if, by the way, you don't have time to
Roasted Tomato and Burrata Toast Recipe
WHAT INGREDIENTS DO YOU NEED TO MAKE THIS RECIPE FOR TOMATO AND BURRATA TOAST?
cherry tomatoes
whole garlic cloves
good quality olive oil
salt and pepper
aromatic herbs: thyme and rosemary
slices of farmhouse or homemade bread (à la cocotte, or with hazelnuts)
a ball of burrata or a good mozzarella di buffala
fresh basil leaves
I love making this recipe on last minute because the warm tomatoes will melt the burrata slightly, but what's great is that you can also grill your tomatoes in advance and serve them at the last minute, which will be perfect!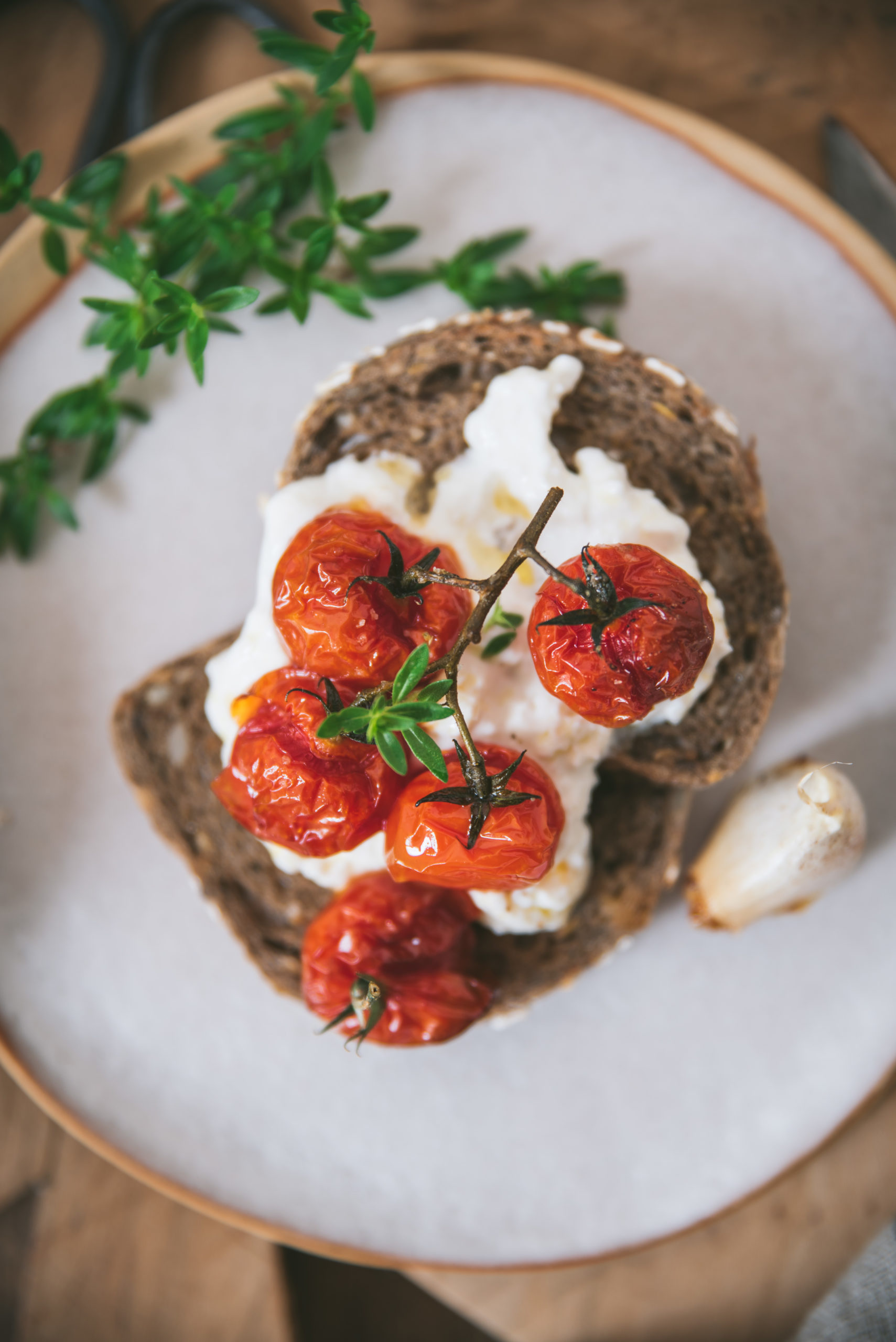 What other recipe ideas to make with burrata should you like as much as this one?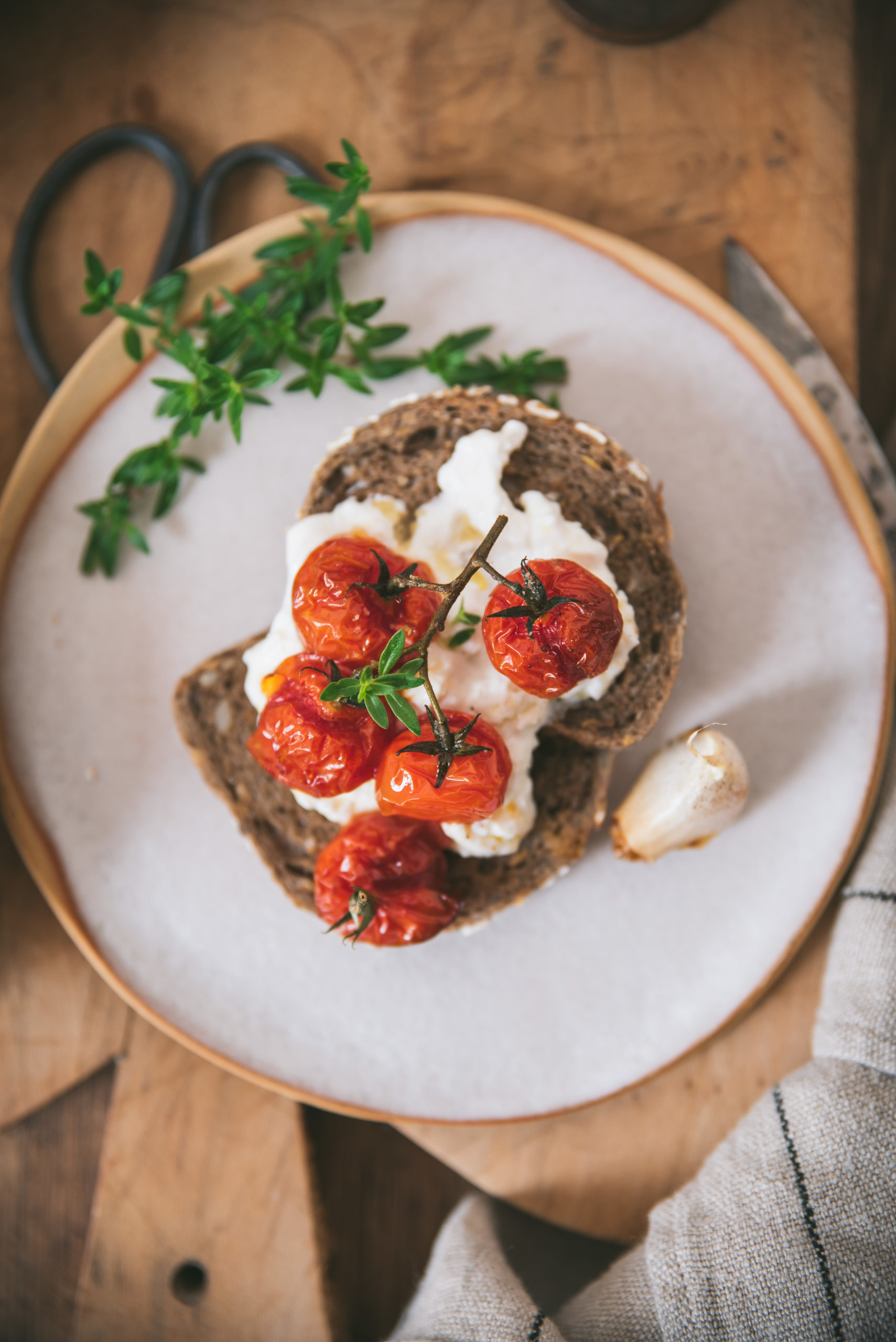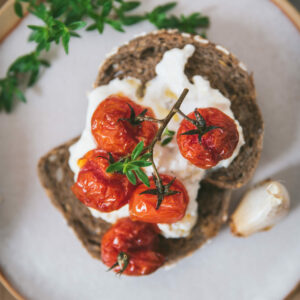 Roasted Tomato and Burrata Toast Recipe
Ingredients
Bread toasts

1

large burrata

1

drizzle of olive oil

Sea salt
FOR ROASTED TOMATOES
1

bunch cherry tomatoes

3

Olive oilgarlic cloves

skin on

Salt and pepper

Thyme
Instructions
FOR ROASTED TOMATOES
Place the grape tomatoes in an ovenproof dish and add the garlic cloves. Drizzle generously with olive oil.

Season with salt and pepper and add a few sprigs of thyme.

Bake at 150°C for 1 hour 30 minutes.

Twice during cooking, pour the oil from the bottom of the dish over the tomatoes to coat them well.
FOR TOASTS
When the tomatoes are ready, toast the slices of brown bread in the toaster, oven or frying pan with a drizzle of olive oil.

Place the burrata pieces on the hot toast. Add a dash of fleur de sel.

Arrange the roasted tomatoes on top and serve.

You're in for a treat!
If you ever make my recipe and like it, feel free to tag me on Instagram or Facebook so I can see the result and share it back…
Just to let you know I am French and I translate my recipes, be indulgent if you see syntax errors and do not hesitate to leave me a comment so I can correct it. I hope you will like my recipes and enjoy your visit to my food blog!