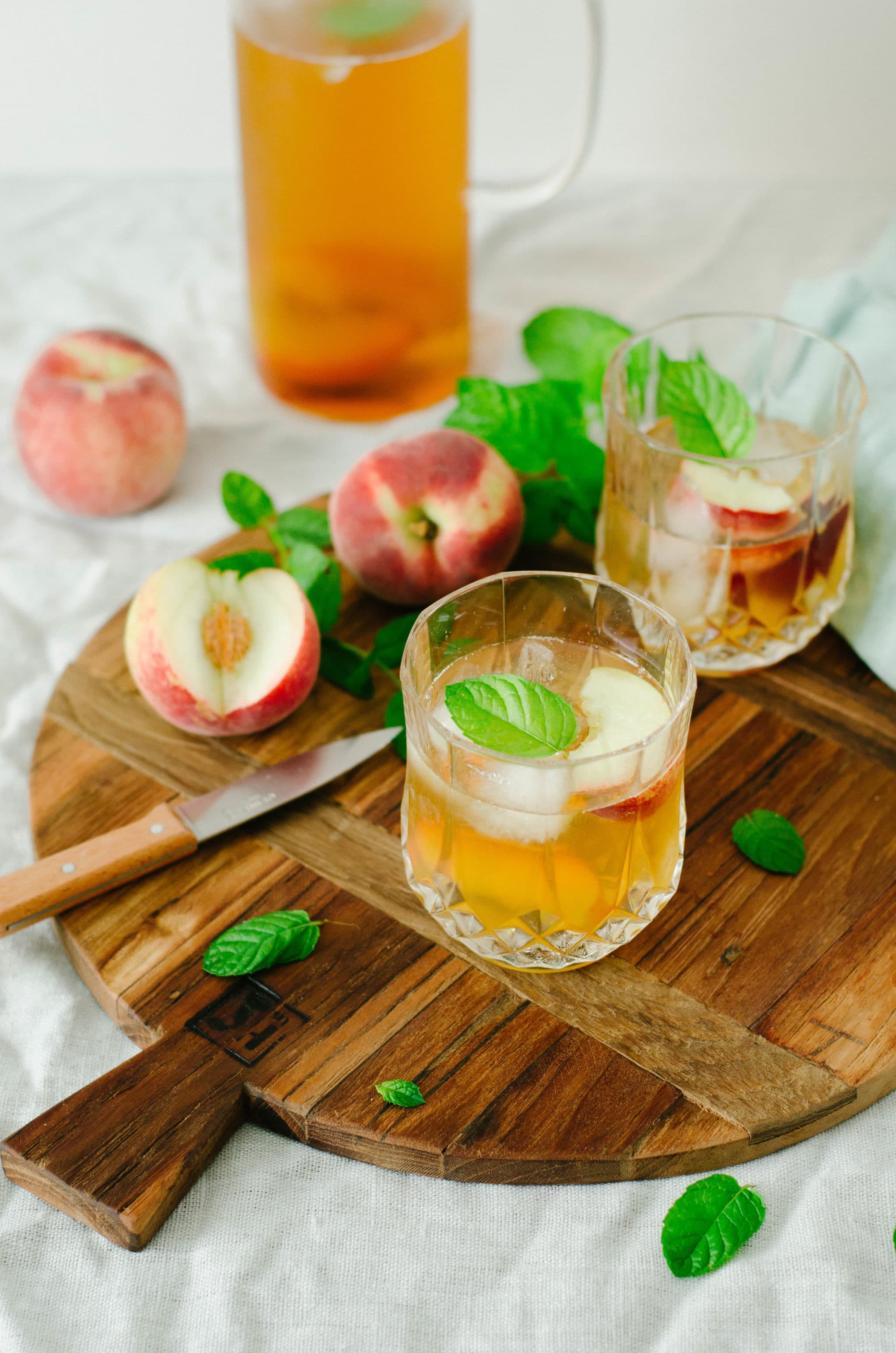 It's been a while since I shared a drink recipe so I'm going to share my homemade Peach and Mint Iced Tea. This is a recipe I shared 3 years ago but since I make it often, I took the opportunity to redo my photos and improve it a bit ;-).
This homemade iced tea recipe is really easy to make, you will be amazed by its simplicity and its absolutely delicious taste. All you need is a good green tea, well-flavored peaches and some mint leaves.
And the result is beautiful with that lovely golden color! It was a pleasure for the eyes, as well as for the taste buds.
With the heat we've already had in Grenoble this year, this peach iced tea usually doesn't last long. And yes, we regularly went over 35°C or 40°C…
Most of the time, the hardest part is to wait for it to brew, so I usually prepare it in the evening, let it brew overnight so that it is well flavored and then you can enjoy it the next day, all day long.
Peach and Mint Iced Tea
And if you like this kind of recipes, I invite you to try other ideas that should please you as much as me: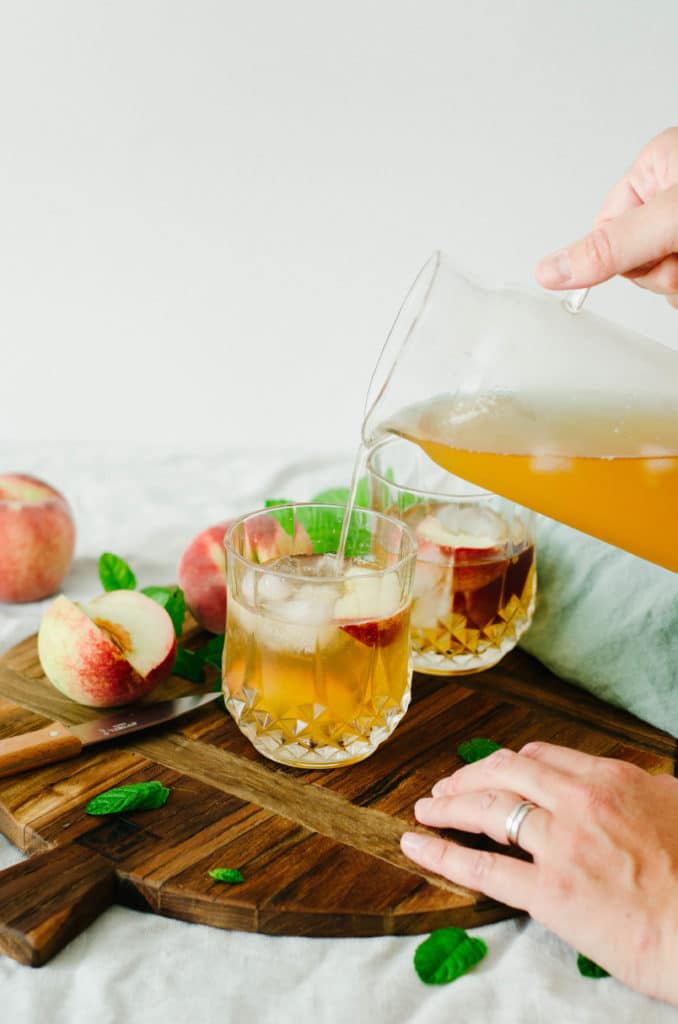 WHAT INGREDIENTS DO YOU NEED TO MAKE THIS DELICIOUS PEACH ICED TEA RECIPE?
The detailed proportions are indicated in the recipe below.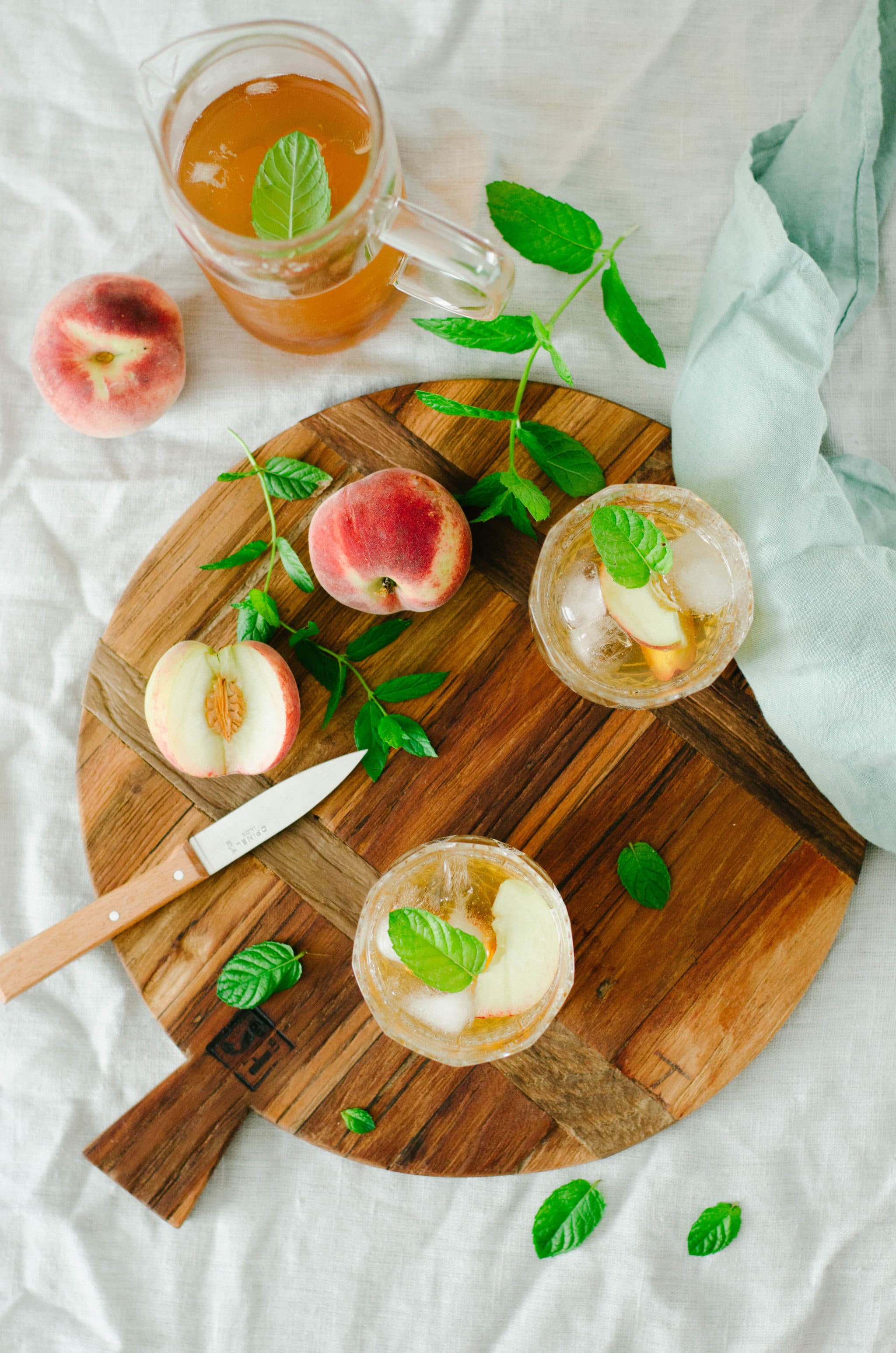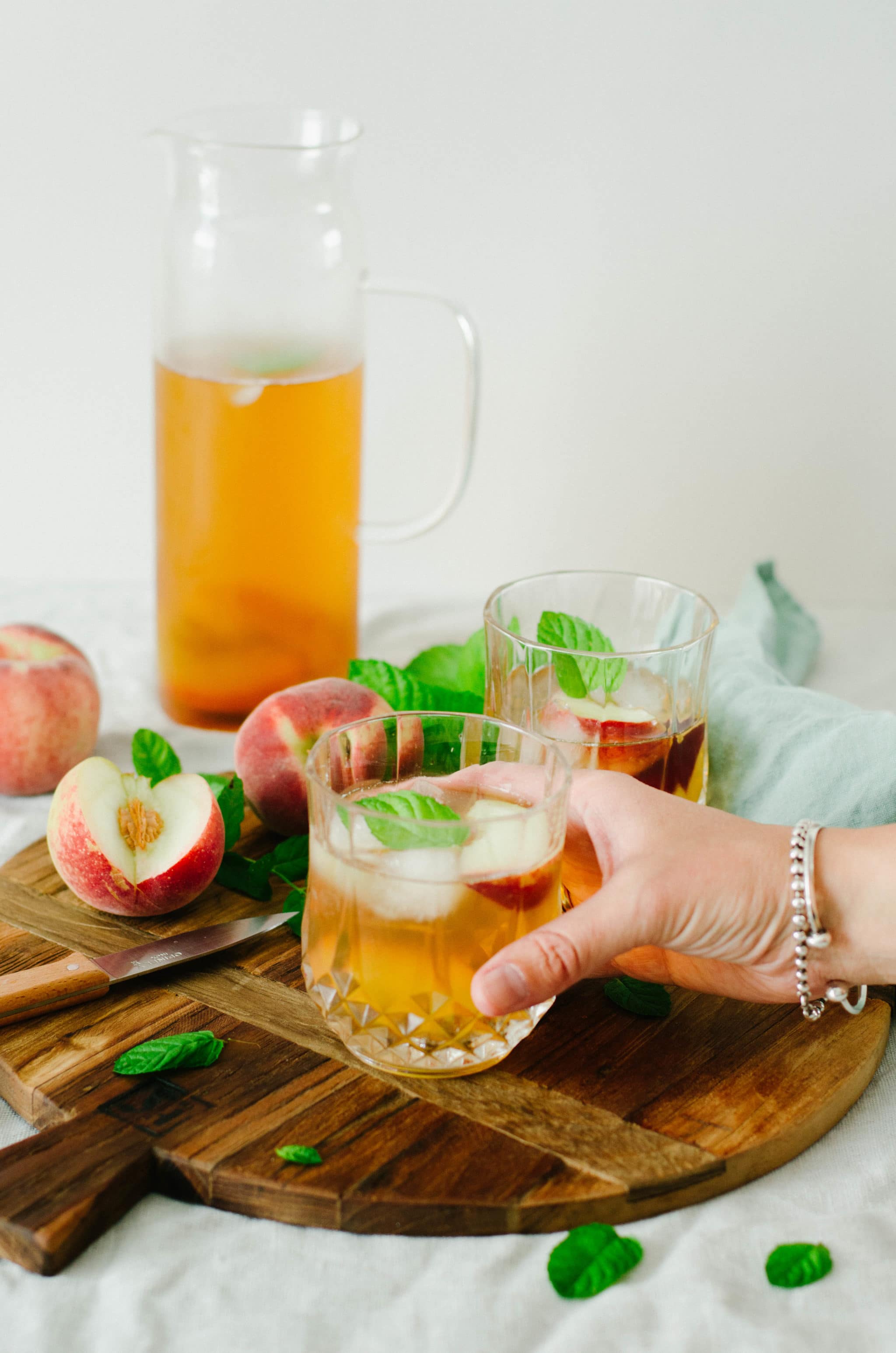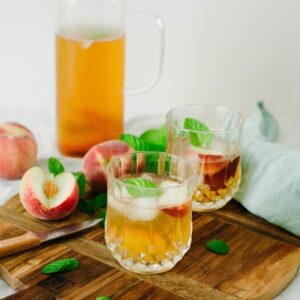 Peach and Mint Iced Tea
Ingredients
1

l

water

2

tablespoons

green tea

in a tea ball2 pea

2

peaches

2

tablespoons

agave syrup

1

tablespoon

orange blossom

(optional)

1

small bunch of fresh mint

Ice cubes
Instructions
Boil 1 liter of water and brew the green tea for 3 to 4 minutes in a carafe.

Let cool with the washed mint leaves then add the sliced peaches, agave syrup and orange flower.

Let sit in a cool place for at least 5 hours before serving, overnight is fine.
Notes
You don't have to use agave syrup, I use it to replace sugar.
Just before serving, you can add ice cubes to make it even colder and make it a real iced tea… Come on, I wish you a good homemade peach and mint iced tea!
If you ever make my Peach Iced Tea recipe and like it, feel free to tag me on Instagram or Facebook so I can see the result and share it back…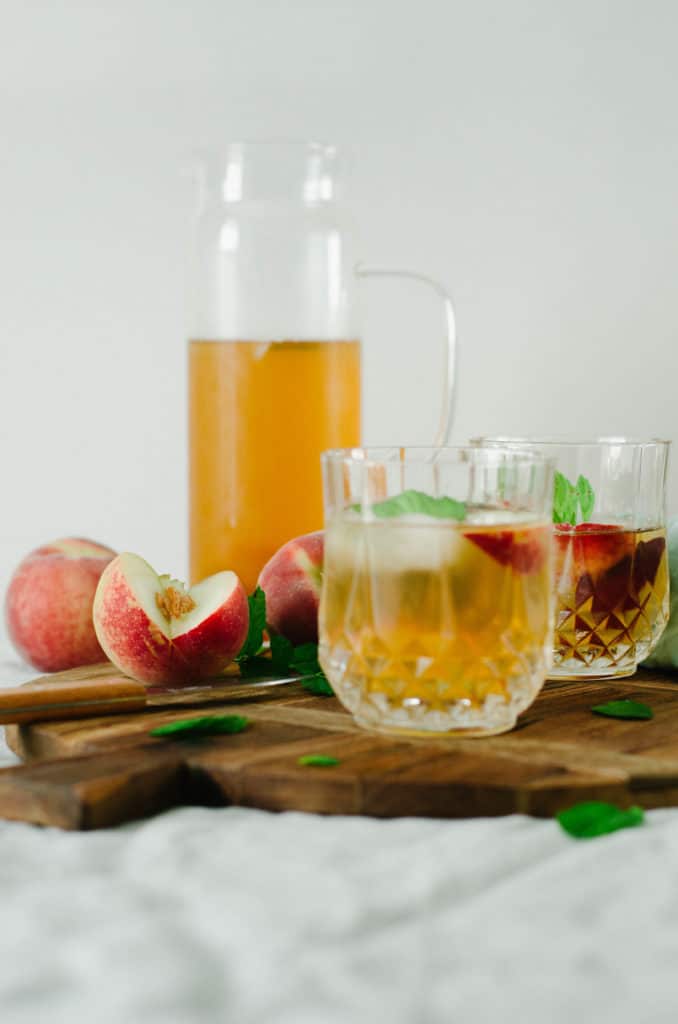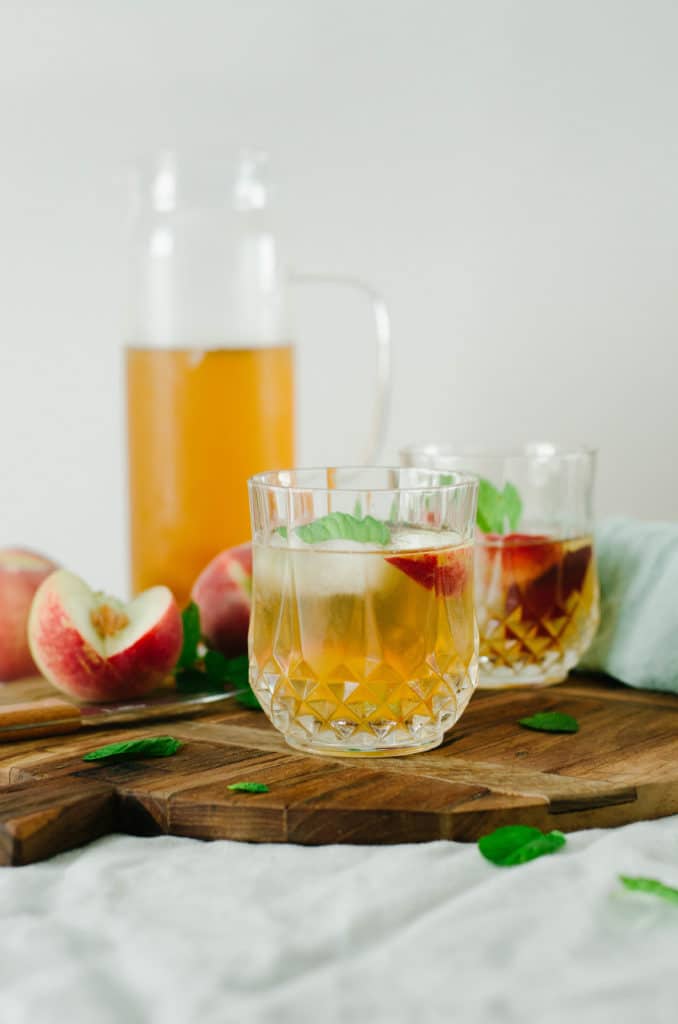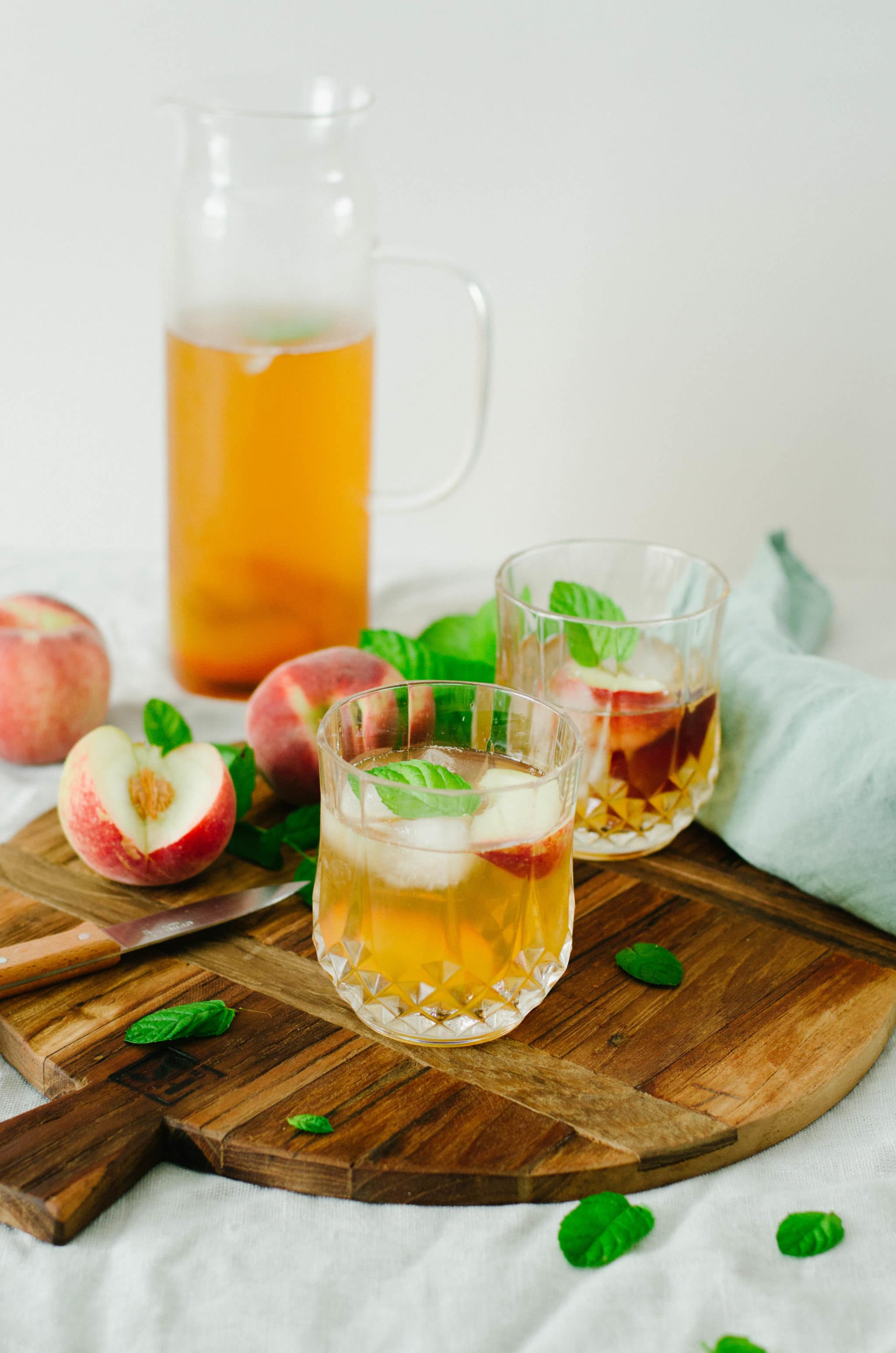 Just to let you know I am French and I translate my recipes, be indulgent if you see syntax errors and do not hesitate to leave me a comment so I can correct it. I hope you will like my recipes and enjoy your visit to my food blog!