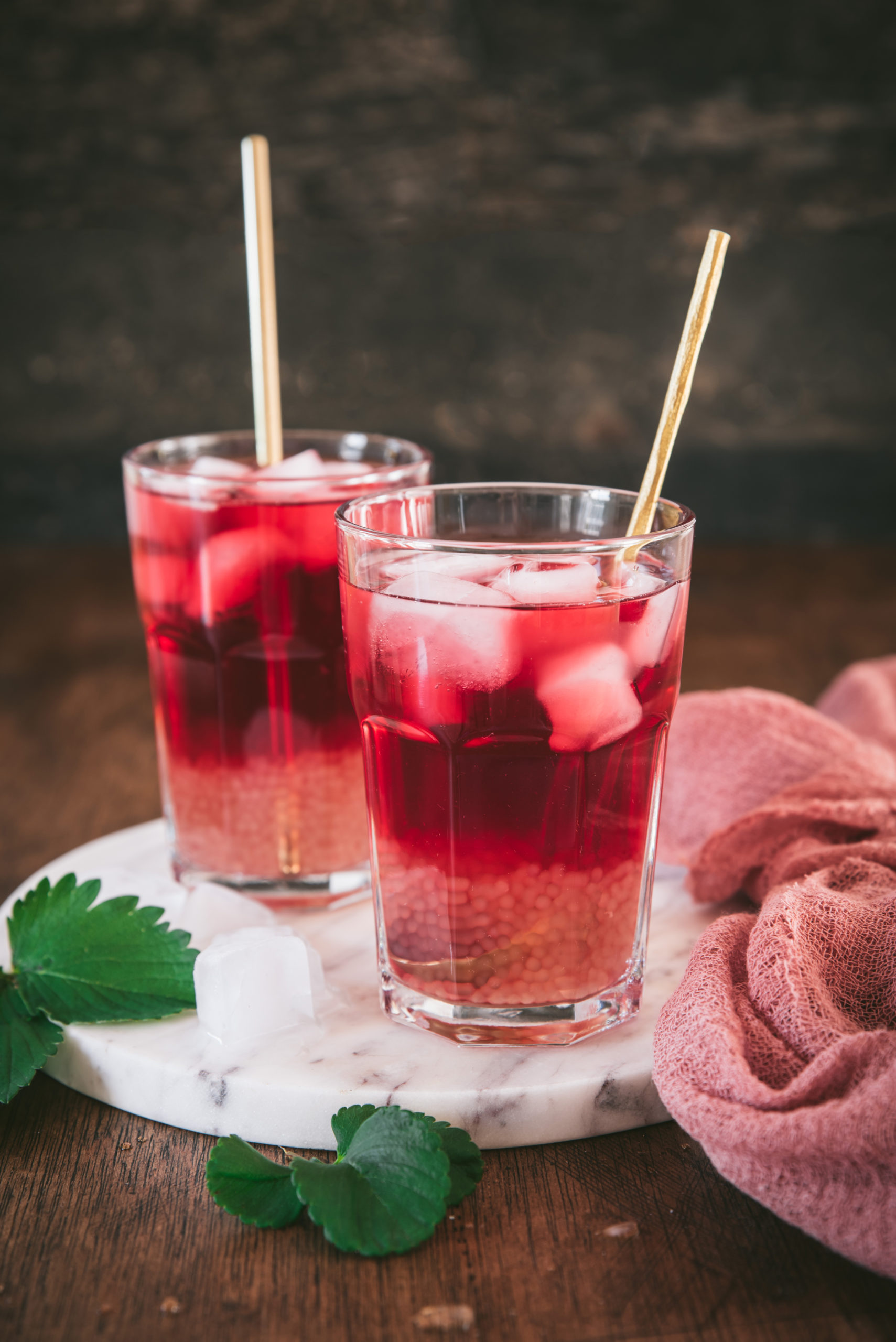 Homemade Bubble Tea Recipe
Have you ever heard of Bubble Tea? You've probably already seen those big glasses filled with colored drinks with big beads in the bottom! Well, that's Bubble Tea!
If you are interested in trying it at home, I will explain you my recipe and how to make a homemade bubble tea, it's very easy and then, you will be able to flavour it according to your desires!
Personally, I had tried it about ten years ago during a trip to Vietnam. It was served either plain or with a touch of milk or with fruit puree, and I was very amused by this refreshing drink.
In Grenoble, several cafés have opened and serve this famous bubble tea and it reminded me of it and made me want to try it at home.
With the nice weather, I think you will enjoy this simple recipe that I like to drink in the afternoon with a lot of ice cubes because it is very thirst-quenching and also serves as a healthy snack… You can also drink it hot depending on the season.
WHAT IS A BUBBLE TEA AND WHERE DOES IT COME FROM?
If you do a little research on the web, you will see that it is a drink of Taiwanese origin that appeared in the 70s and 80s and that is also called Boba, pearl tea or bubble tea due to the presence of large tapioca pearls at the bottom of the glass. Usually they are sucked with a straw of big diameter.
It is therefore tea with or without fruit syrup, usually with tapioca pearls and optionally with milk or vegetable milk.
Concerning tapioca pearls, I found small ones in the shops, my grandmother used to put a few spoons in her soup… but you can also get bigger ones, even flavored and colored.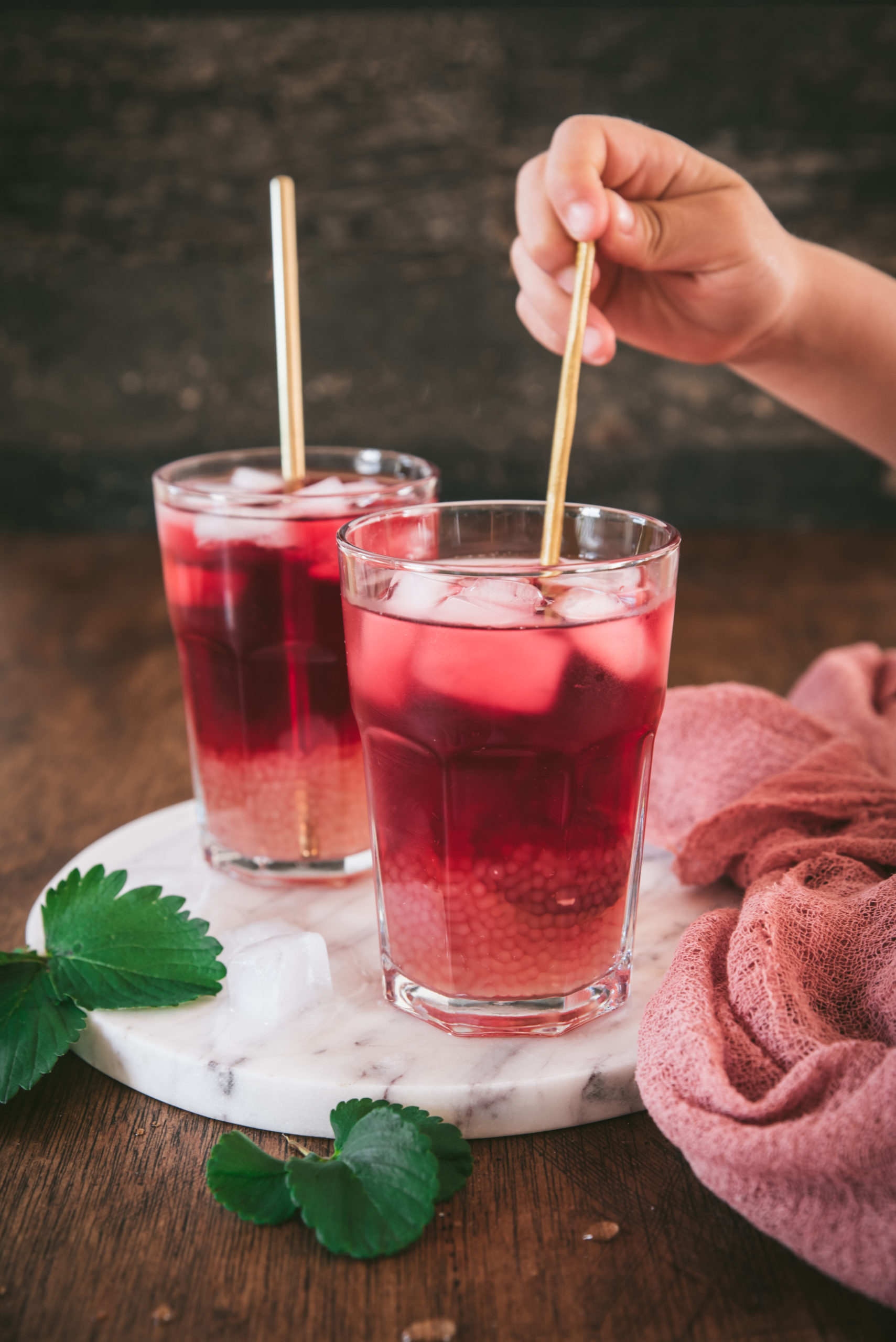 WHAT INGREDIENTS WILL YOU NEED TO MAKE A HOMEMADE BUBBLE TEA?
water
green or black tea, you can also use herbal tea if you prefer
fruit syrup or fruit juice
milk, if you wish
ice cubes
HOW TO MAKE HOMEMADE BUBBLE TEA?
It's very simple! It happens in 3 steps: 1/ cooking the tapioca pearls, 2/ brewing the tea, 3/ serving it with milk or fruit juice. And that's it! But I explain it all in more detail in the recipe below.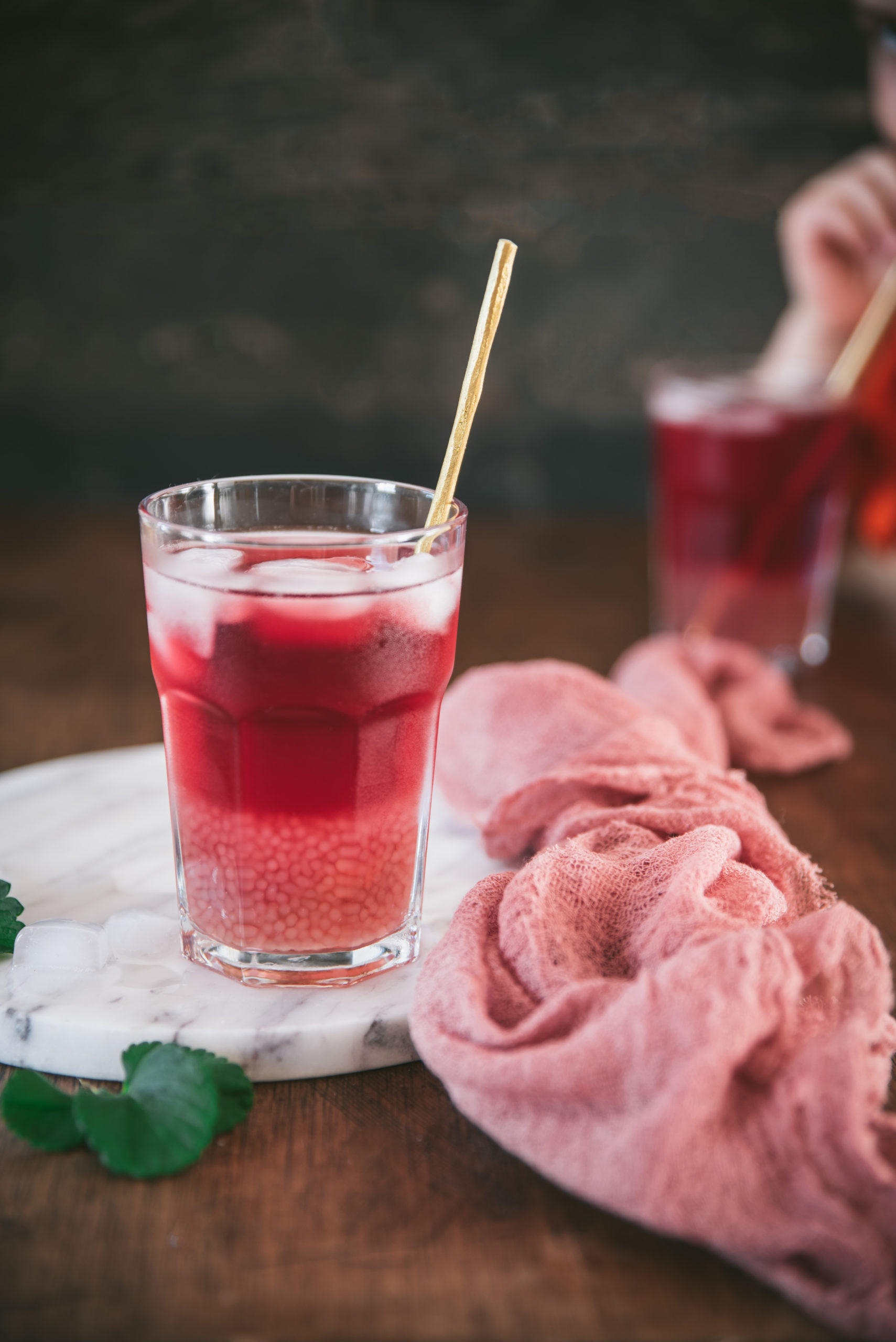 WHERE TO FIND TAPIOCA PEARLS?
You can find big tapioca pearls in Asian supermarkets, you will also need the straws that go with them.
However, in regular supermarkets, you can find Japanese pearls that are much smaller and quicker to cook, these are the ones I used in this recipe and that you see on the pictures.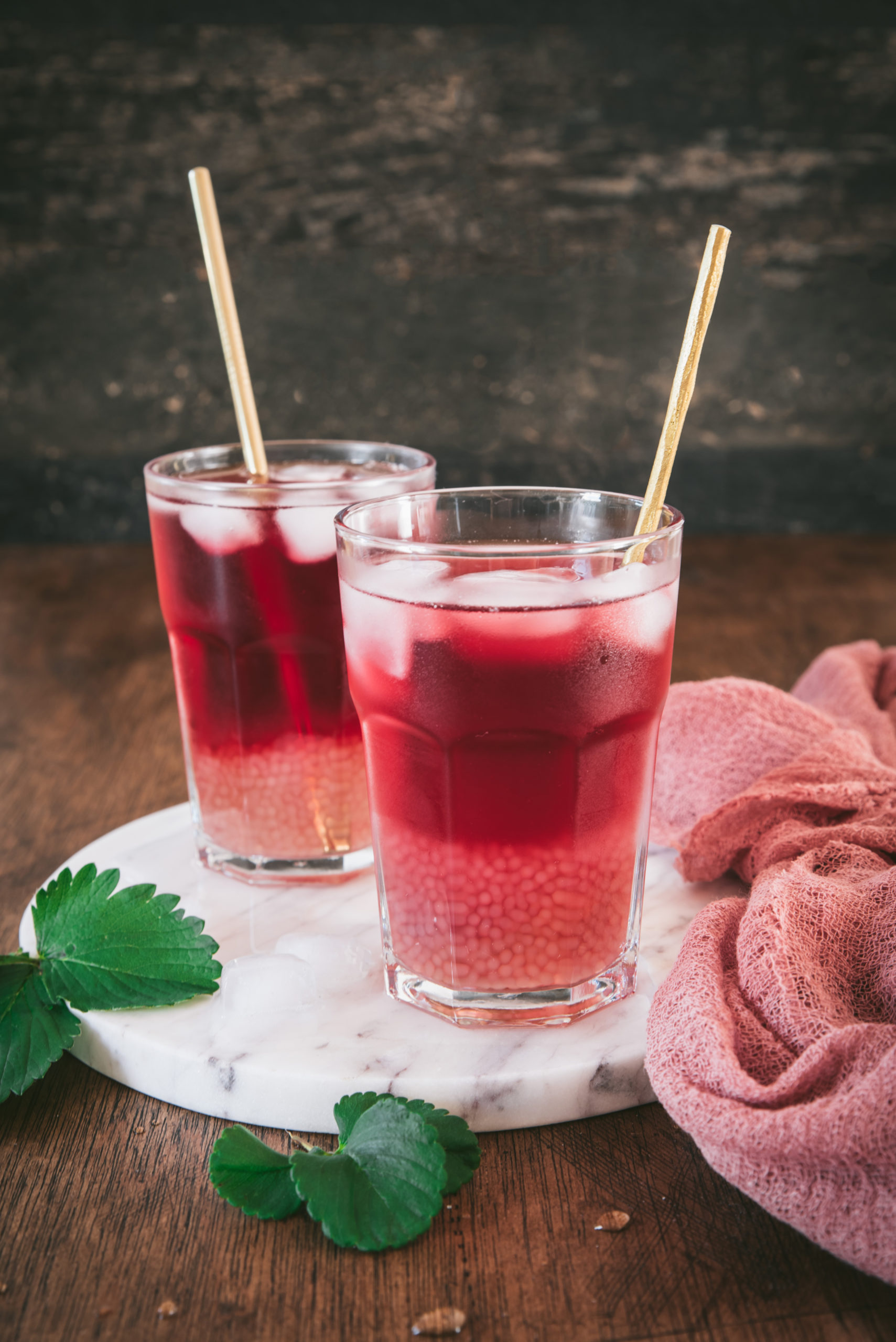 And if you like this kind of recipes, I invite you to try other ideas that should please you as much as me: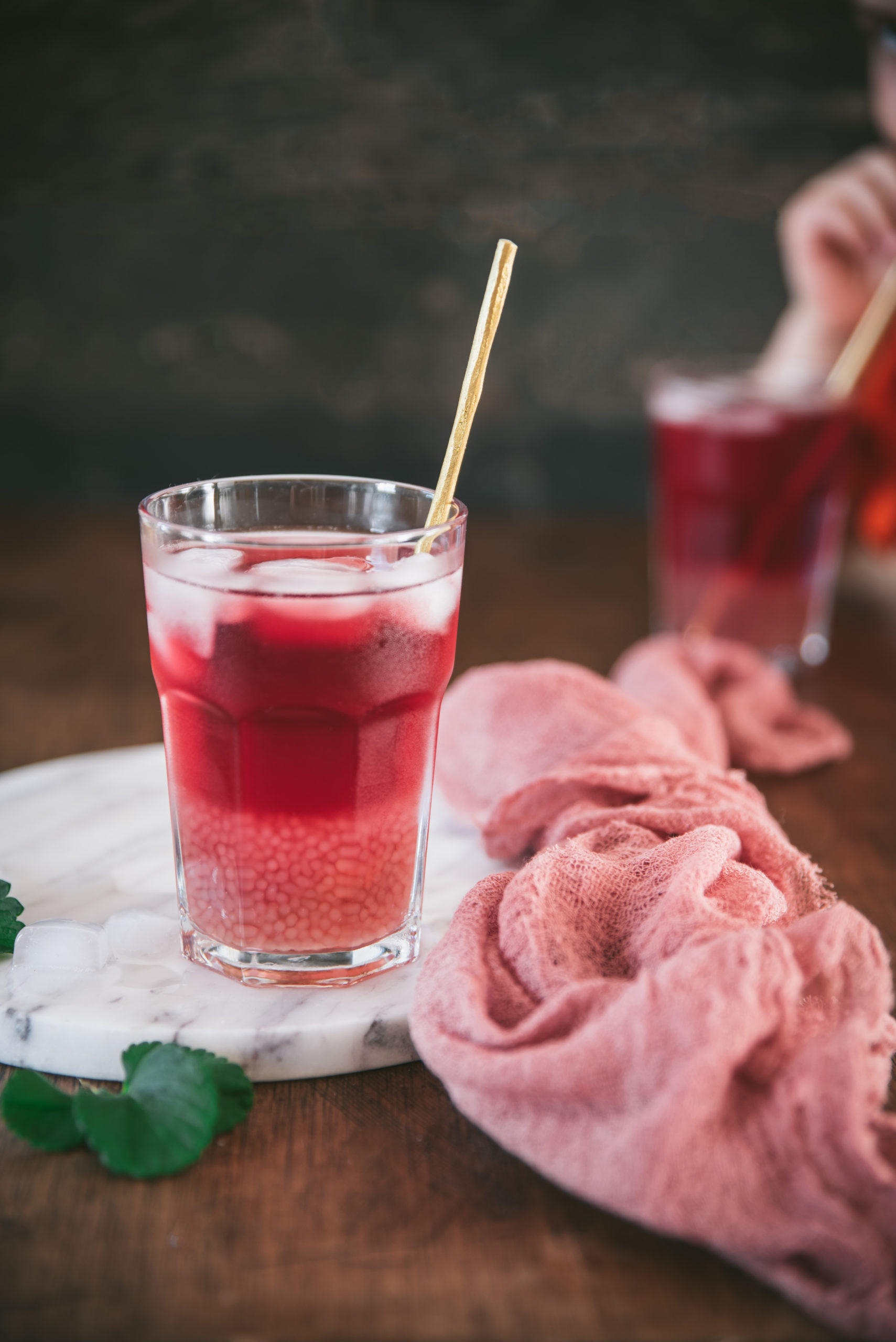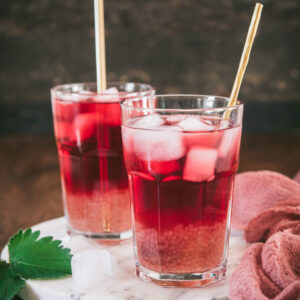 Homemade Bubble Tea
Ingredients
80

cl

water

4

teaspoons

green or black tea

4

tablespoons

fruit syrup or fruit juice

150

g

big tapioca pearls

milk

if you wish

ice cubes
Instructions
Heat 20 centilitres of water without boiling it and infuse the tea, adapting the infusion time to the tea used. Then take the tea out, let it cool down and put it in a cool place.

Bring water to a boil in a saucepan. When it boils, turn down to medium heat and pour in the tapioca pearls. Cook according to package directions, in my case 15 minutes.

While they are cooking, do not stir them very much and very gently because they are fragile.

Drain them and pour them into a bowl. Add the syrup or the fruit juice of your choice.

Divide them into 4 tall glasses and pour the cold tea over them.

Add ice cubes and water to the top of the glasses.

Serve with large straws and enjoy cold.
Notes
Do not forget to adapt the diameter of the
straws
to that of your tapioca pearls…
If you ever make my bubble tea recipe, and you like it, feel free to tag me on Instagram or Facebook so I can see the result and share it back…
Just to let you know I am French and I translate my recipes, be indulgent if you see syntax errors and do not hesitate to leave me a comment so I can correct it. I hope you will like my recipes and enjoy your visit to my food blog!