Here we are in the heart of summer and today I am of course offering you a summer drink recipe with this non-alcoholic Detox Cranberry Lime Mocktail.
It's a bit of a detox drink that's good for your health that I'm offering you here! And yes, lemon and cranberry have very interesting properties this season…
So, with this non-alcoholic cranberry and lime cocktail, we almost say goodbye to the month of July and we are already preparing for the month of August. Let it come to life… (it sounds like my grandmother is speaking), no but it's true!
Last year, in August, I embarked on the blogging adventure alone after 3 years of co-blogging and it's already been 1 year! But above all, I think that time has passed particularly quickly for me this year because we are expecting a happy event at the beginning of September and I am therefore (almost) entering my last month of pregnancy…
I am so happy and at the same time, I am very dreading this immense change in our lives! I imagine it must be the same for everyone…
Detox Cranberry Lime Mocktail
If you like these kinds of recipes, you might also like these other non-alcoholic drink ideas: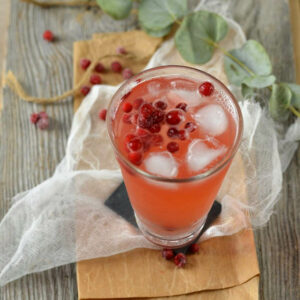 Detox Cranberry Lime Mocktail
Ingredients
Cranberry juice

Sparkling water like Perrier

1/2

lime

3

ice cubes
Instructions
In a large glass, pour up to 1/3 of the cranberry juice, add the lime juice then the ice cubes.

Then fill the rest of the glass with the sparkling water and serve!
If you ever make my homemade Detox Cranberry Lime Mocktail recipe and you like it, don't hesitate to tag me on Instagram @tangerinezest so I can see the result and share it myself…
Finally, just to let you know I am French and I translate my recipes, be indulgent if you see syntax errors and do not hesitate to leave me a comment so I can correct it. I hope you will like my recipes and enjoy your visit to my food blog!