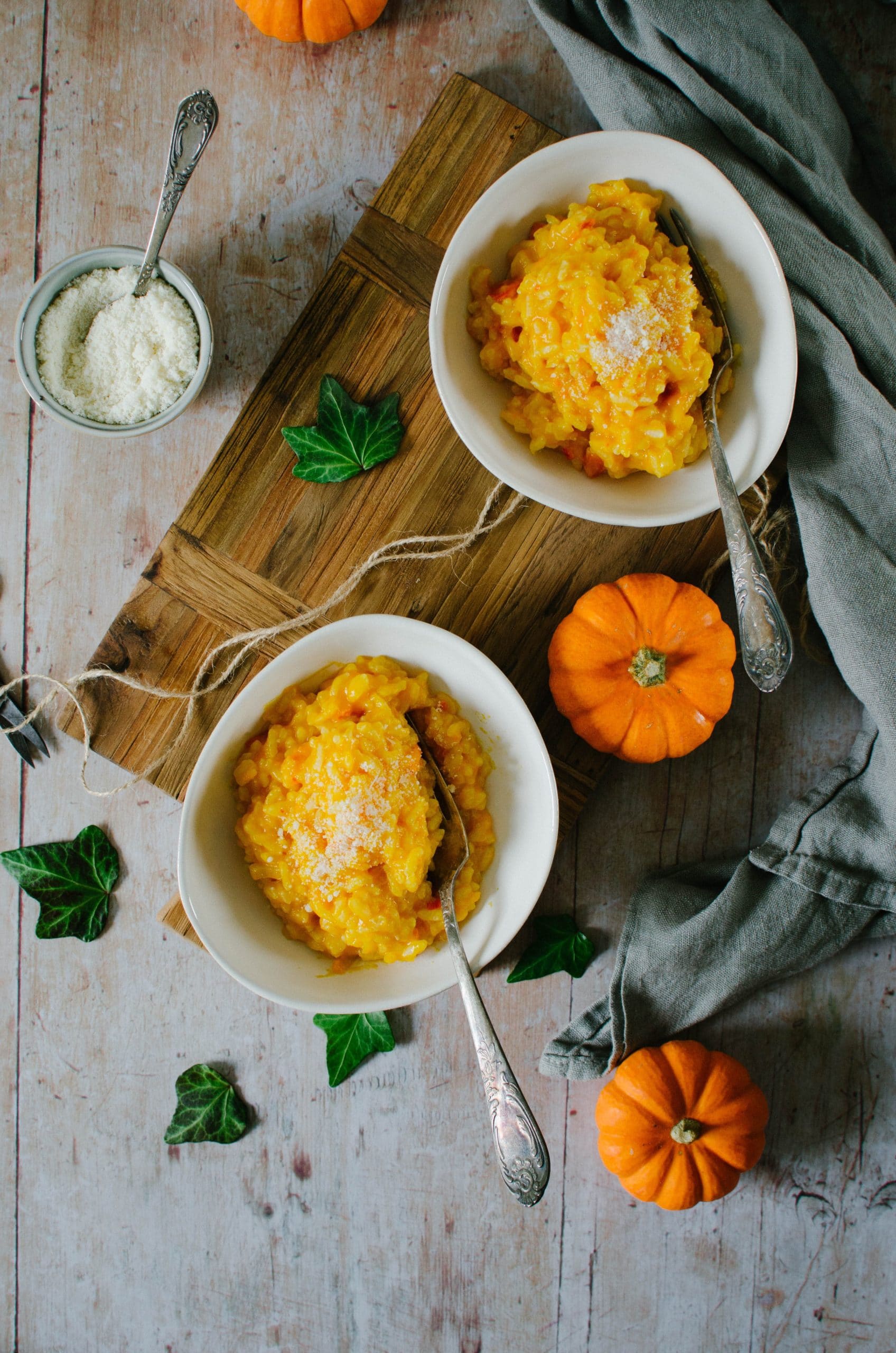 Have you ever tasted pumpkin and pecorino risotto recipe? It's too good !
Personally, I am a big fan of risotto because I find that it is a dish that can be revisited endlessly and is relatively easy and quick to make. The key is to be well organized beforehand and above all to have good ingredients, especially the rice! And then a significant element, my children love it! 😉
Generally, I make it with vegetables or mushrooms, it allows you to combine the useful with the pleasant and for once, I think you will agree with me, but this version of risotto with pumpkin and pecorino is really pretty with this bright orange color!
FYI, the little squashes that are in my photos (are not pumpkins) are Jack Be Little. They can be stuffed but personally, I like to use them in decoration at home during the autumn period and on my photos for the blog.
Pumpkin and Pecorino Risotto Recipe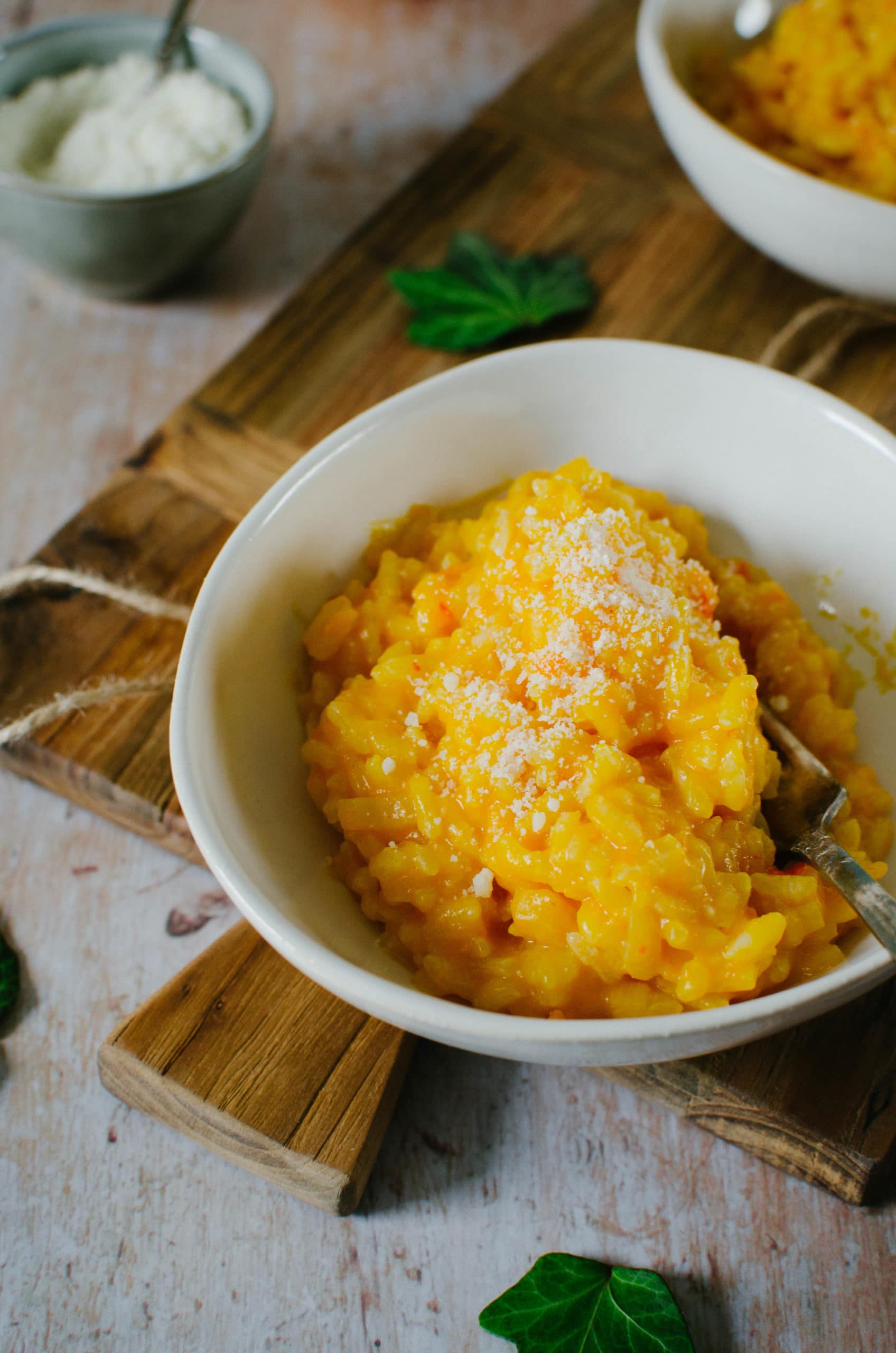 The recipe for this risotto is super simple, I made a pumpkin puree, then I prepared a risotto in the classic way and then all you have to do is mix the two and add the cheese and cream.
Well, I explain all this to you in detail in the recipe below but first I wanted to talk to you about rice. Well yes anyway, it's the main ingredient of a risotto!
So, before, I systematically used Arborio rice, but since last year I discovered Carnaroli rice and I must admit that it is a real favorite.
If you have the opportunity to find and test it then go for it. I find that it holds up better when cooking and since I have been using it, I have never failed my risotto which is really creamy. An Italian once told me that it was the king of rice!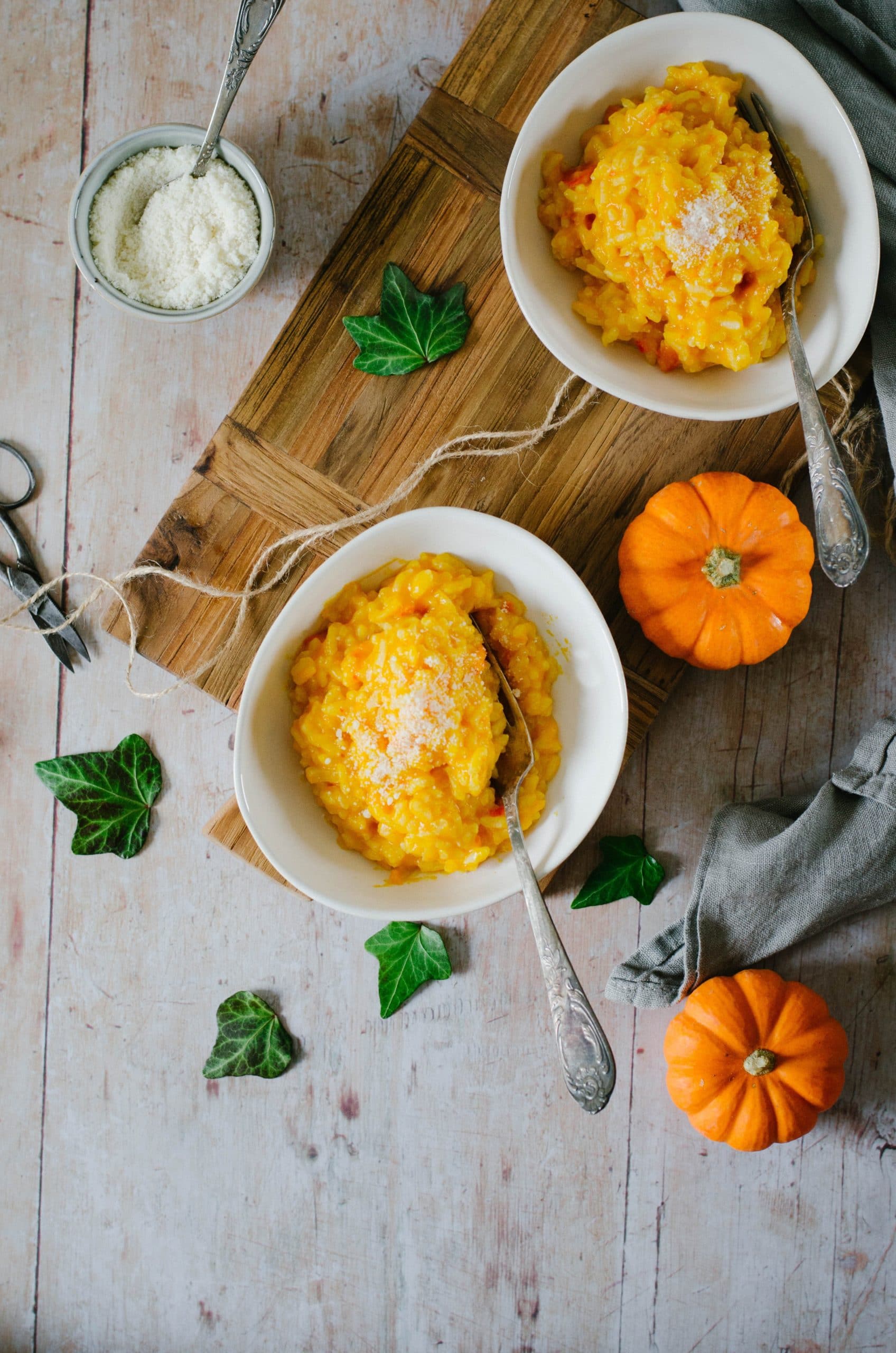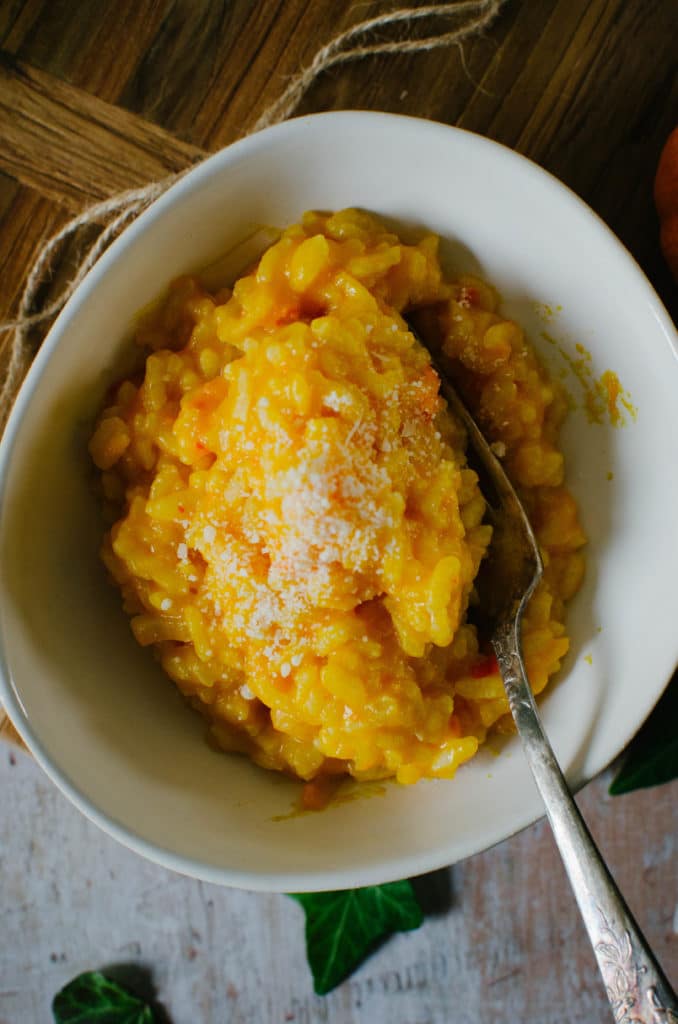 What ingredients do you need to make this fall squash risotto recipe?
carnaroli-style risotto rice
an organic or untreated pumpkin
olive oil
a nice shallot
a crushed garlic clove
vegetable broth
dry white wine
fresh cream
grated pecorino or parmesan cheese
salt and ground pepper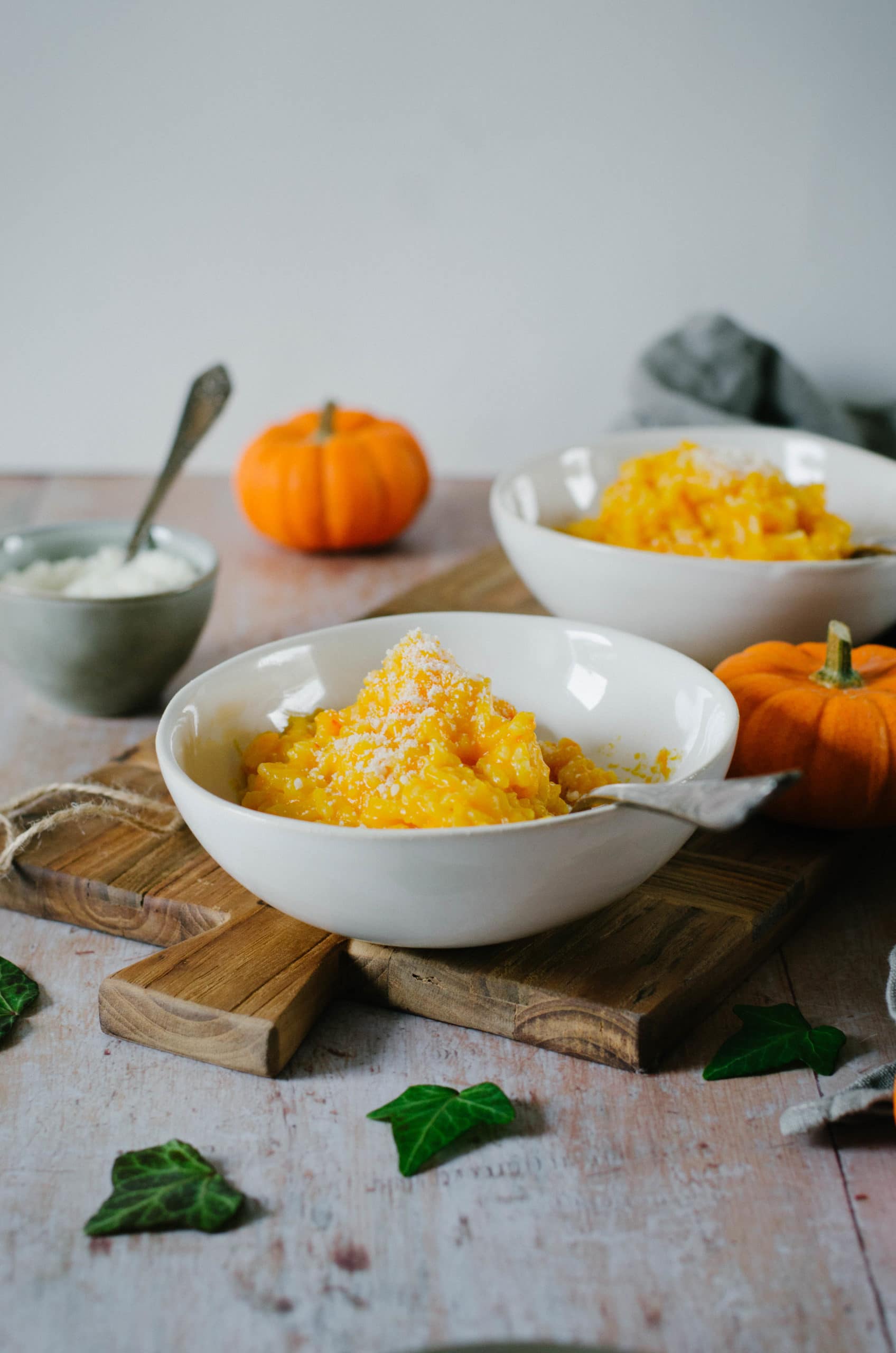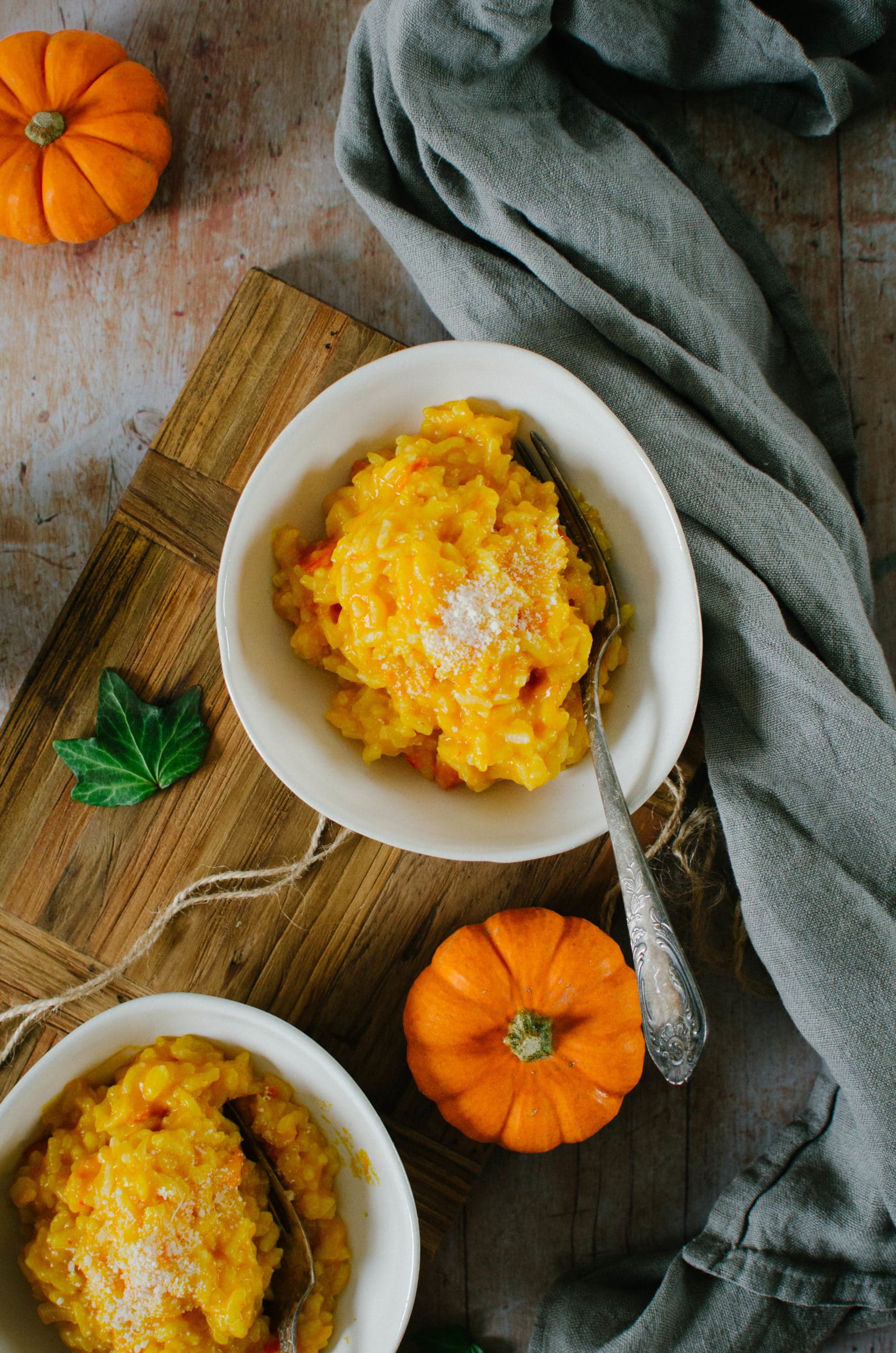 If you also like pumpkin/squash, here are some other recipe ideas that I really like: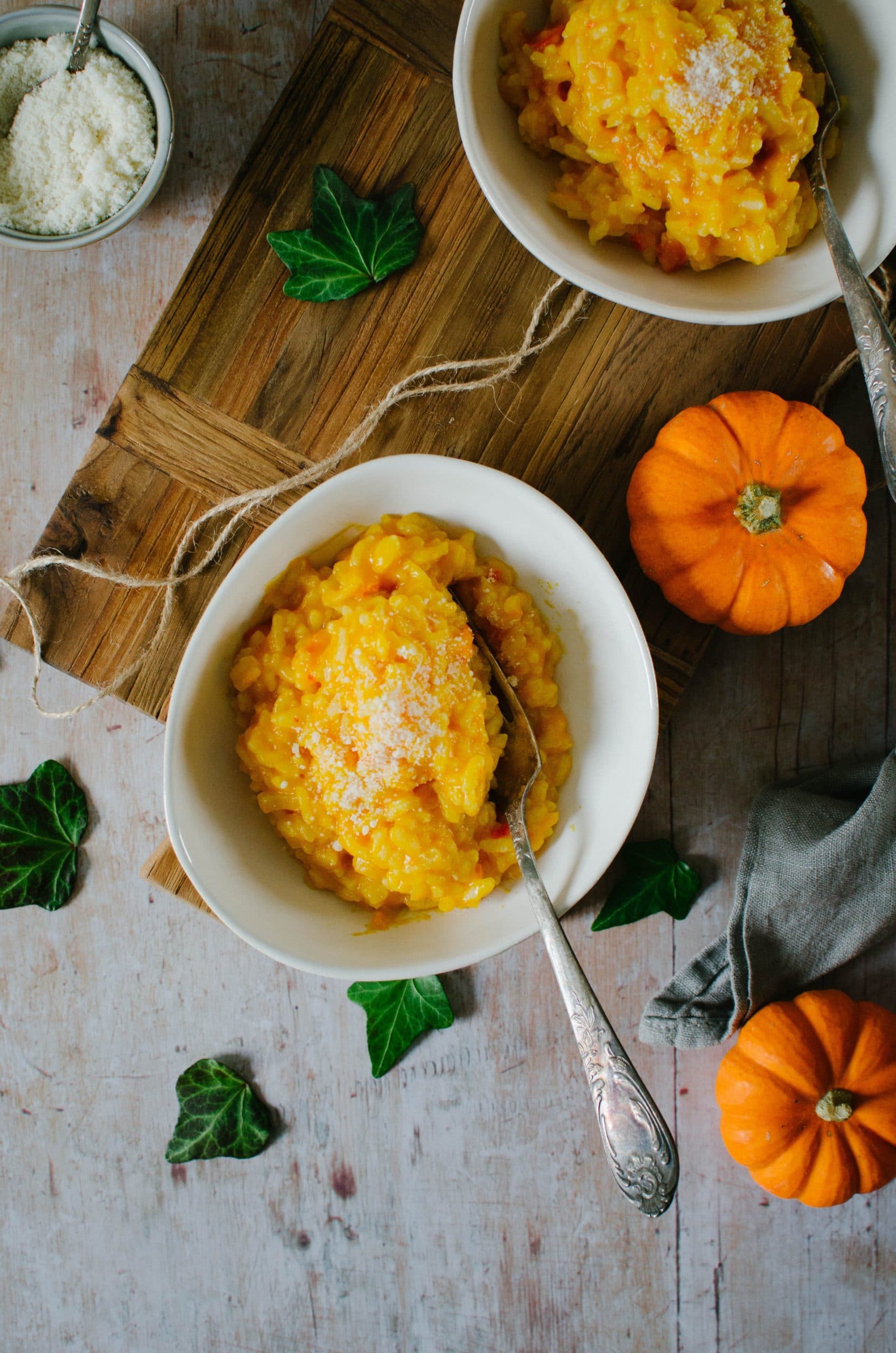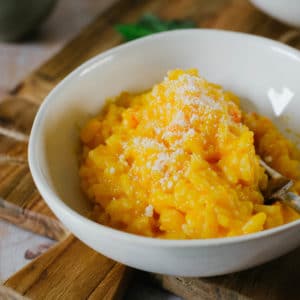 Pumpkin and Pecorino Risotto Recipe
Ingredients
250

g

Carnaroli-style risotto rice

1

organic pumpkin

(around 500 g)

3

tablespoons

olive oil

1

large shallot

1

crushed garlic clove

1

liter

vegetable broth

10

cl

dry white wine

5

cl

fresh cream

100

g

grated pecorino or parmesan

Salt and pepper
Instructions
Start by preparing your pumpkin. Wash it, dry it and empty it.

Cut it into small cubes, without peeling it, the skin will soften when cooked.

Place it in a saucepan with a little water and a pinch of coarse salt.

Cook covered for 15 minutes, until the squash flesh is tender.

Drain and puree. Keep warm.

Prepare 1 liter of stock by mixing boiling water with a vegetable stock cube in a saucepan. Leave on low heat so that the broth is still hot but does not evaporate.

In a saucepan, brown the chopped shallot and crushed garlic for 5 minutes over low heat with the olive oil.

Add the rice and cook for 5 minutes, stirring regularly.

Gradually add the broth to the rice in 2 or 3 batches, stirring regularly. Cooking lasts around twenty minutes.

At the end of cooking, add the pecorino and the pumpkin puree then mix well.

Remove from the heat, add the cream, pepper and stir gently.

Serve hot and adjust the seasoning to your liking.

You can always sprinkle cheese but also add some toasted pumpkin seeds.

Enjoy your food !
If you ever make my homemade Pumpkin and Pecorino Risotto recipe and you like it, don't hesitate to tag me on Instagram @tangerinezest so I can see the result and share it myself…
Finally, just to let you know I am French and I translate my recipes, be indulgent if you see syntax errors and do not hesitate to leave me a comment so I can correct it. I hope you will like my recipes and enjoy your visit to my food blog!