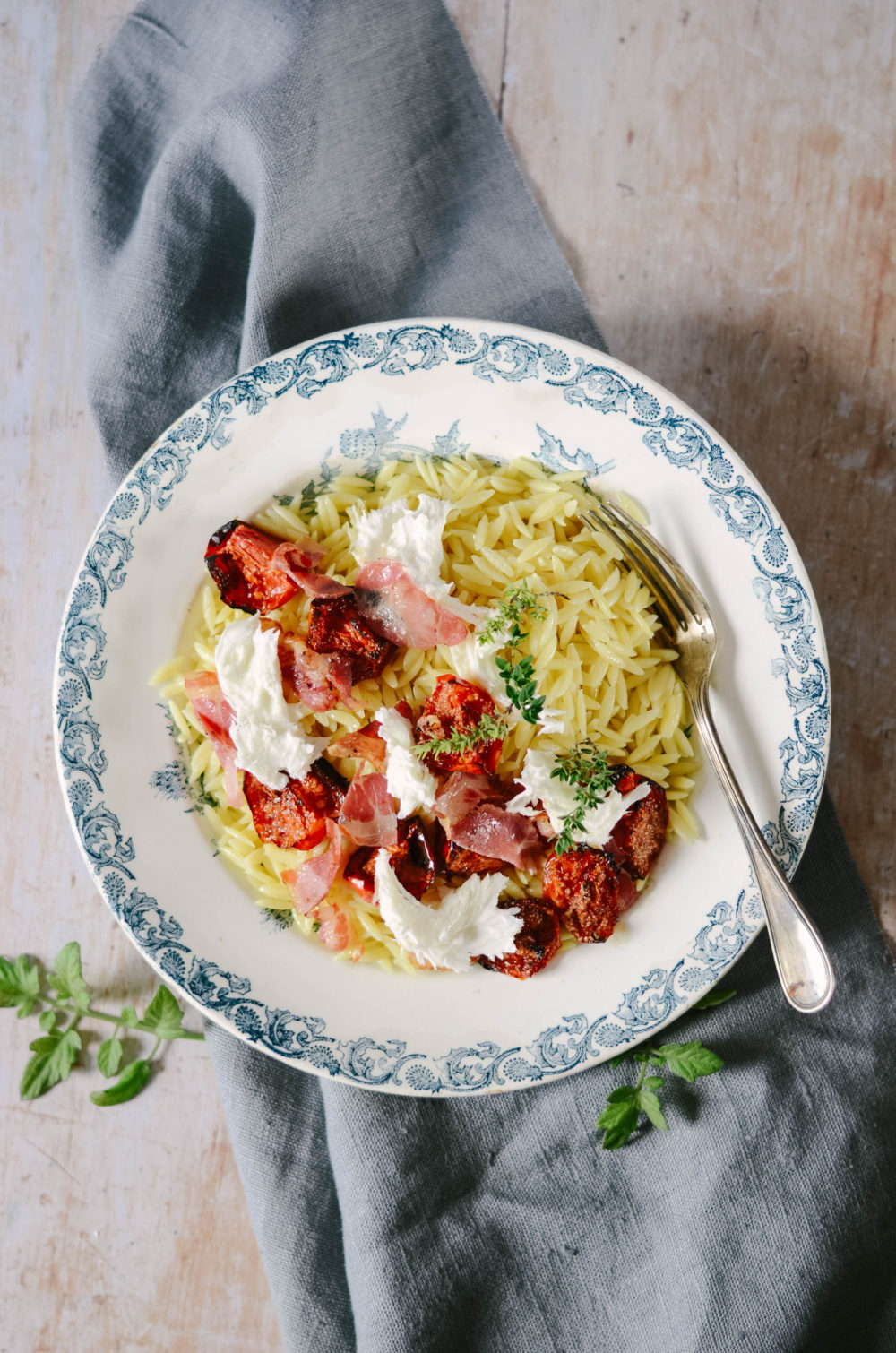 Well, you will have understood, I am a big fan of summer, I have already told you and said it again so until the end of September has arrived, I am enjoying summer flavors until the end. This roasted tomatoes Pasta with grilled Pancetta and Burrata recipe is typically the kind of dish I love.
It's super easy to make while still being delicious and full of flavor.
For the roasted tomatoes, I reused my traditional recipe and had the idea of ​​adding a few pieces of pancetta at the end of cooking so that they brown slightly. This brings a real gourmet touch to this recipe.
And you, are you, like me, trying to make summer last as long as possible or are you impatient for autumn and its flavors to arrive?
Well, I must admit, when autumn arrives, I will always be happy to enjoy the new fruits and vegetables and to make good cookies and cakes… 😉
Roasted Tomatoes Pasta with grilled Pancetta and Burrata recipe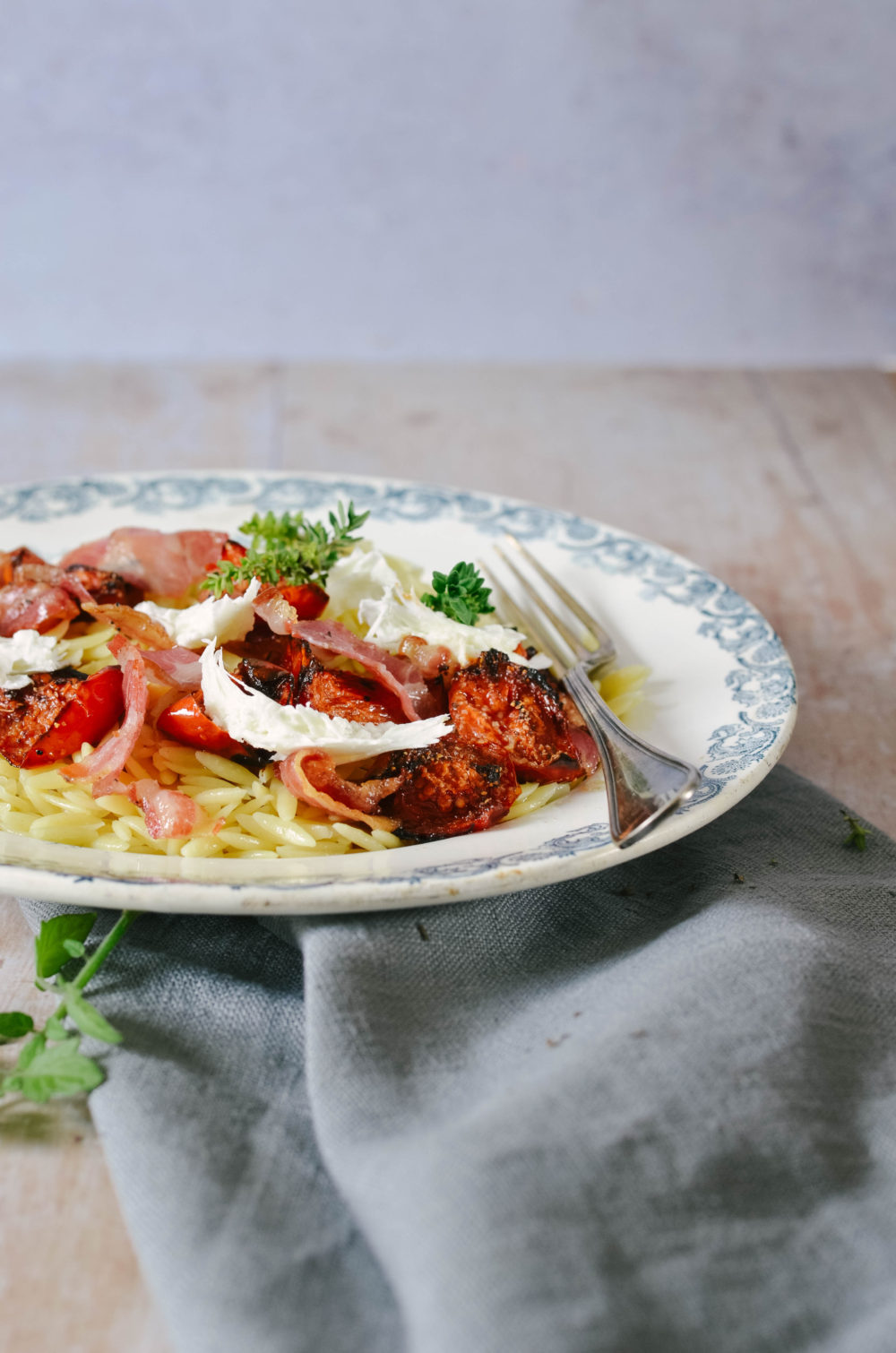 WHAT INGREDIENTS do YOU NEED TO MAKE THIS DELICIOUS EASY RECIPE?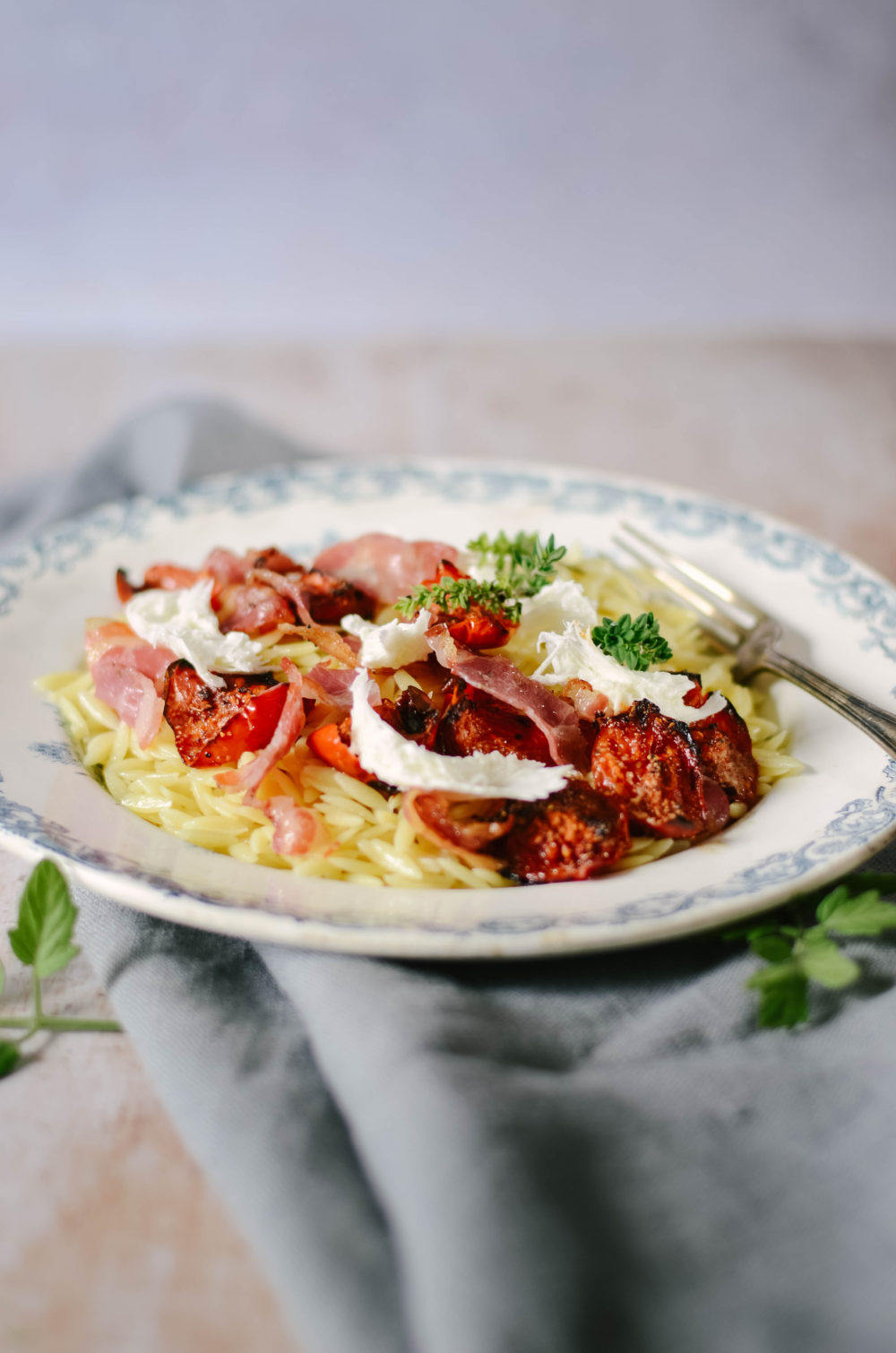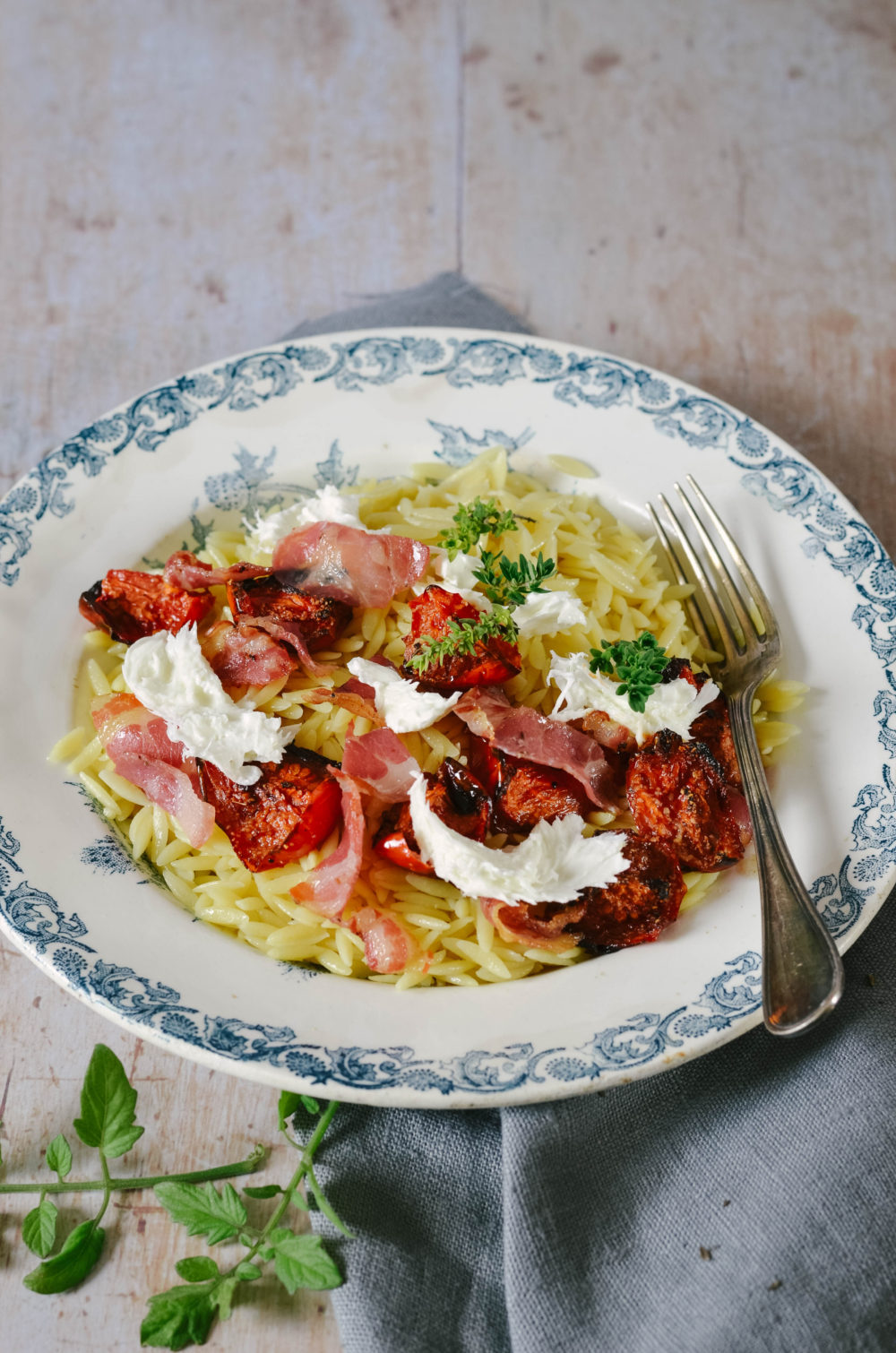 What other recipe ideas to make with burrata should you like as much as this one?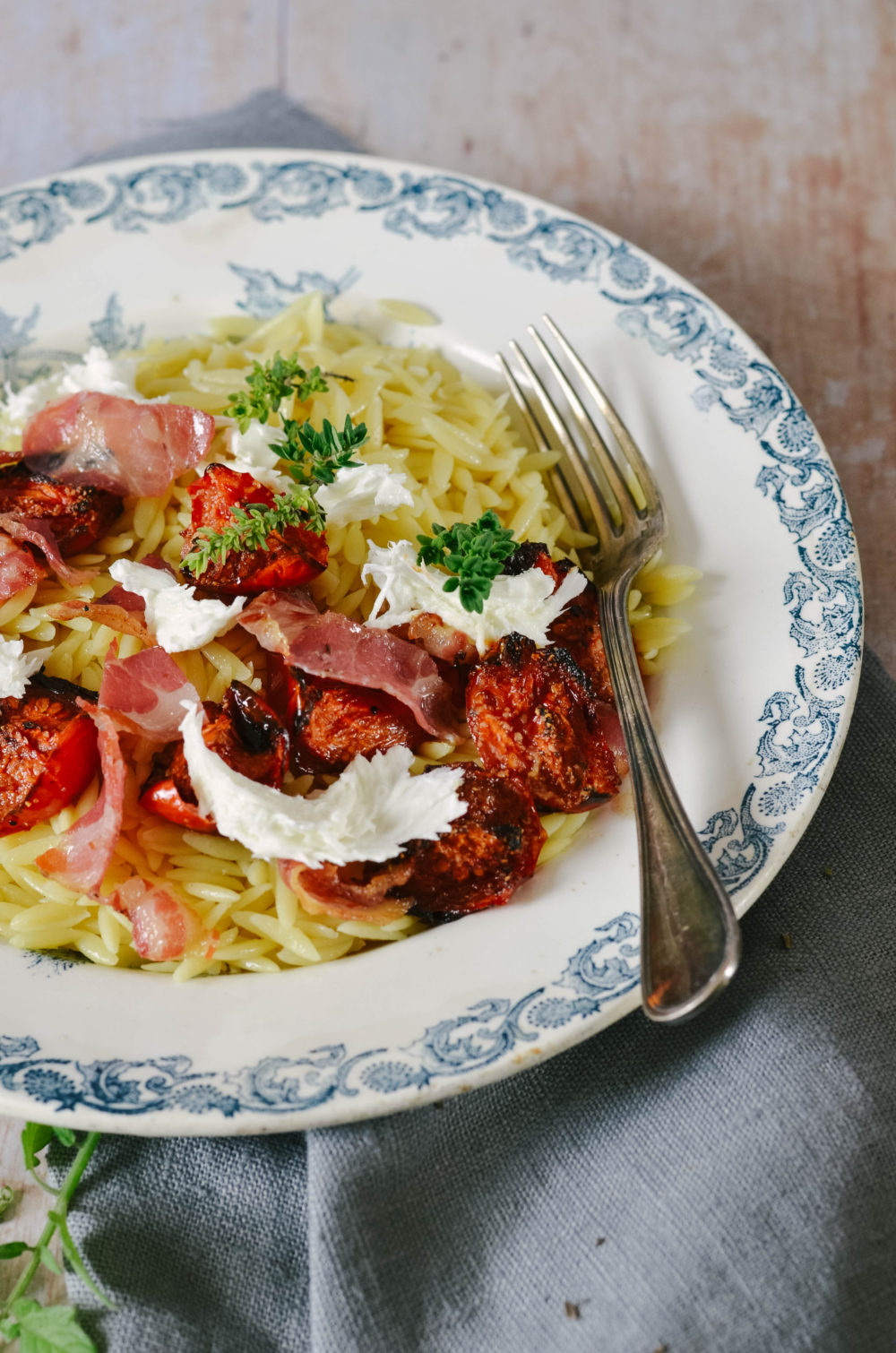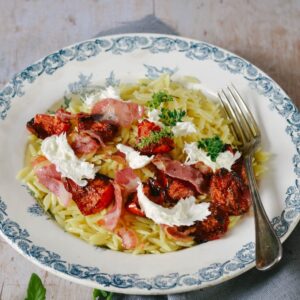 Roasted Tomatoes Pasta with grilled Pancetta and Burrata
Ingredients
400g pasta

1 burrata

400g pasta

1 burrata
FOR ROASTED TOMATOES
2

bunches

cherry tomatoes

3

garlic cloves

with skin

Olive oil

Salt and pepper

Thyme
Instructions
Preheat your oven to 150°C.

In a baking dish, arrange the tomatoes in bunches and add the garlic cloves.

Drizzle generously with olive oil.

Salt, pepper and add a few sprigs of thyme.

Bake for 1 hour 30. Twice during cooking, pour the oil from the bottom of the dish over the tomatoes to water them well.

10 minutes before the end of cooking, add the pancetta cut into strips to grill it.

Cook the pasta as directed on your package.

To serve, drain the pasta and divide between plates, add the roasted tomatoes and pancetta to tear up the burrata pieces and arrange on the plates.

Season to taste with salt and pepper then enjoy and enjoy!
If you ever make my Roasted Tomatoes Pasta recipe and you like it, don't hesitate to tag me on Instagram @tangerinezest so I can see the result and share it myself…
Finally, just to let you know I am French and I translate my recipes, be indulgent if you see syntax errors and do not hesitate to leave me a comment so I can correct it. I hope you will like my recipes and enjoy your visit to my food blog!