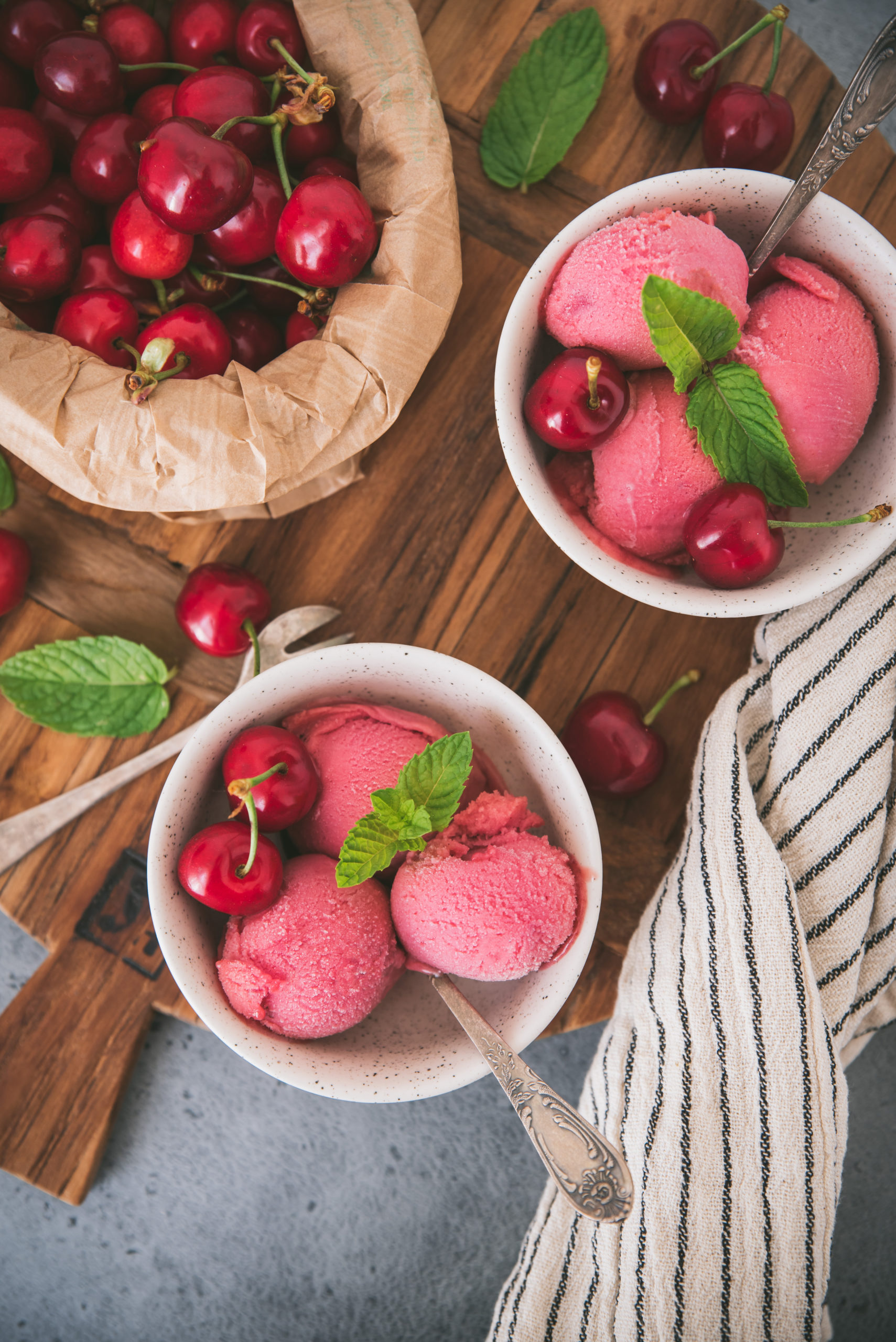 Several years ago, I made this Homemade Cherry Sorbet Recipe and since last year there were no cherries, this year I rushed to make this delicious ice cream again for the whole family to enjoy.
To make this recipe, you will need an ice cream maker but it's really not an expensive purchase and it's an accessory that will allow you to make delicious recipes all year long, ice creams, sorbets, granita, etc.
This is not my first version of this sorbet and I like to vary the pleasures by adding sometimes a little vanilla or mint leaves when cooking the cherries.
So I let you discover my recipe which is very simple and requires only three ingredients, but believe me, you will enjoy it!
Homemade Cherry Sorbet Recipe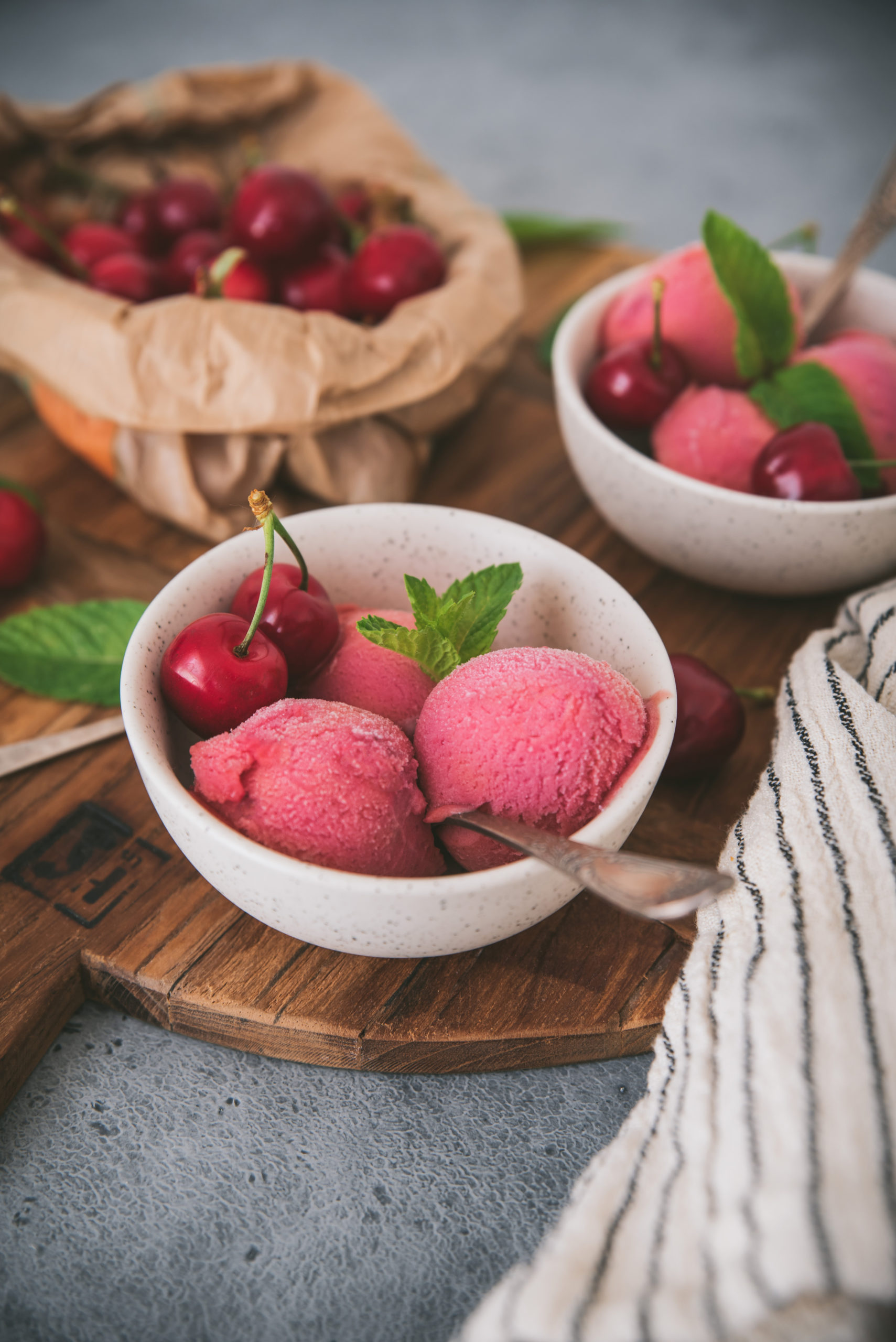 What ingredients will you need to make this delicious homemade cherry sorbet recipe?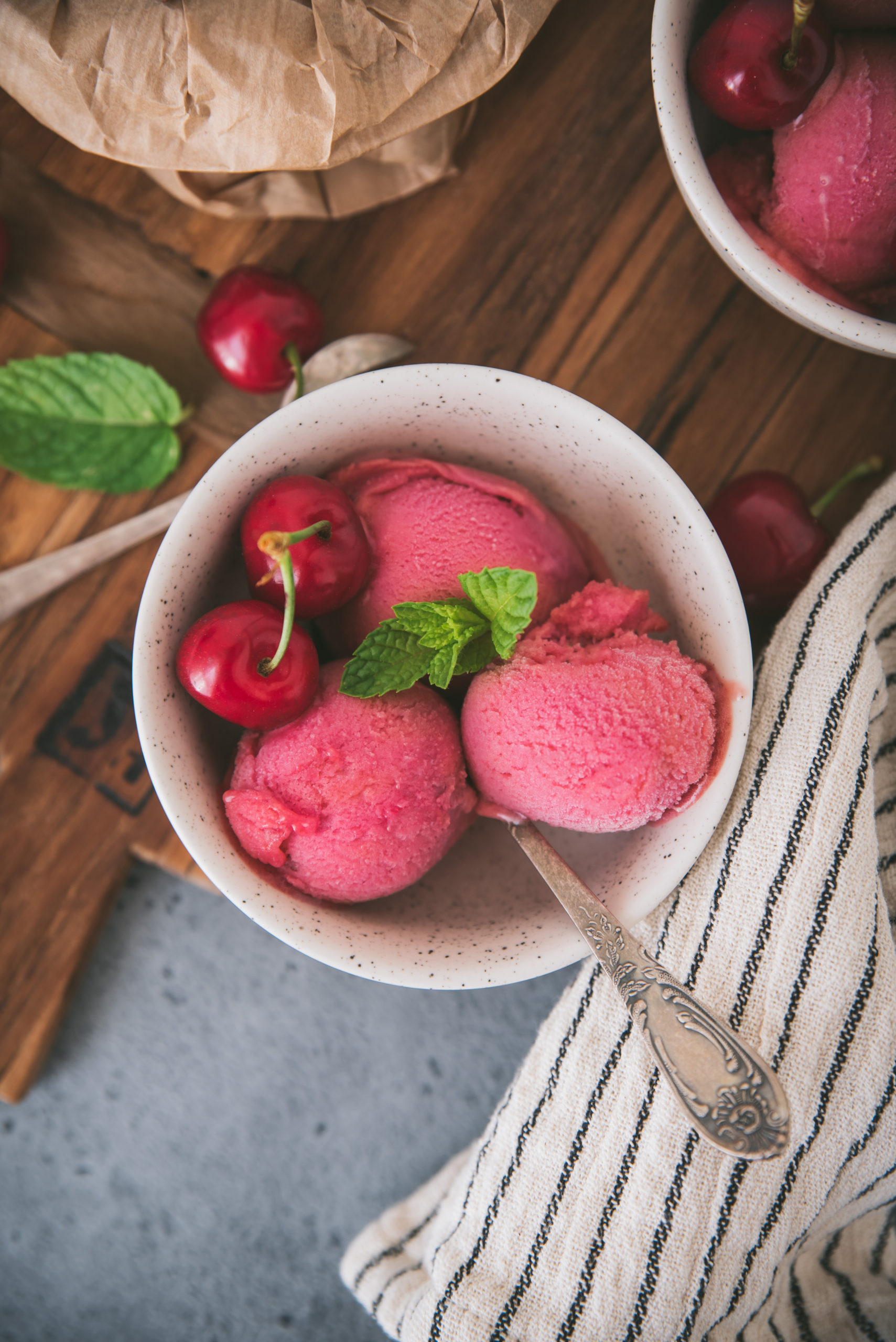 If you don't have an ice cream maker, you can always pour it into a tub and scrape it down with a fork and you'll have a gratin….
I love eating this sorbet as is, but I also like to pair it with cookies, so if you're brave enough to turn on your oven while you run your ice cream maker, these are my favorite: Amaretti Soft Cookies!
You can also use it in a vacherin… 😉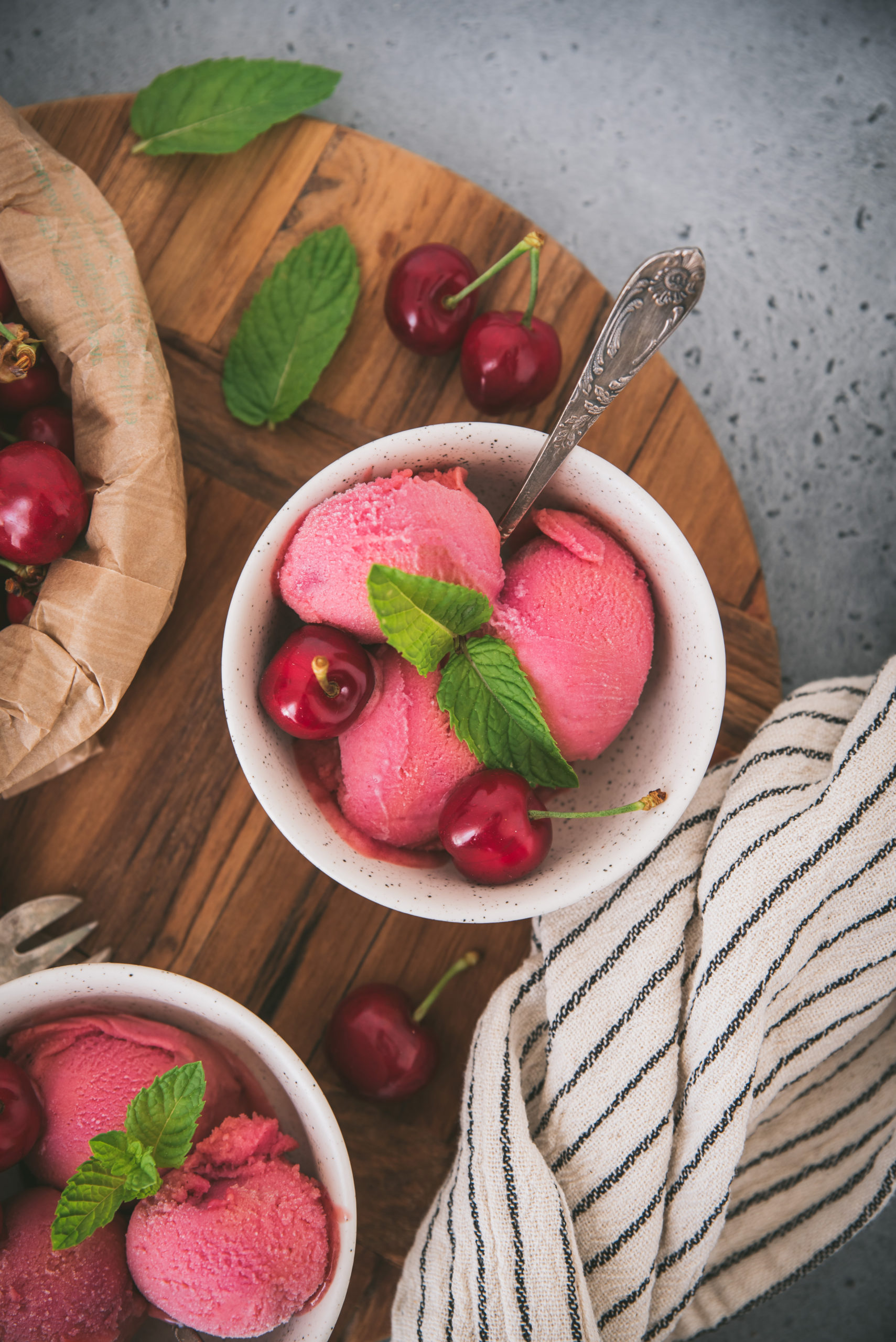 HERE ARE SOME DESSERT IDEAS THAT YOU MIGHT LIKE: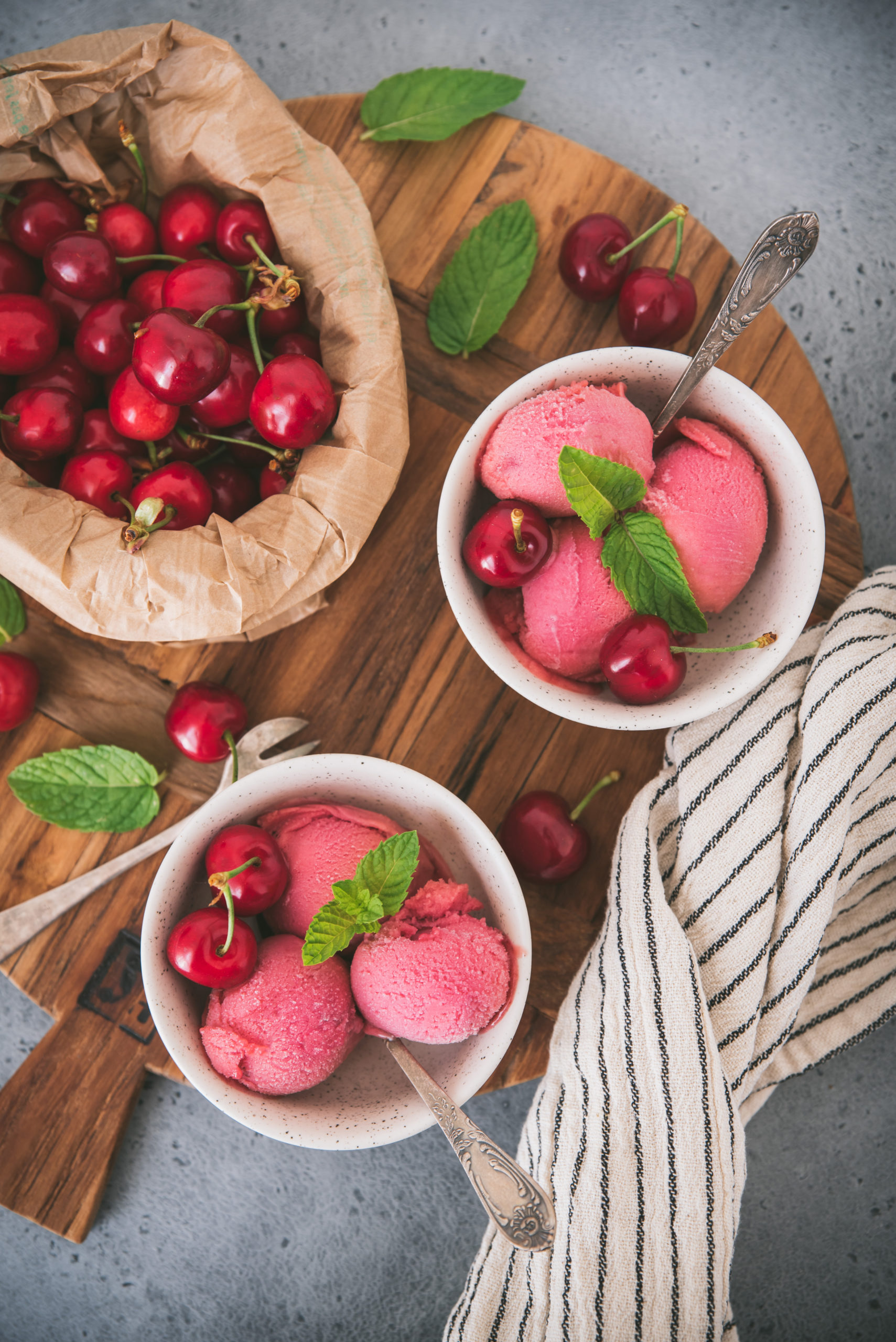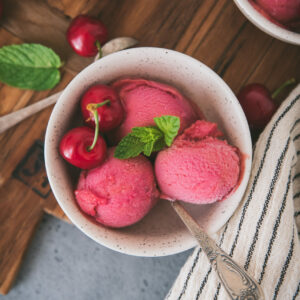 Cherry Sorbet
Ingredients
500

g

cherries

60

g

sugar

1

lemon

1

pinch

vanilla powder

(optional)

mint leaves

(optional)
Instructions
Clean the cherries, remove the stems and pits.

In a saucepan, place the cherries cut into small pieces, add the lemon juice and sugar (and vanilla or some mint leaves).

Heat over medium heat for 10 minutes, stirring occasionally so cherries do not stick and cook evenly.

At the end of the cooking time, (remove the mint leaves) mix everything together and let it cool.

Place the cherry puree in your ice cream maker and turn it on for 15 minutes (or follow your machine's instructions).

Place the cherry sorbet in a tray and set aside in the freezer. When ready to serve, remove the sorbet 5 to 10 minutes ahead of time and enjoy.
If you ever make my homemade Cherry Sorbet recipe and you like it, don't hesitate to tag me on Instagram @tangerinezest so I can see the result and share it myself…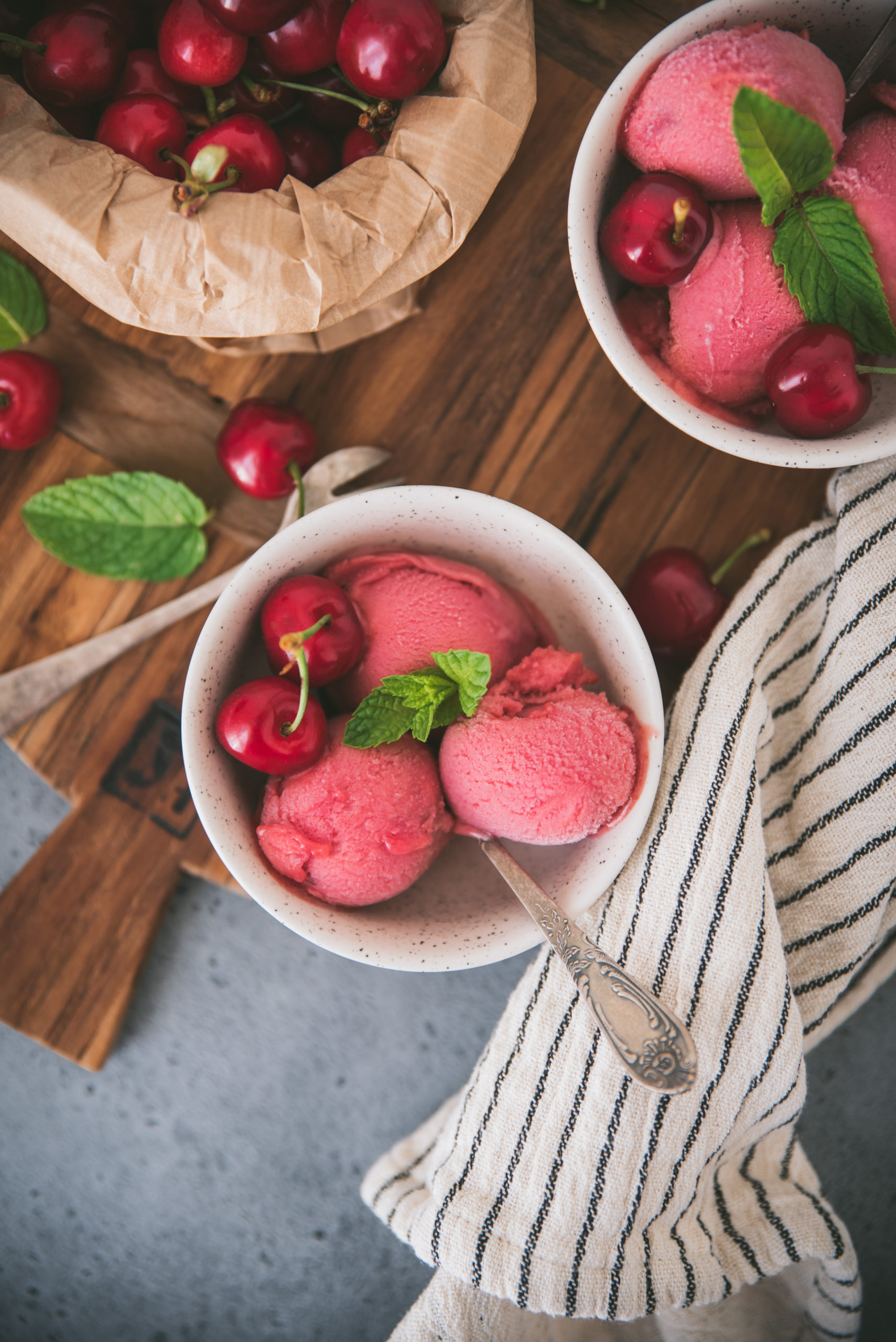 Just to let you know I am French and I translate my recipes, be indulgent if you see syntax errors and do not hesitate to leave me a comment so I can correct it. I hope you will like my recipes and enjoy your visit to my food blog!