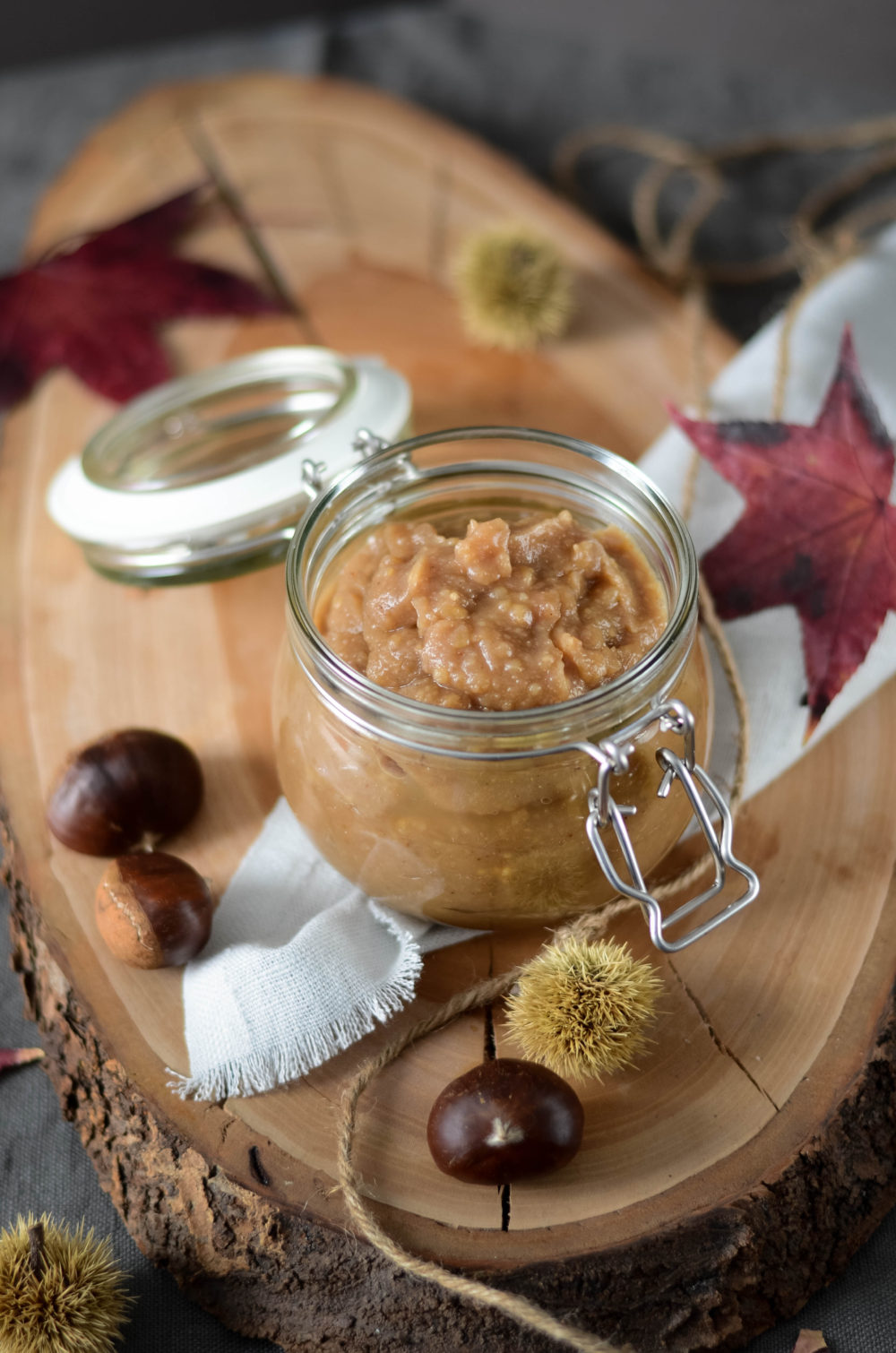 It's been ages since I've made my homemade chestnut cream recipe. For those who doubt it, it's really quite simple but just a little time-consuming, especially when it comes to peeling the chestnuts.
For this version, I made a homemade chestnut cream with vanilla. Even Fab, who's not a big fan of industrial creams, used it. Incredible!
In fact, he even finished the jar before I'd even had time to make the chestnut cream dessert recipes I'd imagined with it 🙁 Anyway, so much the better, he was delighted and now all we have to do is repeat the experience… The chocolate and chestnut cream fondants are for another time…
So, when we talk about chestnut cream, we should really be talking about chestnut cream, because, of course, chestnuts are not edible. So if you bring back pretty bulbs from your walks, take the ones with lots of little needles, but not the big ones 😉
For blending, you can use a hand blender, a blender or a classic blender. Personally, I use the small KitchenAid blender, which I find very versatile and practical.
Homemade Chestnut Cream Recipe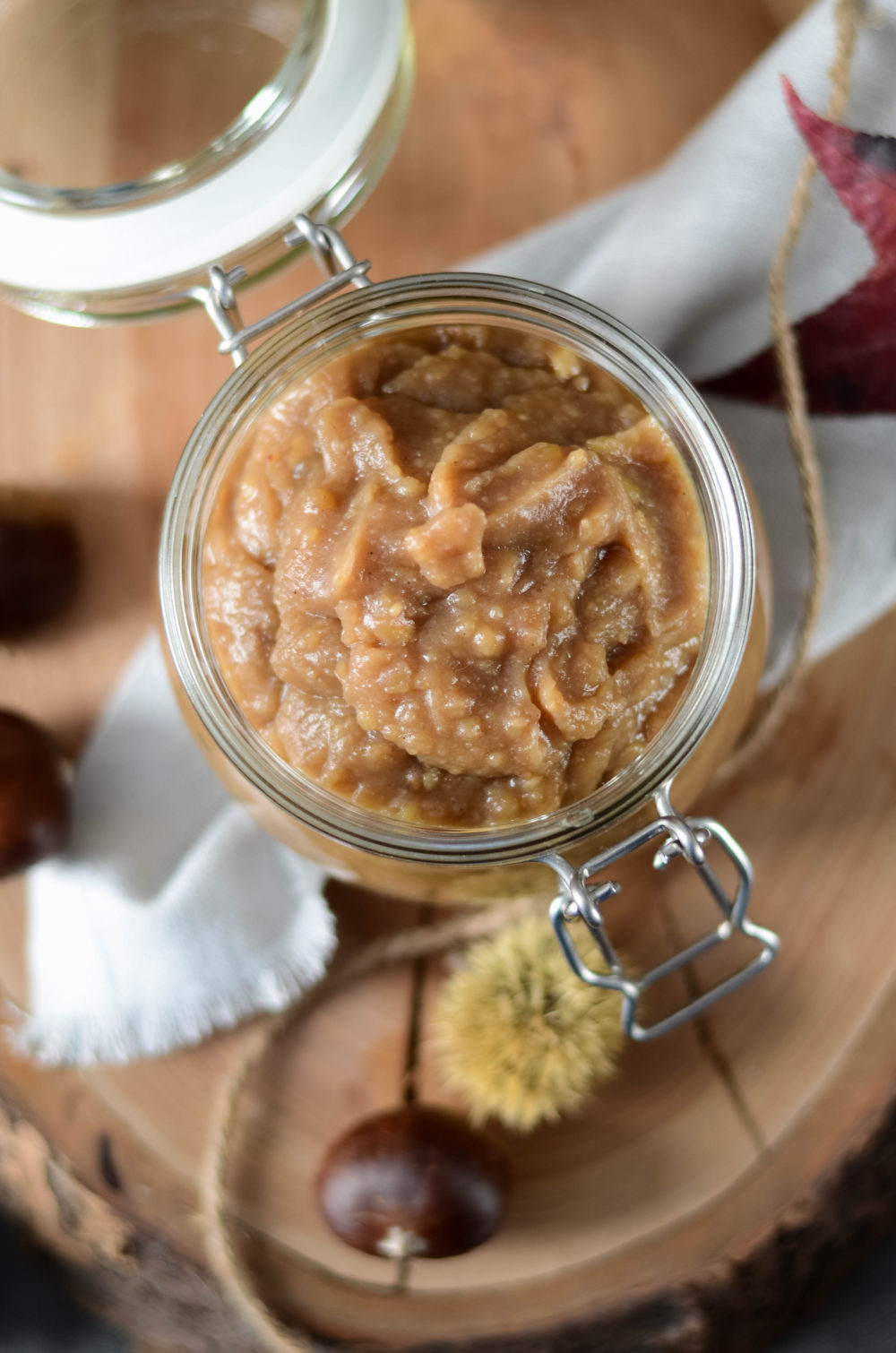 What ingredients do you need to make this delicious homemade chestnut cream recipe?
whole chestnuts, about 400 g once peeled
brown sugar
some water
vanilla or vanilla sugar
And that's it, no need for more than that…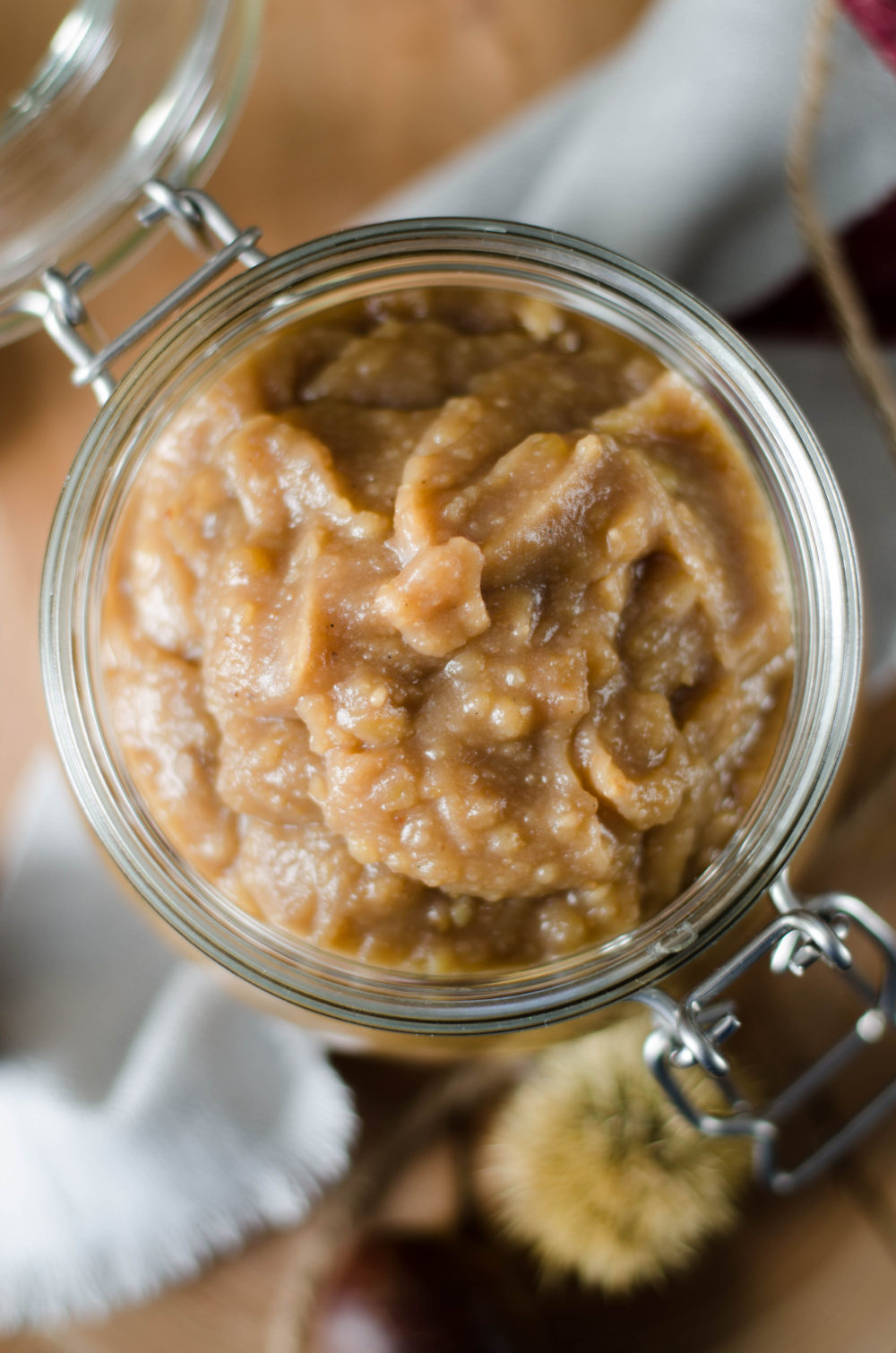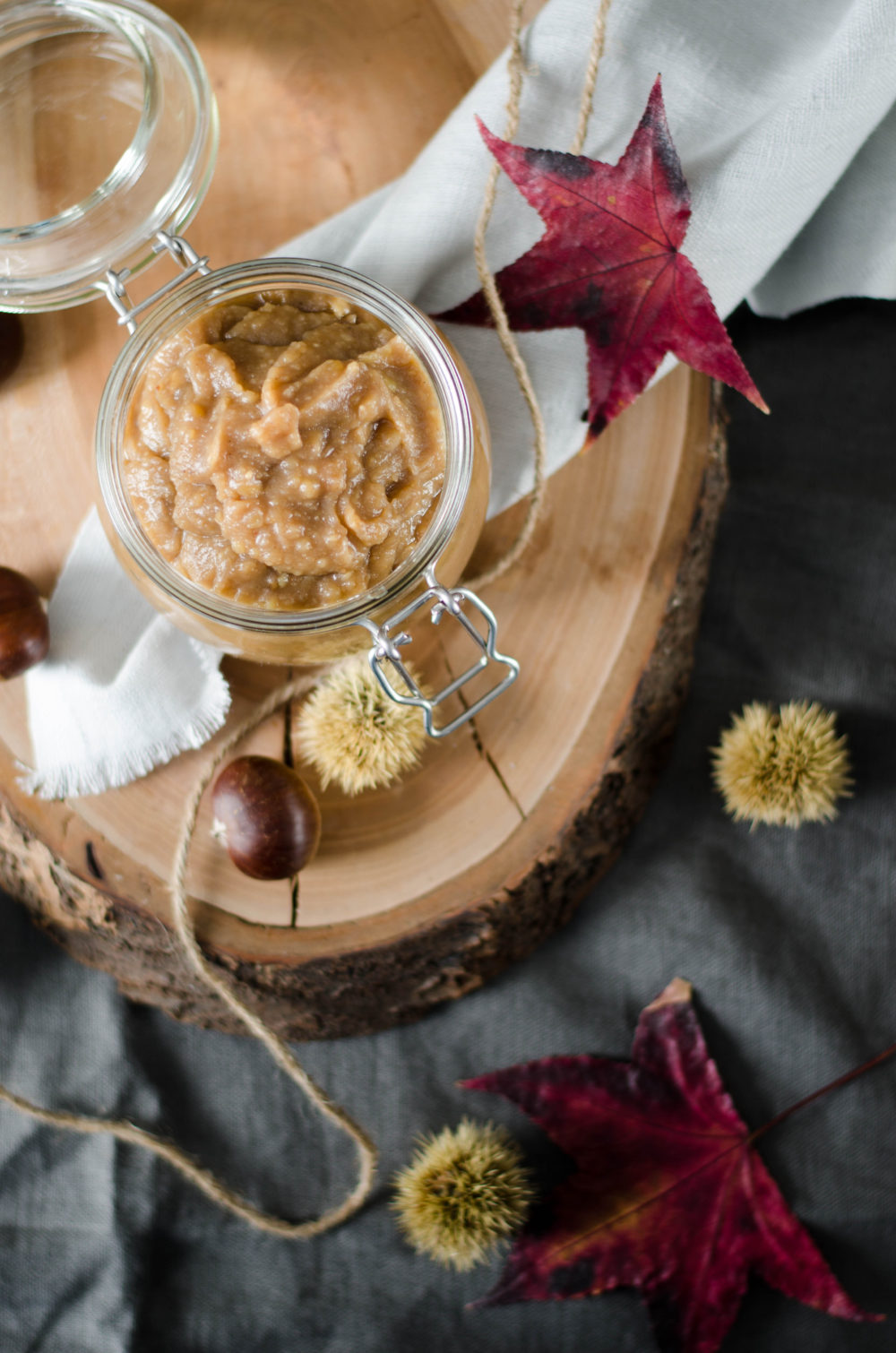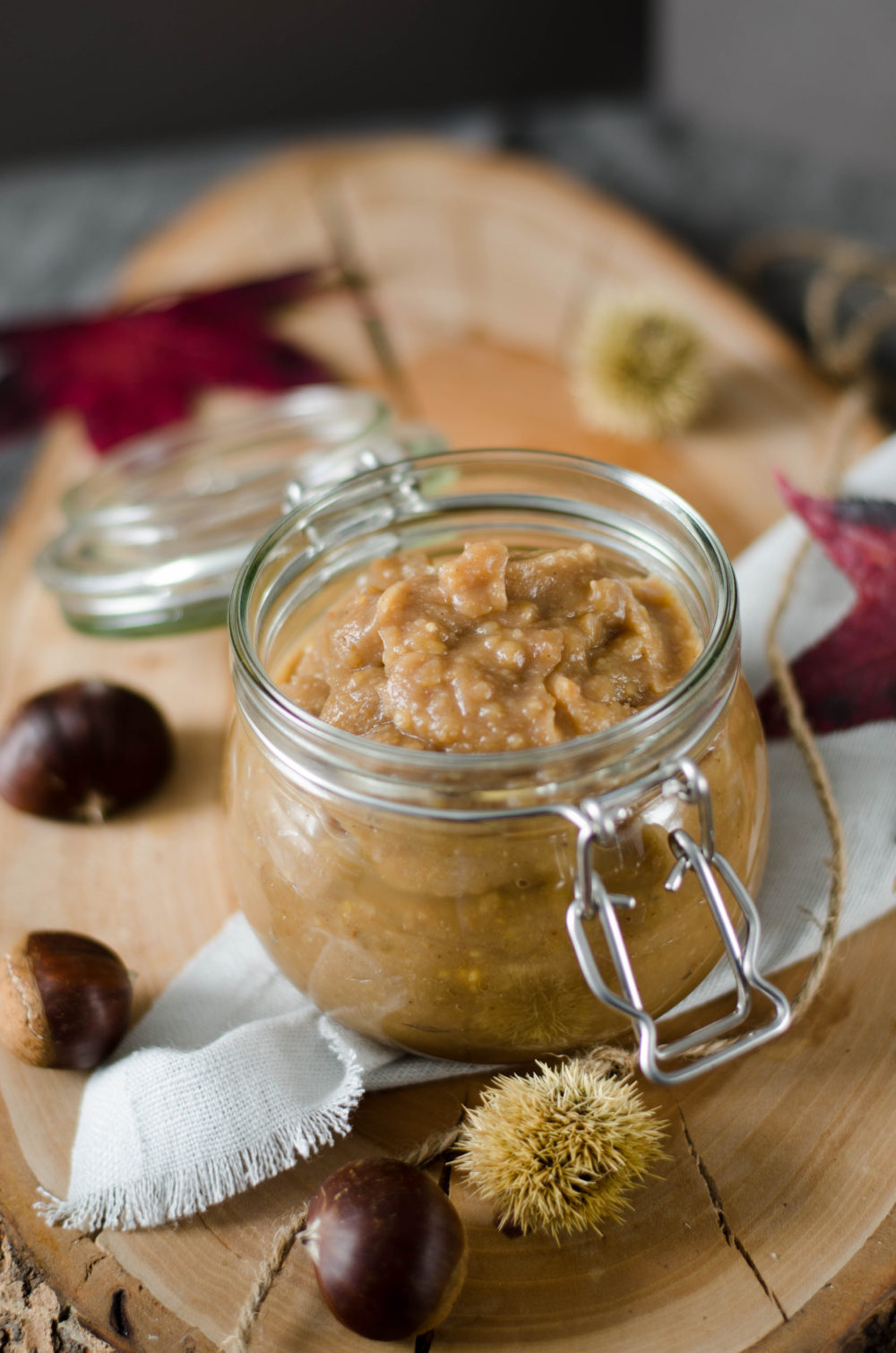 If you like chestnut cream, here are some recipe ideas that you can make with it:
And I also invite you to try my recipe for oven-roasted chestnuts!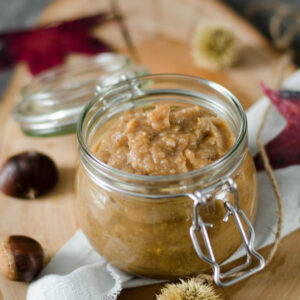 Homemade Chestnut Cream Recipe
Ingredients
500

g

whole chestnuts

(about 400 g once peeled)

225

g

brown sugar

1/2

liter of water

1

vanilla pod

or 1 tablespoon of vanilla sugar
Instructions
Soak the chestnuts in water for ten minutes. You can discard any that come up.

When you have sorted your chestnuts, make a cut in the skin of each and immerse them in boiling water for 20 minutes.

Take them out, let them cool and peel them. Remove the small skins that stick to the flesh of the chestnuts, especially around the veins.

Once peeled, place the chestnuts in a saucepan with the brown sugar, half a liter of water and the vanilla. Heat everything covered and over medium heat for 45 minutes.

Before mixing, check that the water level is almost at chestnut level. If it is too low, add a little water, if it is still too high, continue cooking a little.

Place the chestnuts, water and syrup in the bowl of your blender. Then mix all the ingredients and heat again for another 5 minutes so that the cream is homogeneous and smooth.

Pour the cream into a sterilized jar if you want to keep it longer.

And now, it's ready ! Enjoy it either by consuming it as is on toast, in yogurt, or even in cakes.
Notes
Believe me when I tell you that we can throw away all the chestnuts that come in, it's true! I said to myself no, this one will be fine, this one too. And what a surprise when I peeled them… Either they were black inside, or they were inhabited by some small creatures…
Do not hesitate to readjust the quantity of water or extend the cooking depending on the texture you want to obtain.
If you ever make my Homemade Chestnut Cream recipe and you like it, don't hesitate to tag me on Instagram @tangerinezest so I can see the result and share it myself…
Finally, just to let you know I am French and I translate my recipes, be indulgent if you see syntax errors and do not hesitate to leave me a comment so I can correct it. I hope you will like my recipes and enjoy your visit to my food blog!