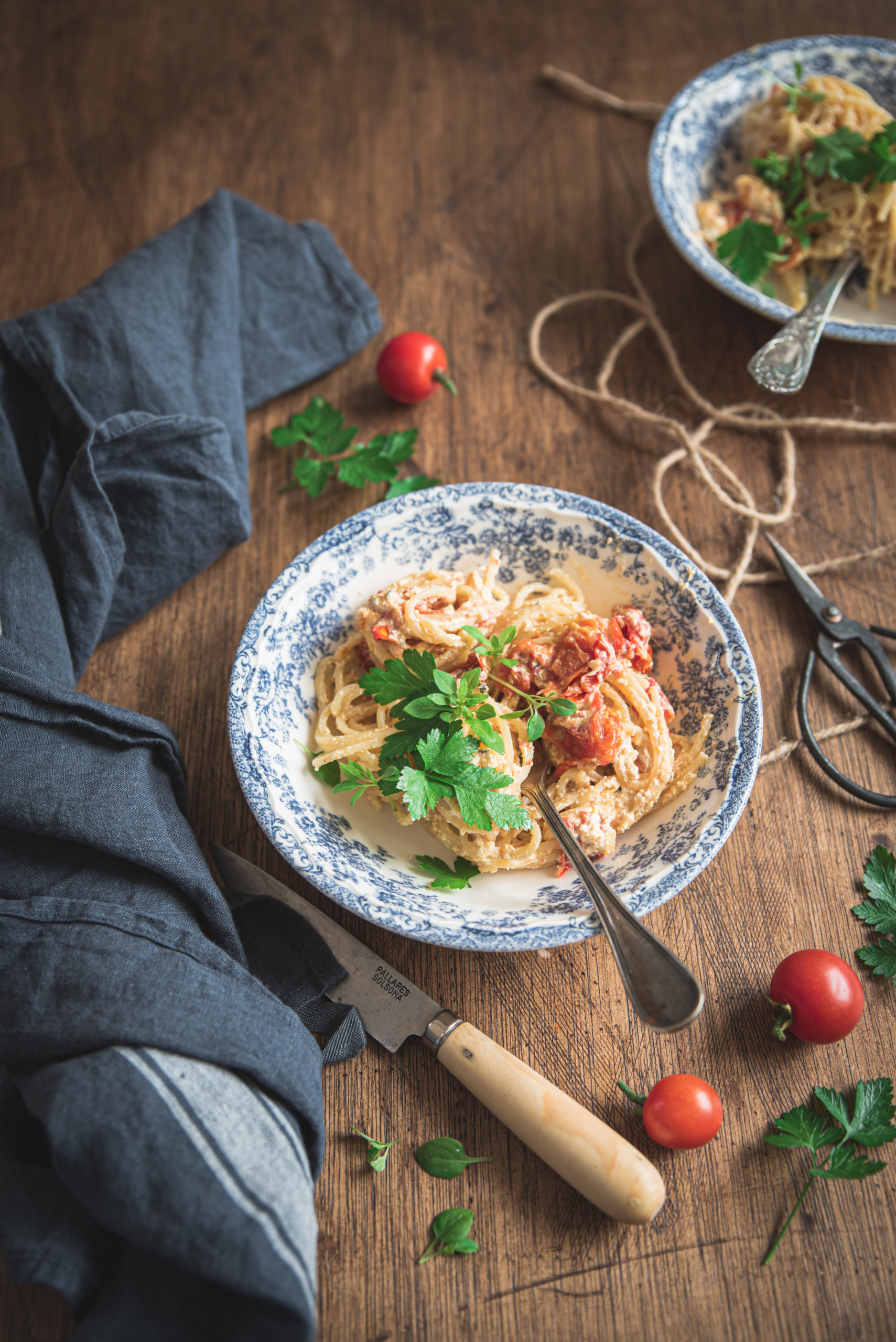 This baked pasta feta recipe with roasted tomatoes has been making the buzz on social networks and especially on video on Tik Tok.
Since it's made with ingredients I love, I figured I had to try it anyway! I thought that if it made the buzz, it must be really good, and well the result is without appeal, it is delicious!
I did some research and asked around (or at least tried to) and it seems that Jenni Häyrinen is the one who came up with this recipe.
If you are like me, a pasta addict and a fan of summer flavors, then this recipe is 100% for you. It's super easy to make and the deliciousness is guaranteed!
All you have to do is coordinate the cooking of the tomato-feta in the oven with that of the pasta, nothing could be simpler.
Let me explain…
Baked Feta Pasta recipe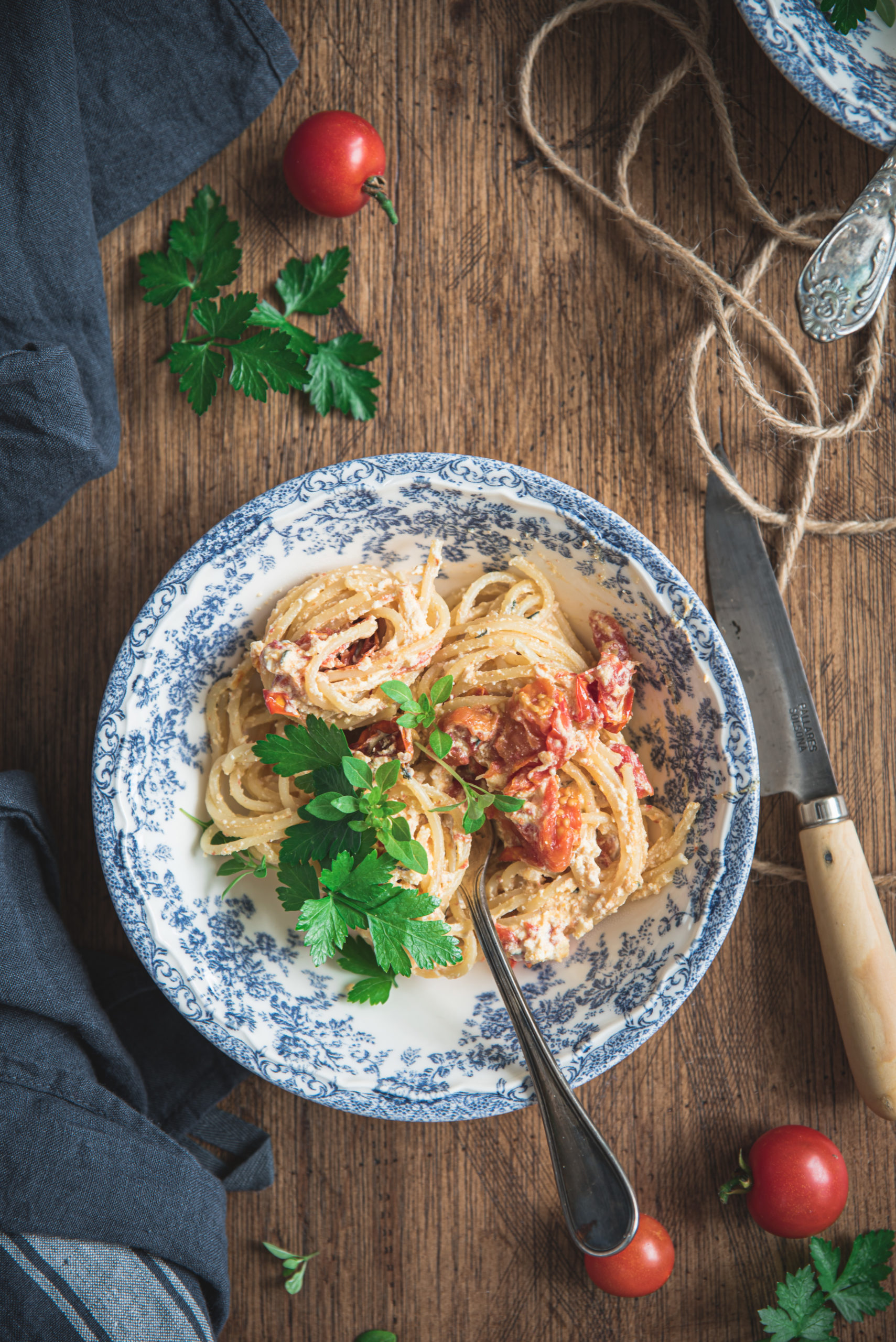 What ingredients will you need to make this quick and easy recipe for Pasta with Feta and Oven Roasted Tomatoes?
pasta (homemade if you want)
feta cheese
cherry or grape tomatoes
garlic
olive oil
pepper
fresh or dried herbs (basil, rosemary, thyme, flat parsley…)
chili flakes if you like them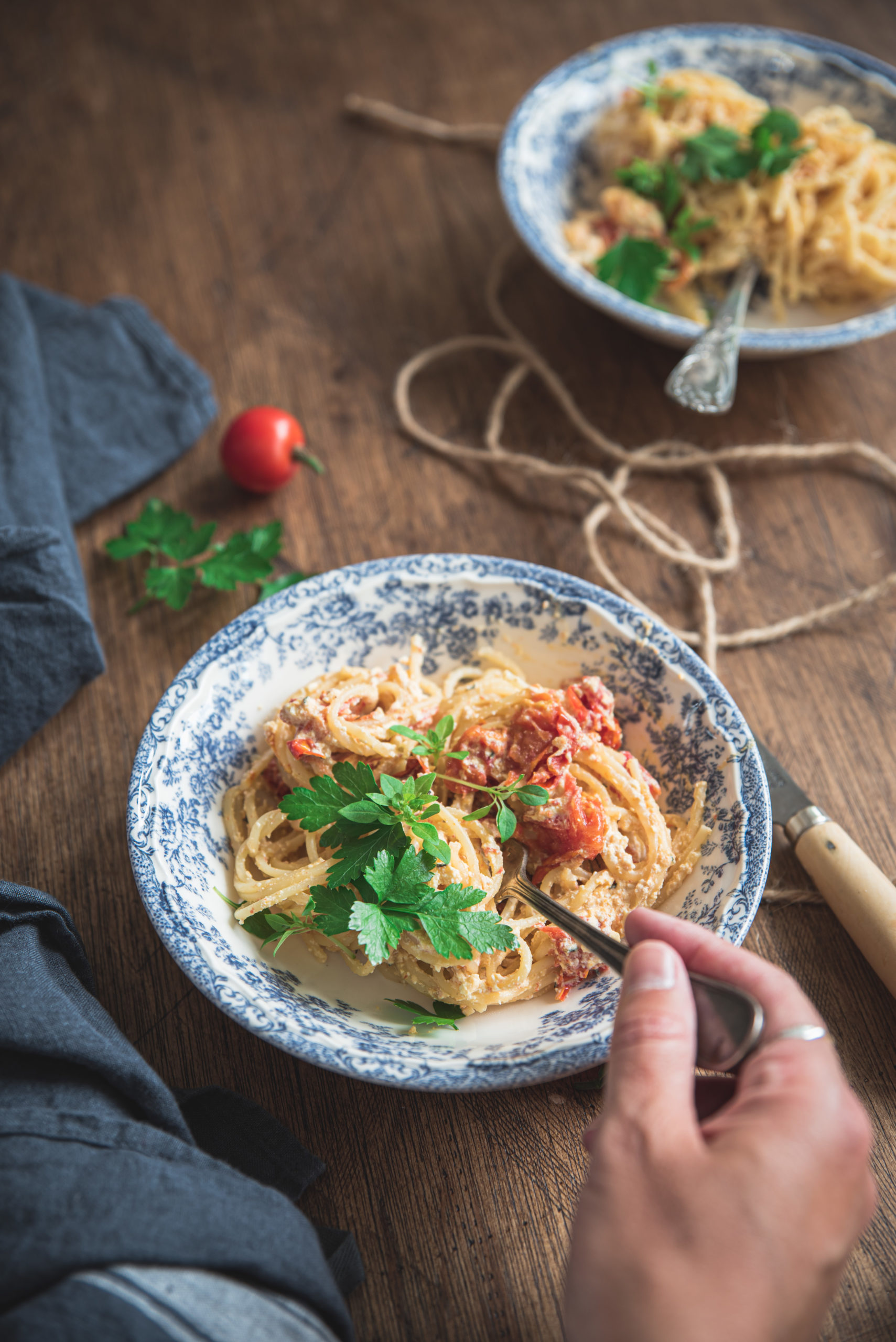 If you like these kinds of recipes, here are four other ideas that you should enjoy as much as I do: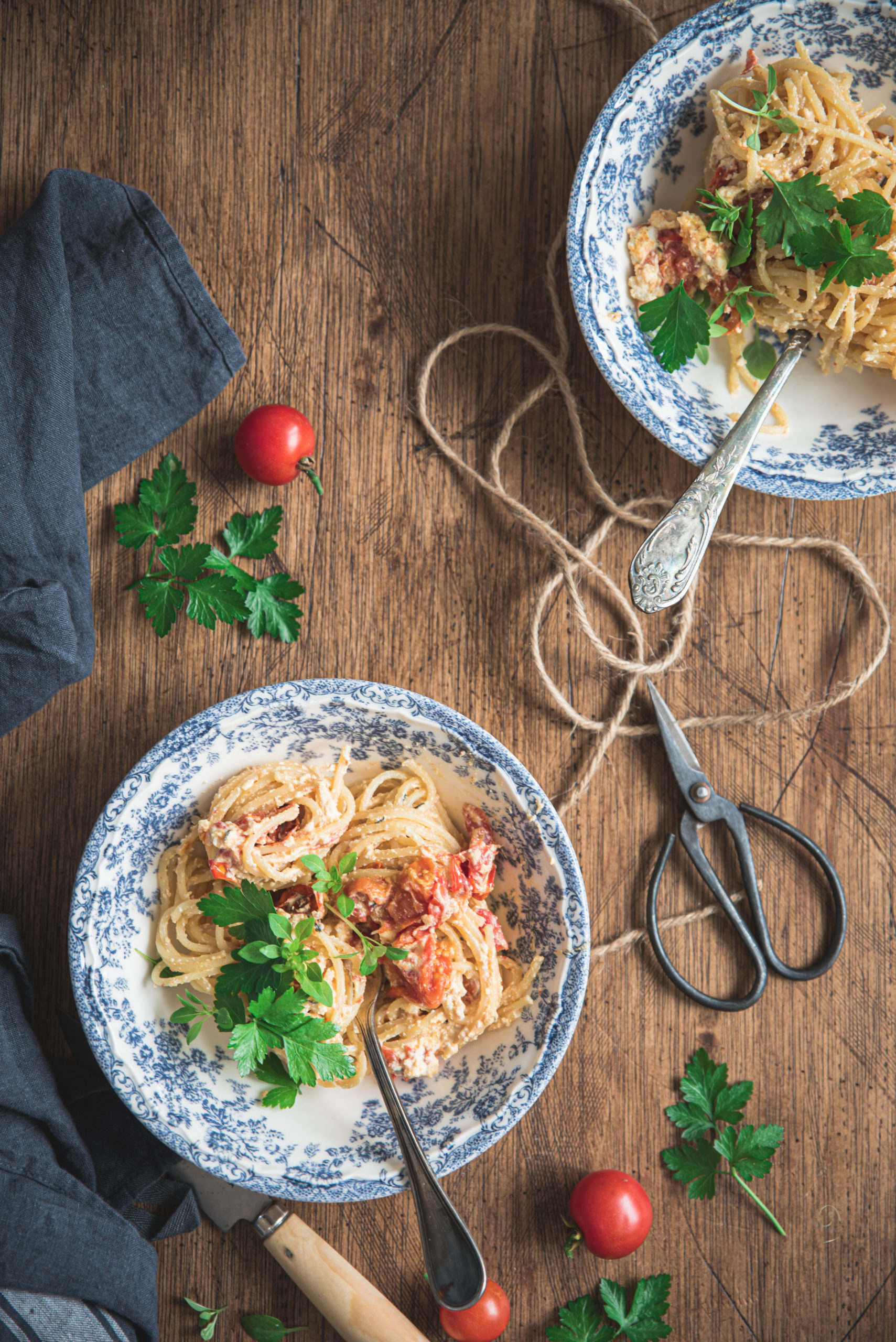 What are the steps for cooking the tomatoes and feta cheese to make this recipe?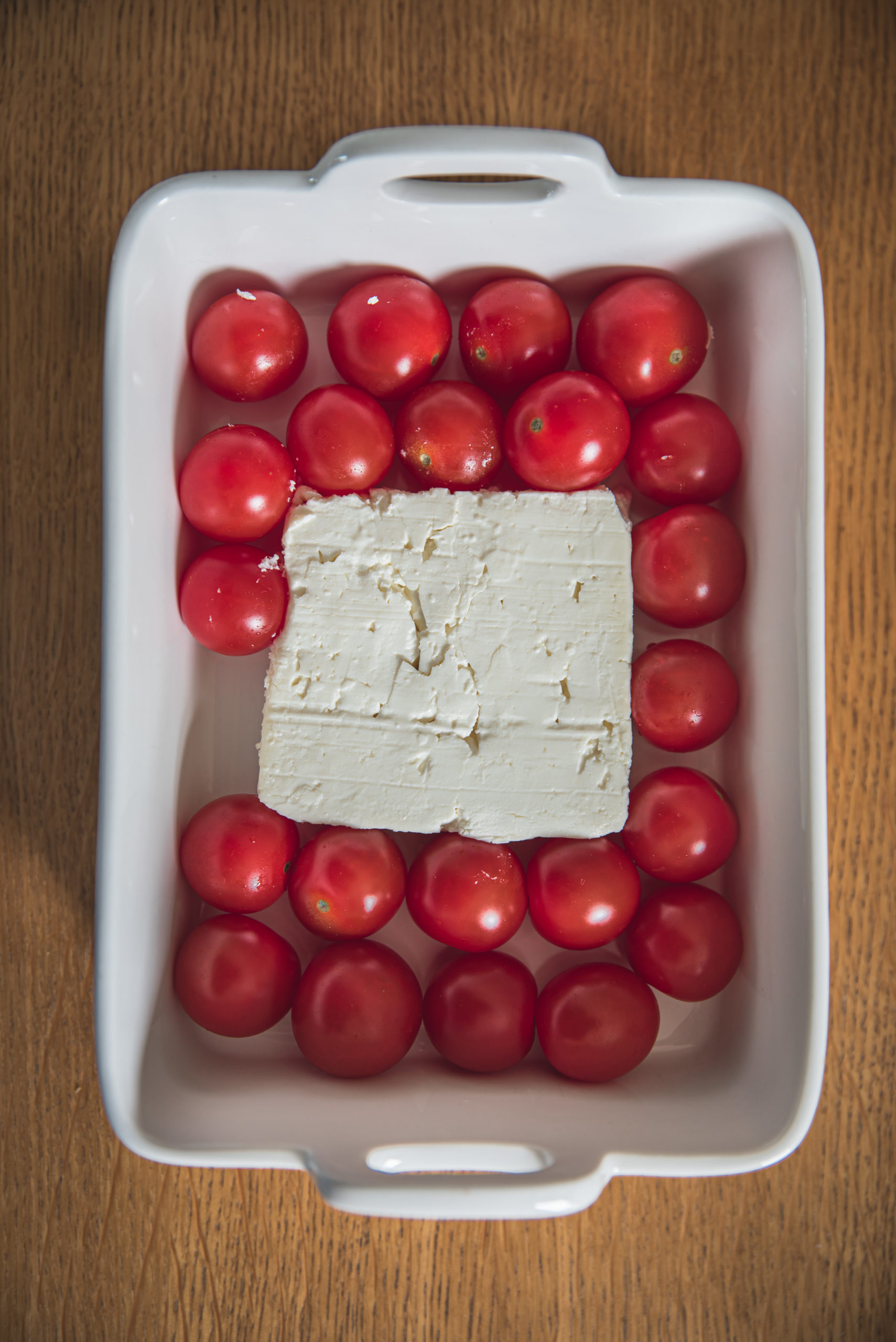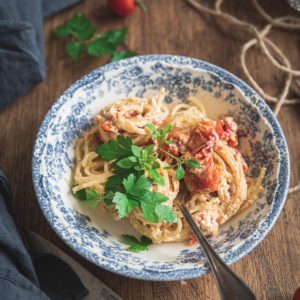 Baked Feta Pasta
Ingredients
400

g

pasta

200

g

feta cheese

500

g

cherry tomatoes or grape tomatoes

4

garlic cloves

5

cl

olive oil

black pepper

fresh or dried herbs

(basil, rosemary, thyme, flat parsley…)

chilli flakes

(optional)
Instructions
In an ovenproof dish, place the feta cheese block and arrange the cherry tomatoes and garlic cloves around it.

Drizzle with a good amount of olive oil.

Season with pepper and chili pepper if desired. Do not add salt as the feta is already quite salty…

Bake at 200°C for 20 to 25 minutes in the middle of the oven.

At the end of the cooking time for the tomatoes, cook the pasta in a large volume of water. Cook al dente, according to cooking instructions.

Just before serving, mix the feta cheese with the tomatoes until you have a nice sauce.

Pour the pasta into your baking dish with the tomato and feta sauce and toss.

Serve immediately with lots of fresh basil leaves, it's a treat!
If you make my Baked Feta Pasta recipe and you like it, don't hesitate to tag me on Instagram or on Facebook so that I can see the result and share it myself…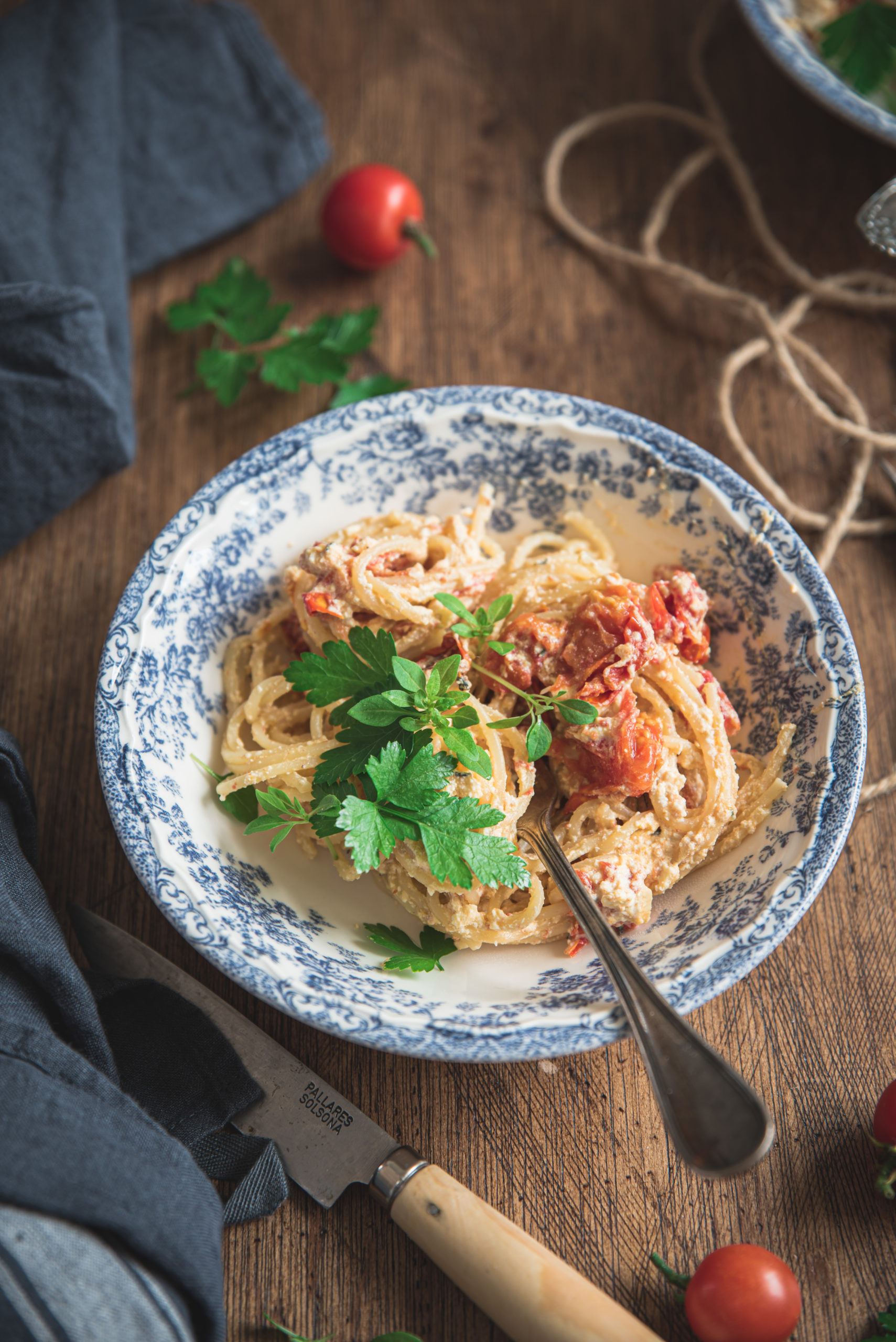 Just to let you know I am French and I translate my recipes, be indulgent if you see syntax errors and do not hesitate to leave me a comment so I can correct it. I hope you will like my recipes and enjoy your visit to my food blog!