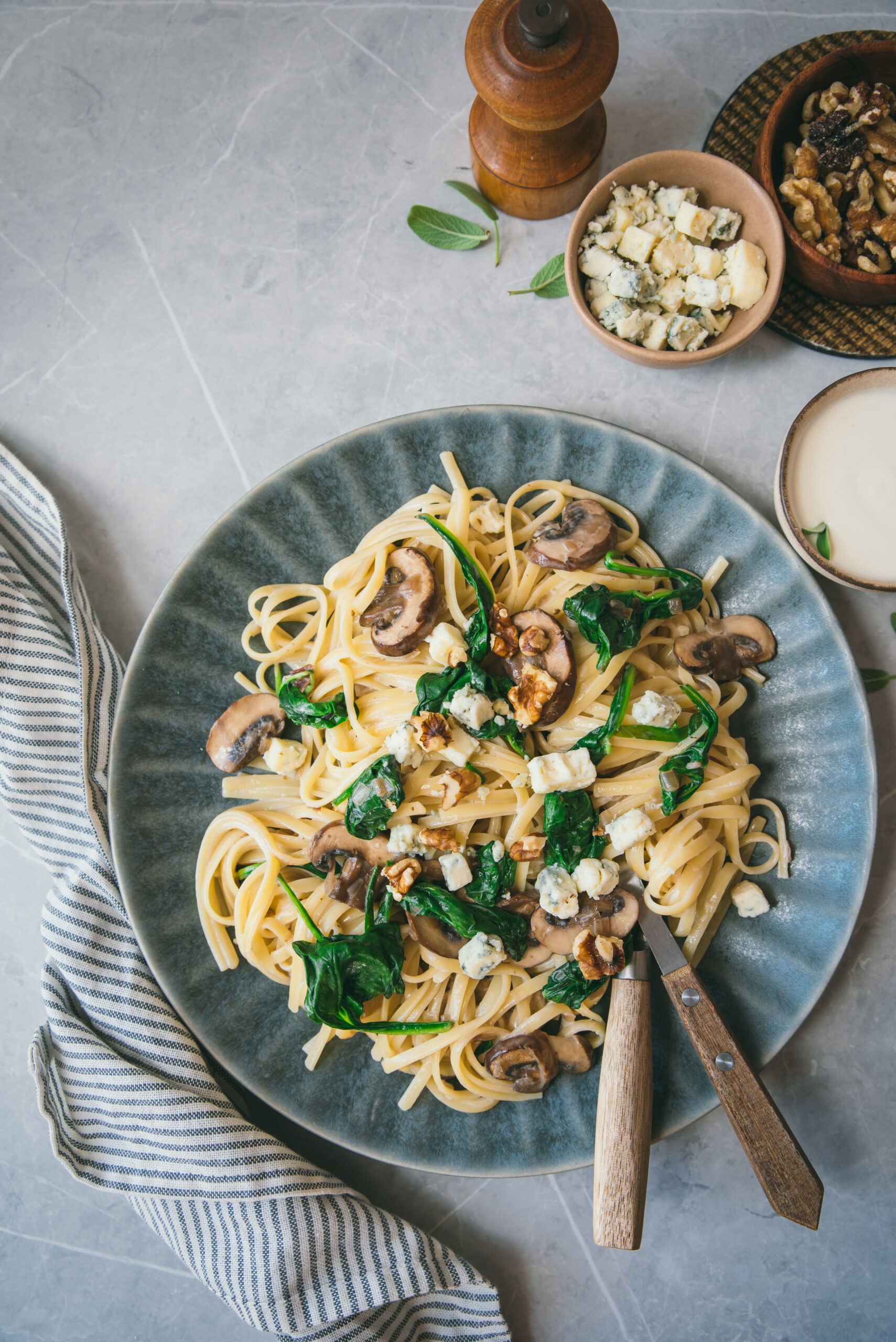 Fall is coming slowly and with its delicious little dishes that are always easy to make… With this delicious mushroom Pasta with creamy sauce recipe I wanted to tell you about Hellofresh which I was able to test for 1 week.
I don't know if you know this, but it's a home meal delivery system with all the ingredients needed to cook easy meals. This pasta recipe was just one of them…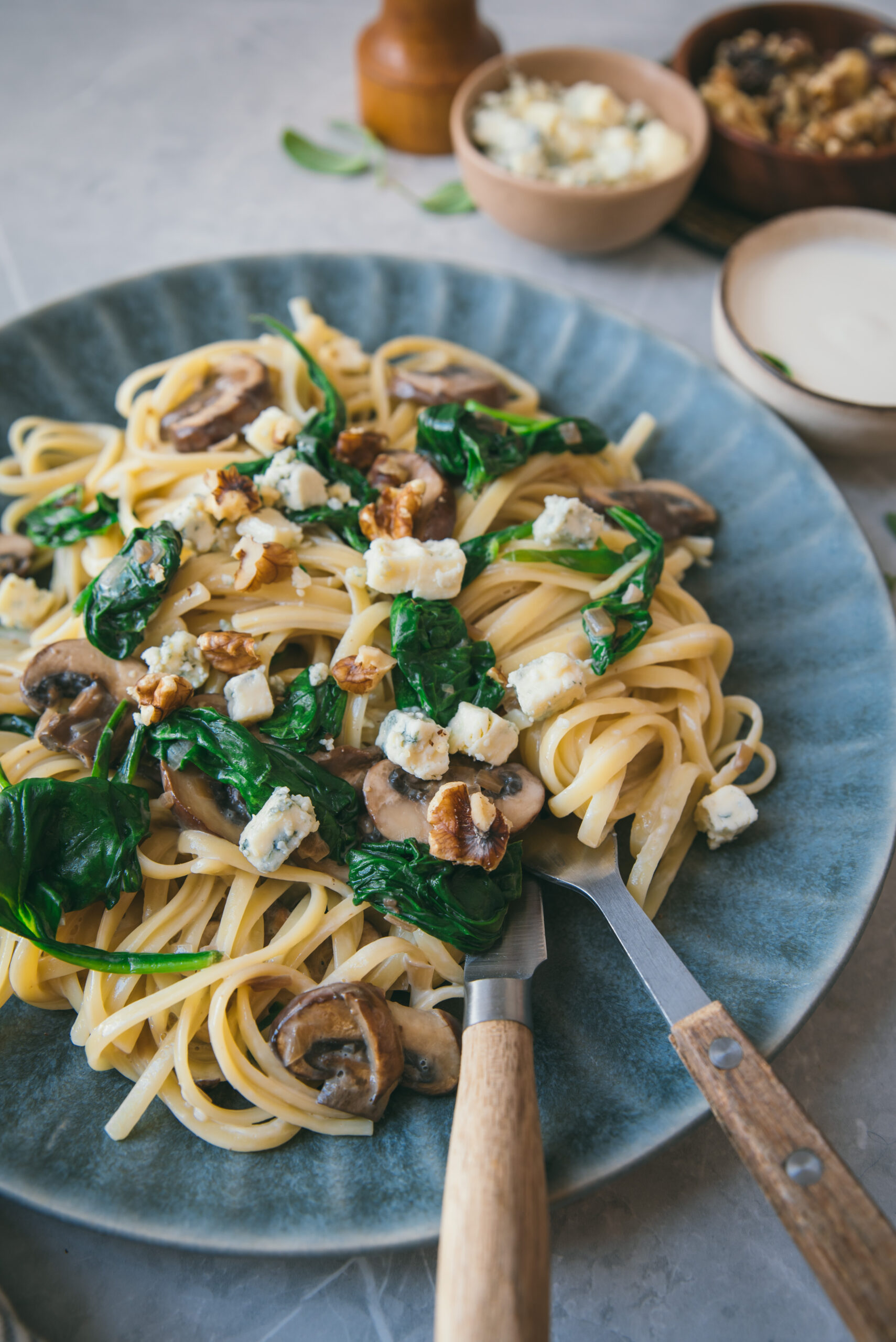 What is Hellofresh?
The principle is simple, each week, you just have to select the recipes that tempt you on the hellofresh website, then they are delivered the following week. The recipes are easy to prepare and very tasty.
The goal is to make your daily life easier by making you happy and stress-free:
The recipes are developed and tested for guaranteed success.
Every week you can choose the dishes you want from a selection of recipes.
The ingredients are delivered to your home with detailed recipes, which you can then keep to create your little notebook of favorite recipes.
Ingredients in the right quantities to avoid food waste.
You can pause or suspend your subscription at any time.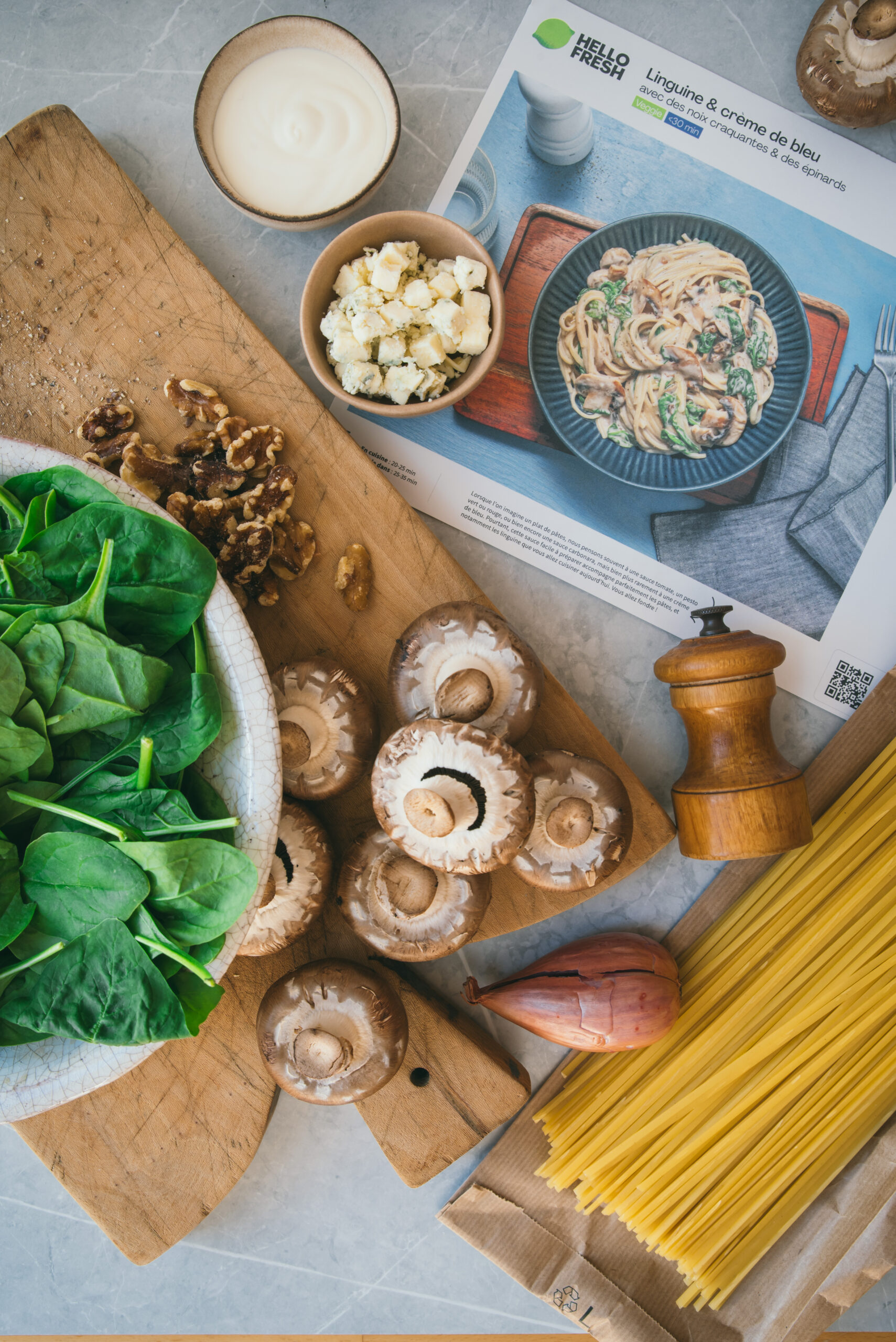 What recipes can you find on Hellofresh?
I ordered a basket of 5 meals for 4 people but as we are 2 adults and 2 children, we even got enough for more meals…
Here is my selection of recipes for the week, which I wanted to be delicious and colorful:
Linguine & blue cream
Crispy nuggets and homemade ranch sauce
Salmon pasta, garlic, lemon & parsley sauce
Old-fashioned tart with leeks and bacon
Beef steak with Bercy sauce
And because you can simply test and form your own opinion, I really invite you to take advantage of it!
I don't know if it's the same for you, but at this time of year, in particular, it's a bit fast at work and at home, so any help in daily life is good to take. No ?!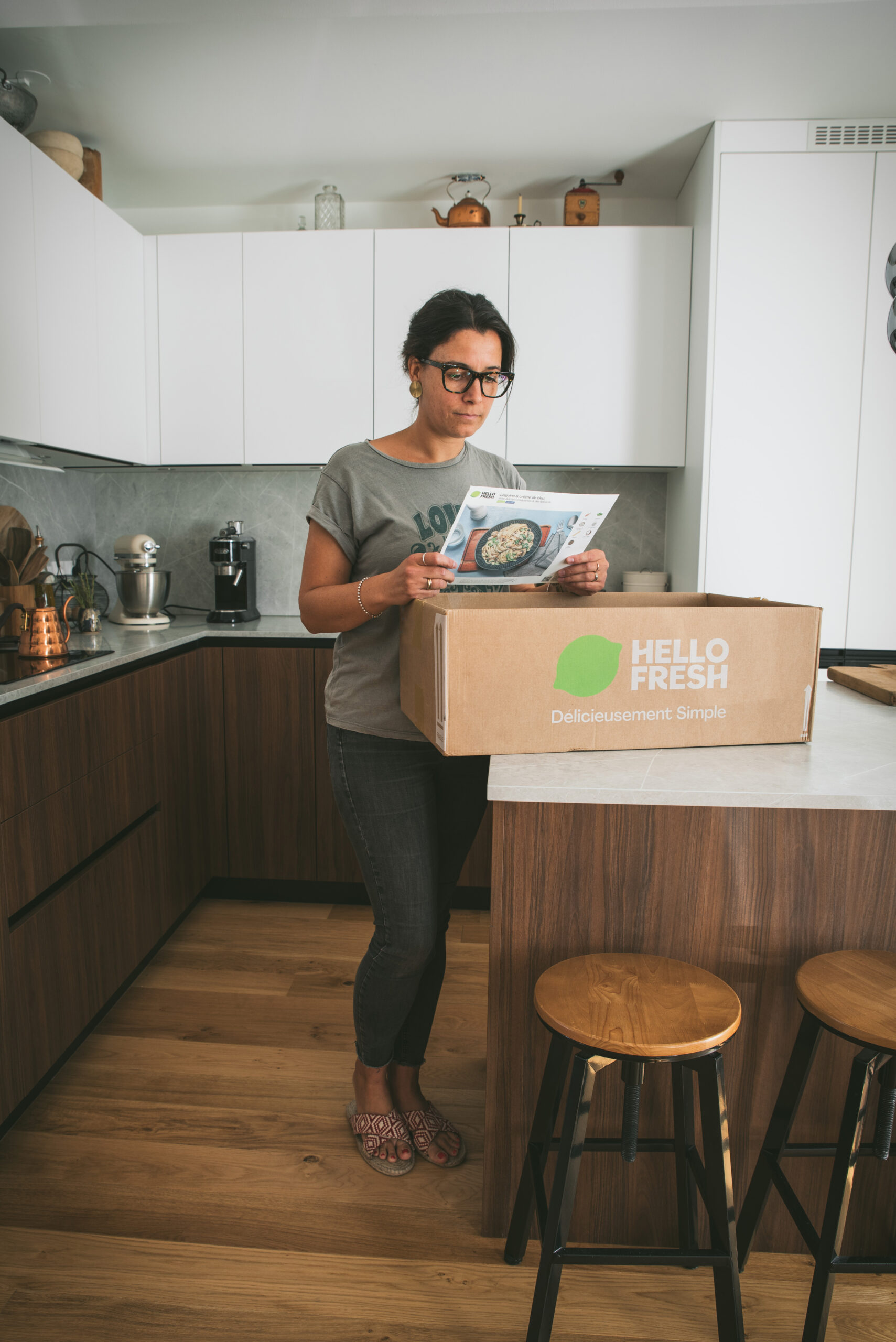 What is my opinion on Hellofresh!
Even though I love cooking and going to the market myself, I really appreciated that everything came to me, especially since during my test week I was alone at home with the kids and that really helped me. facilitated meal preparation.
The products were fresh and quality. I also liked the simple recipes, easy to make and really good!
If I have to note a small negative point according to minus, it is the packaging which is due to the fact of the delivery but also because the ingredients are prepared for each recipe so we multiply the packaging even if an ingredient is used in several.
However, I still note that there is a big effort on this point, particularly with recycled paper packaging!
Coming back to my recipe of the day, pasta with mushrooms in creamy sauce…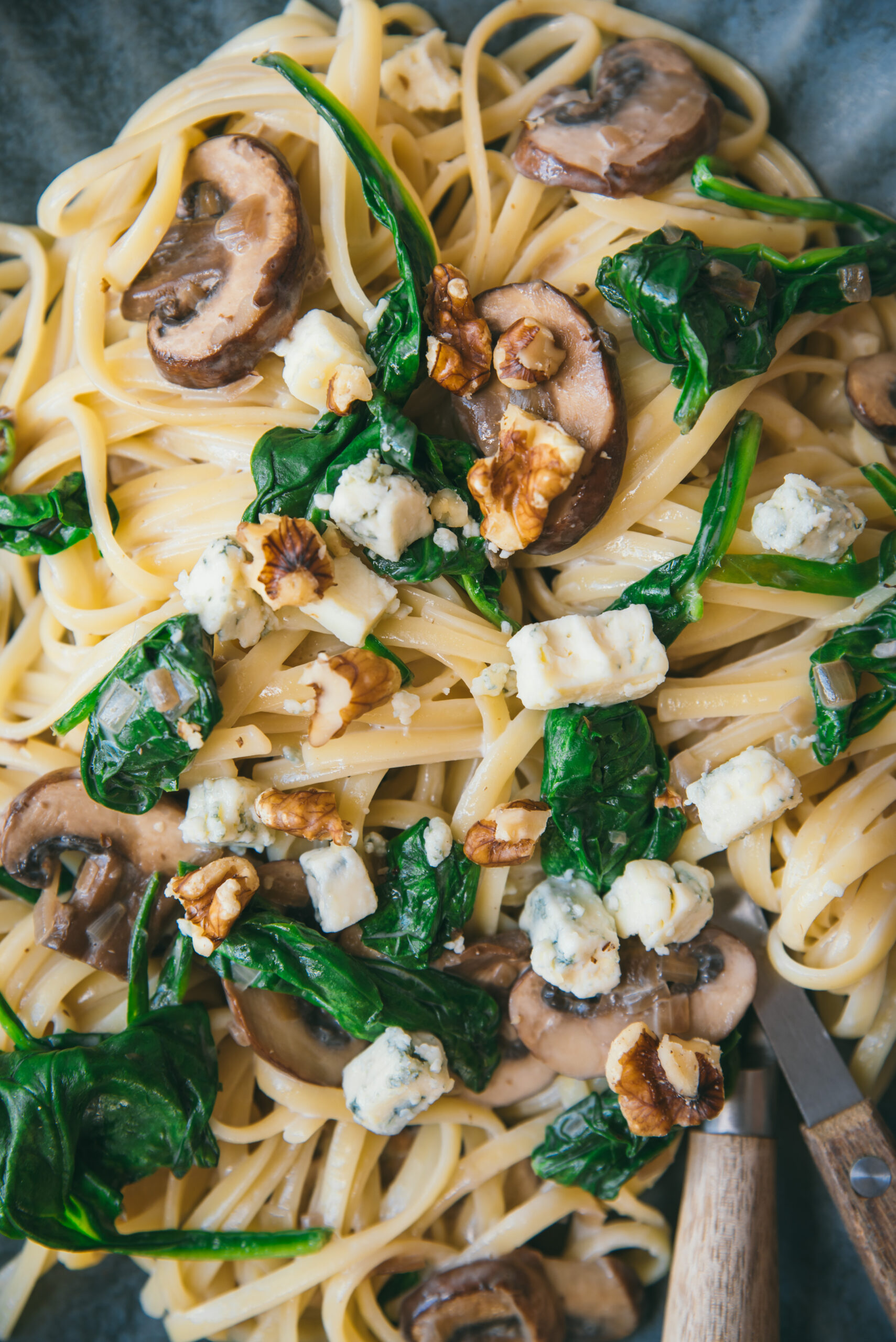 Mushroom Pasta with Creamy Sauce Recipe
What ingredients are used in this Mushroom Pasta recipe?
shallot
spinach
button mushrooms
blue cheese (optional)
cream
crushed walnuts
olive oil
salt and pepper
long pasta like linguine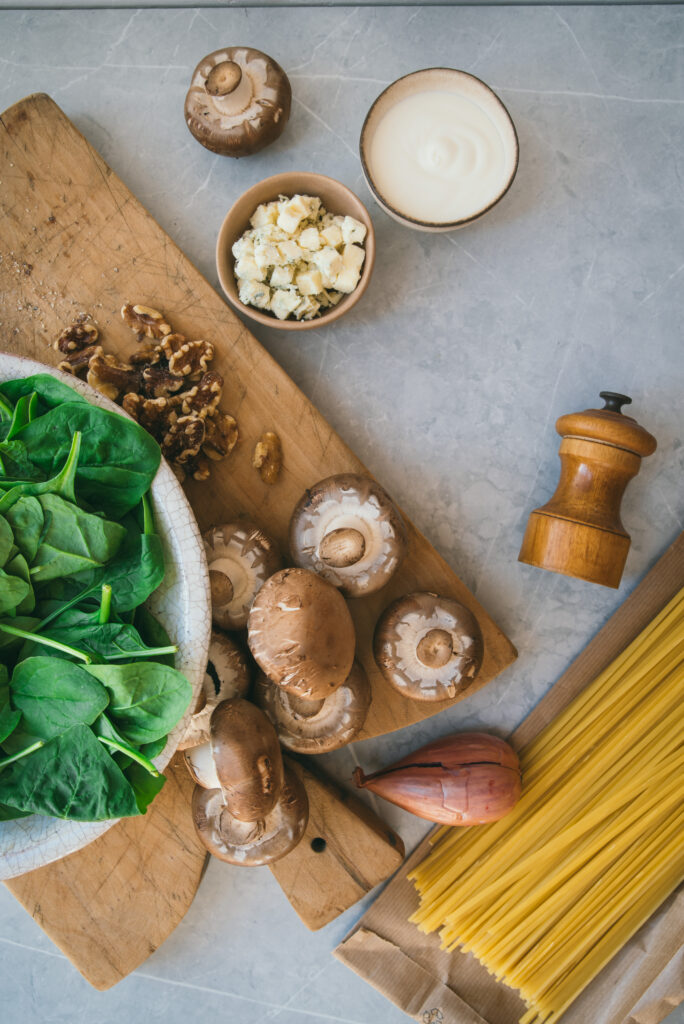 What are some other pasta recipe ideas that you might also like?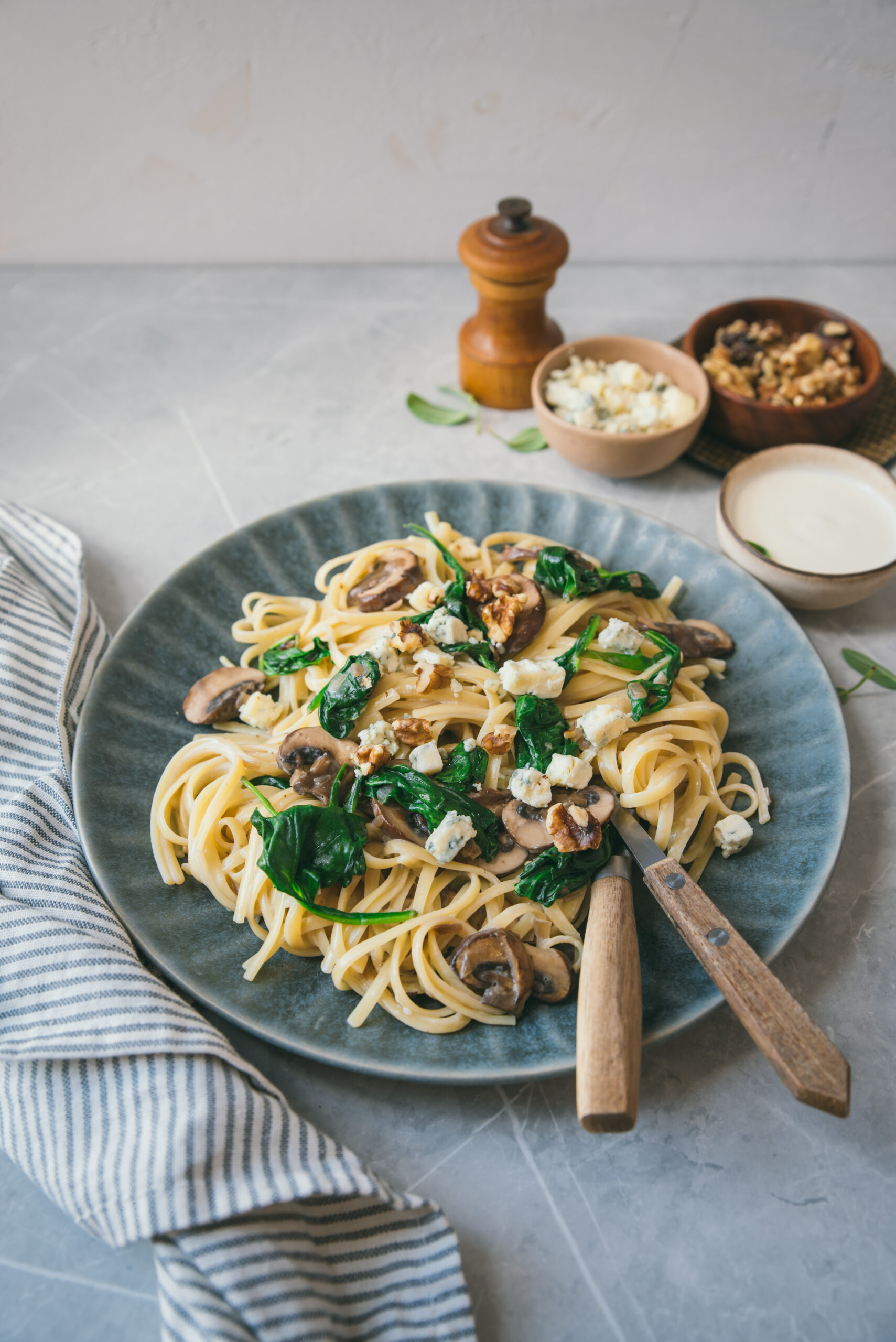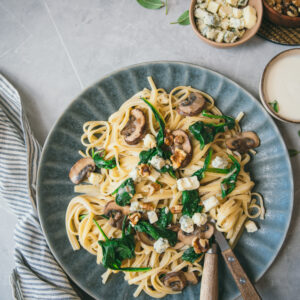 Mushroom Pasta with Creamy Sauce Recipe
Ingredients
1

shallot

200

g

spinach

250

g

button mushrooms

100

g

blue cheese

(optional)

20

cl

cream

40

g

crushed walnuts

2

tablespoons

olive oil

Salt and pepper

400

g

linguine
Instructions
Start by preparing your ingredients.

Wash and drain the spinach. You can cut them into strips.

Peel and finely chop the shallot.

Clean the mushrooms, cut the end of each stem then cut them into thin slices.

Cut blue cheese into small cubes so that it melts well.

Cook the linguine, subtracting 2 minutes from cooking time.

Take a ladle of cooking water when you drain them.

Meanwhile, heat the olive oil in a large frying pan or sauté pan and add the chopped shallot and sliced ​​mushrooms. Cook for 4 to 5 minutes over medium-high heat, stirring little.

Then gradually add the spinach by the handful.

Also add the diced blue cheese (you can keep a little to serve on your dish at the end), the cream and half of the crushed walnuts.

Mix and cook for 2 to 3 minutes.

Add the drained linguine and the ladle of cooking water.

Add salt and pepper and continue cooking over medium-low heat for 1 to 2 minutes, while stirring, until the sauce coats your pasta well.

Serve the plates with a few pieces of blue cheese and the rest of the nuts. You can adjust the seasoning if necessary.

Bon appétit!
If you ever make this Mushroom Pasta with creamy sauce recipe and you like it, don't hesitate to tag me on Instagram @tangerinezest so I can see the result and share it myself…
Finally, just to let you know I am French and I translate my recipes, be indulgent if you see syntax errors and do not hesitate to leave me a comment so I can correct it. I hope you will like my recipes and enjoy your visit to my food blog!