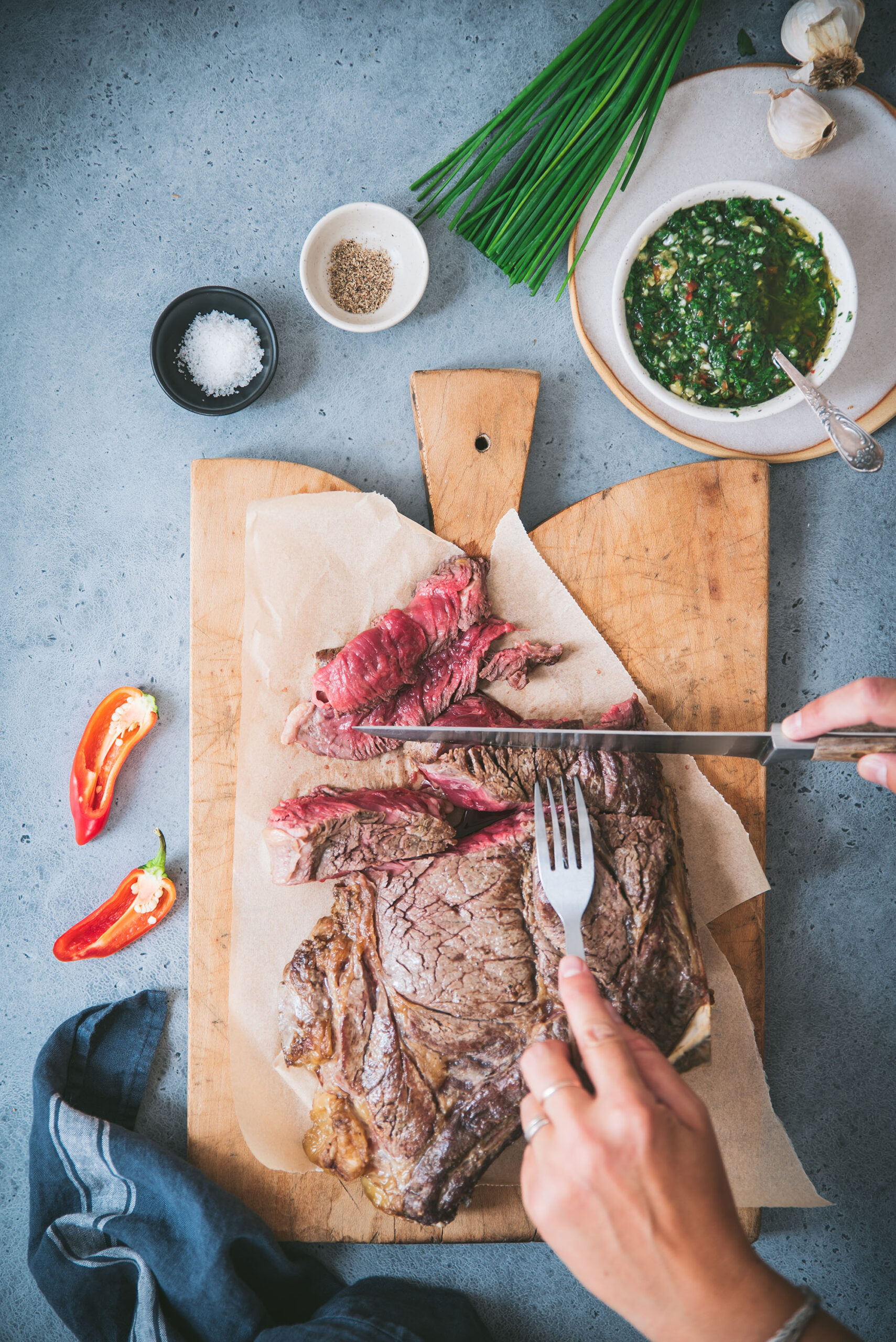 Have you ever tried to cook an oven-baked prime rib? It's a wonder and a great way to enjoy good quality meat. Try it and let me know what you think. And the advantage of this cooking method is that you can eat it all year round, without waiting for next summer 😉
I made this recipe for Horl, do you know them? It's a German company that produces knife sharpeners. For those who follow me, you know me, the most important tool for me in the kitchen is a good knife.
That's why I immediately accepted to test this original knife sharpener! The result is really amazing, no more old kitchen knives for me! What to give a new life to all your knives.
This sharpener is composed of 2 parts, a magnetic support to position the knife, with 2 sharpening angles and a cylinder with 2 faces that allow one to sharpen the blade and the other to polish it for an extremely precise finish.
You can find all the answers to your questions on the FAQ, but in any case, you can go with your eyes closed! For my part, I tested the Horl 2 with the nut finish, which matches my kitchen very well, in the same shade.
To discover this product, you can order it directly on their website!
Oven-baked Prime Rib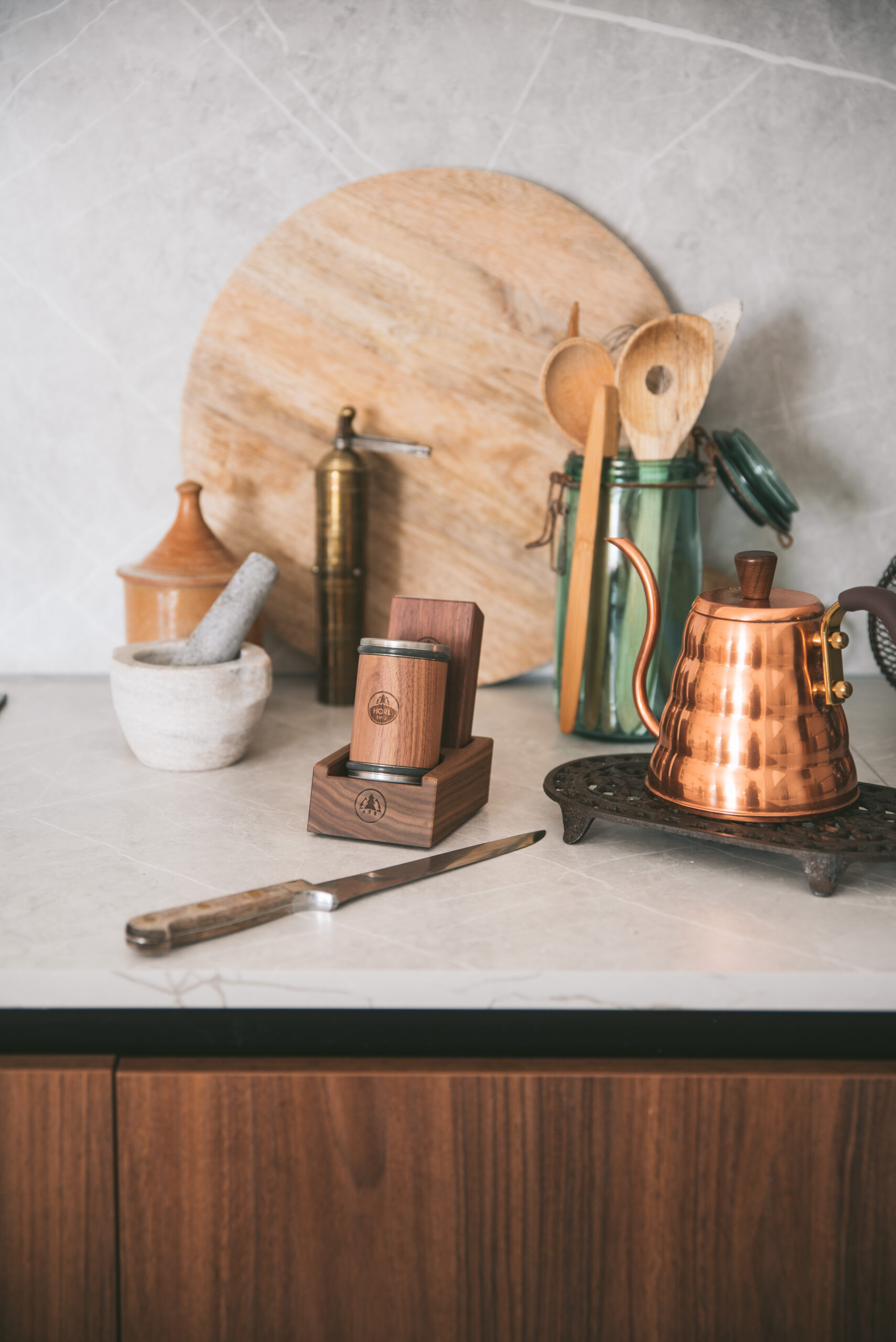 To come back to my recipe…, you will need a nice rib that you will have obviously let rest a few days in the refrigerator. For that, ask your favorite butcher for advice or better yet, you can order it in advance so that it will be perfect the day of the tasting.
I also like to take my meat out a good hour beforehand so that the beef is at room temperature. I season it before cooking with fleur de sel from Guérande and freshly ground black pepper, then massage the meat with good quality olive oil.
Then, to cook the beef, I first sear it in a very hot pan for 2 or 3 minutes on each side (or 30 seconds on the barbecue). I then put it in a hot oven (250°C) for 15 minutes depending on the weight of the rib and if you prefer it rare or blue. I give you more details in the recipe below.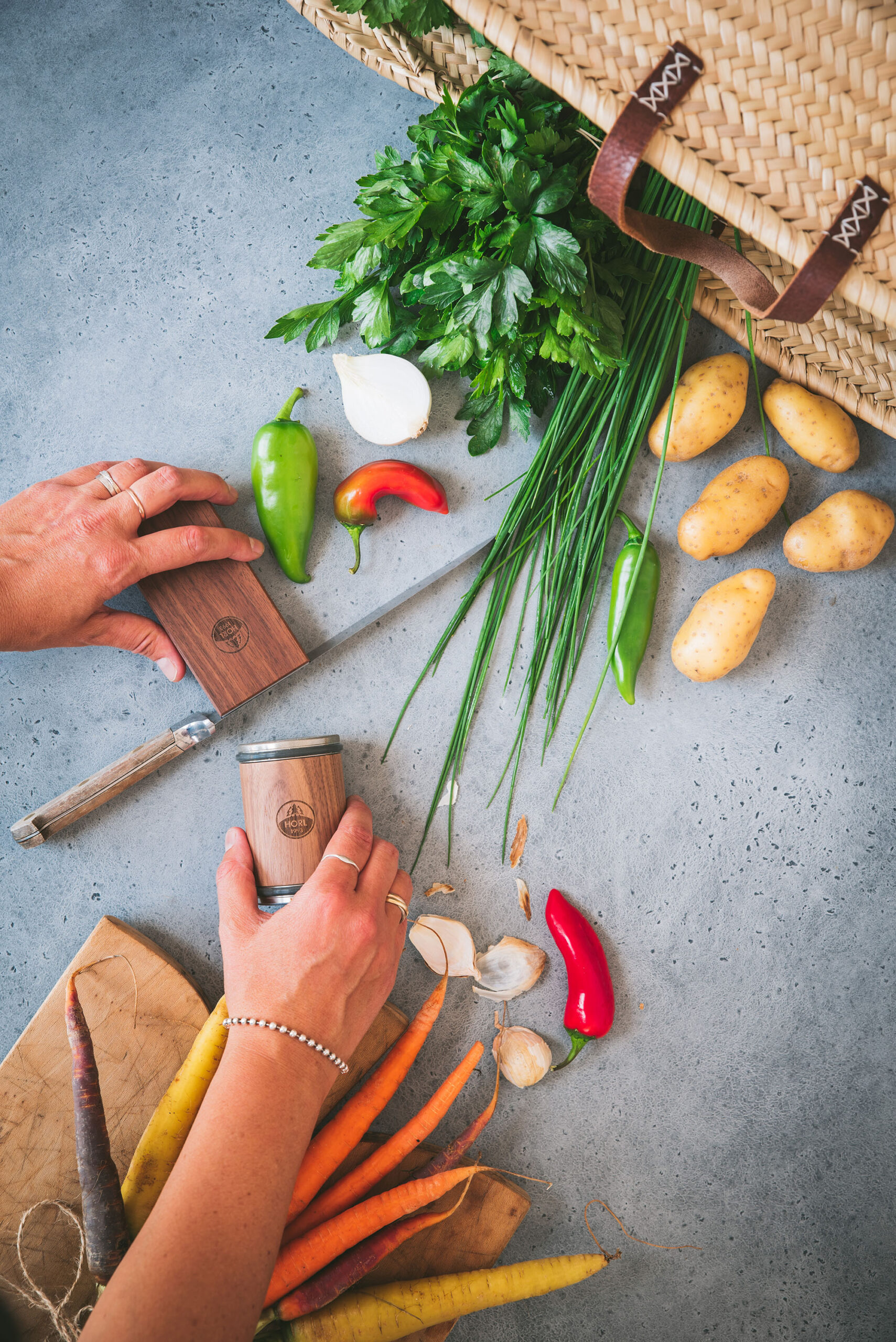 How much beef per person do you need?
For a rib of beef, we will go back because we can't really choose one for 1 or 2 persons… you will agree… 😉
So I'm going to start from the weight of the rib of beef and it is generally said that for 4 people, you need a rib of 1,2 kg and for 6 people, you need 1,6 kg.
How long to cook your prime rib in the oven?
For a rib weighing about 1.5 kg, it takes about 25 minutes for a rare meat: 5 to 6 minutes in the pan and 15 to 20 minutes in the oven.
At what temperature should your prime rib be baked?
You need a very hot oven, at least 240°C.
What ingredients do you need to make your recipe?
beef
fleur de sel and good pepper
good quality olive oil
and that's it… for the side dishes and sauces, I made some suggestions below the recipe 😉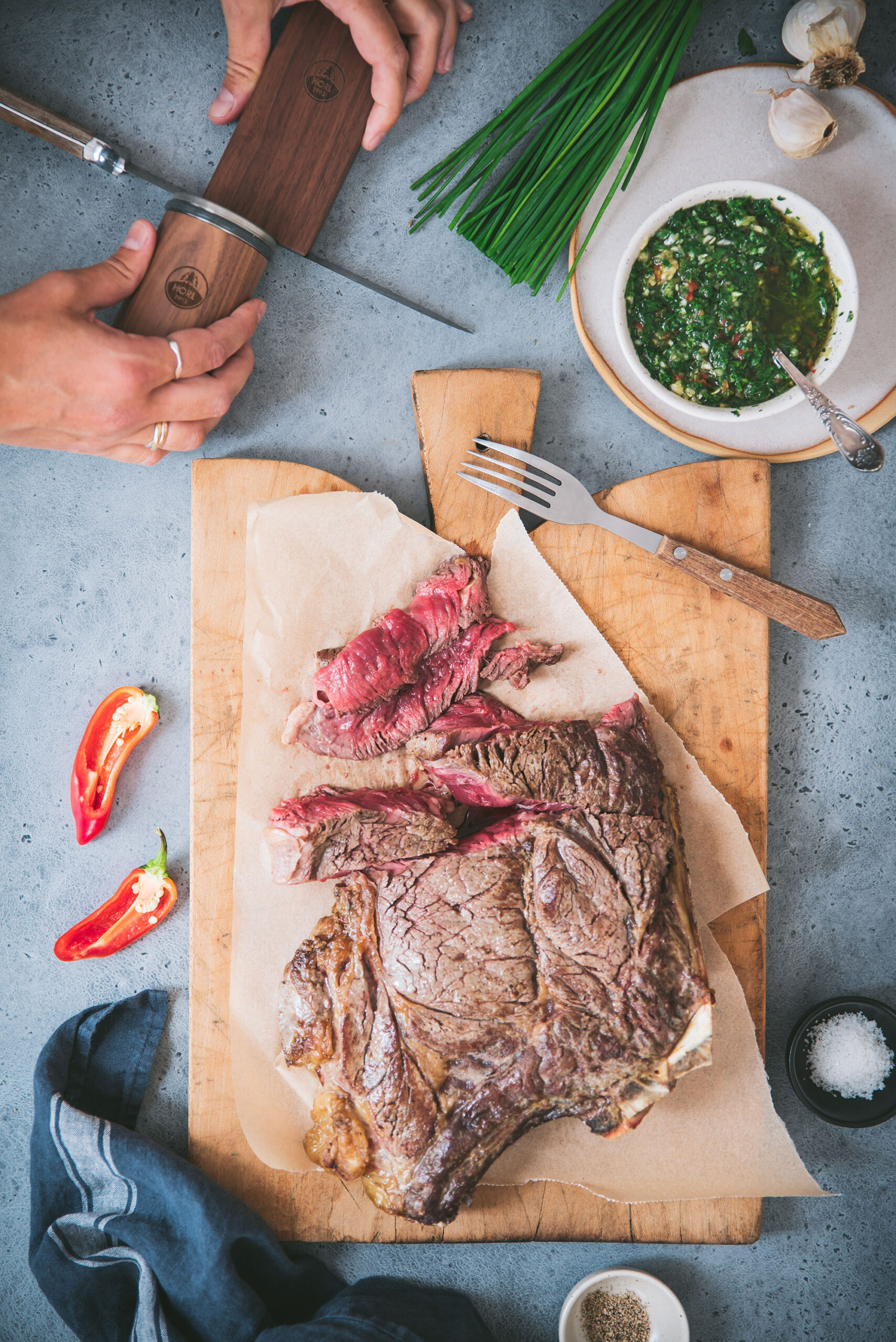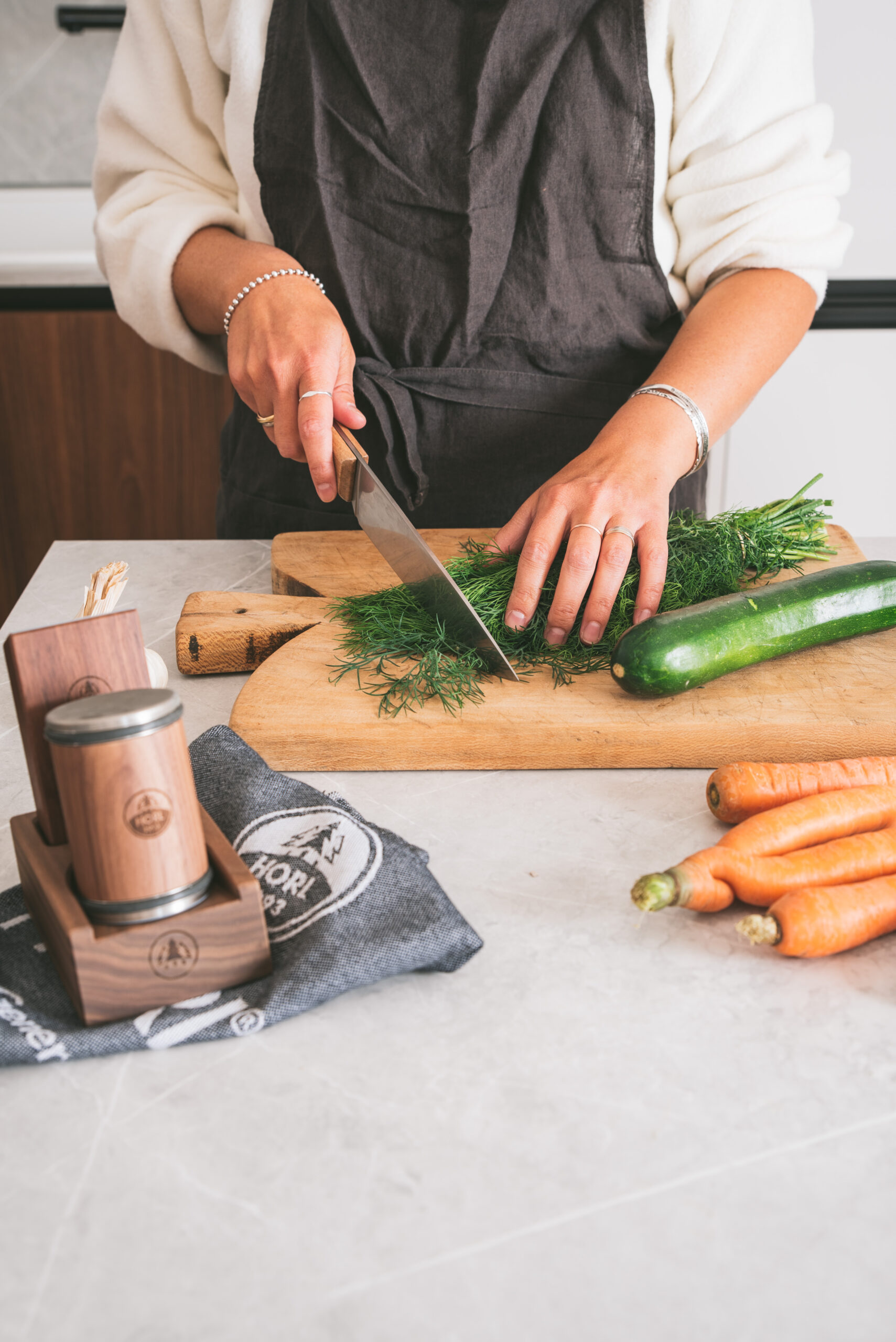 What side dishes to serve with your prime rib?
Salade de légumes finement émincés ou en julienne avec plein d'herbes fraîches finement coupées.
What sauce to serve your baked prime rib with?
Chimichurri
Roquefort sauce
Spicy and smoked tomato sauce (homemade ketchup)
Mushroom sauce
or simply a good mustard…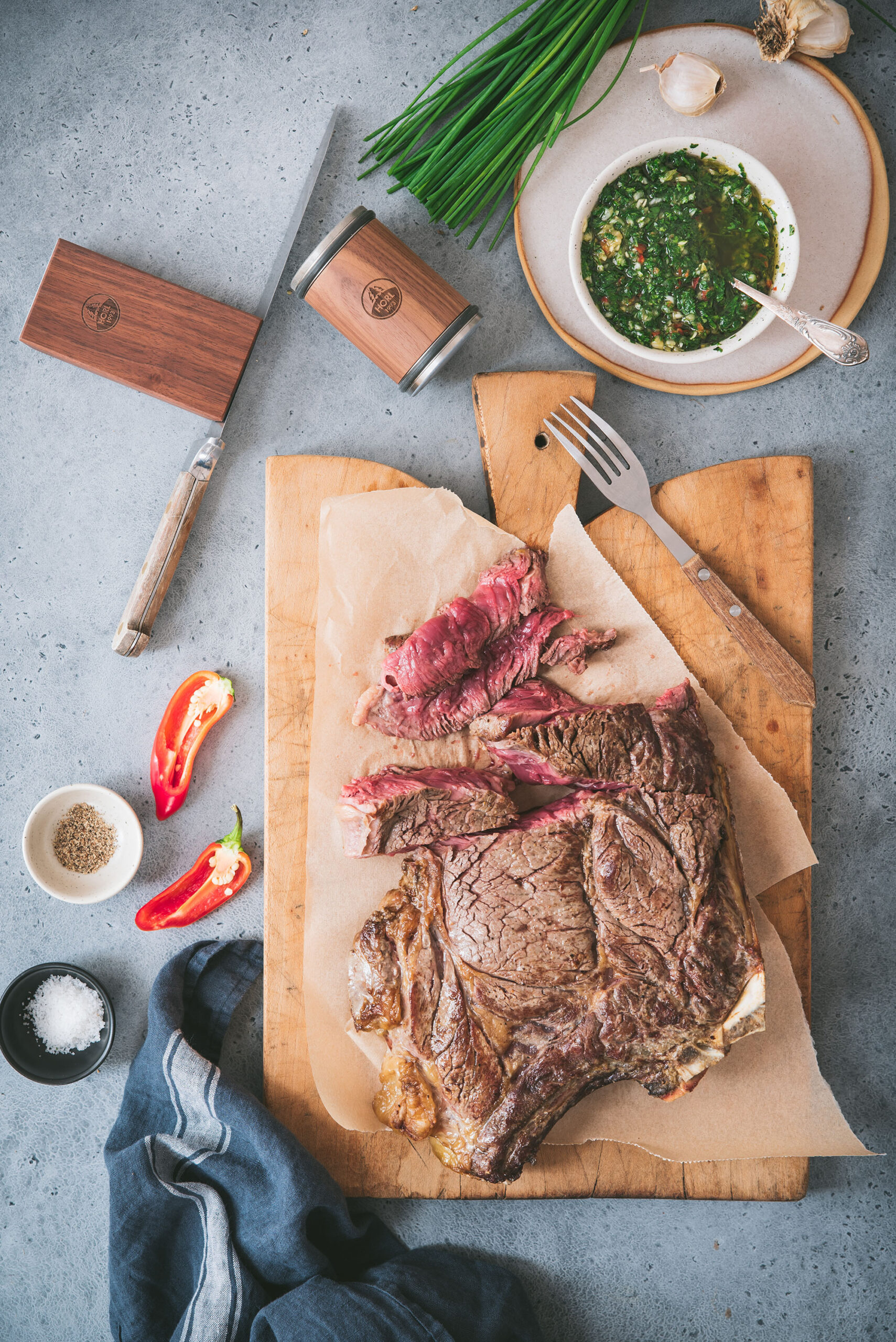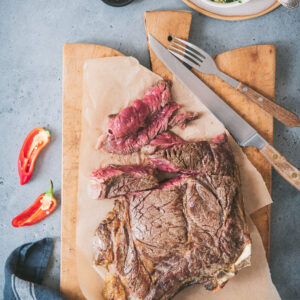 Oven-baked Prime Rib
Ingredients
1 rib of beef (1.6 kg)

salt and pepper

olive oil
Instructions
Take your beef out at least 1 hour before cooking.

Just before you start cooking, season your prime rib on both sides by rubbing it with olive oil, then with good quality salt and pepper.

In a hot skillet, grill your prime rib for 2 to 3 minutes on each side.

(You can also do this on the barbecue, but for 30 seconds to 1 minute on each side).

You can then let your meat rest until you are ready to finish cooking, if you wish.

Preheat your oven to 240°C/460°F.

You must then place your prime rib upright in a baking dish so that the meat cooks evenly. To do this, I use skewers or wooden skewers to stabilize the rib.

Place your meat in the oven for 15 to 20 minutes for a large rib and according to your choice of cooking (rare or blue).

Let the meat rest for a few minutes after cooking and serve it with the side dish and sauce of your choice (I will make some suggestions later in the article).
If you ever make my Oven-baked prime rib recipe and you like it, don't hesitate to tag me on Instagram @tangerinezest so I can see the result and share it myself…
Finally, just to let you know I am French and I translate my recipes, be indulgent if you see syntax errors and do not hesitate to leave me a comment so I can correct it. I hope you will like my recipes and enjoy your visit to my food blog!