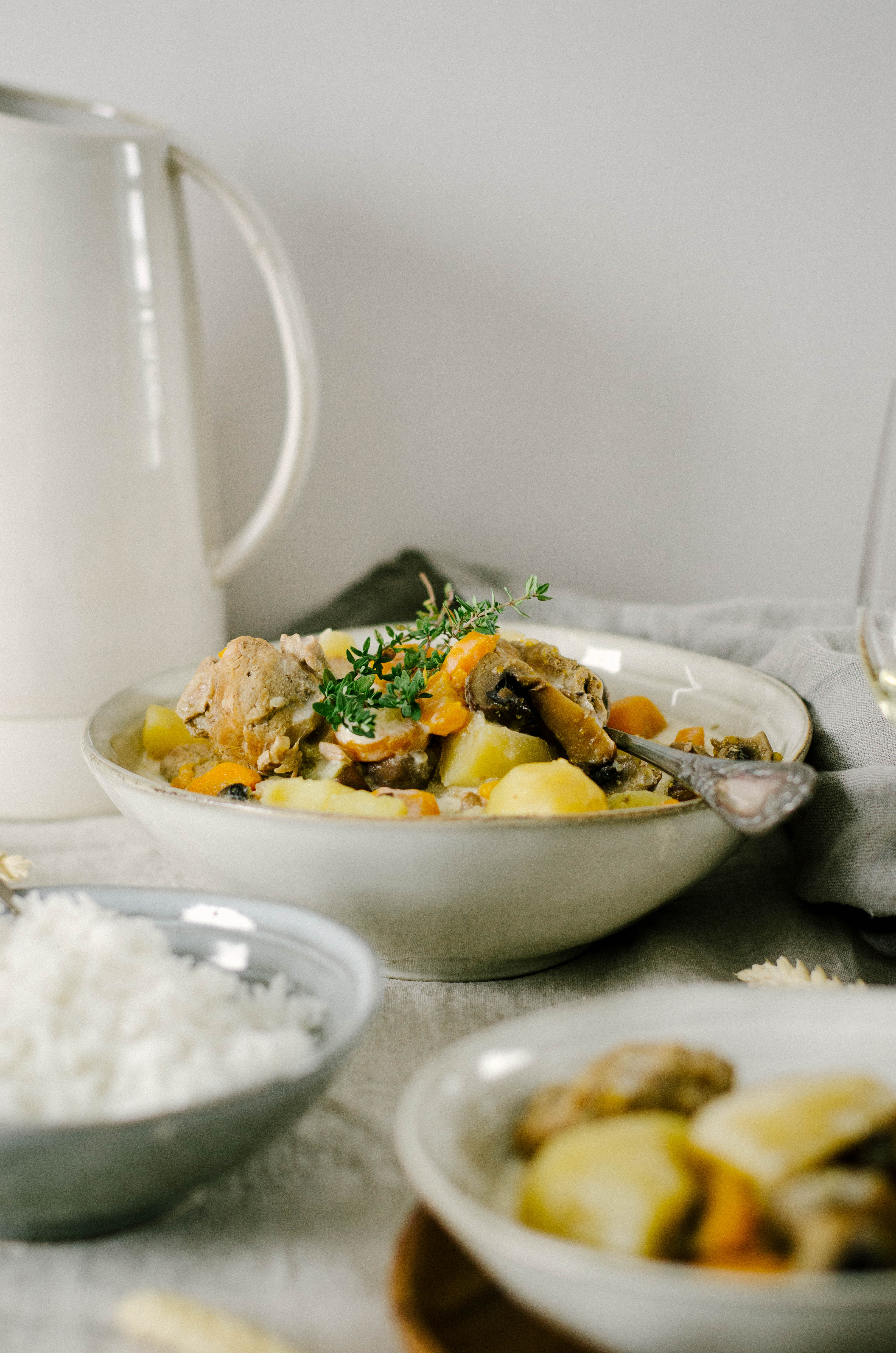 You may have already noticed that I don't have many traditional dishes on the blog, except for a gratin dauphinois, leg of lamb, lasagna and a few other recipes. I must admit that I miss it a bit and I appreciate more and more these kind of meals that I eat more often at my parents' or in-laws' place. That's why today I prepared a French Veal Stew recipe for you! Yes, but not just any blanquette, since it's a quick and easy version that I'm offering you! It's a recipe that I got from my mother and that can also be made with turkey.
This is a quick and easy recipe because it is cooked in the pressure cooker. So yes, I know, for those who like real traditional recipes, it can be a scandal, but for the others who like to eat well without having the time to spend hours in the kitchen, this recipe will be perfect and will delight everyone. Here, it convinced from 2 to 64 years old… 😉
In my recipe, I put carrots, potatoes and mushrooms but you can also serve with a little rice or fresh pasta, I know that some people like that, like my man 😉
Veal Stew Easy Recipe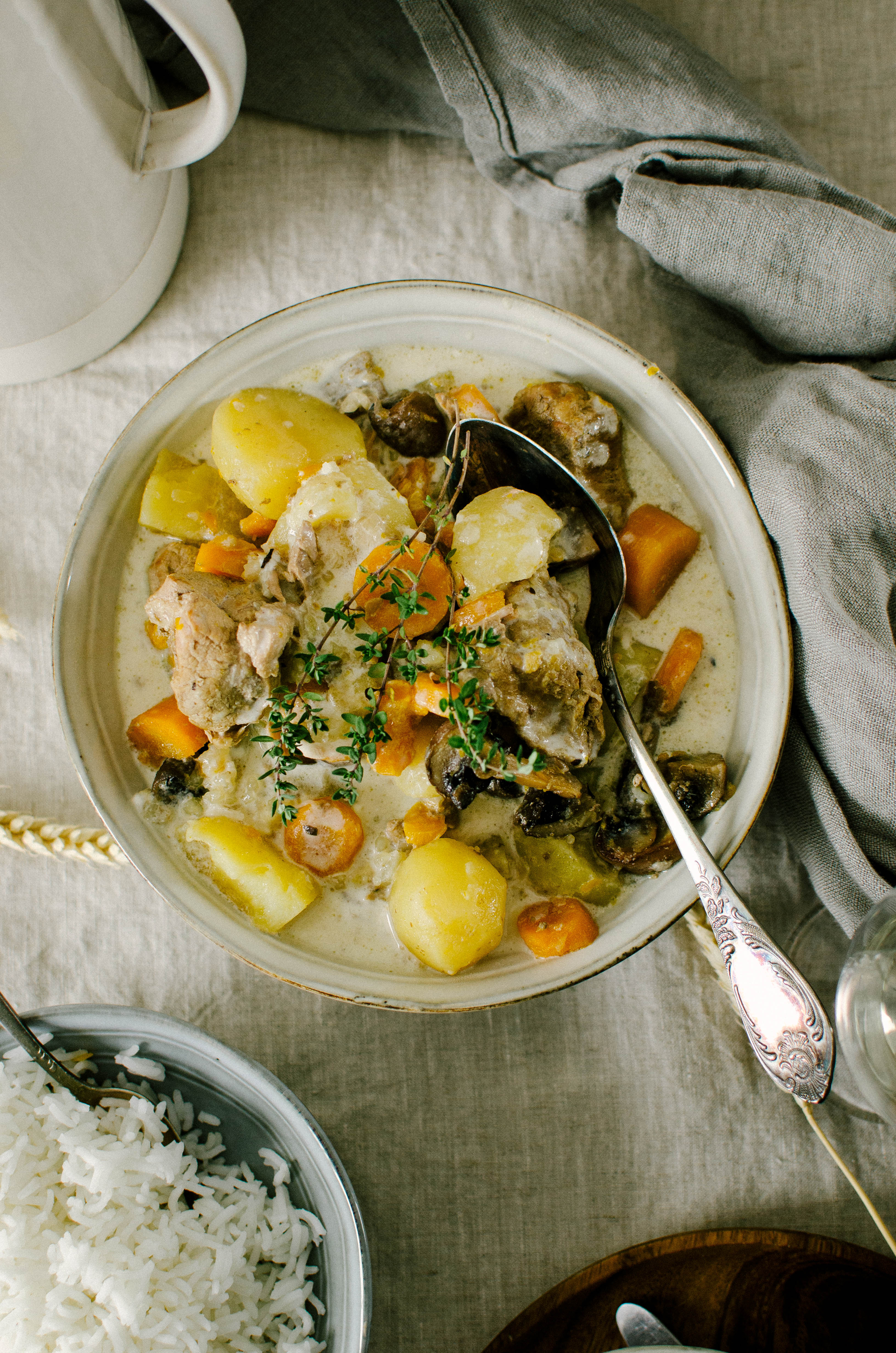 What ingredients do you need to make this quick and easy veal blanquette recipe?
butter
mushrooms
onion
bouquet garni (thyme, bay leaf)
cream
egg yolk
salt and ground pepper
lemon juice
water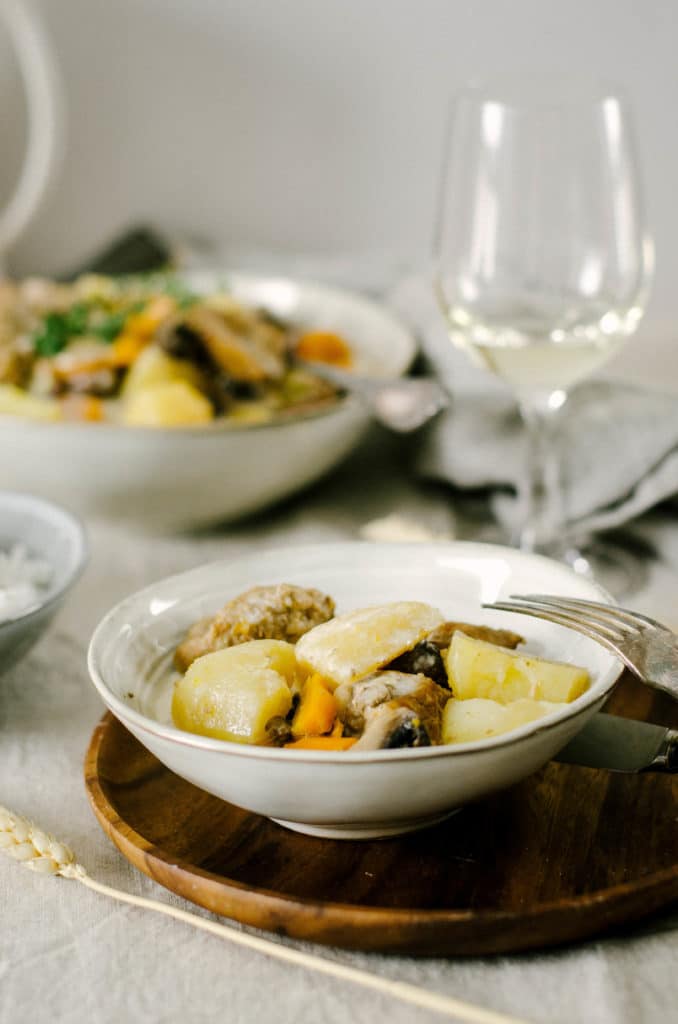 If you are looking for delicious dishes of this type, here are my recipe selections: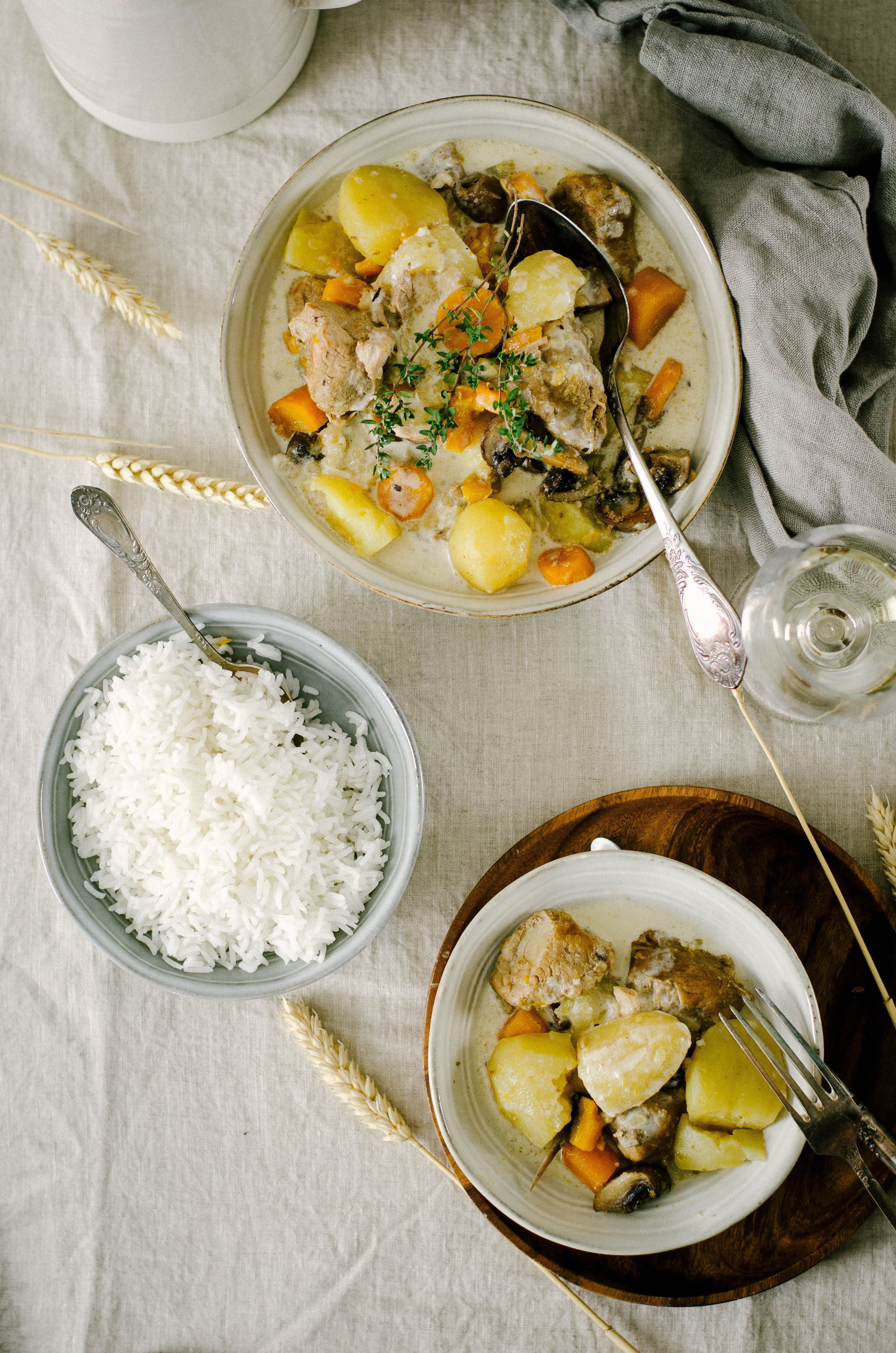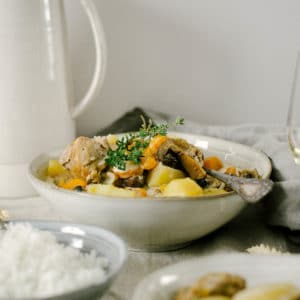 Veal Stew Easy Recipe
Ingredients
1

kg

veal

2

tablespoons

butter

4

potatoes

6

button mushrooms

3

carrots

1

onion

1

bouquet garni (thyme, bay leaf)

(thyme, bay leaf)

cream

1

egg yolk

salt and pepper

1

dash of lemon juice

water

(about 1/2 liter)
Instructions
In 2 tablespoons of butter, brown the chopped onions and quartered (clean) mushrooms in a pressure cooker.

When everything starts to brown slightly, add the pieces of veal and heat them up quickly on both sides.

Cover with water, but do not put too much. Add the salt, the bouquet garni, the carrots, washed, peeled and cut into pieces.

Close and heat over medium heat. As soon as the pot starts to make noise (pchiter, as we say in our country), let cook for 20 minutes.

Then add the potatoes, washed, peeled and cut into large pieces. Close the pan and let it "pchiter" for another 10 minutes.

Check vegetables and meat for doneness. The meat should pull away easily.

If everything is cooked through, remove the ingredients from the juice, if not, cook a little longer.

Collect the cooking juice and reduce it by heating it uncovered. When it is sufficiently concentrated and well reduced, add an egg yolk off the heat, mixing well continuously, then fresh cream and a dash of lemon juice.

Pour the meat and vegetables into a hot bowl, pour in the sauce and season to taste.

Serve as is or with rice or fresh tagliatelle.
Notes
To choose the meat, don't hesitate to ask your butcher, he will be able to advise you. Tell him that it is for a stew.
If you ever make my veal stew recipe and you like it, don't hesitate to tag me on Instagram @tangerinezest so I can see the result and share it myself…
Finally, just to let you know I am French and I translate my recipes, be indulgent if you see syntax errors and do not hesitate to leave me a comment so I can correct it. I hope you will like my recipes and enjoy your visit to my food blog!