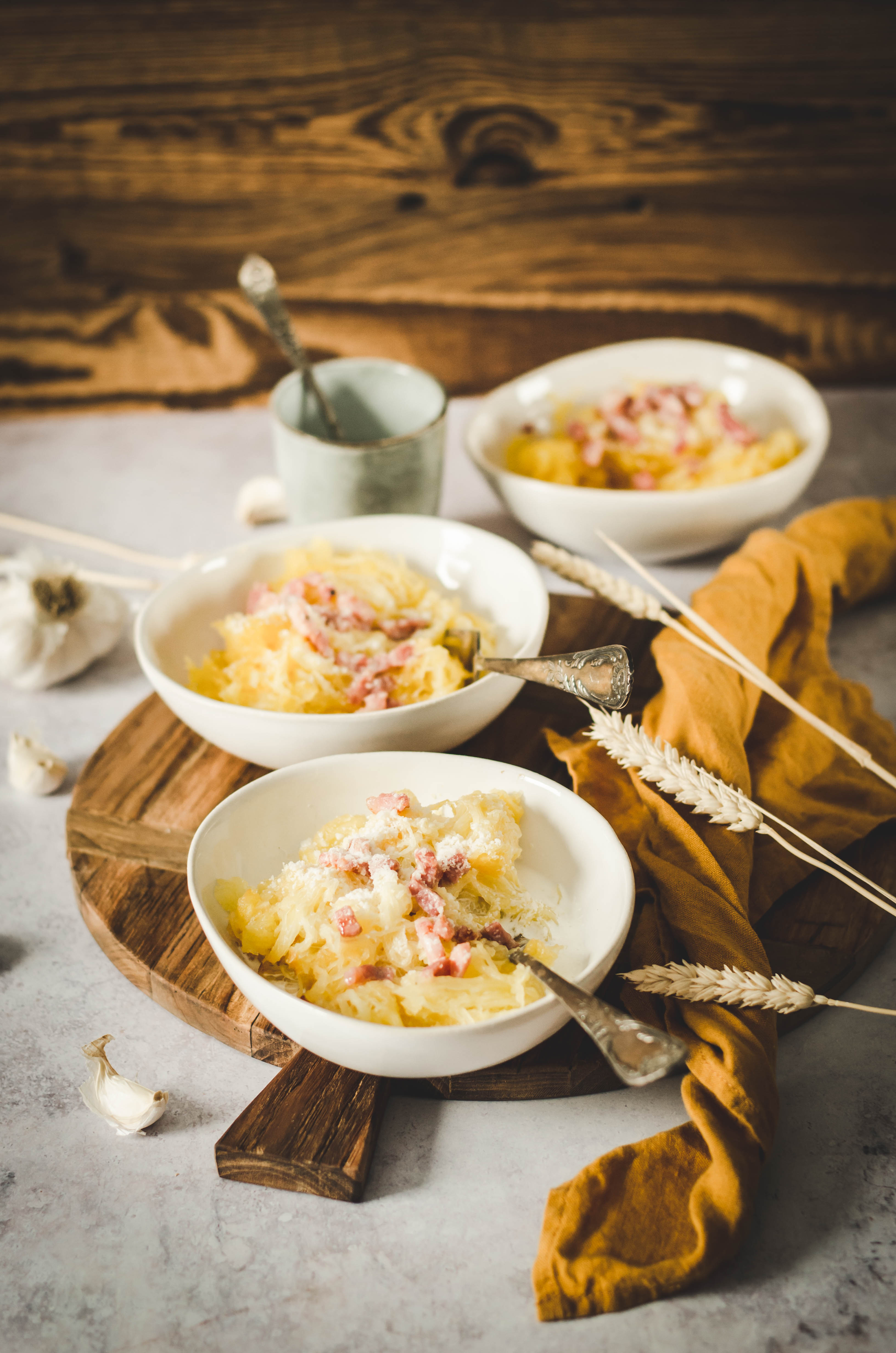 I don't know if you've ever cooked spaghetti squash but it's super easy, quite stunning and really fun to discover. Today I made a Baked Spaghetti Squash Carbonara delicious recipe.
You will see that it is extremely simple and the best thing is that you will only need 4 ingredients: spaghetti squash, bacon, cream and cheese.
I offer a few additional optional ingredients if you want to customize this recipe a little more, but as is it is already delicious.
For those who wish to prepare the meal in advance, it is entirely possible, you will just have to cook your squash, because it takes the longest, then reheat the squash spaghetti with the bacon, when you will cook.
Baked Spaghetti Squash Carbonara Recipe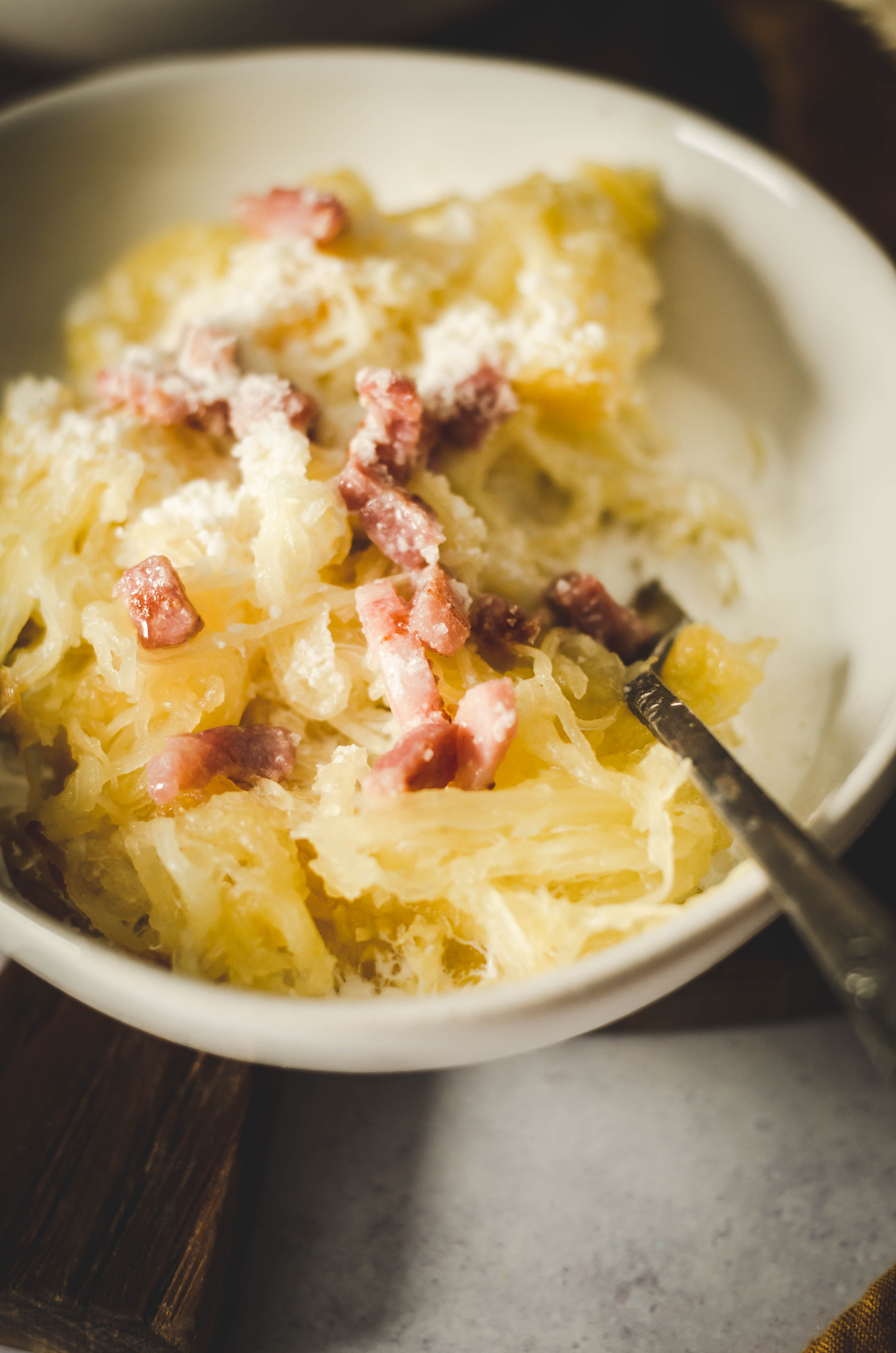 WHAT INGREDIENTS WILL YOU NEED TO MAKE THIS DELICIOUS CARBONARA-STYLE OVEN SPAGHETTI SQUASH RECIPE?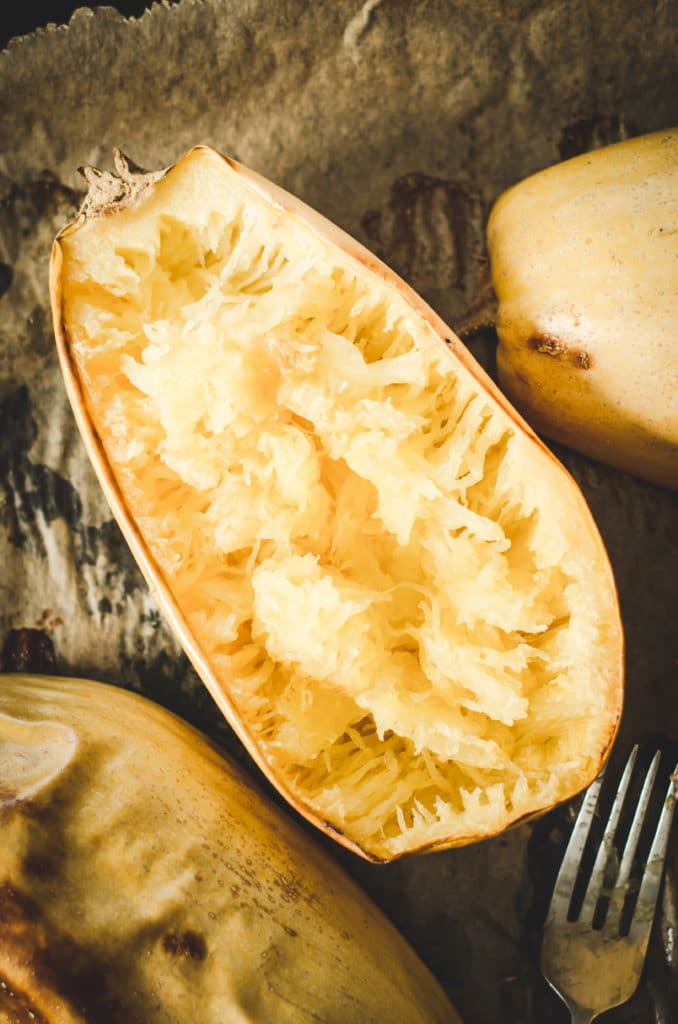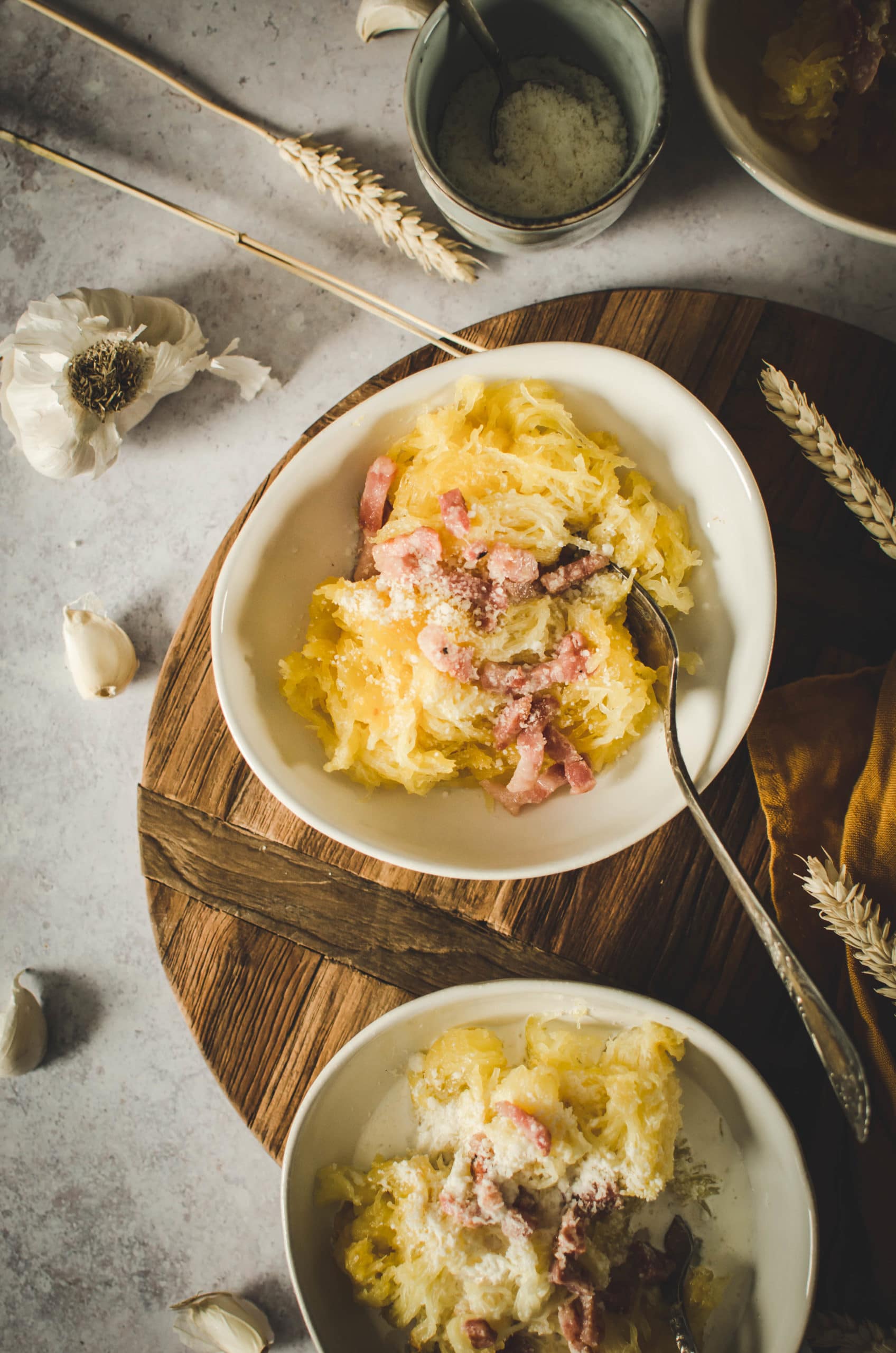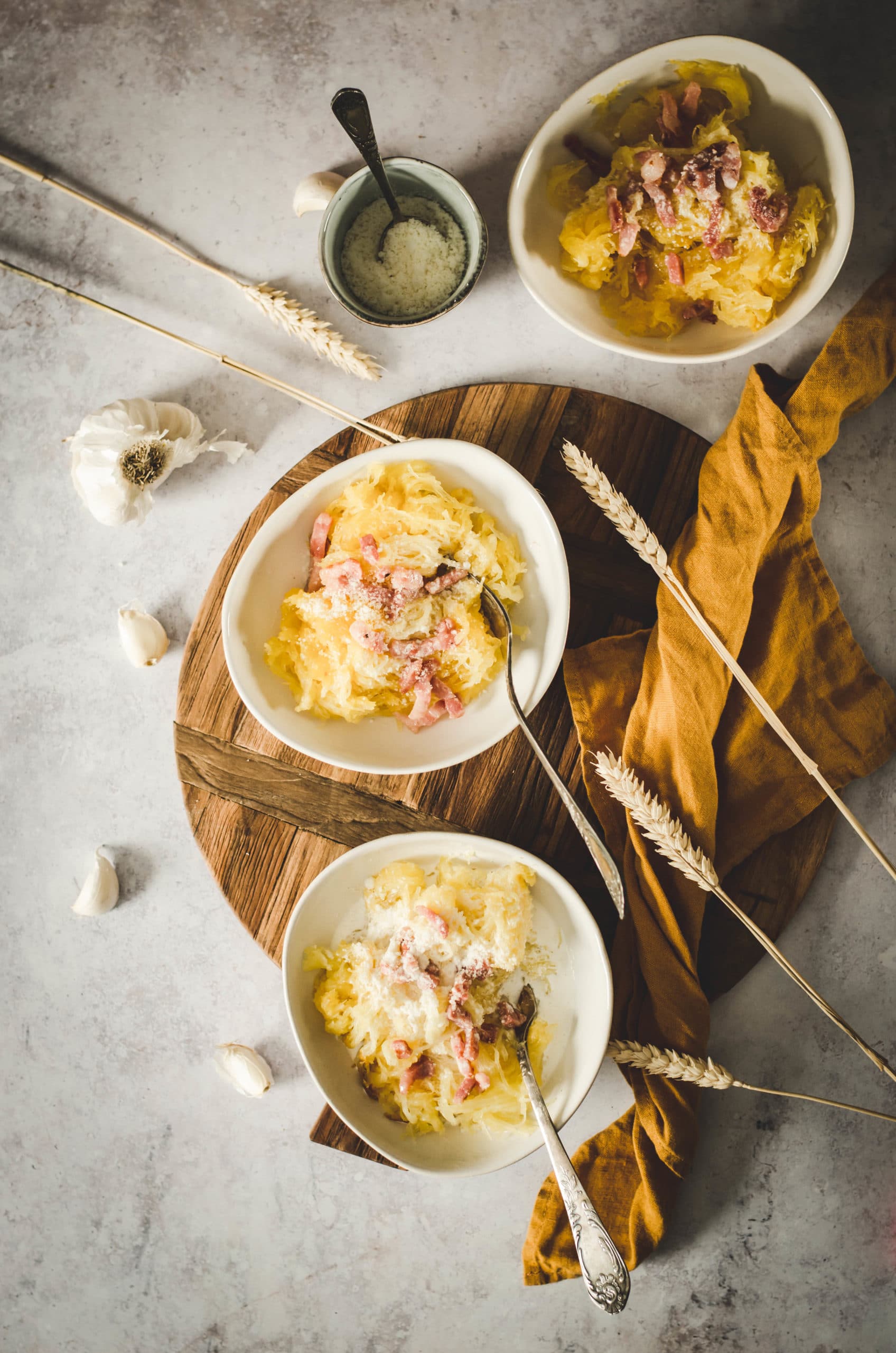 If you like squash, here are other recipe ideas you should like: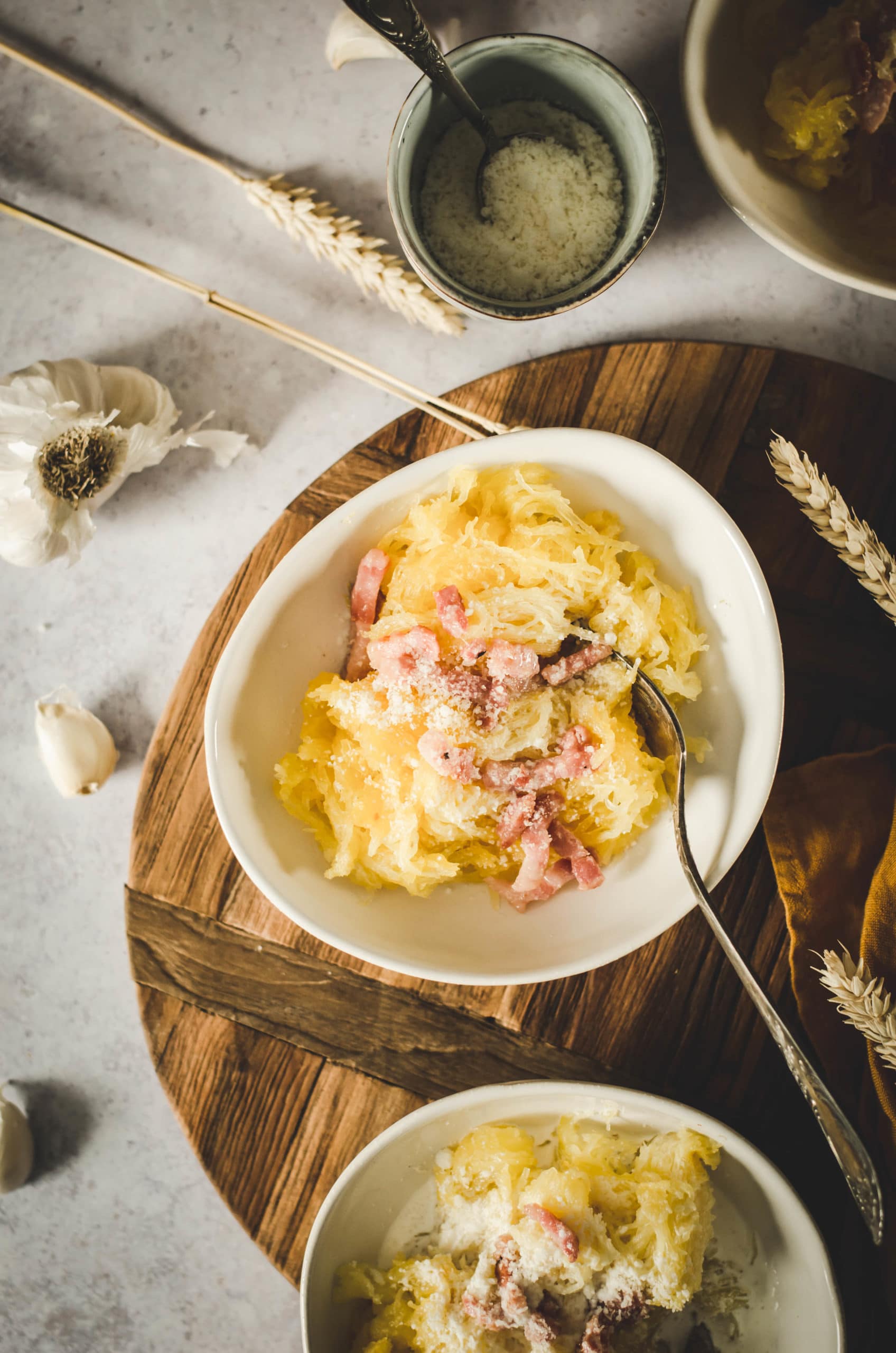 What are some other fall recipe ideas that you might also like: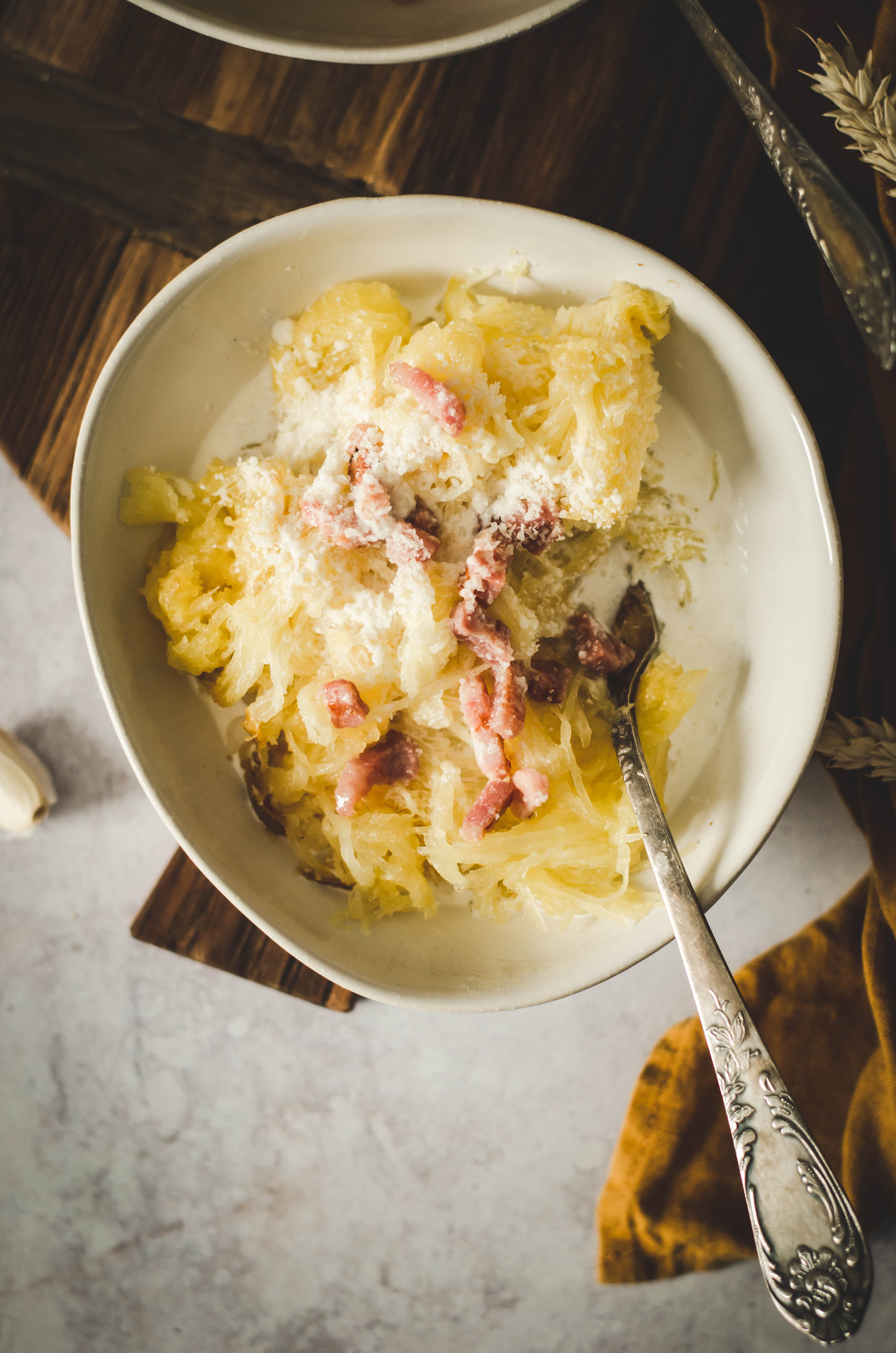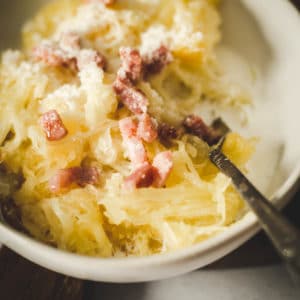 Baked Spaghetti Squash Carbonara Recipe
Ingredients
1 or 2

spaghetti squash

(about 2 kg)

200

g

bacon

(cut in small sticks)

25

cl

liquid cream

1

garlic clove

pecorino or parmesan

grated nutmeg

(optional)

1

onion

(optional)

1

egg yolk

(optional)
Instructions
Start by infusing the garlic into the cream. To do this, heat the cream and the pressed garlic in a saucepan over low heat. Let heat gently for ten minutes, then set aside.

Cut the squash in 2 lengthwise or widthwise and scoop out the seeds. Don't peel it.

Cover a baking tray with baking paper and place the squash halves flesh side down on top. So you see the rounded side.

Bake for 50 minutes at 180°C.

At the end of cooking, carefully remove the flesh of the squash from the skin. Spaghetti will form.

When ready to serve, brown the bacon in a pan. Mix them with the squash spaghetti.

Pour in the garlic-infused cream and sprinkle with grated cheese.

Enjoy, it's so good and so simple…
Notes
Several small things…
You can cook your spaghetti squash in advance and reheat them in the pan with the bacon.
You can also personalize your recipe further and add a sliced ​​onion to the bacon bits, or nutmeg or an egg yolk.
And for a gratinated version, put everything under the grill for a few minutes.
If you ever make my homemade Baked Spaghetti Squash Carbonara recipe and you like it, don't hesitate to tag me on Instagram @tangerinezest so I can see the result and share it myself…
Finally, just to let you know I am French and I translate my recipes, be indulgent if you see syntax errors and do not hesitate to leave me a comment so I can correct it. I hope you will like my recipes and enjoy your visit to my food blog!