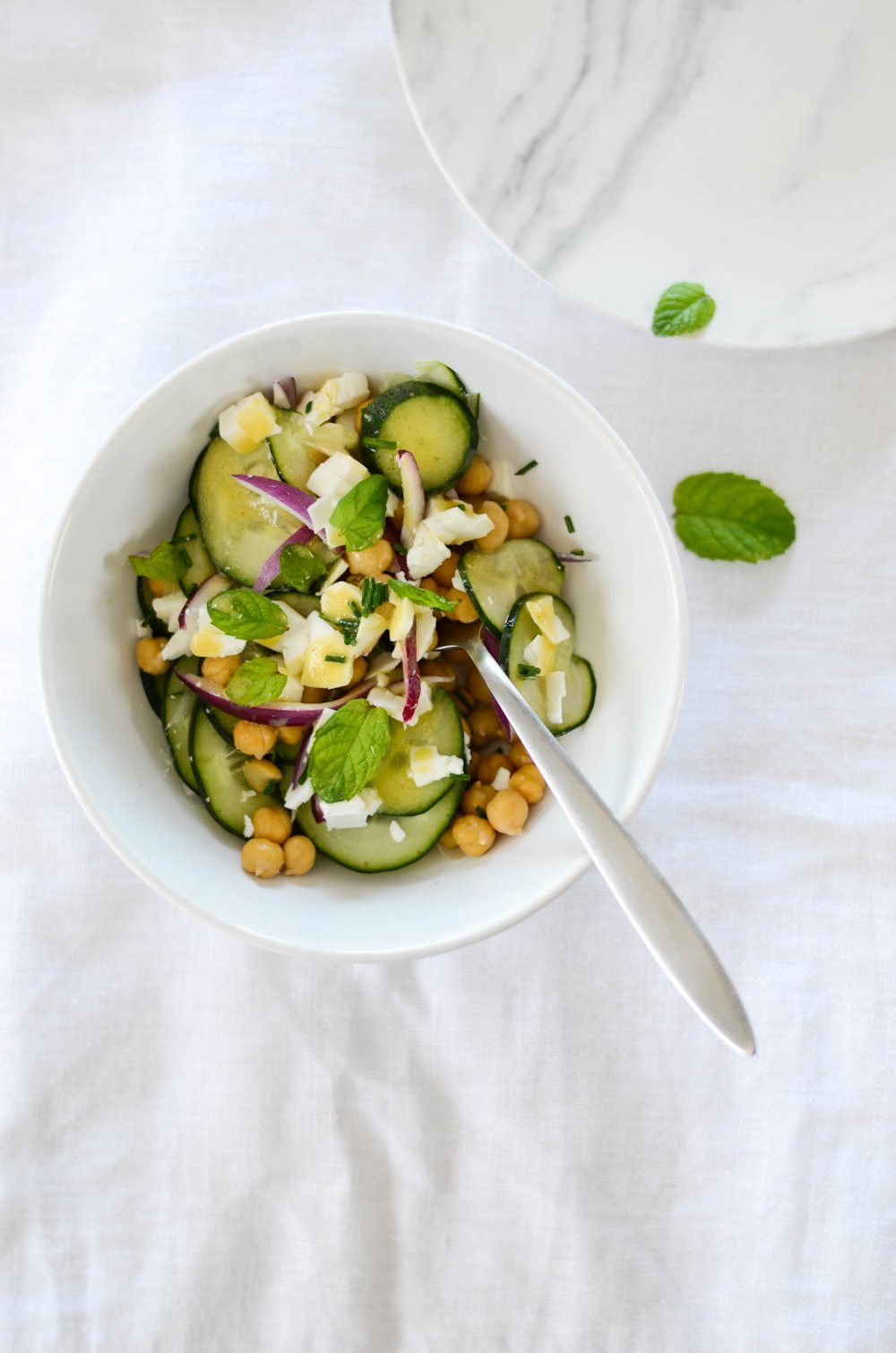 In this cucumber and chickpea salad with feta, I think what's even more interesting is the lemon vinaigrette dressing! Have you ever tried this type of dressing?
It's sssssssooooooooooooo good, but really too good! And frankly, it goes very well with this salad. I also add a little garlic 😉
I've already made this salad 3 times this year and I never tire of it. It's so quick and easy (less than 15 minutes!) to make that it's not worth going without.
I don't know about you, but right now, it's such a rush at home that I'm craving recipes like this one. Between the end-of-year festivities and trips to the nursery, I'm a bit short of time.
And this recipe will suit everyone, because you can take this chickpea salad with you in your lunchbox or picnic during the vacations, or serve it with grilled meats.
And to tell you the truth, kids love this salad too, because the famous vinaigrette is a great help! My 3-year-old loulou ate his share and thoroughly enjoyed it.
Cucumber and Chickpea Salad with Feta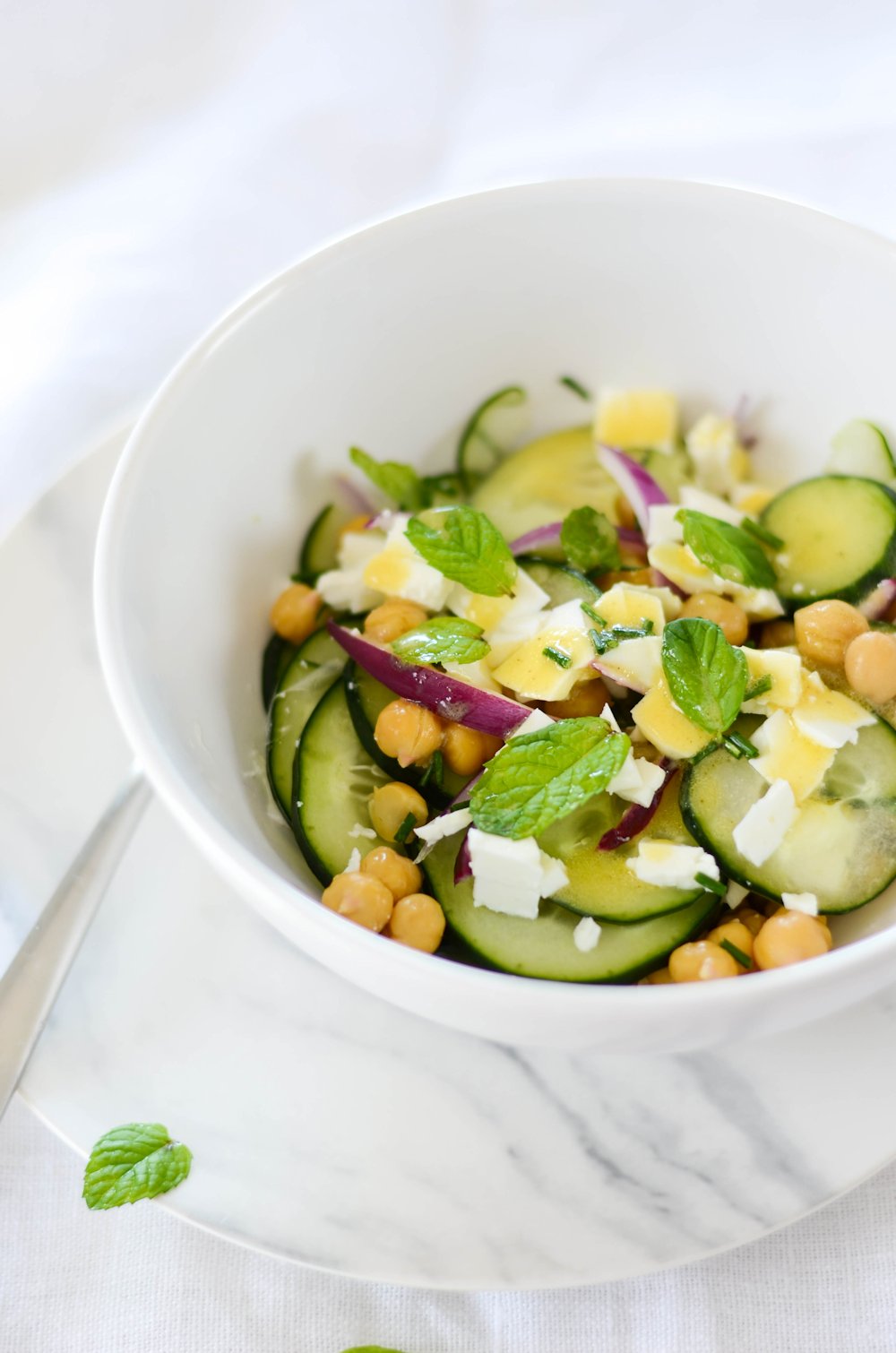 WHAT INGREDIENTS do YOU NEED TO MAKE THIS DELICIOUS Cucumber and Chickpea Salad RECIPE?
red onion
mint and chives
honey mustard
cider vinegar
lemon juice
olive oil
garlic infused oil
salt and freshly ground pepper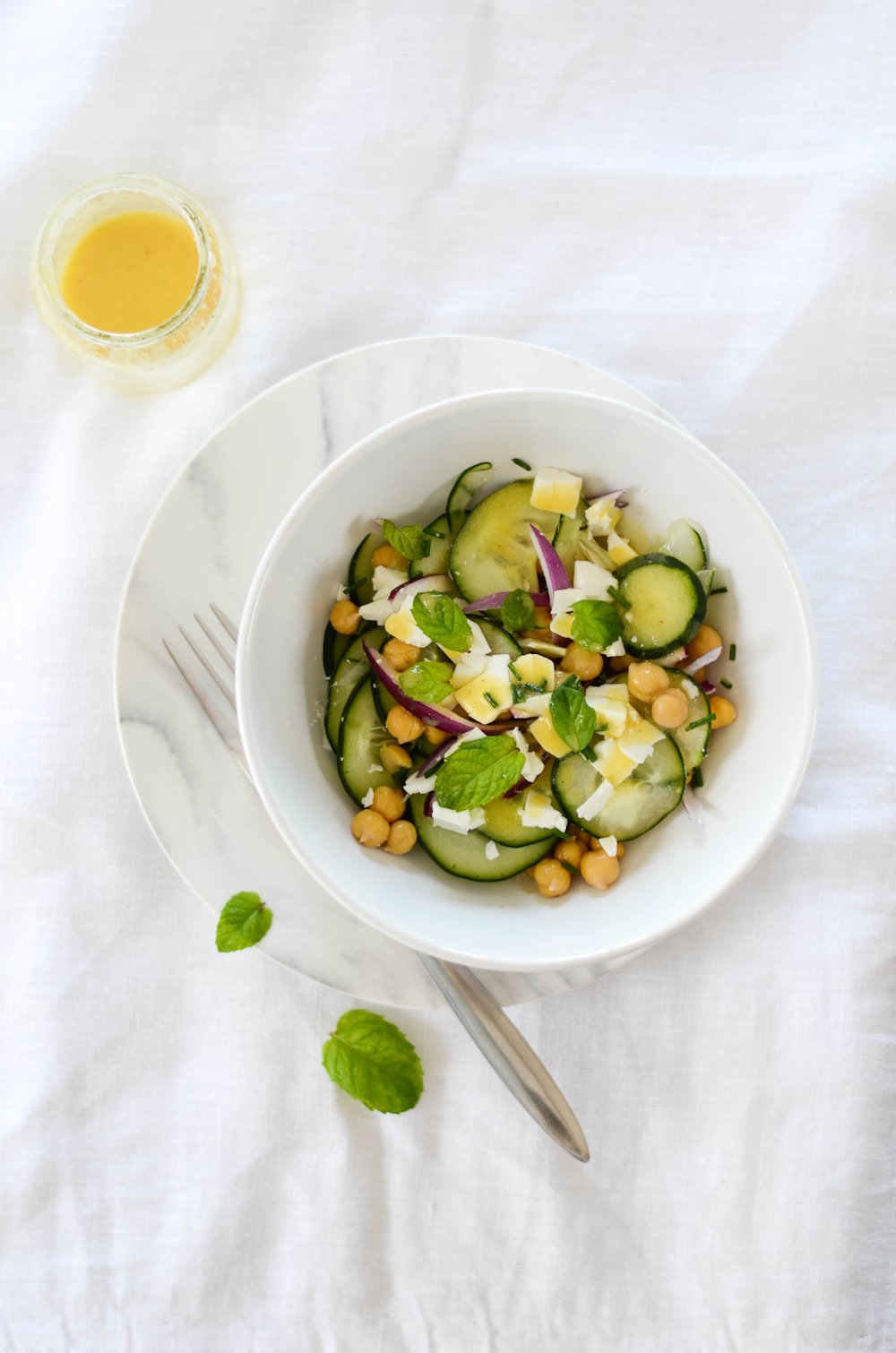 Other recipe ideas that you might like as much as this salad: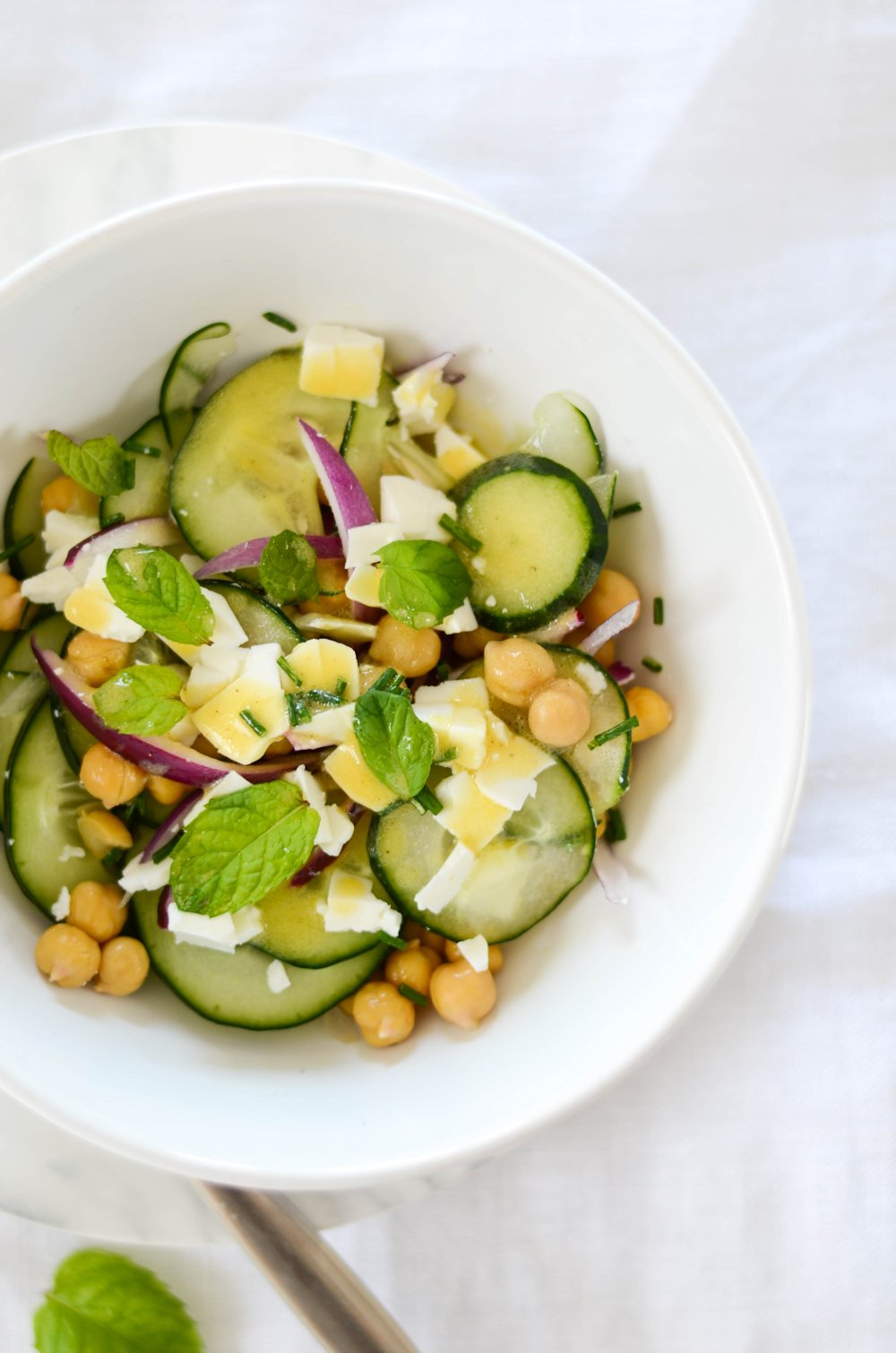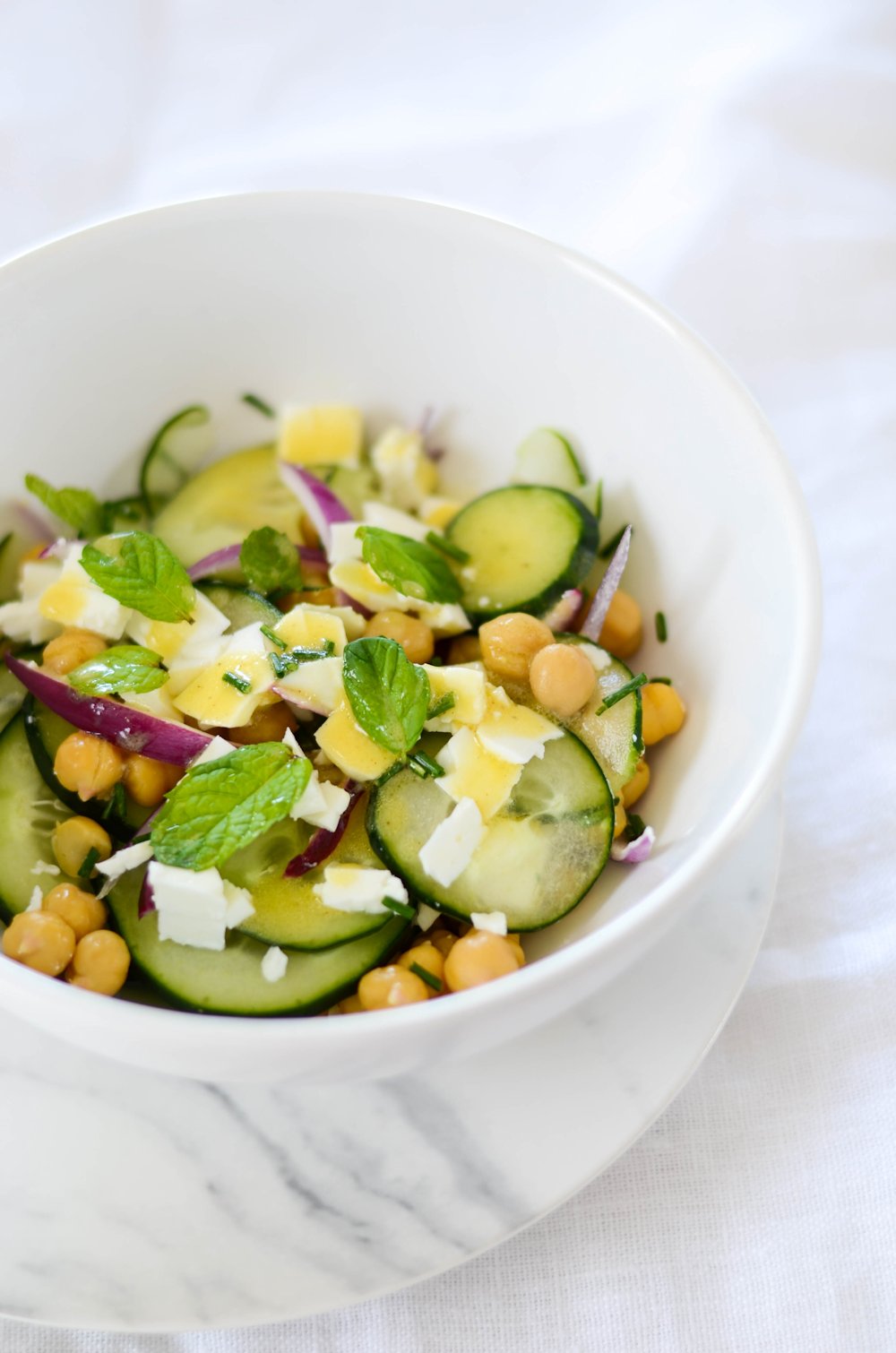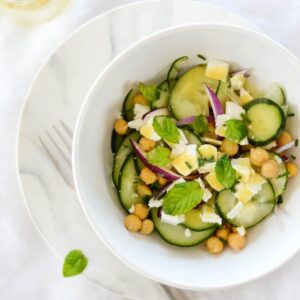 Cucumber and Chickpea Salad
Ingredients
1

cucumber

400

ml

canned chickpeas

265 g rinsed and drained

1/4

red onion

100

g

feta cheese

Mint and chives
FOR THE lemon VINAIGRETTE
1

teaspoon

honey mustard

1

teaspoon

apple cider vinegar

2

teaspoon

lemon juice

3

tablespoons

olive oil

1

tablespoon

garlic-infused oil

Salt and black pepper
Instructions
Wash the cucumber and cut it into slices using a mandolin. Pour into a salad bowl.

Add the rinsed chickpeas and drain them.

Slice the red onions and crumble the feta. Chop the herbs and place them in the salad bowl.

For the vinaigrette, place all the ingredients in a small jar, close it and mix.

Pour over the salad and toss gently.
Notes
If you don't have garlic oil, you can press 1/2 garlic clove into the vinaigrette and add a tablespoon of olive oil.
Bon appétit !
If you ever make my Cucumber and Chickpea Salad recipe and you like it, don't hesitate to tag me on Instagram @tangerinezest so I can see the result and share it myself…
Finally, just to let you know I am French and I translate my recipes, be indulgent if you see syntax errors and do not hesitate to leave me a comment so I can correct it. I hope you will like my recipes and enjoy your visit to my food blog!