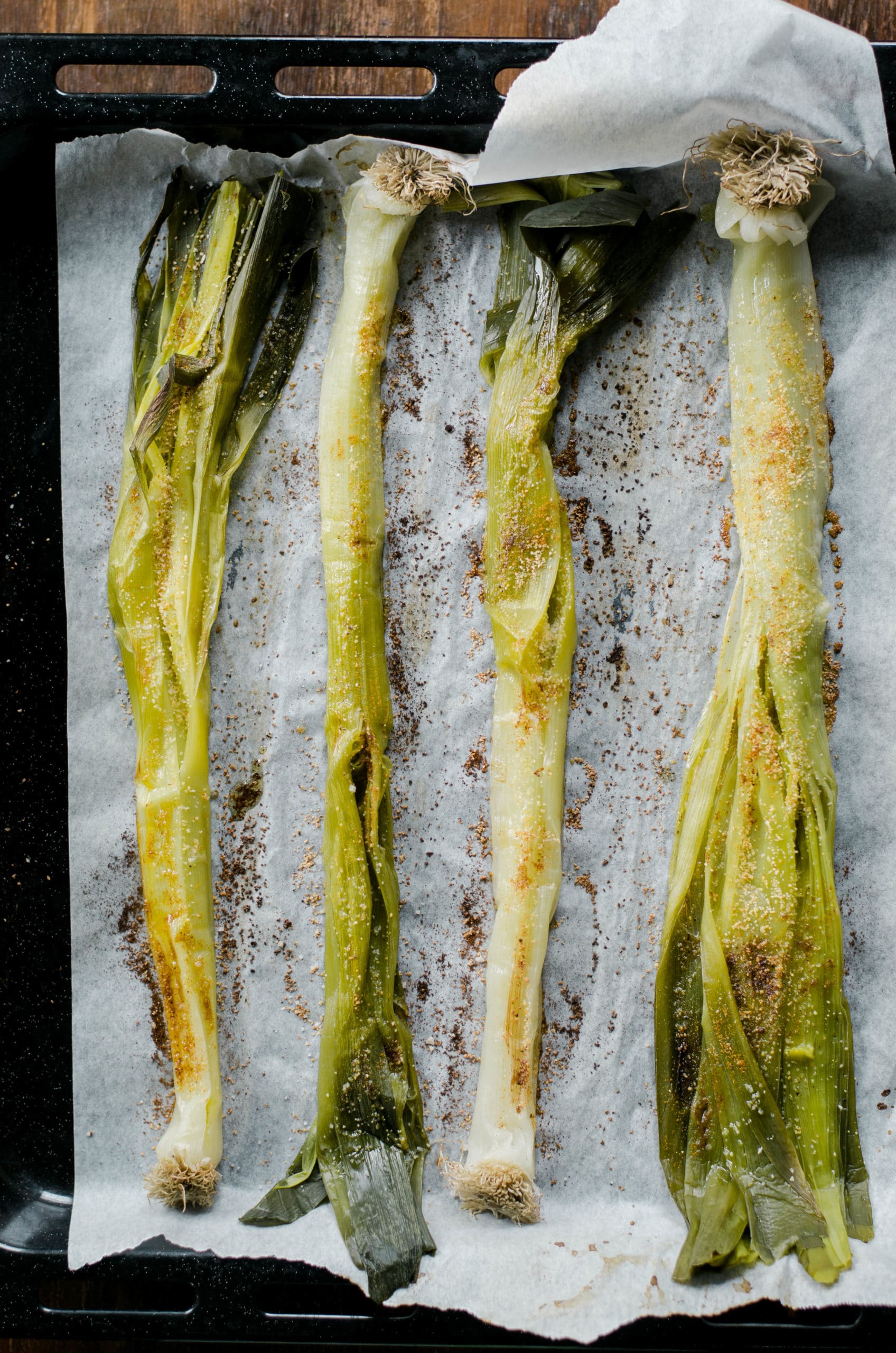 Have you ever tried making oven roasted leek recipe?
Don't think that I only eat bread, brioche, cookies and potatoes ! Even if we eat at least one of these wonders a day at the moment… But I noticed that it was a good moment that I had not shared a plant-based recipe even though it actually represents the vast majority of our meals.
As for leeks, today I'm offering you a very simple recipe that we love to make at home: oven-roasted leeks.
We are truly in an in-between season with the first strawberries and asparagus and winter vegetables. So, it's pretty good.
Coming back to my recipe of the day, simply blanch them in water or steam them, listen to them then quickly place them in a hot oven drizzled with a drizzle of olive oil.
Then you can spice according to your taste, for us it's garlic powder, a little powdered spices (like chili or paprika), a twist of salt and a twist of pepper and that's it.
You can even add a drizzle of lemon juice or grated parmesan. I like the little crunchy side that the leek tops take on…
You can then eat these roasted leeks as is or on a slice of bread with cheese (fresh cheese, goat's cheese or a good burrata, for example), or even as an accompaniment to grilled meats or meat in sauce.
I also like to eat an egg with or a gribiche sauce.
In short, do as you wish, there is no shortage of ideas…
Oven Roasted Leek Recipe
My little tips for making this leek recipe a success:
Read the recipe instructions below carefully before starting.
Prepare all the ingredients (correct quantities and weighed) before starting.
This will allow you to check that you have everything at home and add to it if necessary, to understand the recipe and to go faster overall in making it, and to have more fun cooking! 😉
And if you like this kind of recipe, here are some ideas to make, which should please you as much as I do: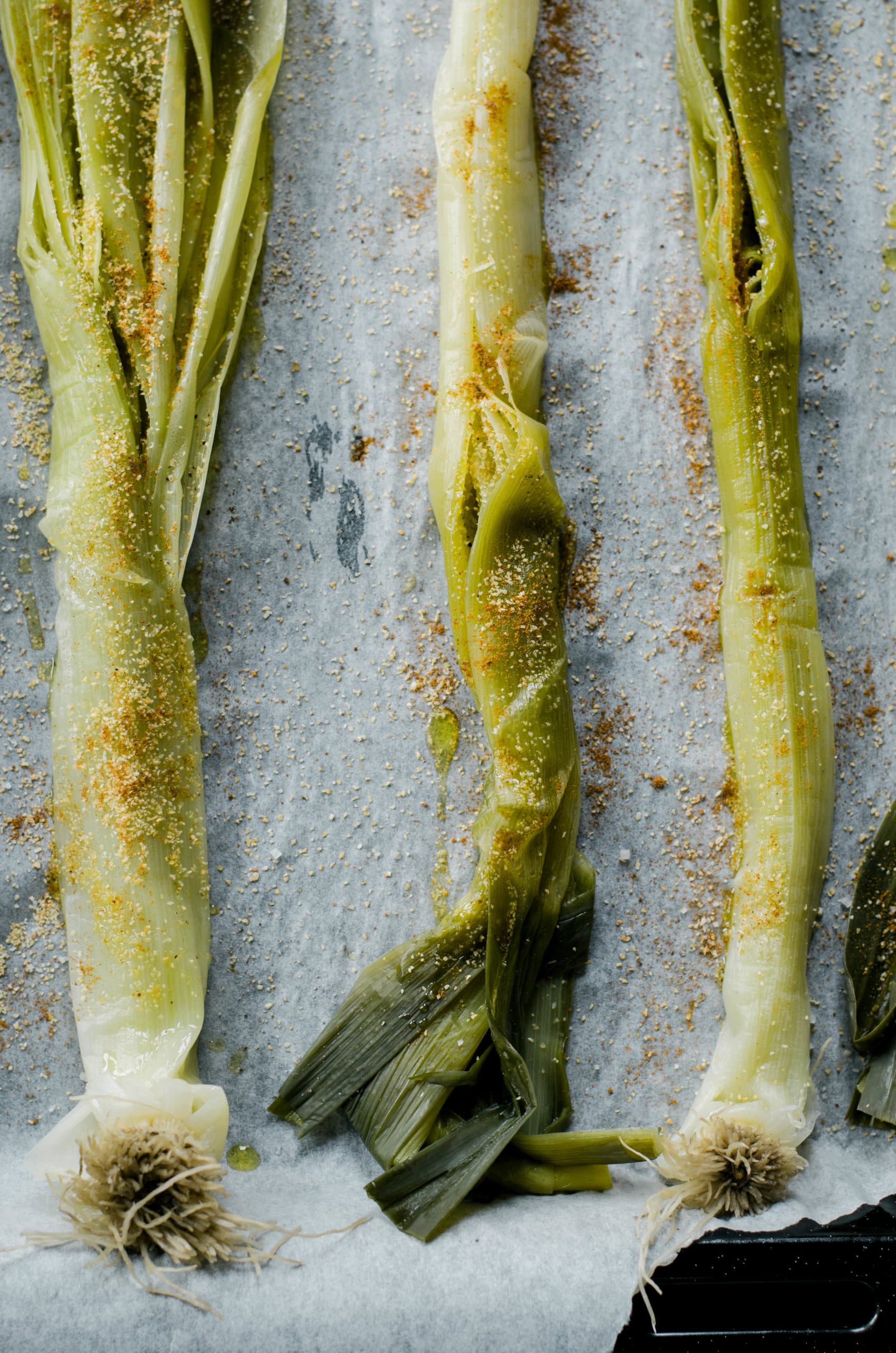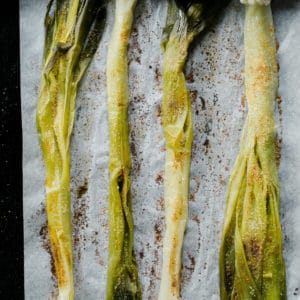 Oven Roasted Leeks Recipe
Ingredients
4

leeks

2

garlic cloves

Chili powder

Olive oil

Salt and pepper

grated Parmesan Cheese

(optional)
Instructions
Clean the leeks and place them in the steam basket of your pressure cooker with a splash of water.

Heat over high heat and when the casserole whistles, reduce the heat to medium and cook for 10 minutes.

Preheat your oven to 240°C.

Then remove and drain the leeks and place them on a baking tray covered with baking paper.

Drizzle each leek with a drizzle of olive oil and season (salt, pepper, garlic and parmesan).

Bake for 10 to 15 minutes and serve as you wish: as an accompaniment, toast, starter, salad, etc. Enjoy your meal.
If you ever make my homemade Oven Roasted Leeks recipe and you like it, don't hesitate to tag me on Instagram @tangerinezest so I can see the result and share it myself…
Finally, just to let you know I am French and I translate my recipes, be indulgent if you see syntax errors and do not hesitate to leave me a comment so I can correct it. I hope you will like my recipes and enjoy your visit to my food blog!