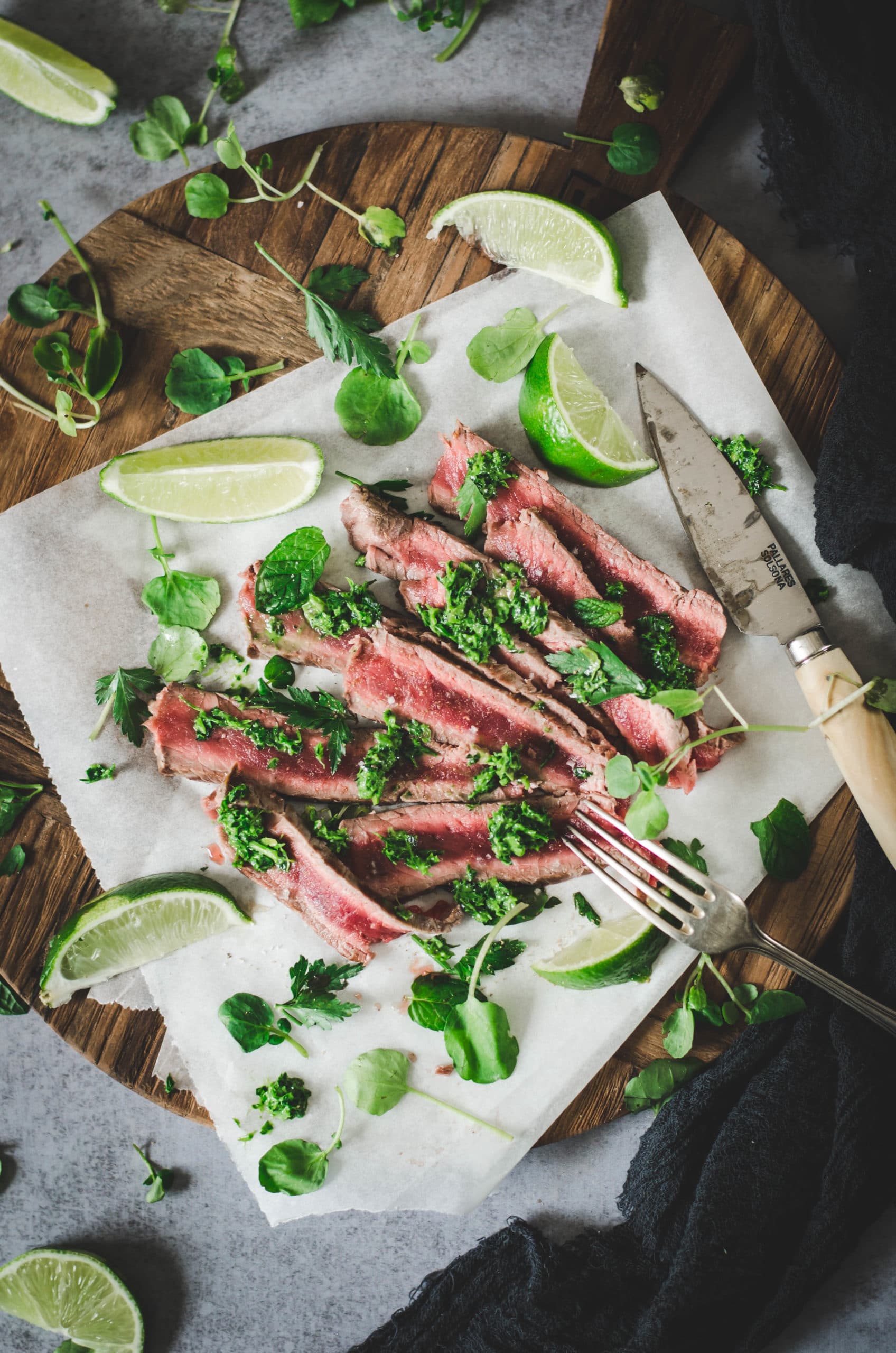 The secret to this grilled beef salad recipe really lies in choosing the right meat! For this recipe I selected a piece of gîte round, ideal for my salad, but don't hesitate to ask for advice.
Regarding gremolata, I don't know if you know it, but it's an Italian parsley that usually accompanies white meats or osso buco. It is made from parsley and garlic to which lemon zest is added. I adapted the recipe a bit by adding a little mint and lime, and combined it with beef.
I can tell you that it is a marvel that you absolutely must try!
Honestly, this grilled beef and gremolata salad recipe is one of my "favorite" recipes because it really highlights the ingredients that make it up, in all simplicity.
I was recently told: "simple things are often the best" and it's very true, especially when you have good products to cook with!
To serve this grilled beef, I accompanied it with watercress salad, I loved the taste and pieces of grilled pita bread, it gave it a little panzanella look. This salad is a pure treat full of freshness and flavors!
Grilled Beef Salad and Gremolata Sauce
What ingredients do you need to make this delicious beef salad?
beef in a slightly thick slice (round of gite)
pita breads
salad (cress type or other)
salt and freshly ground pepper
FOR THE GREMOLATA SAUCE
flat-leaf parsley
mint
garlic
lime and yellow lemon
olive oil
hot pepper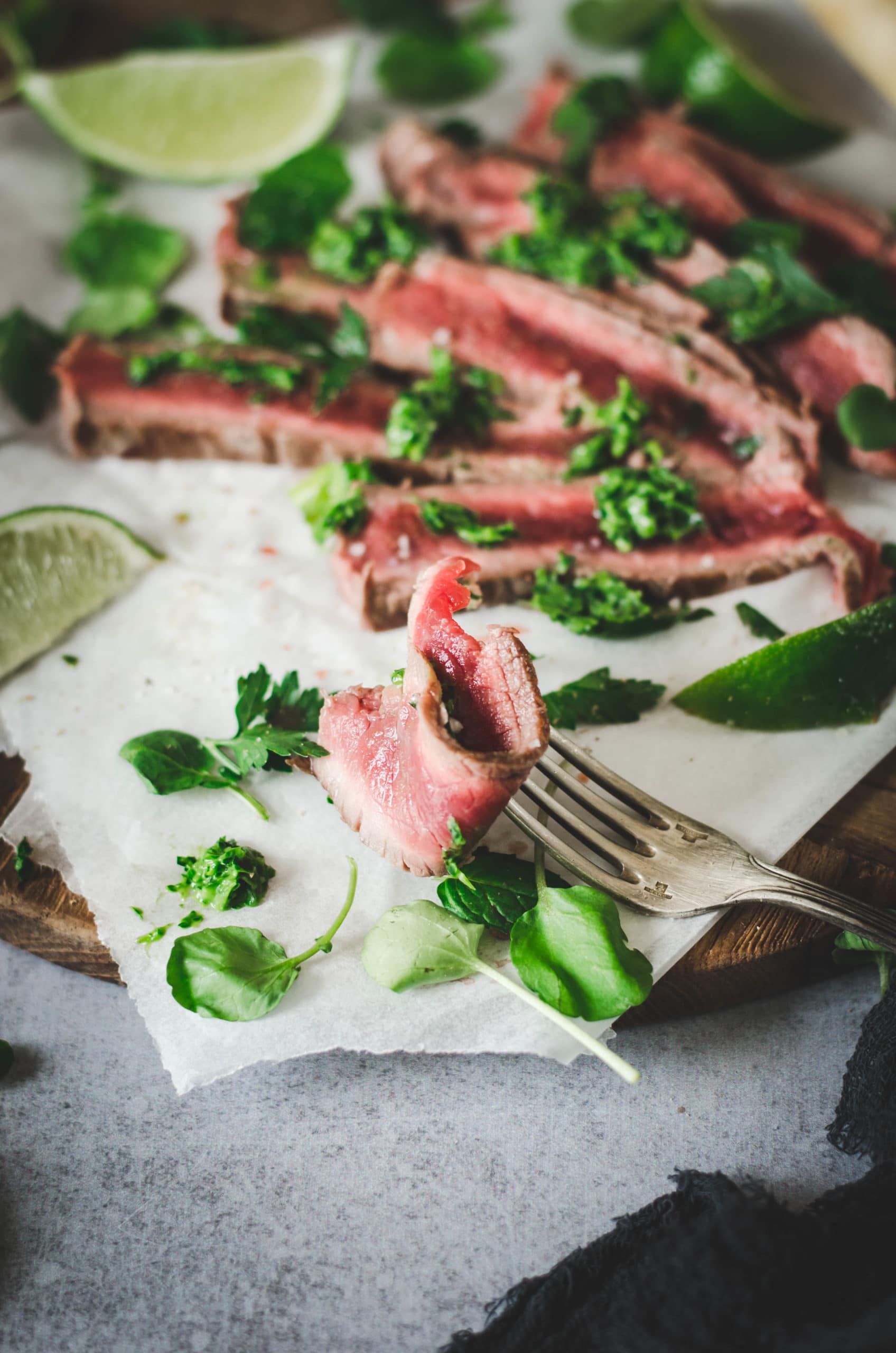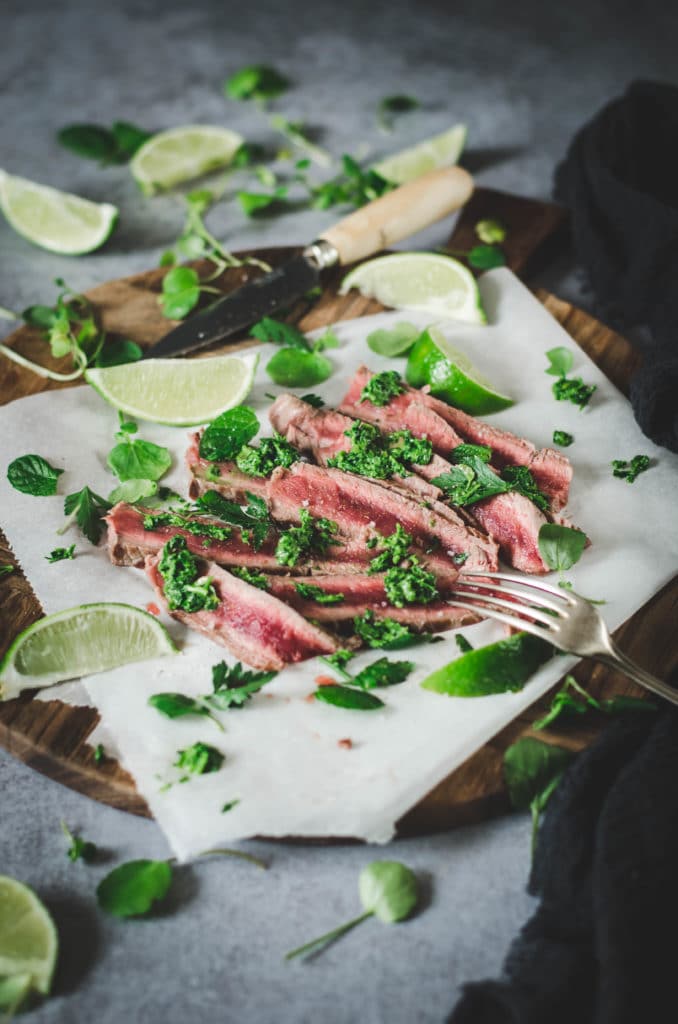 What side dishes should you serve this grilled beef recipe with?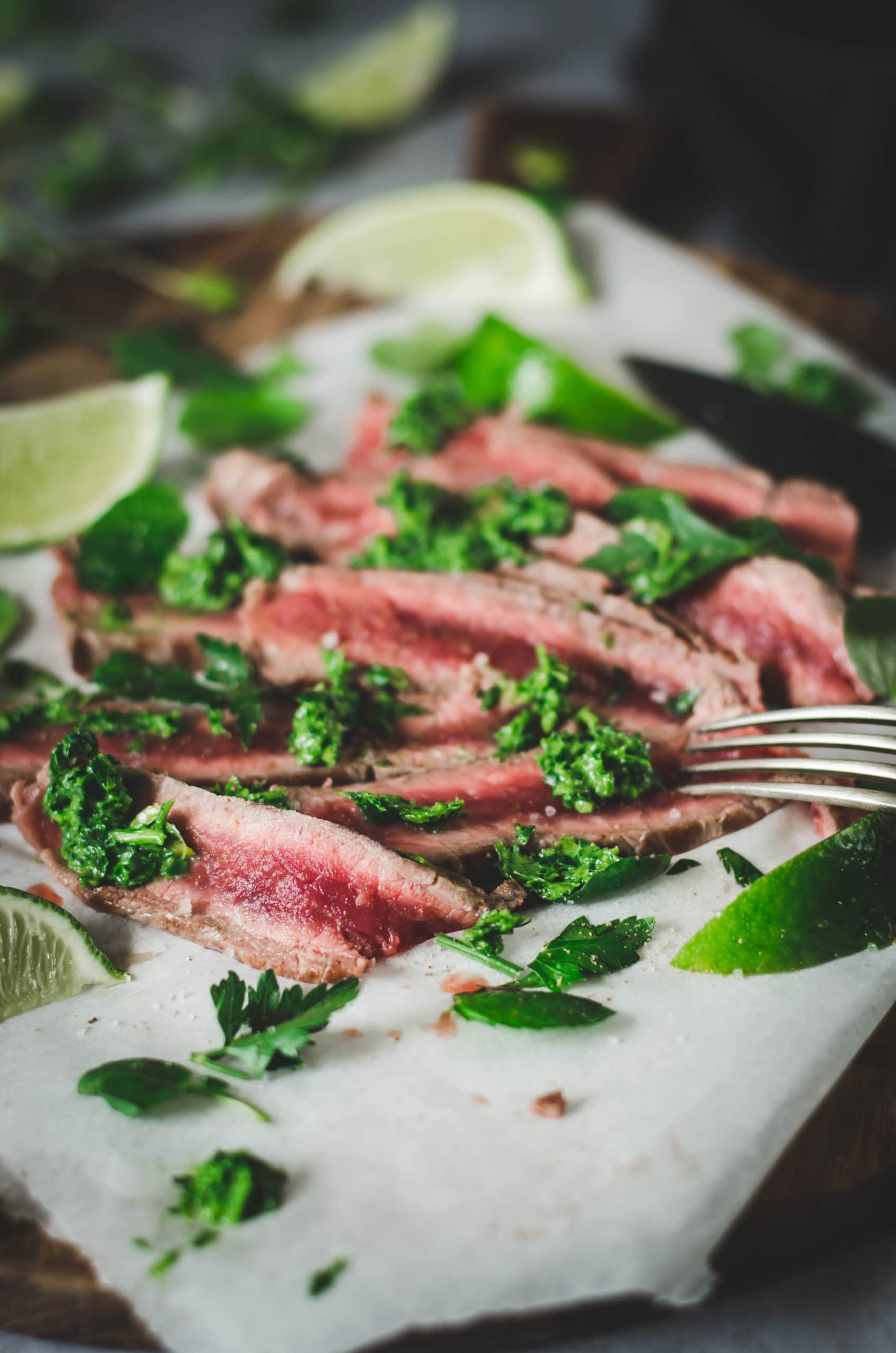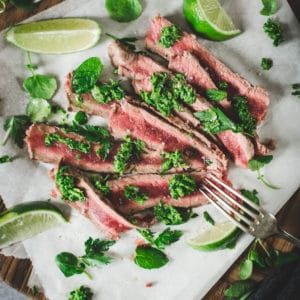 Grilled Beef Salad and Gremolata
Ingredients
400 to 500 g

beef

in a slightly thick strip of approximately 2 centimeters (round of gite)

4

pita breads

Salad (cress type or other)

Salt and pepper
FOR THE GREMOLATA sauce
1/2

bunch

flat-leaf parsley

A few mint leaves

1 or 2

peeled garlic cloves

1/2

organic lime juice and zest

1/2

organic lemon juice and zest

4

tablespoons

olive oil

Salt and pepper

Chili powder

(optional)
Instructions
FOR THE GREMOLATA sauce
Wash the fresh herbs and place the leaves in a small blender.

Add all the other ingredients and mix until everything is well combined.

If necessary, add a tiny bit of water then pour into a bowl and set aside until ready to serve.
PREPARE THE SALAD AND BEEF
Then prepare the salad before cooking the meat and toast the pita breads in the toaster.

In a non-stick pan, grill the beef for 2 to 3 minutes on each side.

Slice it into thin strips and serve on a bed of salad with the pieces of pita and the gremolata sauce.

It's a pure delight, full of freshness and flavors.
Notes
For the beef, I really like it without embellishments, but if you wish you can add a knob of butter for cooking.
Also adapt the cooking of the meat according to your tastes.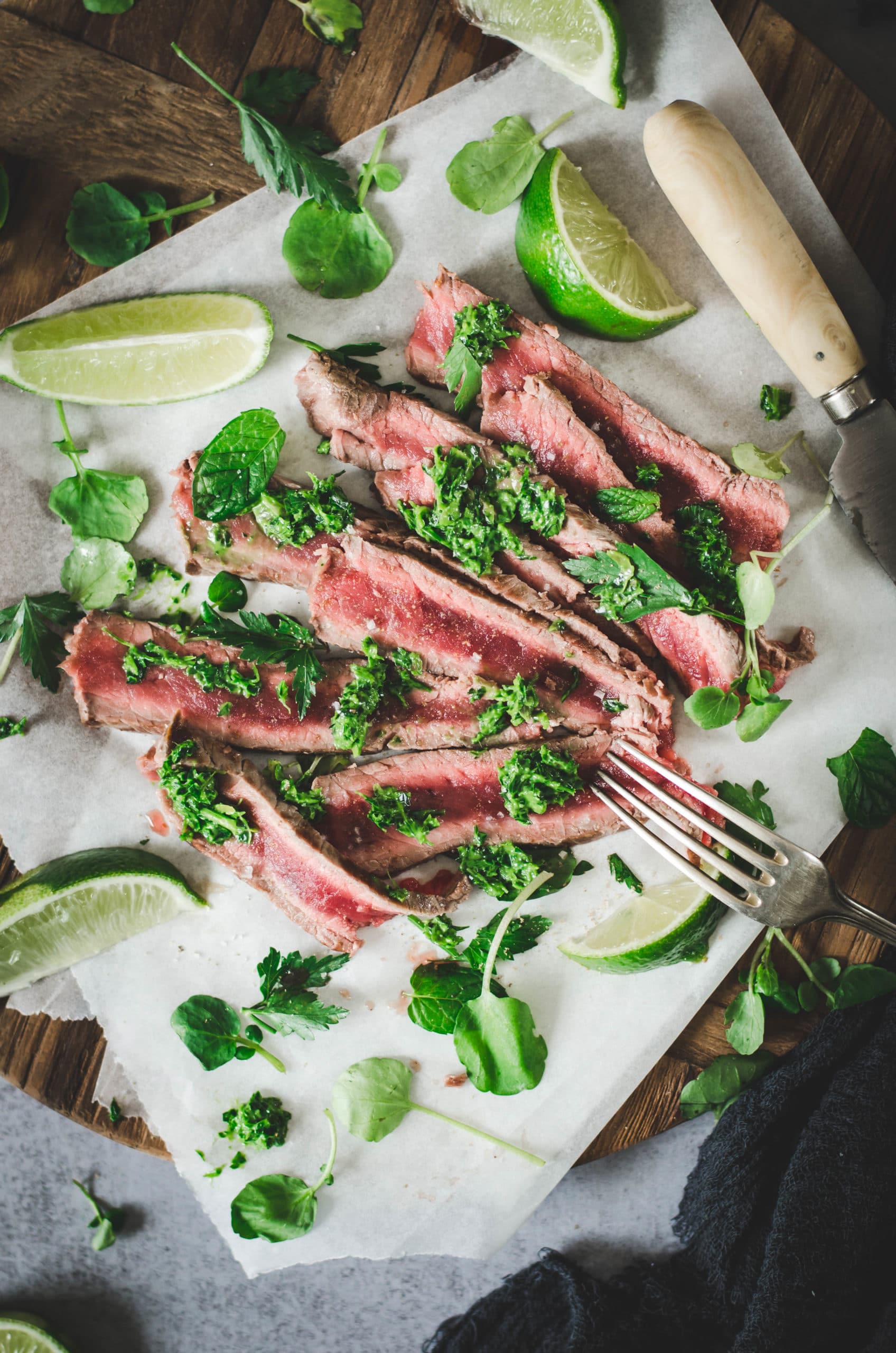 If you ever make my homemade Grilled Beef Salad recipe and you like it, don't hesitate to tag me on Instagram @tangerinezest so I can see the result and share it myself…
Finally, just to let you know I am French and I translate my recipes, be indulgent if you see syntax errors and do not hesitate to leave me a comment so I can correct it. I hope you will like my recipes and enjoy your visit to my food blog!