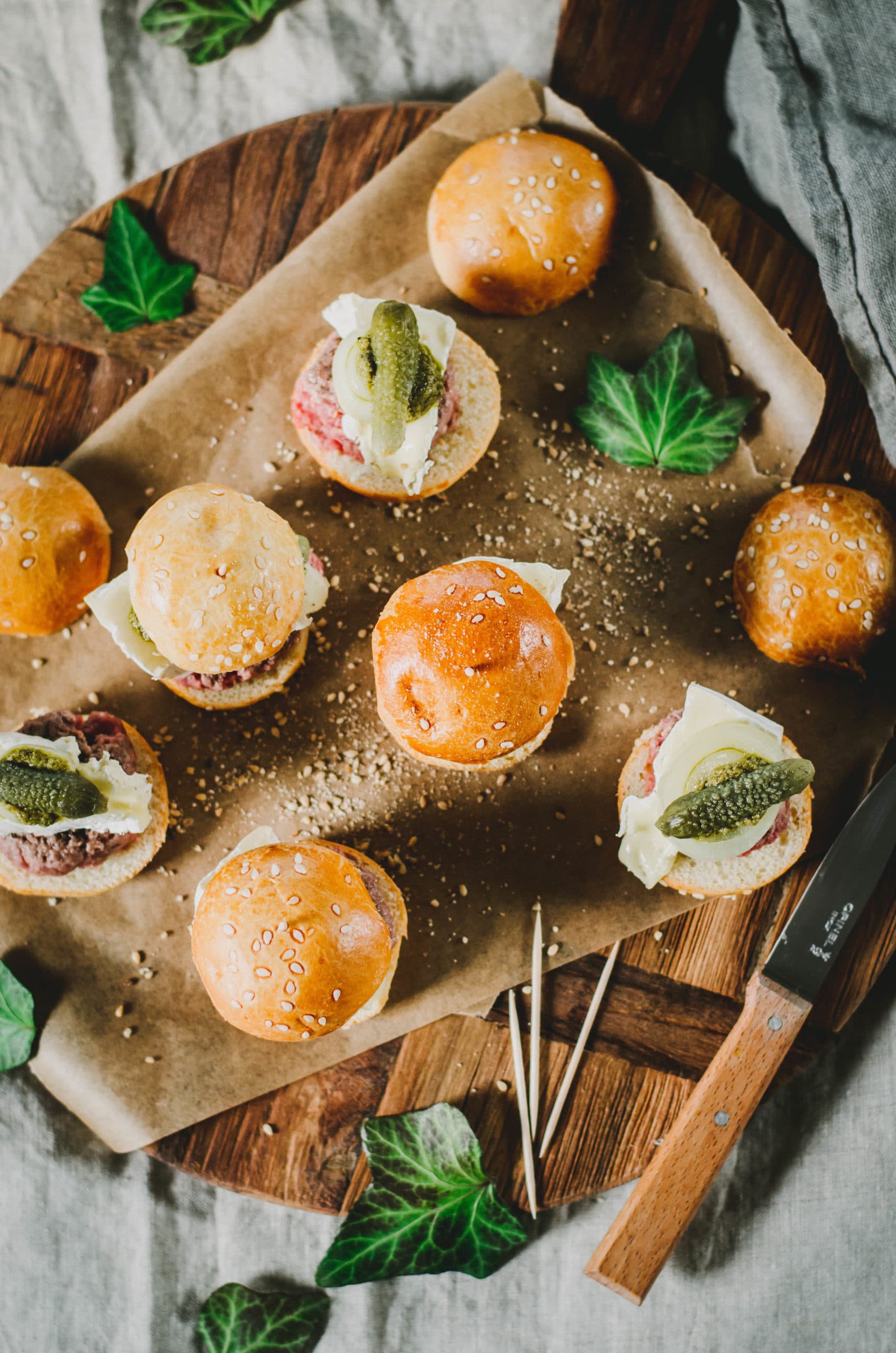 I love these French Camembert Beef Burger, they are so pretty and really to die for… 🙂
Today I wanted to share a recipe that is a little different. So yes, the mini burger remains a great classic but usually we find it with foie gras for the holidays and this time, I present to you a slightly more unusual version of mini appetizer burgers with beef and camembert.
Beef and Camembert are the main ingredients but you will see in the recipe that I have added some nice extras.
In any case, I can tell you that I had a lot of fun imagining what I could garnish my little burgers with for an aperitif dinner with friends.
To be honest, I mainly made do with what I had in my cupboards (or rather in the fridge) and the result was delicious.As for the burger buns, you can make them yourself, I have a delicious recipe for homemade buns but I bought my own. 😉
French Camembert Beef Burger Recipe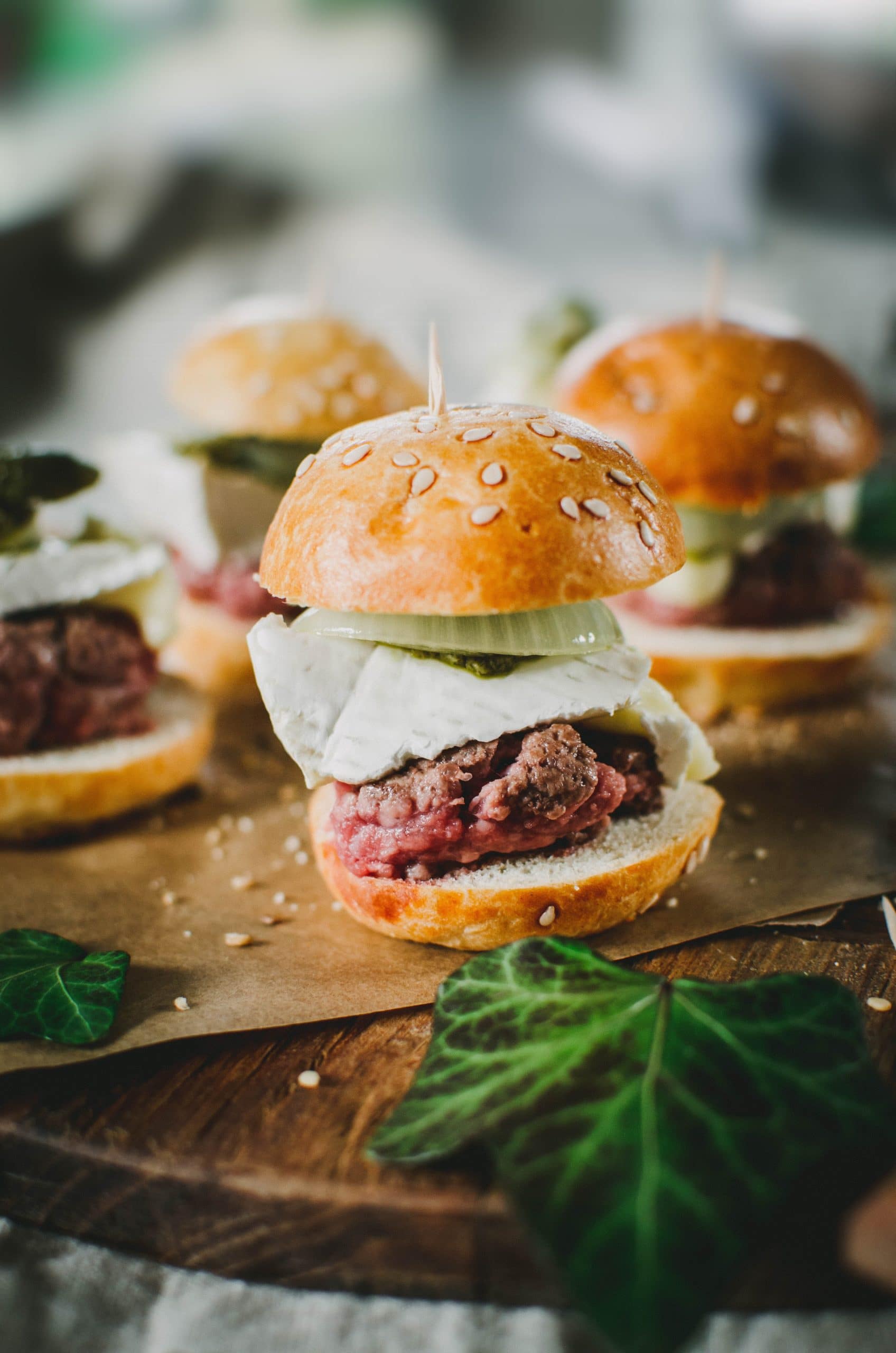 WHAT INGREDIENTS WILL YOU NEED TO MAKE THESE LITTLE BEEF, PESTO AND CAMEMBERT APPETIZER BURGERS?
homemade burger buns if you wish (you will need to reduce their size if you want to make them mini, and also reduce the cooking time a little)
minced beef
Camembert
homemade onion confit
pickles
homemade pesto
salt and pepper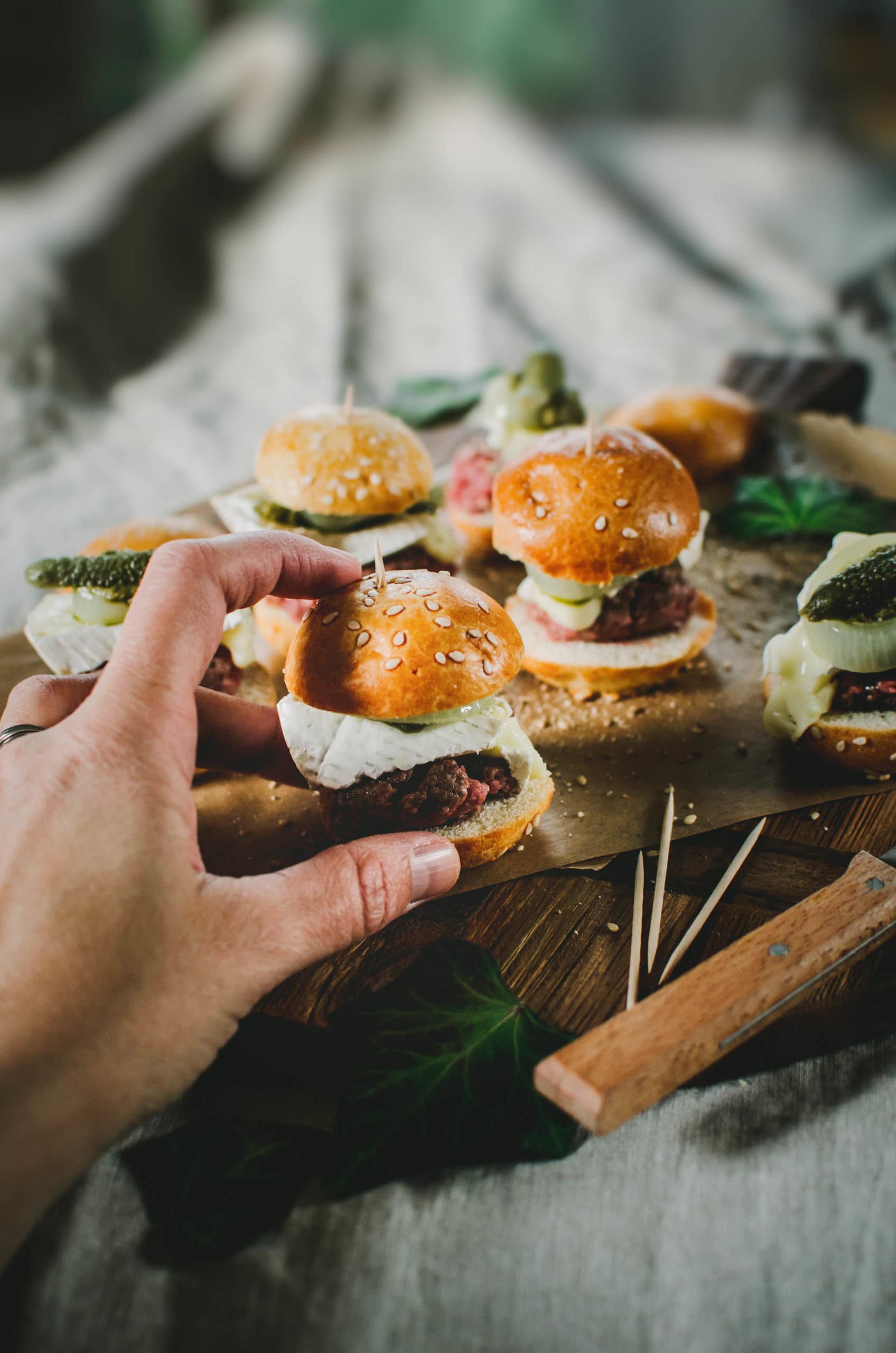 Regarding certain ingredients, I have specified homemade burger buns, onion confit and pesto because I like to make them at home. But if you want to make a simpler and quicker version. You can also use the ones from your favorite grocery and brands. 😉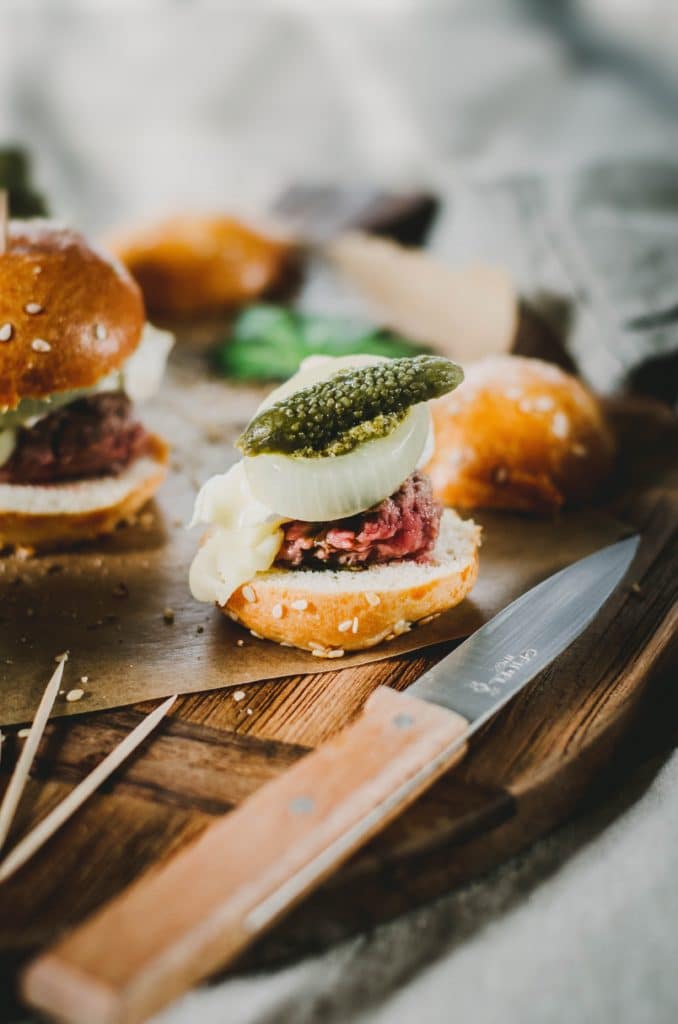 What side dishes should you serve these burgers with?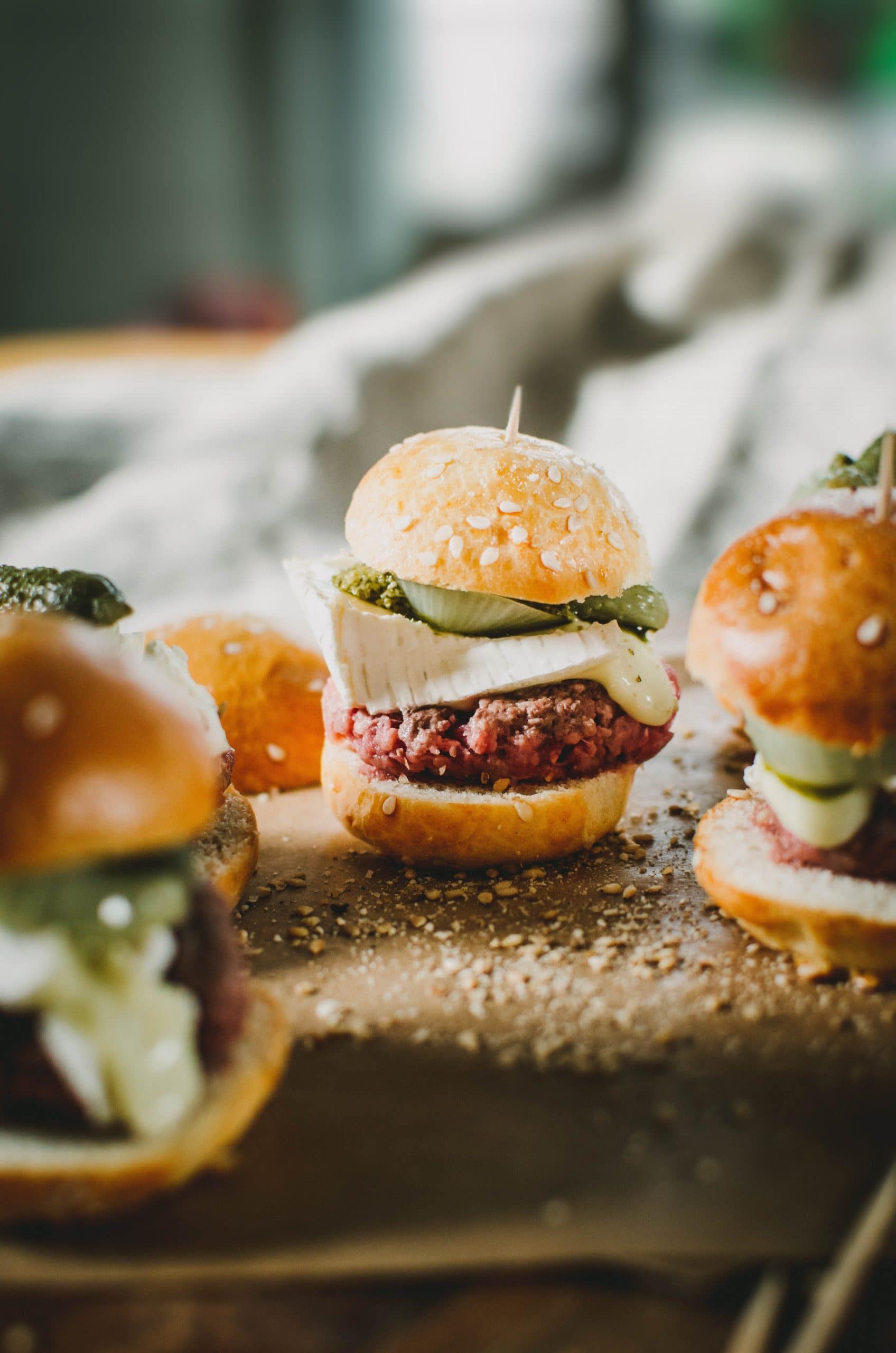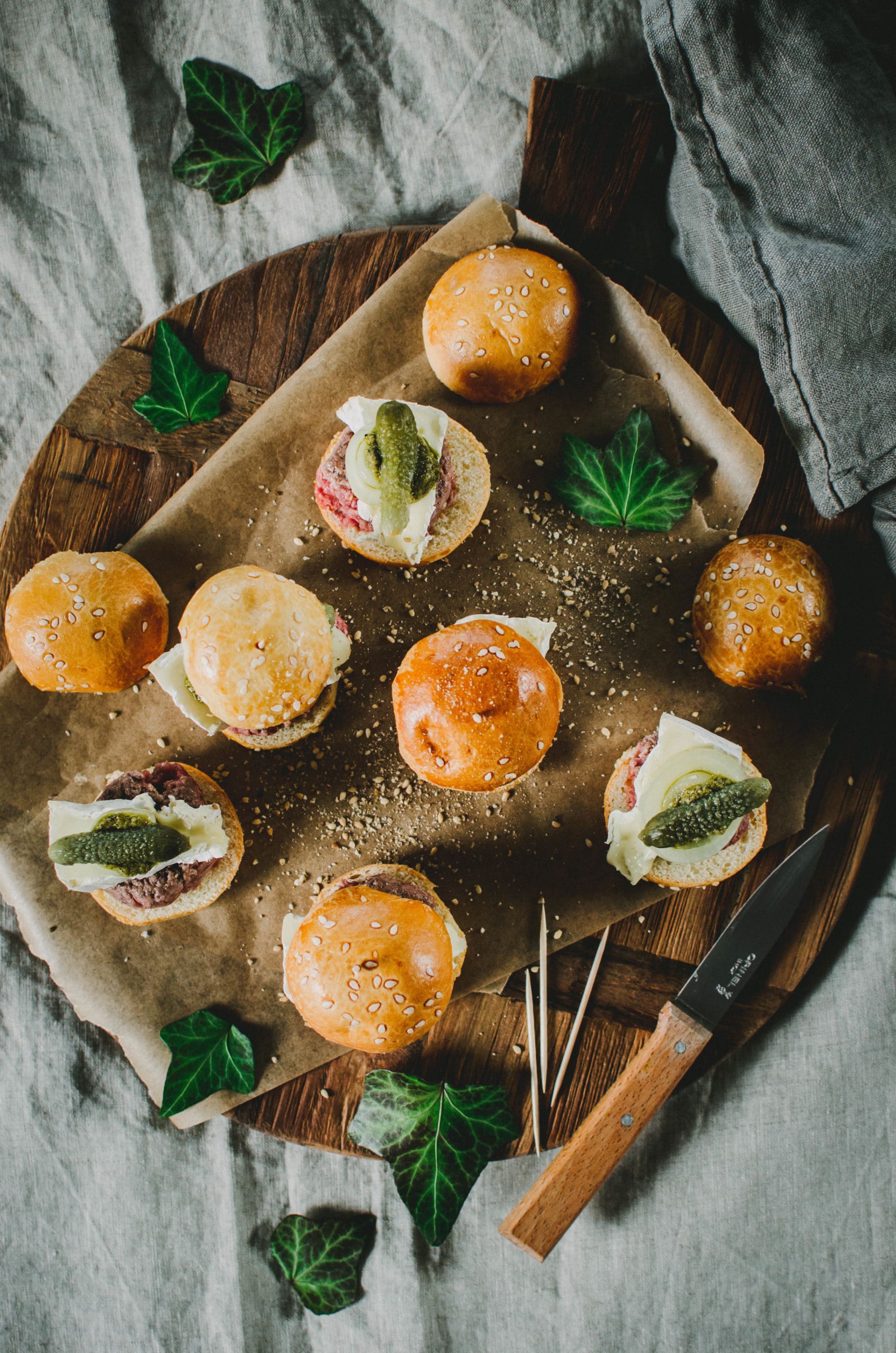 What are other recipe ideas to serve with these mini-burgers and organize a pretty homemade appetizer platter?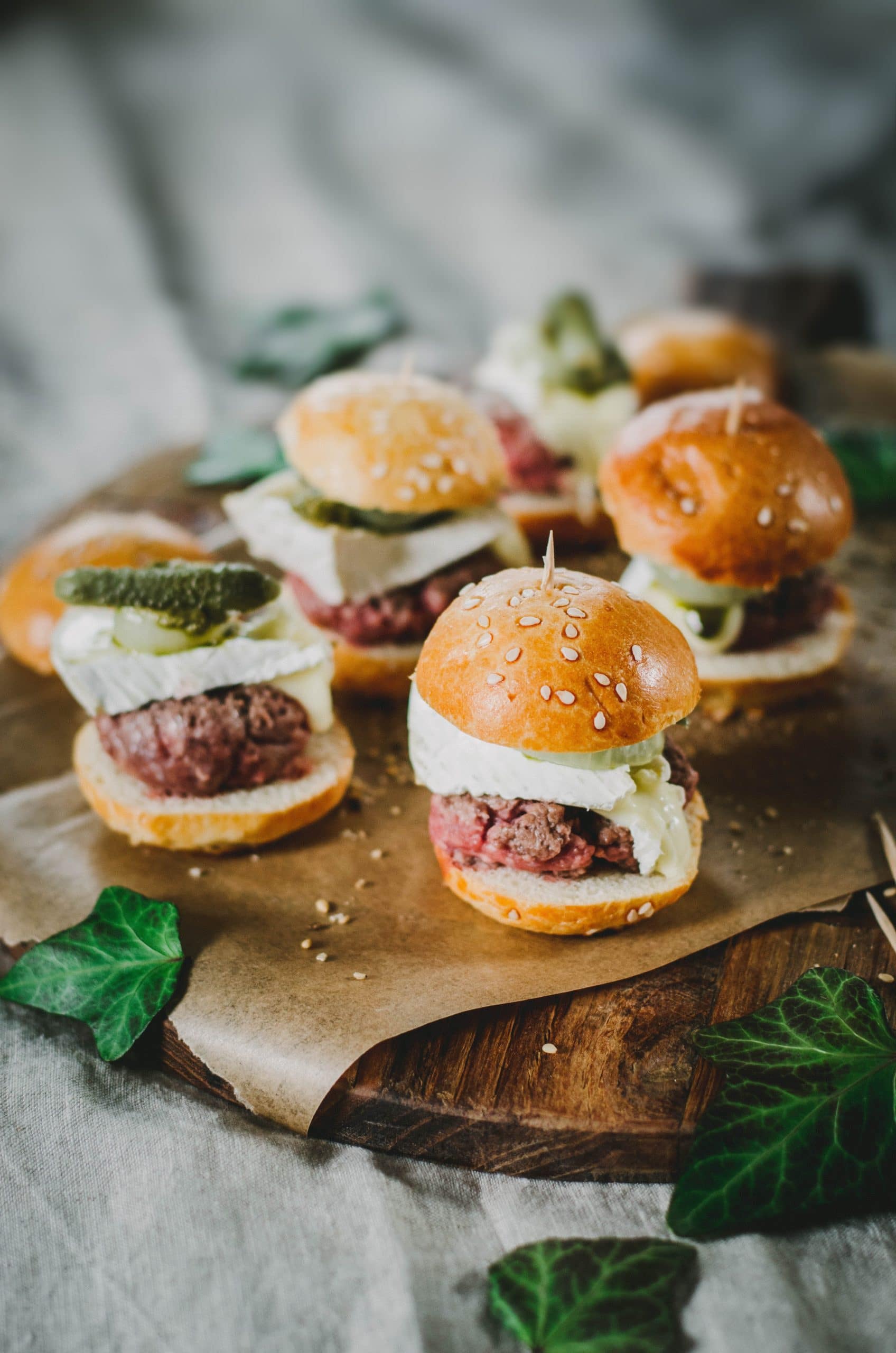 French Camembert Beef Burger Recipe
Ingredients
10

mini burger Buns

(homemade or store bought)

250

g

minced beef

Camembert

1

red onion or onion confit

Pickles

Pesto

Salt and pepper

Olive Oil
Instructions
In a skillet, fry the chopped onion with a drizzle of olive oil until tender.

Preheat your oven to 180°C.

Divide the ground beef into 10 portions, form small balls and flatten them slightly.

Open the burger buns and place them on a baking tray lined with baking paper.

In a dry, hot skillet, quickly brown the meatballs on each side. 1 or 2 minutes only.

Place them on the bottom parts of the burger buns. Add salt and pepper.

On top of the meat add a slice (more or less thick) of camembert, a little sliced ​​onion, a little pesto and half a gherkin (cut lengthwise).

Cover the tops of the buns to form burgers.

Prick the burgers in their thickness with toothpicks.

Bake for a few minutes, no more than 5.

Serve and enjoy, it's a treat!
If you ever make my French Camembert Beef Burger recipe and you like it, don't hesitate to tag me on Instagram @tangerinezest so I can see the result and share it myself…
Finally, just to let you know I am French and I translate my recipes, be indulgent if you see syntax errors and do not hesitate to leave me a comment so I can correct it. I hope you will like my recipes and enjoy your visit to my food blog!