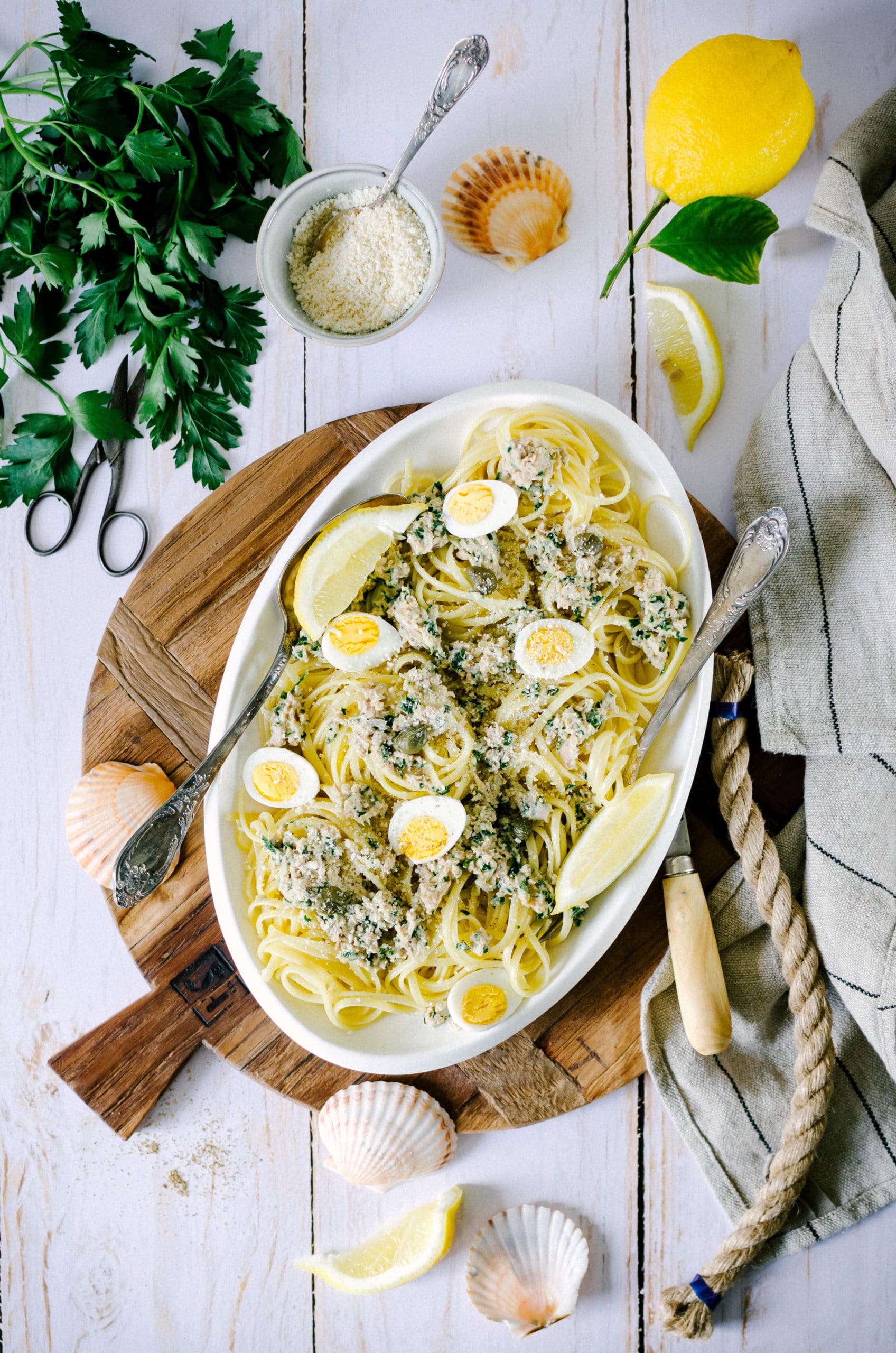 You will see, this Tuna and Lemon Creamy Pasta recipe is very simple to make and very flavorful. It's truly a delight and I'm sure you will have everything available at home!
At home, I always have a can of tuna left in my cupboard, just in case… With the confinement, I think I'm not the only one and this recipe will surely be useful to more than one person.. .
So, for you who don't know what to do with your canned fish, here is an easy, quick, fresh and healthy recipe!
I think I made this recipe because right now I should have been by the sea in Nice and with my family, enjoying the fresh air and walking around all day. So, rather than seeing the sea, I bring it home to enjoy its flavors, which are good for health and morale.
In any case, I hope that this recipe will do you as much good as it did me.
If you are missing a few ingredients, it doesn't matter, make do with what you have at home and using the basics of this recipe: pasta, tuna and lemon…
Tuna and Lemon Creamy Pasta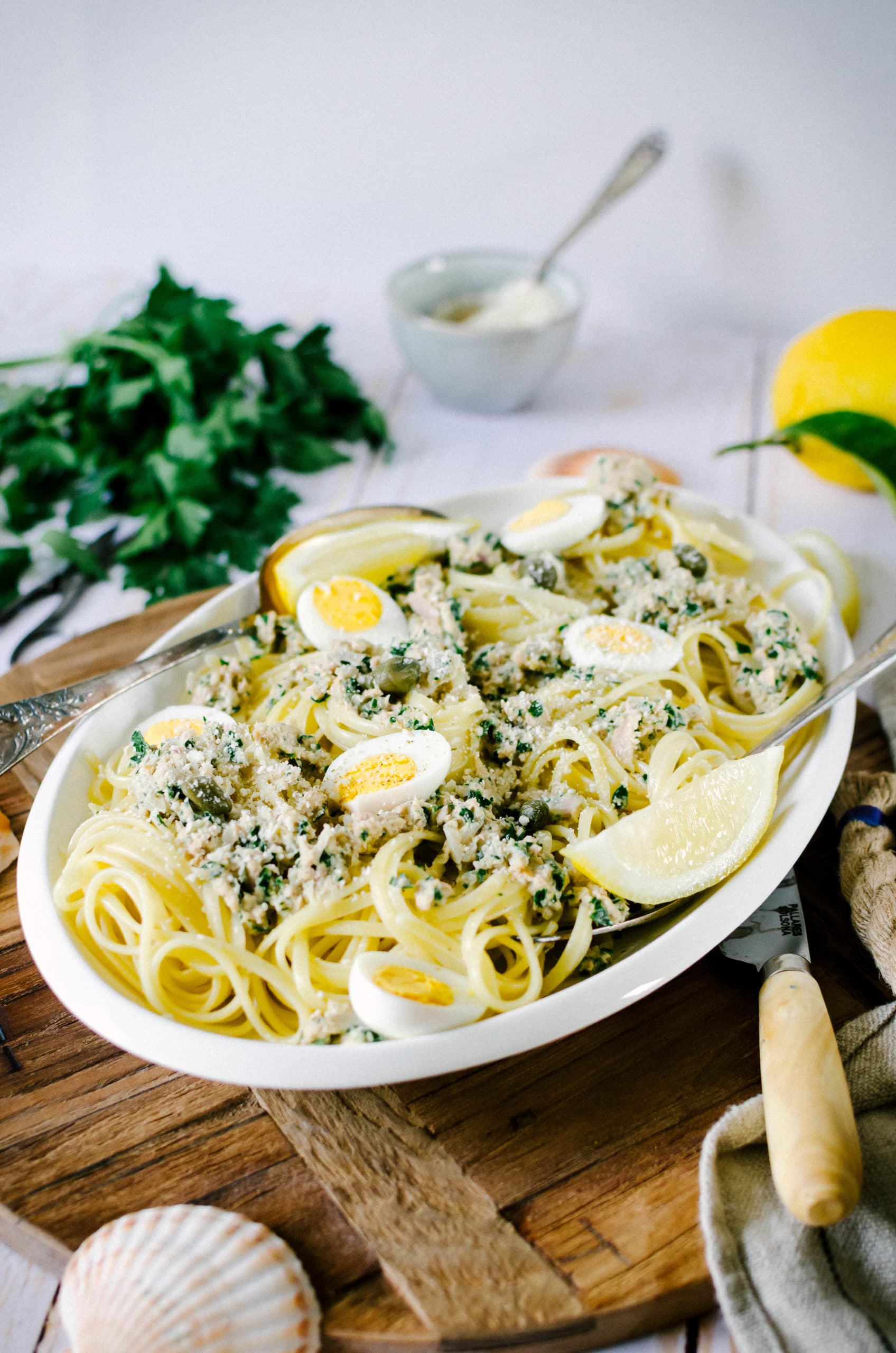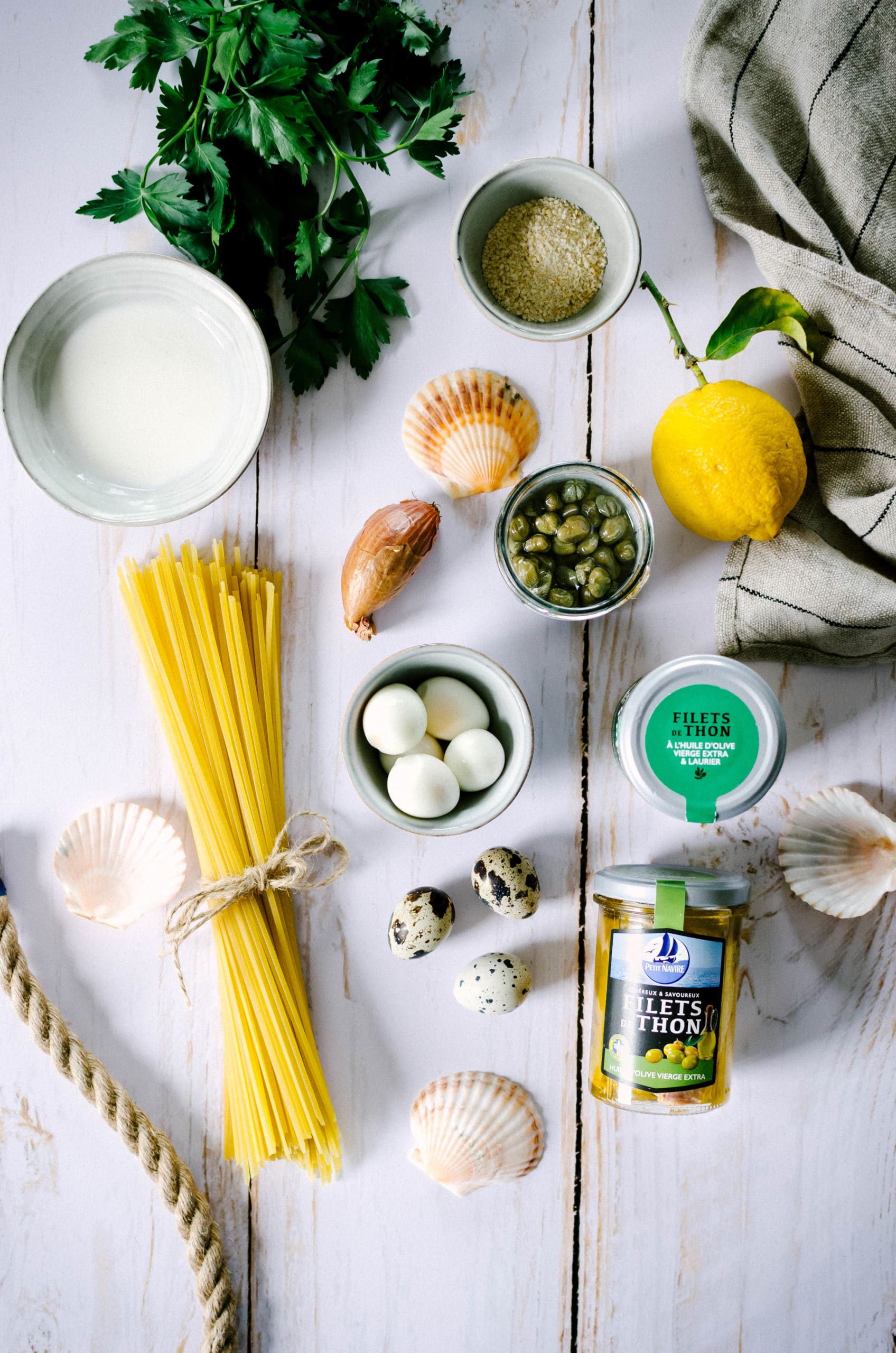 What ingredients do you need to make this tuna pasta recipe?
canned tuna
fresh flat-leaf parsley
organic lemon
finely chopped shallot
capers
cream
grated parmesan cheese
quail eggs (optional)
salt and freshly ground pepper
olive oil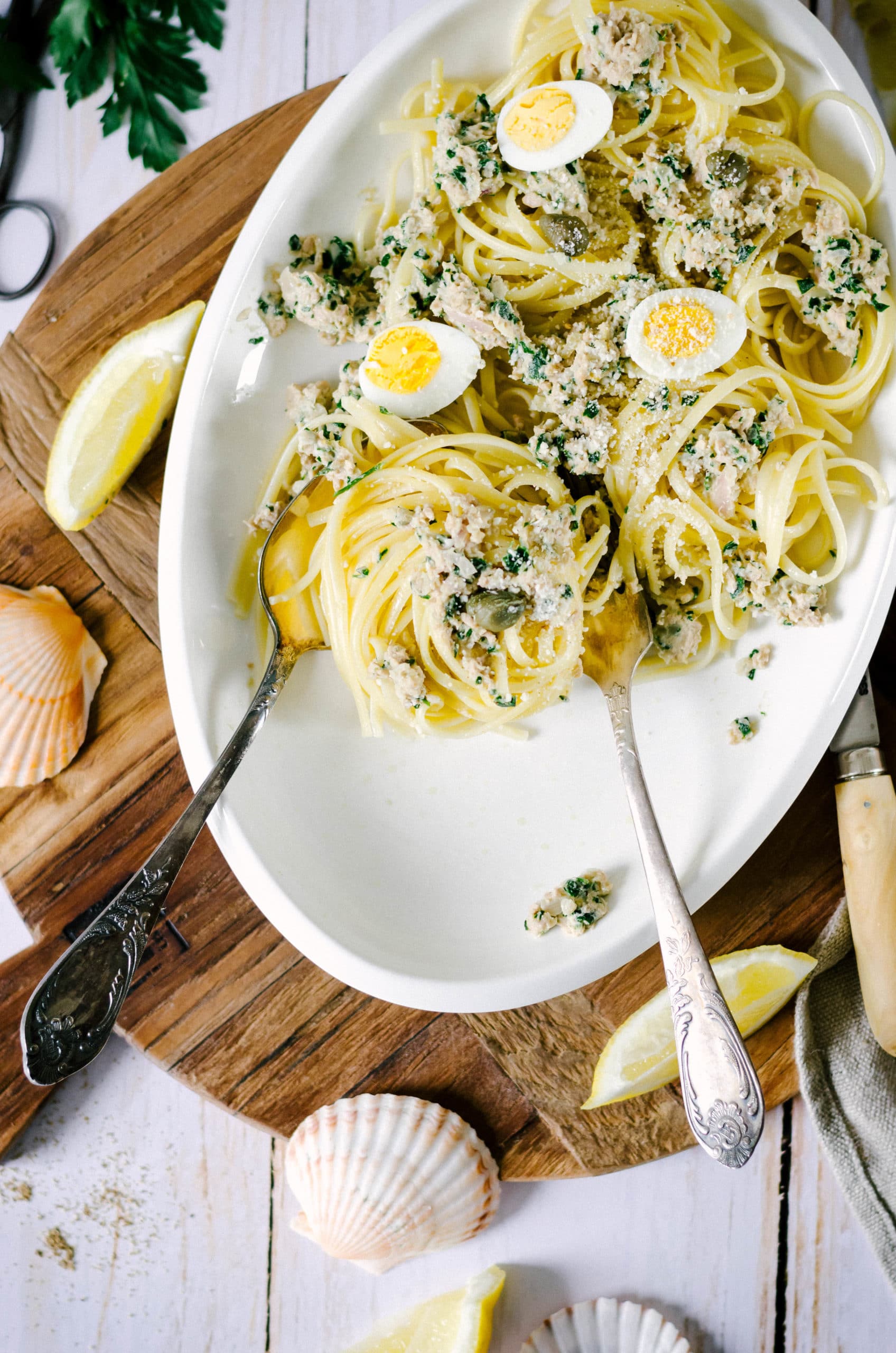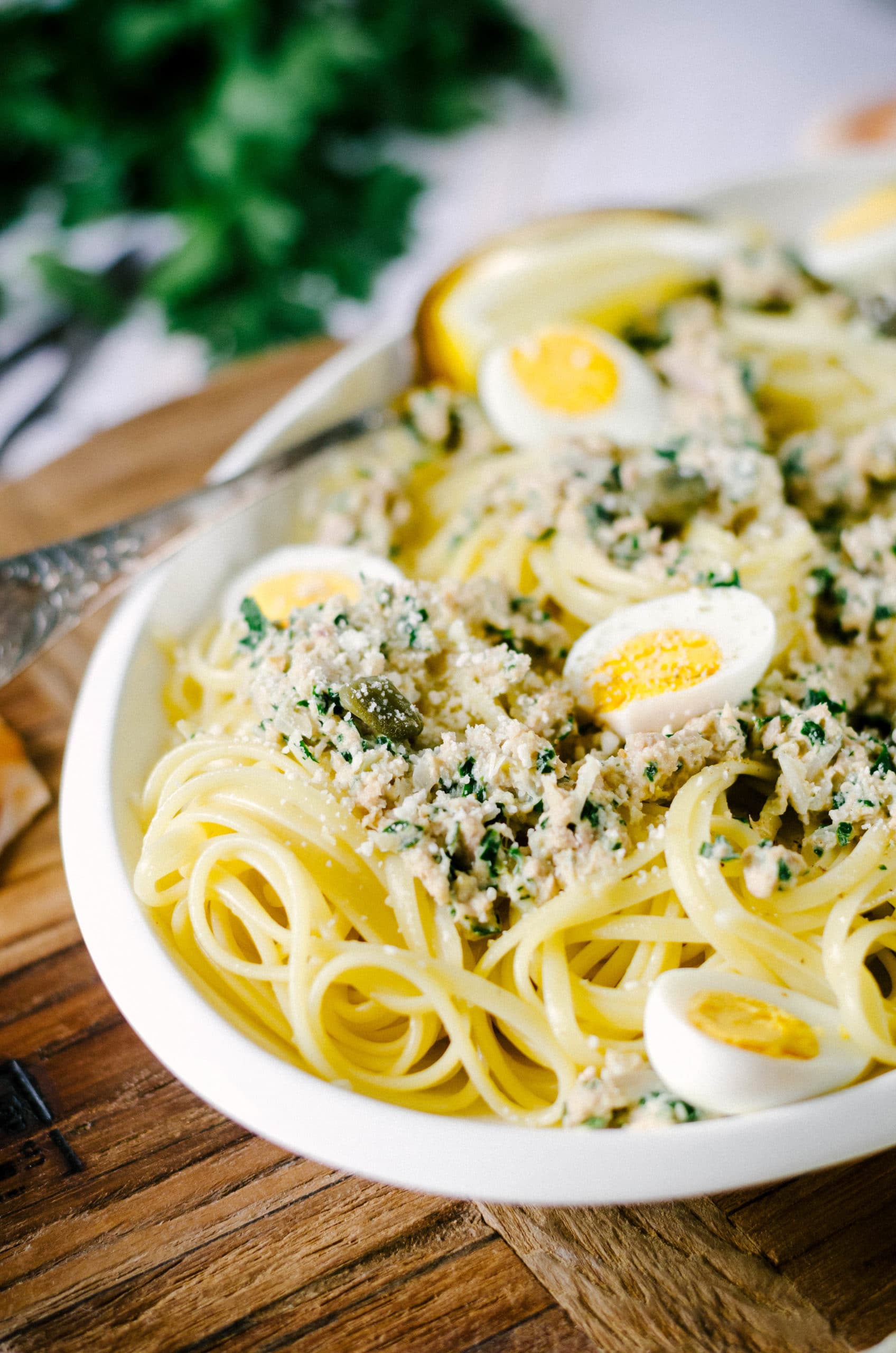 Here are some other pasta recipe ideas you might also enjoy: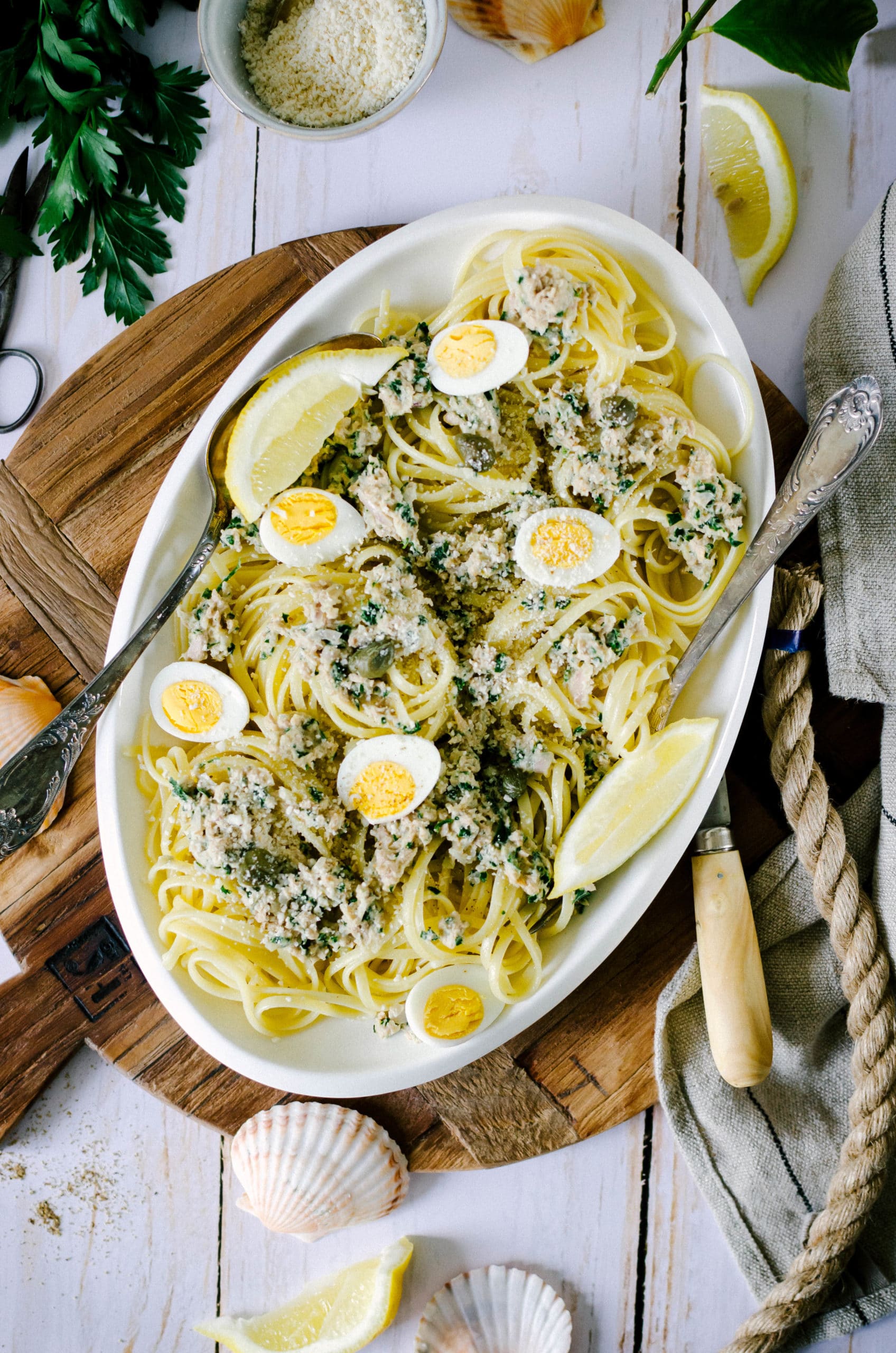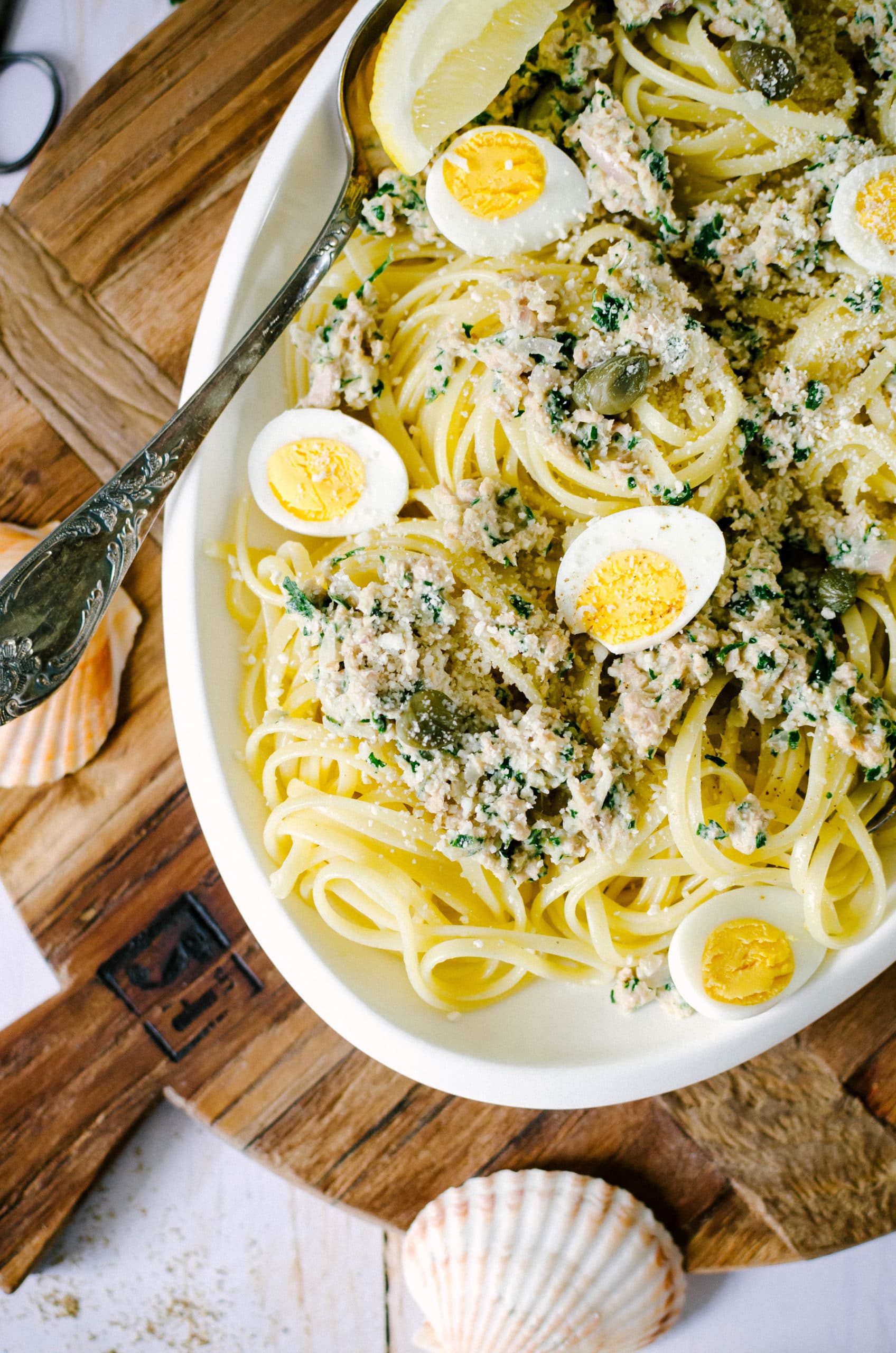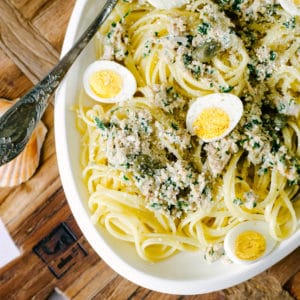 Tuna and Lemon Creamy Pasta recipe
Ingredients
350

g

linguine

(or other pasta)

180

g

canned tuna

1

small bunch of flat-leaf parsley

1

organic lemon

1

finely chopped shallot

Capers

20

cl

cream

Grated parmesan

4

quail eggs

(optional)

Salt and pepper

Olive oil
Instructions
Cook the quail eggs in hot water for 4 minutes, peel them then set aside.

In a pot, heat a large volume of water with a little salt to cook your pasta.

Meanwhile, chop the washed and dried flat-leaf parsley and place in a salad bowl. Crumble the previously drained tuna over the parsley. Add the lemon zest, juice and finely chopped shallot. Mix everything well.

You can gently heat this mixture in a pan with a drizzle of olive oil or leave it cold

Then mix the cooked pasta with the tuna preparation. Add the cream and mix well.

You can serve with some capers, hard-boiled quail eggs and parmesan. Add salt and pepper to your taste and enjoy!
Notes
I crumbled the tuna fillets but you can also make the preparation without and leave them whole when serving.
If you ever make my homemade Tuna and Lemon Creamy Pasta recipe and you like it, don't hesitate to tag me on Instagram @tangerinezest so I can see the result and share it myself…
Finally, just to let you know I am French and I translate my recipes, be indulgent if you see syntax errors and do not hesitate to leave me a comment so I can correct it. I hope you will like my recipes and enjoy your visit to my food blog!